Donald Trump to feud with Vince McMahon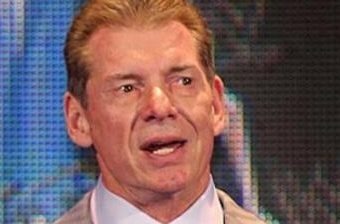 Vince McMahon mentioning the Donald Trump/Rosie O'Donnell feud this past Monday was for a reason. According to the Wrestling Observer Newsletter, the plan right now is to have a "Battle of the Billionaires" angle leading into the Royal Rumble between Donald Trump and Vince McMahon. The angle would culminate with Vince managing a wrestler who would face a wrestler that Trump would be managing. This isn't a done deal as of yet as both parties are still negotiating.
According to the Observer, NBC Universal actually approached WWE about putting this angle together back in November. Apparently, NBC is looking to improve the ratings for The Apprentice, which have been on the decline.
The projected plan or idea in the WWE now is that Donald Trump may have some involvement at WrestleMania. According to Dave Scherer of PWInsider, the idea now is that any involvement from Trump may be his being in the corner of a wrestler or wrestlers during a match at WrestleMania. On the opposite corner would be none other than Vince McMahon. If this projected plan or idea goes through, that would almost eliminate any plan for a Mick Foley and Vince McMahon match. As reported previously here on the site, Foley has been lobbying for months to have a match against McMahon at this year's WrestleMania.
The word now is that the Vince McMahon vs Donald Trump "Battle of the Billionaires" angle will now culminate at Wrestlemania 23, and not at the Royal Rumble. The deal is done and Trump should be making some appearances on Raw soon to further the angle.