ECW On SCI-FI Results (1/16): Kelly Topless, More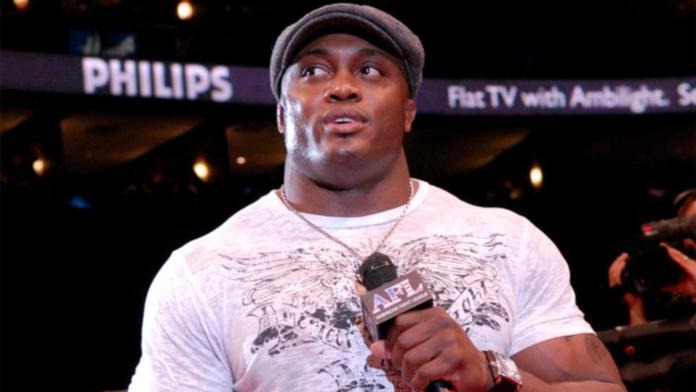 ECW On SCI-FI Results (1/16): Kelly Topless, More
Event: ECW On SCI-FI Results
Airdate: Tuesday, January 16th, 2007
Location: The Alltel Arena in Little Rock, AR
Results by Steven Gerweck
* Opening video stars off the program.
* Tonight's main event: Test vs. Bobby Lashley vs. RVD for the ECW title.
* Ring announcer Justin Roberts introduces Kelly Kelly. Remember she is "single" now. Kelly reminds us that she practices Exhibitionism. She said next week her expose returns, and she won't be dancing alone. Kelly starts the dance, but out comes Matt Striker. Striker said she is corrupting the minds of his audience. Striker said Kelly's expose doesn't fit into the Curriculum of studying the female body. Striker talks about Kelly's boyhood crush, CM Punk.
(1) CM Punk vs. Matt Striker. Kelly remained at ringside and smiled when Punk entered the ring. Fans started a "CM Punk" chant. Wow, rather than winning a quick squash, CM Punk and Striker continue to battle during a commercial break. Punk got a two count via a small package, but Striker responded with a vicious clothesline. Unable to finish off Striker, Kelly got on the apron and took off her entire shirt revealing her breasts to Striker, allowing Punk to backslide Striker for the victory at 11:28. Apparently, Punk had no idea what Kelly had done.
* They reviewed last week's RVD vs. Lashley match, as Test did a run-in to end the contest. Styles reminded us that Lashley doesn't have to be beaten tonight to drop the ECW world title.
* Styles said tonight we'll see Elijah Burke vs. The Sandman.
(2) The Alpha Male Marquis Cor Von (Monty Brown) vs. Cassidy Reilly. I think I'm watching TNA. Fans chanted TNA numerous times. No buildup for Brown at all. The Alpha Male wins via an arm bar submission. He did hit the pounce although it wasn't called that. On the mic, Brown, er, Cor Von said he is in ECW to mark his territory. During this promo, fans chanted "what."
* Backstage, Lashley admits the odds aren't in his favor tonight. He said he doesn't have to be pinned to drop the strap tonight. Lashley said he doesn't think Test should be apart of the match, but either way, he's leaving as the ECW champion. Terrible promo.
* Wrestlemania Recall: Piper's Pit from Wrestlemania 5 with Morton Downey Jr. blowing smoke in Hot Rod's face.
(3) The Sandman vs. Elijah Burke (with Terkay). Backstage, Burke tells Rebecca that tonight he's going to give The Sandman a sobering dose of reality. Sandman splits open his head. Sandman canes Terkay, who was standing on the ring apron. Burke wins in 1:14 with a handcuff of jeans.
* Backstage, they show RVD warming up.
* They recapped the Tommy Dreamer-Great Khali saga.
* In a pre-recorded skit, Ariel and Kevin Thorn talked about the royal rumble match. They think Thorn will win. Good luck.
(4) Triple Threat match for the ECW World Heavyweight title: Rob Van Dam vs. Test vs. Bobby Lashley. Before the match started, Lashley went after Test, and rammed him head first into the ring post. RVD jumped off the apron onto Test, which drew an "ECW" chant. Scott Armstrong is the referee, but no sign of brother Brad tonight. Lots of near falls, with someone making a near save.
Test dropped an elbow from the top rope, but Lashley kicked out. RVD hit a five star frog splash on Test, but he wisely rolled out of the ring. Lashley speared RVD. Lashley followed it up and pinned RVD to retain the title. Test started to walk away with the ECW belt, but Lashley stopped him. Test nailed Lashley with the championship belt and stood over him saying that the belt was his. Show just ends at 11:02. Hmmm.
This show was bad, like, very bad.