ECW On SCI-FI Results: Vince McMahon, 'Taker!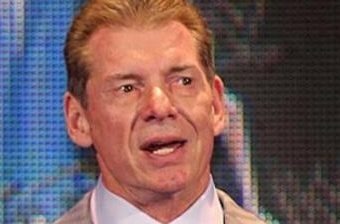 ECW On SCI-FI Results: Vince McMahon, 'Taker!
Thanks to Steven Gerweck for these results:
Backstage, Vince McMahon runs into Marcus Cor Von, whom he calls a breathe of fresh air. He also spots The Sandman reading a newspaper and drinking beer. Vince gets on him about drinking on the job, and pokes fun of his name by singing "Mr. Sandman." McMahon said changes are in store. Let s hope so!
(1) CM Punk vs. Matt Striker. Joey Styles notes that Punk lasted 28 minutes in the Royal Rumble. Striker wins a short match by holding the ropes. I guess Punk remains in the dog house.
Backstage, Vince receives a hug from Rebecca (I think), who was talking to Tommy Dreamer. McMahon wonders what people are dreaming about with a name like Dreamer. Vince said he doesn't deal in dreams, but in reality.
* Tazz and Styles talked about the Royal Rumble, and showed highlights on the battle royal. They noted that Undertaker now must decide which title he'll challenge for at Wrestlemania. They showed highlights of The Undertaker showing up on Raw.
* They plugged tonight's Royal Rumble rematch – Lashley vs. Test. Oh boy!
(2) Hardcore Holly vs. Rob Van Dam. Holly went for an early Alabama Slam, but RVD countered it. Fans are solidly behind Van Dam. RVD dived over the top rope onto Holly, as they went to a commercial break. A big leg drop by RVD, but Holly kicked out. As RVD climbed the top rope, Holly pushed him off forcing RVD to crash into the security rail. Holly then slammed RVD into the ring steps. Holly hit an impressive drop kick, but RVD kicked out. Side kick, windmill kill, followed by rolling thunder, but still, Holly kicked out. Five Star Frog Splash, but Holly got out of the way. Holly slammed RVD into the ring post and then hit the Alabama Slam for the victory. A good TV match!
Backstage, Vince counters Sabu. Vince says he thought he was in Texas, but apparently he is in Afghanistan, and implied that Sabu was a member of the Taliban. He tells Sabu to stay away from him.
After a break, Vince runs into Ball Mahoney backstage. Vince said Mahoney is Irish, but he's not Irish like himself. He said he likes the name Mahoney, but not his first name. Vince said he might just find out if Mahoney has any Balls.
* Expose with Layla, Kelly Kelly and Brooke. Bathroom break time.
As the girls dance, "No Chance in Hell" comes on, and out struts Vince. He tells the girls to leave his ring, and tells his security to leave as well. Vince said this is history, first time he has ever been in an ECW ring. Vince said the ECW originals suck, the old ECW sucks, and fans that like the old ECW suck. Fans chant "you suck." McMahon said he is going to turn ECW into something special. Vince said his new vision includes Elijah Burke. Burke comes out all dressed up. McMahon said Burke is the future of ECW. Burke said it was his honor to be in the ring with Vince. Burke poses for a picture with Mr. McMahon. Fans started chanting "you suck" at Burke. Burke said the ECW originals were going to feel his wrath and power. Its time for the Elijah experience. Out comes The Sandman. Sandman starts fighting with Burke, followed by Dreamer, Mahoney and Sabu. Balls desks Burke as he is held down. The Sandman then canes Burke as Mr. McMahon looked on outside the ring. Dreamer gives Burke a DDT. Sabu pointed to the sky, and gets a table from under the ring. Dreamer and Mahoney set up the table, and the ECW originals place Burke on the table in the middle of the ring. Sabu jumps off the top rope, crashing them both through the table. Vince is furious, standing and watching on the entrance ramp.
(3) ECW World Heavyweight title match: Bobby Lashley vs. Test. Lashley backdropped Test on the exposed arena floor. Lashley wins via the running powerslam. Hopefully this will be the end of this feud. The lights go out, and The Undertaker's dong is heard. When the lights come back on, Undertaker stares down Lashley. Test brings a chair into the ring, but Taker stops Test and chokeslams the clown. Undertaker and Lashley continue to stare each other down, and Styles talks as if Taker will now challenge Lashley for the ECW title at Wrestlemania. I wouldn't count on that Joey.