Must Read Kurt Angle Interview: Hogan To TNA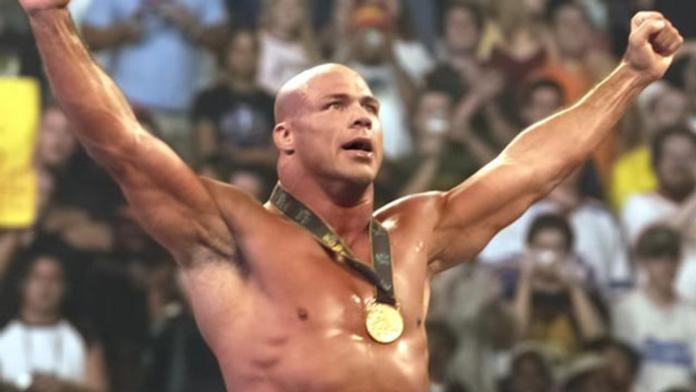 WWE
Angle on Bubba Highlight Points:
- He makes more money with TNA than WWE.
- Dixie Carter is a better business person than Vince McMahon could ever be.
- TNA had their highest rating ever last week and that their ratings are better than Smackdown (?) and ECW.
- Hopes to have Big Show and Hogan in TNA and said Big Show was the hardest worker in WWE and Vince did not appreciate him.
- Nash cannot wrestle for a year and he would like to have him wrestle when he is ready.
- There are rumors about Jericho coming in.
- He talked to a doctor about Vince and Vince "looks like a heart-attack waiting to happen".
- WWE got their business deal with China because of him. He then clarified he passed a number onto Shane and he never received credit.
- HHH is a "slimeball" but has great ideas and great psychology and will be best for WWE after he retires.
- Again stated TNA had a 1.5 last week and beat Smackdown (?).
- Hogan, Goldberg might come in and then they will beat RAW.
- The three top free-agents for TNA are Hogan, Show and Jericho.
- Test is a multi-millionaire from real estate.
- Jericho was drunk and started a fight with Test in WWE and held his own.
- Test has nothing wrong with him and should have been pushed better.
- He brought Bobby Lashley into Pro Wrestling.
- Christian needs to change to be a true heel and that is what they (Angle and TNA) are doing with him and that he hopes Christian has a long run as champ, but needs to change his style and take direction better. Angle will have a match of the year with him soon.
- He does not know if he is a babyface or not currently in TNA, but likes his character.
- He is doing commercials for Bald Guys – a grooming company with shampoo for bald men.
- Undertaker stiffed him in the ring after Kurt told him he did not understand the "carny speak" in the ring during their first match.
- Talked briefly about his concussion and said he has no idea how the Iron Man match wound up being that good. He apologized to Samoa Joe and claimed Joe will take a month off soon because of injuries.
- He had a 5-star match with Hogan at King of the Ring and said he has a lot of respect for Hogan.
- Admitted he is an agent and writer and said if Big Show comes in, he would be undefeated and Kurt would make sure of that.
- Talked about his heat with Shawn Michaels over the fact Michaels did not go to Smackdown when asked. He claimed that McMahon lied when he said Angle was his top choice to switch brands. He then admitted that Michaels was the one that said he would put over Angle at WM. This was right after he said Michaels did not put people over.
- RVD admitted to Angle that he had no idea how to work and that he only hits highspots and points to himself and says "RVD".
- He wants Bubba as a manager in TNA.
- He wants Tito Ortiz on the phone next week live on Bubba's show to talk to him about fighting.
During the course of the conversation, Bubba claimed:
- Hulk Hogan told him Dixie had her sh** together and her backers could buy & sell Vince ten times over.
- Hogan has talked with Dixie Carter about coming in.
- Turner/WCW went with well known names to combat Vince and how TNA should do that. Angle agreed.
- He and Kurt should put the Hogan/TNA deal in motion.
- He will contact Dixie about making TNA appearances.