The Complete 'PWI 500' List For 2008 - Randy Orton Number One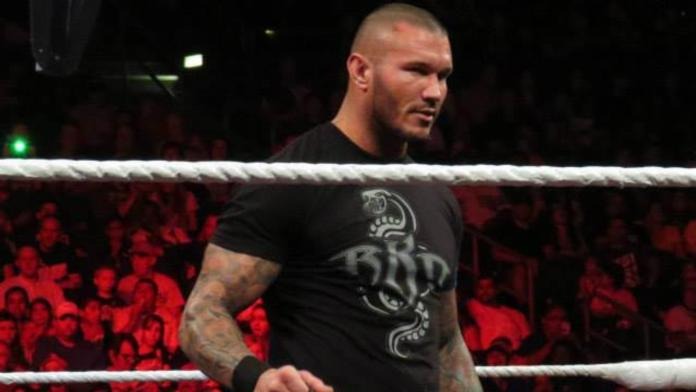 Pro Wrestling Illustrated has published its list of the top 500 wrestlers each year since 1991, in an annual special edition magazine called the 'PWI 500'. Randy Orton tops the list this year. Orton is on the cover of the magazine and the headline reads: "Randy Orton #1 – "Who Else?" John Cena topped the list the past two years.
Here is the list in its entirety.
1.Randy Orton
2.Kurt Angle
3.Triple H
4.Samoa Joe
5.Edge
6.The Undertaker
7.Shawn Michaels
8.Nigel McGuiness
9.John Cena
10.Shinsuke Nakamura
11.Takeshi Morishima
12.Ultimo Guerrero
13.Bryan Danielson
14.Christian Cage
15.Batista
16.Keiji Muto
17.Mistico
18.Jeff Hardy
19.Ric Flair
20.Hiroshi Tanahashi
21.AJ Styles
22.Perro Aguayo Jr.
23.MVP
24.CM Punk
25.Tomko
26.Mesias
27.Jay Lethal
28.Dr. Wagner Jr.
29.Chris Jericho
30.Kensuke Sasaki
31.Austin Aries
32.Cibernetico
33.Kane
34.Booker T
35.Mr.Kennedy
36.Chavo Guerrero Jr.
37.Umaga
38.Robert Roode
39.Suwama
40.JBL
41.Matt Hardy
42.James Storm
43.John Morrison
44.Adam Pearce
45.Kaz
46.CIMA
47.Minoru Suzuki
48.Petey Williams
49.Jay Briscoe
50.Mark Briscoe
51.Big Show
52.Claudio Castagnoli
53.Giant Bernard
54.The Miz
55.William Regal
56.Finlay
57.Yuji Nagata
58.Chris Hero
59.Rey Mysterio Jr.
60.Eric Young
61.Rhino
62.Shelton Benjamin
63.Carlito
64.Scott Steiner
65.Mark Henry
66.Chuck Palumbo
67.Homicide
68.Averno
69.Chris Sabin
70.Alex Shelley
71.Zorro
72.Hernandez
73.Dos Caras Jr.
74.Jimmy Jacobs
75.Orlando Colon
76.Kofi Kingston
77.Alan Stone
78.Brother Ray
79.Cody Rhodes
80.Lance Cade
81.Sonjay Dutt
82.Brother Devon
83.The Great Khali
84.Sting
85.El Hijo del Santo
86.Kenta Kobashi
87.Mitsuharu Misawa
88.Tyler Black
89.Masato Tanaka
90.Naomichi Marufuji
91.Santino Marella
92.Hardcore Holly
93.Satoshi Kojima
94.Ron Killings
95.Curry Man
96.Trevor Murdoch
97.KENTA
98.Charly Manson
99.Elijah Burke
100.Toshiaki Kawada
101.Nick Dinsmore
102.Chessman
103.Roderick Strong
104.Abyss
105.Mephisto
106.Festus
107.Davey Richards
108.Rocky Romero
109.Atlantis
110.El Condor
111.Brian Kendrick
112.Negro Casas
113.Halloween
114.Tommy Dreamer
115.Rey Bucanero
116.Paul London
117.Jerry Lynn
118.Wataru Inoue
119.Jushin Liger
120.Brent Albright
121.Blue Demon Jr.
122.Shark Boy
123.Hector Garza
124.Blitz
125.Jamie Noble
126.Matt Morgan
127.Black Reign
128.Black Warrior
129.Kevin Steen
130.Johnny Devine
131.Paul Birchall
132.Kip James
133.Sangre Azteca
134.Snitsky
135.Togi Makabe
136.Erick Stevens
137.Masato Yoshino
138.Mr.Niebla
139.B.G.James
140.Zack Ryder
141.Curt Hawkins
142.Juventud Guerrera
143.El Generico
144.Jimmy Wang Yang
145.Jack Evans
146.Mr.Aguila
147.Jesse
148.Joe Doering
149.Vladmir Kozlov
150.Lance Hoyt
151.Mike Knox
152.BJ Whitmer
153.Joey Matthews
154.Big Daddy V
155.Masahiro Chono
156.Delirious
157.Mike Quackenbush
158.Milano Collection AT
159.Shannon Moore
160.Jimmy Rave
161.Rellik
162.Necro Butcher
163.Eddie Colon
164.Yoshihiro Takayama
165.Deuce
166.Matt Striker
167.Chicano
168.Mike DiBiase
169.Domino
170.Steve Corino
171.Shawn Spears
172.Marco Corleone
173.Bryan Logan
174.Yoshinobu Kanemaru
175.Glen Osbourne
176.Manabu Nakanishi
177.Shad Gaspard
178.Go Shiozaki
179.Eric Perez
180.Rory Fox
181.Dragon Kid
182.Toru Yano
183.Joey Ryan
184.Charlie Haas
185.JTG
186.Kevin Nash
187.Ted DiBiase Jr.
188.Human Tornado
189.Nic Nemeth
190.Chris Harris
191.Volador Jr.
192.La Sombra
193.Heath Miller
194.Super Crazy
195.Consequences Creed
196.Rory McAllister
197.D.H. Smith
198.Robbie McAllister
199.Ruckus
200.Pac
201.Katsuhiko Nakajima
202.Jigsaw
203.Scott Lost
204.Rob Eckos
205.Ricky Reyes
206.Billy Bax
207.Tiger Mask IV
208.Matt Cross
209.El Sagrado
210.Stevie Richards
211.Tatsumi Fujinami
212.L.A. Park
213.Rikishi
214.Ryusuke Taguchi
215.Evan Bourne
216.Jay Bradley
217.Josh Prohibition
218.Shinjiro Otani
219.Drew McIntyre
220.D'Lo Brown
221.Elix Skipper
222.Jake Hager
223.Chris Masters
224.Shawn Daivari
225.Naruki Doi
226.Sheamus O'Shaunessy
227.Low-Ki
228.Kid Kash
229.Hiromi Horiguchi
230.2 Cold Scorpio
231.Ace Steel
232.Adam Flash
233.Kenzo Suzuki
234.Hiroyoshi Tenzan
235.Ricky Vega
236.Teddy Hart
237.Minoru Fujita
238.La Mascara
239.Puma
240.Heavy Metal
241.T.J. Wilson
242.Taru
243.Balls Mahoney
244.Danny Doring
245.Colt Cabana
246.Chris Cage
247.Josh Daniels
248.KUDO
249.La Parka
250.Sabu
251.Takeshi Rikio
252.Chad Collyer
253.Jason Blade
254.Olimpico
255.Masaaki Mochizuki
256.Pepper Parks
257.Damian 666
258.Matt Logan
259.Ephesto
260.Christian York
261.Mike Mondo
262.Rob Conway
263.Shocker
264.Nunzio
265.Xavier
266.Vito
267.Kenny Dykstra
268.Chris Joel
269.Alex Koslov
270.Gran Akuma
271.Ron Zombie
272.Icarus
273.Derek Frazier
274.Noriega
275.Lince Dorado
276.Intocable
277.Jun Akiyama
278.Eddie Kingston
279.Mad Man Pondo
280.Scott Cardinal
281.Michael Sain
282.Lizmark Jr.
283.Shingo Takagi
284.Super Hentai
285.Chad Parham
286.Maximo
287.Kevin Dunn
288.Mean Marcos
289.Hallowicked
290.Kotaro Suzuki
291.Brazo de Plata
292.Joe Bravo
293.Phoenix Star
294.Brain Damage
295.Ricky Landell
296.Bam Neely
297.Felino
298.Larry Sweeney
299.Joker
300.Devon Moore
301.Ricky Marvin
302.Zokre
303.Bobby Fish
304.Tank Toland
305.Helios
306.Black Pain
307.Pelle Primeau
308.Naoya Ogawa
309.Chuck Taylor
310.Bruiser
311.Rhett Titus
312.Abismo Negro
313.Blue Panther
314.Savio Vega
315.Ultimo Dragon
316.Kevin Thorn
317.Frederick of Hollywood
318.Val Venis
319.Tom Brandi
320.Mitch Ryder
321.TAKA Michinoku
322.Damian
323.Tyson Dux
324.Aden Chambers
325.Crazy Boy
326.Adam Flash
327.Taku Iwasa
328.Incognito
329.Anthony Bravado
330.Thunder
331.Andrew Ryker
332.Spike Dudley
333.Jorge Rivera
334.The Atomic Dogg
335.Lightning
336.Bryan Kelly
337.Judas Young
338.Taiyo Kea
339.Kaz Hayashi
340.Hyjinx
341.Sterling James Keenan
342.Arik Cannon
343.Shane Hagadorn
344.El Pantera
345.Kassidy James
346.Max Von Bauer
347.Doug Williams
348.Al Snow
349.Sinn Bowdie
350.John McChesney
351.Shayne Hawke
352.Truitt Fields
353.John Kermon
354.Cruzz
355.Orlando Jordan
356.Robert Anthony
357.UltraMantis Black
358.Steve Lewington
359.Johnny Kashmere
360.2 Dope
361.Mikey Whipwreck
362.Tajiri
363.Mike Kurel
364.N8 Mattson
365.Takashi Iizuka
366.Noel Rodriguez
367.El Gran Apache
368.Afa Jr.
369.Qeenan Creed
370.Diabolico
371.Shane Storm
372.Johnny Curtis
373.Kahagas
374.Romeo Roselli
375.Bobby Dempsey
376.Rudy Switchblade
377.Jim Duggan
378.Trent Acid
379.Kafu
380.Jerry Lawler
381.Shiima Xion
382.Atlas DaBone
383.Scott Wright
384.Navajo Warrior
385.Sal Rinauro
386.Robin Knightwing
387.Scott Zenzen
388.Joey Knight
389.Sean Waltman
390.Jamin Olivencia
391.Kevin Grace
392.BxB Hulk
393.Sho Funaki
394.Azrieal
395.J.D. Michaels
396.Richard Rondon
397.Titan
398.Antonio Thomas
399.Ace Darling
400.Colin Delaney
401.Larry Huntley
402.Chasyn Rance
403.Rycklon
404.Billy Roc
405.Nate Bash
406.Iceberg
407.Armando Estrada
408.Charles Evans
409.Mike Reed
410.Johnny Gargano
411.Jumping Jeff Jeffrey
412.Jonny Puma
413.Benjamin Sailer
414.The Stro
415.Leslie Leatherman
416.Freak Nastty
417.Ali Akbar
418.Luke Hawx
419.Derek Wylde
420.Milwaukee Mauler
421.Robere Shields
422.Omega
423.Dan Eckos
424.Hawaiian Lion
425.Johnny Ova
426.Zachary Shane
427.Cody Deaner
428.Ric Converse
429.Mega
430.Sami Callahan
431.Soldier Ant
432.Sean Royal
433.Kornbred
434.Tank
435.Hade Vansen
436.Prince Nana
437.Brodie Lee
438.Rob Terry
439.Fire Ant
440.Dan Paysan
441.Red Anderson
442.Andy Dalton
443.Zach Gowan
444.Carlitos
445.Dylan Starr
446.Eric Everlast
447.Ron Falco
448.Joe Gibson
449.Jeremy Wyatt
450.Mister St.Laurent
451.Omar Akbar
452.Shawn Cook
453.Kenny King
454.Kirby Mack
455.Drew Blood
456.Nate Laws
457.Brian Soscia
458.Shorty Smalls
459.Crazy Rudy
460.Ric Byrne
461.T.J. Mack
462.Maifu
463.Mikal Judas
464.Phil Shatter
465.Robby Starr
466.Saifu
467.Phil Atlas
468.Jimmy Olsen
469.Mike Tobin
470.Corporal Robinson
471.Slim J
472.Ryan McBride
473.Chance Prophet
474.Hiram Tua
475.Mozart Fontaine
476.Matt Riviera
477.Hook Bomberry
478.Mastiff
479.Pinke LaRue
480.Chris Stone
481.Supreme Lee Great
482.Teddy Stigma
483.Greg Marasciulo
484.Apovslypse
485.Player Uno
486.Jimmy DeMarco
487.Wade Chism
488.Tim Donst
489.Leono
490.Dre Blitz
491.Igotta Brewski
492.Larry Zbyszko
493.Super Calo
494.Marshall Gambino
495.Hydra
496.Mickey Gambino
497.Worker Ant
498.The Guy with Red Hair
499.Kliff Hanger
500.Kurt Adonis