WWE Films News: Orton's Film, Triple H's Movie, & More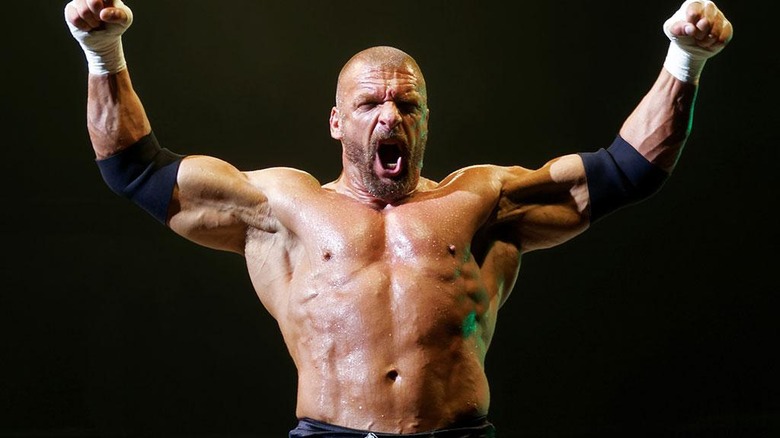 Photo Credit: Miguel Discart
WWE recently trademarked the titled That's What I Am for a film project. That's What I Am is now the new name for the film previously titled, Big Red, which will feature Randy Orton. Orton will play the bully's father, here is a brief synopsis of the film? Set in the 1960s, the family drama centers around a bright 12-year-old boy whose English teacher (Ed Harris) pairs him up on a project with the school's biggest outcast and social pariah, Stanley (aka "Big Red"). When Andy watches Stanley fearlessly confront a school bully, a series of events is unleashed that changes the lives of the boys and their teacher.
WWE sent out the following today, regarding casting for the HHH film, The Chaperone?
WWE STUDIOS ANNOUNCES THE CHAPERONE
STAMFORD, Conn., June 7, 2010 ? WWE Studios announced today that actors Kevin Corrigan ("American Gangster"), Ariel Winter ("Modern Family") and Annabeth Gish ("The West Wing") have joined WWE? Superstar Paul "Triple H" Levesque ("Blade: Trinity") in the cast of the studios' upcoming comedy, "The Chaperone." The film will begin principal photography today in and around New Orleans, Louisiana.
Stephen Herek will direct the film from a screenplay by playwright S.J. Roth. "The Chaperone" is produced by WWE Studios Executive Vice President Michael Pavone and executive produced by WWE Studios Vice President David Calloway.
Ray Bradstone (PAUL "TRIPLE H" LEVESQUE) is the best "wheel man in the business," but he is determined to go straight and be the best parent he can be to his daughter, Sally (ARIEL WINTER), and make amends with his ex-wife, Lynne (ANNABETH GISH). As Ray struggles to find honest work, his old bank-robbing crew, led by Phillip Larue (KEVIN CORRIGAN), offers him one last job. He agrees at first, but changes his mind at the last second leaving the crew without a driver. Ray decides instead to serve as a "chaperone" for Sally's school field trip. When the robbery goes awry, Larue blames Ray and chases the school bus all the way to the Museum of Natural History in New Orleans. Ray must deal with Larue, while supervising Sally's class on what becomes one of the craziest school trips ever.
WWE Superstar Paul "Triple H" Levesque is ex-con Ray Bradstone, a former getaway driver determined to turn his life around and establish a relationship with his estranged daughter Sally. Levesque is a thirteen-time World Champion. He debuted in 1995 with World Wrestling Entertainment, Inc. as Hunter Hearst-Helmsley? and has become one of WWE's most popular and successful Superstars of all time. Levesque has appeared in the film, "Blade: Trinity," as a vampire enforcer and just finished filming WWE Studios' "Inside Out" with Michael Rapaport, Parker Posey and Bruce Dern.
Ariel Winter portrays Ray's teenage daughter, Sally, who wants nothing to do with her father after his release from prison. Winter currently stars as Alex Dunphy in the popular and critically acclaimed ABC series, "Modern Family." She recently completed the films "Nic & Tristan Go Mega Dega," "Opposite Day" and "Duress." Her other film credits include "Speed Racer," and voice work for "Cloudy with a Chance of Meatballs," "Afro Samurai: Resurrection," "Horton Hears a Who!," "Ice Age: The Meltdown" and "Curious George."
Kevin Corrigan plays Phillip Larue, who pursues Ray after the botched bank robbery. A graduate of the Actors Studio, Corrigan is familiar to many for his roles in "American Gangster," "The Departed," "Superbad," "Pineapple Express," "True Romance," "Goodfellas," "Bad Boys," and the 2009 Oscar-winning short, "The New Tenants." His television credits include portraying slacker Eddie Finnerty in the series "Grounded for Life," recurring roles on "Damages" and "Fringe," and guest starring roles on "Law & Order: Special Victims Unit" and "Californication."
Annabeth Gish is Lynne, Ray's former wife, who has moved on with her life. Gish most recently portrayed Eileen Caffee on Showtime's critically acclaimed series, "Brotherhood." Gish's other credits include Elizabeth Bartlett Westin, the eldest daughter of President Bartlett (Martin Sheen) on "The West Wing" and as Special Agent Monica Reyes on "The X Files." She made her film debut as a teenager in the 1986 film "Desert Bloom," and went on to star in the films, "Mystic Pizza," "Wyatt Earp," "Nixon," "Beautiful Girls," "Double Jeopardy" and "The Celestine Prophecy."
Director Stephen Herek made his debut as the writer-director of the feature film "Critters." He also directed the blockbuster "Bill & Ted's Excellent Adventure," as well as the films, "The Three Musketeers," "Mr. Holland's Opus," "101 Dalmatians," "Holy Man" and "Rock Star."
World Wrestling Entertainment, Inc., a publicly traded company (NYSE: WWE), is an integrated media organization and recognized leader in global entertainment. The company consists of a portfolio of businesses that create and deliver original content 52 weeks a year to a global audience. WWE is committed to family-friendly, PG content across all of its platforms including television programming, pay-per-view, digital media and publishing. WWE programming is broadcast in more than 145 countries and 30 languages and reaches more than 500 million homes worldwide. The company is headquartered in Stamford, Conn., with offices in New York, Los Angeles, Chicago, London, Shanghai, Sydney, Tokyo and Toronto. Additional information on World Wrestling Entertainment, Inc. (NYSE: WWE) can be found at wwe.com and corporate.wwe.com. For information on our global activities, go to https://www.wwe.com/worldwide/.