Orlando Jordan Talks TNA Release, Character Development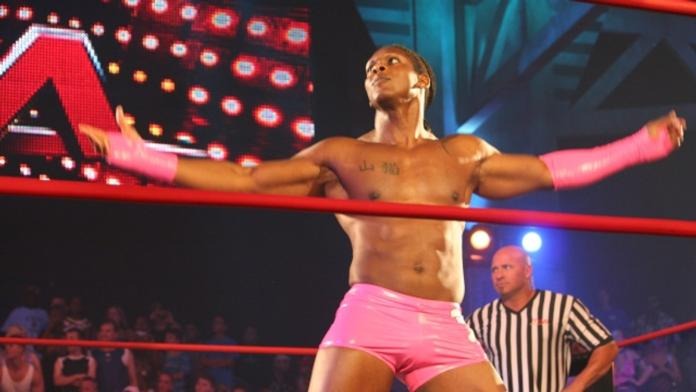 Orlando Jordan appeared on World Wrestling Insanity, which is available at ClubWWI.com. Highlights from his interview are as follows:
The one man shock-and-awe of TNA, Orlando Jordan turned heads with each move he made. Debuting with an outrageous entrance, OJ seemed destined for spectacular things. However, as time went on, the spectacle died down and the gimmick followed suit. As Jordan explains to James Guttman, the idea was never to be another version of Goldust. There were many plans he had for his character, but sometimes you have to compromise and, as he tells ClubWWI.com members, sometimes too much compromise can knock a solid idea off course...
"I enjoyed my time there. I was a little bit disappointed with the progression of the character because we started out where I wanted to go – and I laid out how I wanted this character to start and develop – because I believe a character should grow. Every character evolves and I wanted this character to evolve. That was the understanding?When you work for a company, you can't get everything you want. You have to compromise. And I compromised with the character on what they wanted and that was part of the deal. That was a hard thing. That was a challenge. Trying to do what I wanted and trying to give what I wanted the way I knew it could be delivered and then also what the company wanted to present – that was a challenge there. In the end, I was a little bit disappointed in that area and stuff."
Orlando goes into detail on the character's original intention and how it would have helped shatter stereotypes. He also speaks about the shocking nature of it all, the goal TNA had for it, and why it might have been better suited for WWE. In the end, though, there were no hard feelings and OJ had to do what was right for him, as the ClubWWI.com audio show continues, he tells JG the circumstances surrounding his release...
"I'm a professional and I'm a performer. So I'm always willing to do something different and that was the attempt. Like I said, you have to compromise and stuff like that. But when you compromise, you start to lose the direction. That's where it headed. Eventually, I had to make decisions and if it wasn't headed in the direction I wanted, I had to make decisions?I know they said I was released, but I had made a series of inquires to TNA about things and – I got released on a Monday – that Friday (before), I had actually called the TNA office and said, "Look. I need something to happen and I'm not happy and I need to be able to do more things." The person I talked to wasn't really in the position, I don't think, to do anything. So I left my piece of mind and then I was granted my release on Monday. So that's what happened. Was I upset? No. Not at all. I was very content with how things went out and we parted on good terms and everything. "
Although a return to WWE or TNA is always a possibility, don't worry about Orlando Jordan in the meantime. He's keeping busy with his brand new training facility, Wildkats Sports Dojo. With a resume that includes top spots in WWE, TNA, and overseas tours, Jordan knows how to get noticed. Now, he's sharing his secret with wrestling's future stars and giving back to the business he loves. He tells ClubWWI.com listeners all about it and directs them to Twitter.com/Wildkatsports for all the latest info:
"The new dojo! WildKat Sports Dojo out in New Orleans – particularly Kenner, Louisiana. That is the new training facility that I have opened up along with my partner Luke Hawx, who has been a very successful independent worker in his own right. He's also a stunt actor and done a lot. Probably done just as much and more known in that area than wrestling, which is crazy because he's busted his ass in both. So, we have the Wildkat Sports Dojo in Kenner, Louisiana. And it's going great man. We've only been open for a few months but we have some strong, good looking, talented, hard-working guys. We have about ten students training for professional wrestling. Also, the other thing we're doing in the local area is mixed martial arts, grappling – I have a background in grappling, boxing, bringing specialists from specific martial arts backgrounds by the end of the year. It's good. Going good. I'm excited, man. I live for training. I've done it my whole life."
Source: ClubWWI.com