DDP Talks His Early WCW Days, RVD Inspiring Him, Eddie Guerrero, Being Fired By WCW, Hogan & More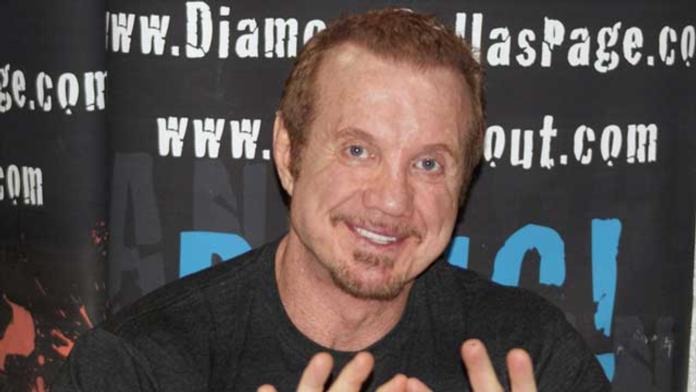 Photo credit: Google
"Diamond" Dallas Page recently spoke with Raj Giri of WrestlingINC.com about his time in the business, his start in the AWA and WCW, being there when WWE purchased WCW, his time with WWE, starting DDPYoga and much more. Here is part one of the interview, make sure to check back this week for parts two and three.
Also, make sure to learn more about DDPYoga by clicking here.
* * *
WrestlingINC.com: You started out in the business as a manager. Tell us about your start in the business, did you always want to be a manager?
Page: Well I tried wrestling when I was 22 and I had three matches and it didn't work out for me. I got hurt in my knee. I got hit by a car when I was a kid. When I was 12 years old, a car hit me on my right side of my knee. My face bounced off the hood, I flew 42 feet? they thought I was dead. So my right knee was always a major hindrance to me. They wouldn't let me play football or hockey anymore. Long story short, I came back and played basketball which is a game I hated mostly because I sucked at it, but I did get good at it because I worked my ass off like I do everything else.
Long story short is I tried it when I was a kid but in my third match, I tore the s–t out of my knee. It put me out so I started running night clubs. At 23 years old, it was the booze, the broads and the party so I never went back. And then when wrestling blew up huge, I stopped watching because I was so pissed at myself because I knew that I would have been in the middle of that s–t. I just knew it.
When I was 31 and a half and I was running a club in Ft. Meyers, FL and one night we were closing down and my DJ was playing "Girls Just Want To Have Fun." You know, Captain Lou and a couple of the boys were in that, Nikolai and a few others and I thought, I just looked at this and said, "I can wrestle. I should have been a part of that."
And that night we were going back outdoors and he says, "What do you mean you should have been a wrestler? Back there when you talked about being a wrestler, what are you talking about? You wrestled?" I said, "I tried and it didn't work out." He goes, "What was your name?" And I was a big "Handsome" Jimmy Valiant fan and I was like, "Handsome" Dallas Page. We just started drinking that night and we drank into the wee hours of the morning doing shots of Goldschlager and drinking beers and I said, "What about Diamond Dallas Page? I can hear them chanting DDP now!" And I thoughtm "I'm too old to be a wrestler but what about being a manager?"
Jimmy Hart's got the Hart Foundation, what if I had "The Diamond Exchange" with a valet here and a valet there. You had Miss Elizabeth, who was girl-next-door hot, what if I had a stripper-hot valet and called her "The Diamond Doll." DDP, The Diamond Exchange and the Diamond Doll?! That is b-a-double d BADD! But I felt that I was too old to be a wrestler, so I became a manager.
WrestlingINC.com: How did you get your start with the AWA?
I made this video and sent it to the AWA, and they called me back two weeks later. It didn't work out at that time? It's all about timing, just like my DDPYoga right now. At that time in my life, it was a hobby to me. Paul Heyman left the AWA with the Midnight Express and went to the NWA, which it was before it became WCW. That left a huge hole for a guy who could talk and people could get energized about.
They [AWA] called me up two weeks later. "You bring yourself in, we'll give you a tryout." This chick that I was f–king at the time, who was this hot blonde, and I said, "Do you want to be on TV?" and she said "Sure" and we went to Vegas and she was sick because she was no nervous.
WrestlingINC.com: Was this [Diamond Doll] Tonya?
Page: No, it was actually LeAnne, It's funny you say that. Tonya, she actually bartended for me. She was one of the few chicks I wasn't f–king. [laughs] She was a buddy of mine.
I worked for the AWA for a year or so, and I did one show a week. When they were doing the buildup for Superclash is when I built an amazing relationship with Michael P.S. Hayes. He realized that I wasn't just in this like so many people to be a TV star, I loved this sh-t like he did.
Later on, I became tight with Dusty [Rhodes] too, who was in WCW, and he loved me man. He said that I reminded him a lot of him. So Dusty and Michael P.S. Hayes called me back and brought me in [to WCW].
You went from managing in WCW to becoming a wrestler yourself. What prompted you to make the change?
Page: I came into WCW and The Freebirds were the first guys I managed and Hayes, because of the relationship we had built over the year, told Jimmy [Garvin], "let him talk? Let's put our backs to the camera and let him talk, the guy's got great mic skills." And I was like, "holy f-ck! Here are two of the best talkers EVER and they're going to let me talk with their backs to the camera!"
Magnum T.A. said to me, "DDP, with the hair, the rings, the locks, the broads? what we should do is put you in a pair of boots and tights and have you do this s–t!" I had seven months left in my deal and I said, "f–k this! I'm going to go down to the Power Plant and I'm going to learn how to wrestle." I didn't get in this s–t to become a manager, I got in this because I'm a wrestler.
They tried to run me off, beat me up? Anybody who tries to get in this business, the first thing they do is try to run you off. If you stick to your initiation, that means that at least you've got some balls and you have some kind of work ethic. They realized that I wasn't going anywhere and I started getting mad props at the Power Plant.
WrestlingINC.com: Who was your first match with?
Page: My first match was with Scott Hall, we tagged together. My first match, in the ring, was with Scott. Tony Schiavone came back to me after the match and looked at me after I was changing and said, "DDP, I've gotta tell you. That's one of the best first matches I've ever seen anyone have in the business. You suck, but if you keep doing what you're doing, you've got potential kid."
WrestlingINC.com: Just when it seemed like you were getting some TV time, you were paired with Kevin Nash and then got injured. That led to you being fired, right?
Page: Yeah, I tore my rotator cuff. That was my first major injury.
I was the first professional wrestler to ice my body because I started at 35, I iced my body. I didn't really get the flexibility part until later on in my career? I stretched out a little bit, like every other joker does, but it wasn't Rob Van Dam-type stretching. He's the one who quietly, while never saying anything to me, inspired me to f–king try yoga, even though Rob wasn't doing yoga, he was doing his own kind of yoga.
When I tore my rotator cuff, they fired me. Bill Watts came in, and I knew he was going to let me go, so I quit before he let me know. So I started doing independents and I was looking at Jake Roberts and trained with him for three months. He taught me A LOT. A lot about psychology, and that's the key to wrestling. When you go out there in front of 20,000 people and they know and you know who's going to win, how do you make them give a f–k? That's the art that people really don't understand about professional wrestling, it's its own art form.
There was a point in time that I'll never forget, I finally realized why my matches were? they're good, but why am I not getting the right psychology. And then I realized, I knew I had 12 minutes for this one match and after six minutes they're sending me home? they were short-cutting me.
So I'm in this match with Alex Wright for one of the Clashes or Primetime, and I'm gonna finally beat somebody who means a little bit of something. They gave us like 12 minutes or something like that and they sent me home like really early? like right when I started my heat. I was like, "f-ck that," and I kept going. Freakin' [referee] Charles Robinson ? I think it was Charlie ? was saying, "Diamond! They're saying to go home!" I said, "I got it" and I kept going. Now I've got Alex on the ropes and they're screaming in the back, "GO HOME!" And Alex is saying, "Diamond, we should go home, we should go home!" I said, "Don't worry about it kid, I'll take the heat." Charlie's yelling at me to go home, and I said, "SHUT THE F-CK UP MOTHER F-CKER, I'm taking the heat but I'm going to do what I wanna do!" I went another five minutes! When I hit Alex with the Diamond Cutter, the place blew up!
When I went to the back, I knew Kevin [Sullivan] was going to chew my a?out. He walks up to me, throws out his hand and says, "great match, kid! Tonight, you became a worker!"
WrestlingINC.com: Shortly after you returned to WCW you defeated Renegade for the WCW TV Championship. What was it like to win your first title?
Page: What you don't know is that I was there, they were using me sporadically. They didn't even know I was there. I really came out when Hulk [Hogan] came in. After one of my matches in Germany – I was a curtain jerker – he grabbed me and pulled me over and said, "I've been watching your matches the last couple of nights. You're getting so much better. I've seen you on TV sporadically, here and there and when I do, you've got something new? You've got that it thing going. They've got you on the road like this to keep getting you better at your craft, right?" I said, "No, this is the first time I've been on the road in like three months. The only reason why I'm on this tour is because my last name is really Faulkenberg and the Germans know it. And I've got a smokin' hot wife that walks to the ring." Hulk said, "somewhere down the line, if you keep doing what you're doing, you and I are doing to draw huge money together. You have the ability to draw huge money with me." I told Hulk, "I'm over this place and I'm ready to get the f–k outta here. I said, "My best friend, Kevin Nash, is the heavyweight champion up there... I'm going up there. [to WWE]" And Hulk grabbed me later that night and took me to Eric [Bischoff] and said, "I know this guy's your buddy, but you need to do something with this guy."
I don't think they wanted to put the TV strap on me more than they just wanted to take it off of poor Renegade, who was the sweetest kid and ended up killing himself. He was the nicest guy who loved wrestling and they gave him the gimmick of The Warrior, no one can just play the Warrior. They tried doing that later on when they tried to replace Nash and Hall. You can't do that.
WrestlingINC.com: During that time, business really caught fire with the nWo. You were feuding with Eddie Guerrero at that time, and we recently saw that great video of you and Chris Jericho sharing stories about Eddie. Are there any other stories you can share with us?
Page: One of my favorite moments with him was? if Eddie knew he was taking the [diamond] cutter ? and a lot of times I was taking the [frog] splash ? he's the one that came up with the powerbomb diamond cutter, it's the greatest diamond cutter out there. The only one that can touch it is the one that [Randy] Orton did with Evan Bourne. I think the one with Eddie was really, really amazing.
The one inside story I can tell ya, we were at Halloween Havoc and that's where Eddie was supposed to go over. If you look back and you watch that match, you'll see Eddie do this splash to me off the top rope down on the ground. He nudged up somewhere doing that and tore his right cartilage along his ribs, which is one of the most "Oh my god!" painful things ? and he still kept going. I didn't even know he was hurt until right at the end, you'll see me grab him and hit him with the diamond cutter. I don't do anything spiffy with it, I just grab him and hit him. That's because when I'm going to pick him up and wanting him to reverse it on me, he's yelling, "diamond cutter! Diamond cutter!" so I said "OK" and hit him with the diamond cutter and pinned him, 1-2-3. He was in so much pain? but he kept going, though. But he could not do the frog splash off the top.
Make sure to check back tomorrow for part two of the interview where DDP talks about his angle with the nWo, working with Randy Savage, WWE buying WCW and more.
Also, make sure to learn more about DDPYoga by clicking here. A lot of wrestlers are now using it including Chris Jericho, Mick Foley, Shane Helms and scores of others. You can check out a testimonial from Jericho below: