NASCAR's Carl Edwards Talks John Cena's Daytona 500 Appearance This Weekend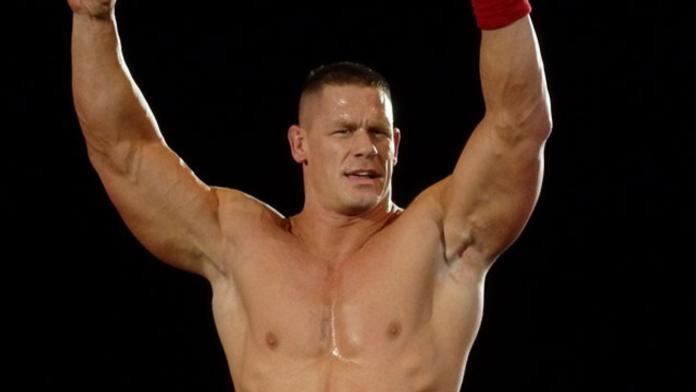 John Cena will be the honorary race starter at the Daytona 500 this Sunday. The Miami Herald has an interview with NASCAR's Carl Edwards, who talks about Cena waving the green flag this weekend. Here are some highlights.
Meeting Cena in 2007 while filming an ABC reality television series: "I knew who Hulk Hogan was. That was my era. I didn't know much about current day wrestling until I met John, and now I follow it a little bit. "I didn't know anything about John Cena, and we hung out for two full days of filming. The moment I knew this guy was a real car guy? I was supposed to teach him how to drive a race car. So he was supposed to follow me around the racetrack, and we were going around the racetrack."
His personal thoughts on Cena: "John's definitely a guy who can carry himself well in any situation. He can act. He can drive race cars. He can entertain people anywhere he goes. He's just one of those guys who transcend his sport. I think he'll be around entertaining people, one way or another, for a long time. The neat thing about John is he's like that off the camera, too. He's a cool guy to be around. He's a genuine guy. Fans love him. It's like when he passed me in the race car. He had people there laughing. Half the people were mad at him. He just does his own thing and has a good time, and that's pretty cool."
Cena waving the flag at the Daytona 500: "He's been to the races a number of times. He came to Atlanta a few years ago. That was cool. We got a picture in victory lane together. So that was huge. He was in Charlotte. What was cool in Charlotte, he sat in my pit-box, and they had to cut the sleeves off the crew uniform for him because literally his arms would not fit through the sleeves... So he's been to the races a few times but nothing like this. This is really big, and that's why it was really neat for me to be able to go invite him personally on Raw to wave the flag at the Daytona 500. I mean this is huge. He'll get to enjoy the race as a fan and hang out with us a little bit in the motor home and really be a part of it.
"I think at the end of the day, even though he is a superstar and gets to travel the world and has millions of fans, the look in his eyes to me when I invited him was that of a race fan who gets to do something that any race fan would love to do."
Guest hosting RAW in 2009: "It was a lot of fun. I got to do a back-flip off the top rope which is pretty much every kid's dream. So that was pretty fun... It was crazy. I didn't want to leave the ring. I was standing up there with Sheamus, and I was talking to the crowd. I got pulled into it and wanted to do more right then. Maybe some time in the future I'll get to do something."
Differences between WWE and NASCAR: "I think [NASCAR and WWE] are very different, and that's what makes it fun for John and I to do cross-over stuff back-n-forth. [NASCAR] is about 100 percent competition, based on the cars and tons of rules. There are penalties for stepping outside the box. At the end of the day, it's an extremely serious undertaking. In his business, he has a lot more lee-way, and they get to step outside the box, and that's what makes it fun to watch. They can stretch the rules and do crazy things and change things as they go along and do all the stuff you wish you can do in your life or your sport, and it seems like they have a lot of fun doing it. They're different, and I think we both like going back and forth into each other's worlds. We get to see things that we don't get to see on our everyday job."
Much more is contained in the interview, you can check it out by clicking here.
Source: The Miami Herald