TNA Sacrifice 2012: Crimson Vs. Eric Young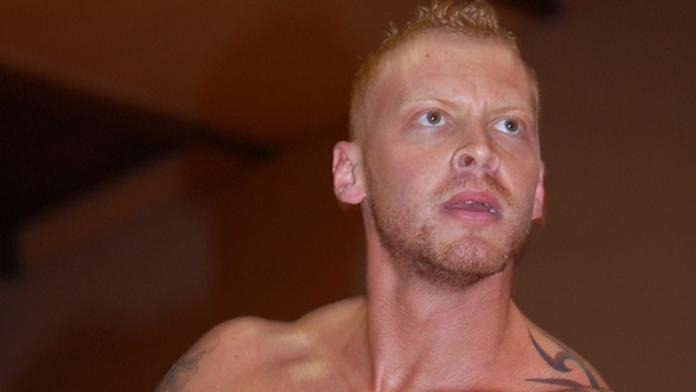 - Christy Hemme is backstage with Austin Aries and fan questions from Twitter. Aries says he's not afraid of Bully Ray and talks about how he's going to win their match later tonight.
- Tenay shows us last Thursday's Impact Wrestling when Abyss made his return.
- JB is in the crowd with Joseph Park, the brother of Abyss. He talks about how much fun he's had at Universal today. JB asks what he thought about Abyss returning on Thursday. Joseph says he missed it because he was recovering from Bully Ray bullying him but he knows his brother is close by tonight. In the mean time, he's going to sit back and watch Austin Aries kick Bully Ray's ass.
Crimson vs. Eric Young
We go to the ring and out comes Crimson. Crimson cuts a promo on Matt Morgan and says he will continue to do nothing but win. Crimson says nobody wants to fight him. He issues an open challenge and calls a referee to the ring. A "we want Steiner" chant breaks out. Crimson wants the referee to start the match and begin a count out so he can get another check in the win column. The bell rings and the referee starts to count an invisible opponent. Eric Young's music and out he comes with ODB – the TNA Knockouts Tag Team Champions. ODB takes the mic and calls Crimson a douche. She talks trash but EY takes the mic. EY says her problems are his problems since they're married and in love. EY goes to the ring to fight. EY enters the ring and locks up with the referee. Crimson grabs him and beats him down in the corner.
EY makes a comeback and sends Crimson out to the floor. Crimson comes back in and they go at it again. Crimson finally grabs Young and tosses him over the top rope, out to the floor. Crimson follows and ODB tries to stop him. Crimson brings EY back in the ring and covers him for 2. Crimson with a big sit down suplex. ODB eventually comes in the ring and Crimson shoves her back into the corner. She goes down and he gets in her face. EY comes from behind and he's pissed off. EY unloads on Crimson and goes up to the top. EY hits the big elbow drop. EY tends to ODB but Crimson attacks from behind and hits Red Sky for the win.
Winner: Crimson