CM Punk Talks John Cena, Colt Cabana, Planning For The Future, Sara Del Rey & More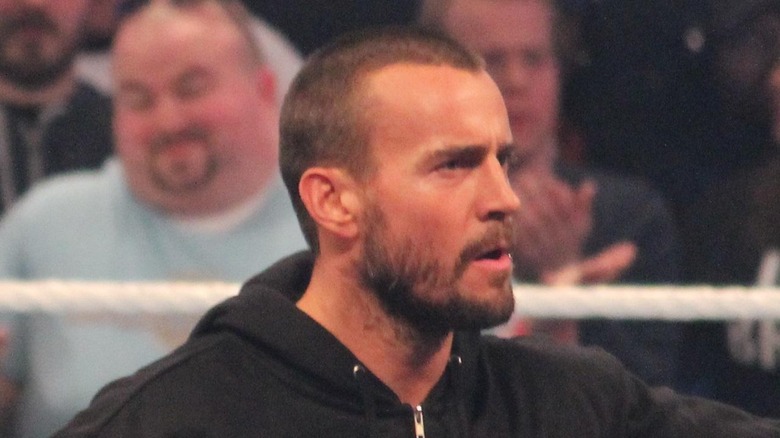 Yesterday, C.M. Punk took part in a Q&A at the Wizard World Ohio Comic Con, answering a number of questions from fans. Topics ranged from; planning for the future, staying in shape, John Cena, Colt Cabana, Sara Del Rey and so much more. Here are some of the highlights:
On how far in advance wrestlers knew what they were going into storyline-wise: "Trust me when I tell you that [the writers] have no idea what they're doing. I'm sure somebody will rev that up and it'll be on the internet and somebody will be like, 'You know, you shouldn't have said that.'"
On how he stays motivated and in shape while being on the road: "Twitter. I enjoy 12-year-olds and people grossly out of shape telling me that I don't have muscles or that I'm fat. I enjoy working out, I actually enjoy doing it. So, that's my motivation. So, I like to do wacky things like run a marathon on six hour notice. I did that last year. I just try to challenge myself, I don't do it for anybody else."
On the wrestler he enjoys working with most and the wrestler he hates working with: "I don't think there's anybody left that I work with that I hate working with if that makes any sense. I think John Cena is going to wind up when my career is said and done being my best opponent. I'd like to think when his career is said and done that I might wind up being his best opponent, too. He's right up there with Rey Mysterio. I love wrestling those guys.
On how it felt beating John Cena in his hometown of Chicago for the WWE title: "At that exact moment, I was pretty tired. I was legit thinking — because the title is like 35 pounds — I have to sprint up a set of stairs and hold this above my head. I'm probably going to fall. That's what I was thinking. But, it was a great moment and a career highlight."
On the WWE's relationship with social media: "Social media with Twitter and Tout and all that stuff, to me, is a double-edged sword. A lot of times, I enjoy talking to fans when they ask me intelligent questions. Unfortunately, it doesn't happen super-often. For some reason, two parts of the world despise me and they are people from India and anybody in the United Arab Emirates. I get the most foul-mouthed, ridiculous tweets and I have no idea why. They tweet some pretty brutal stuff to me.
"But that's the thing, the fans can reach out to you and say whatever they want. I'm sure Patrick Stewart gets tweeted all kinds of stuff like, 'Kirk would kick your ass. You shouldn't be the captain of the Enterprise, you're boring. I won't watch Star Trek because of you.' I get the same stuff all the time. But I think that, overall, it's a positive thing."
On what his WWE fame has allowed him to do that he thought he'd never be able to do: "I don't know because I don't really think of myself as a celebrity. I think some of the best fan interactions I have are when I'm walking down the street and fans go, 'Hey, Punk,' and they wave and I go, 'Hey!' I think that's wild that that happens in my life. But, I don't know — off the top of my head, I can't really think of anything. ... Yeah, stuff like [throwing the first pitch at the Cubs' game]. Perfect example. Being on the mount at Wrigley or singing a very off-key 'Take Me Out To The Ballgame.' Yeah, that's pretty wild that I've gotten a chance to do that."
On whether or not he's ever felt that the angle with Jericho involving his family went too far or if other storylines may have: "No, because I'd have to take you back to me singing 'Happy Birthday' to Aalyah Mysterio. That was pretty wild. I don't have kids, so I'm disconnected to that. But, I think that that was pretty messed up. A lot of people who have children were probably like, 'Man, that was too far.' But, you know, I thought it was pretty funny."
On his friendship with Colt Cabana: "I don't know how entertaining we are when we hang out. We're literally just sitting on my couch arguing. 'Want to go to the gym?' 'Yeah, I don't want to go to your gym.' 'Well, I don't want to go to your gym.' The gym I go to in Chicago, people are told not to speak to me. [Laughs.] It's a long story, I know it's some crazy Axl Rose stuff. But when I go to a gym, it drives me crazy — some times I can't go to a gym because people are constantly bothering me, mid-workout, they're tapping me on the shoulder. I just want to throw people out of a third-story window.
"I don't know, Cabana's a cool guy. Knock on wood, everybody cross your fingers, we might have some potential good news in the near future."
On what changes he would make in WWE if he had complete control: "Well, I think a lot of the chance is behind the scenes. I think — and I know — I've had a ton of input. People have been asking me questions, people in 'high places', people who hire people. I'm not going to take credit solely for somebody getting hired, but if you look at a lot of the people that we've hired that are down in FCW, there's a reason for it.
"I just like people that work hard. We recently just hired Sara Del Rey to train our future divas. And I know a lot of people are like, 'Wow, that sucks. Sara should be on television.' Maybe you're right. But I've talked to her about it, this is her dream job. She gets to wrestle every day and she gets paid for it. I don't think there's a better female wrestler in the world right now. She can teach our girls and hopefully the future generation of divas are going to be that much better for it.
"Right now, it's wide open. With Beth leaving, Kelly gone, there's never been a better opportunity for the girls in FCW to step up. So, I'm interested to see what happens.
"Guys like Chris Hero, Claudio, Tyler Black, Seth Rollins, Dean Ambrose — look, I'm not going to sit up here and say they all look up to me or something like that. Maybe they do, maybe they don't, I don't know. To me, I'm here for them. You know what I mean. I wasn't afforded certain opportunities based on what people thought of me. If I hear certain people's opinions on talent based on what they've heard or what their reputation is — no, that guy or that girl is awesome. Shut up. Let them be them, let them do their thing. We will all be better off for it in a couple of years.
On someone that he would like to drop a pipebomb on: "Well, I don't know when he's coming back but Dwayne. I'm not going to be gentle like Cena was. You know what I mean? It's live TV, anything can happen. I'm looking very much forward to it, to doing stuff with him. I'm running out of people that do interest me to work with. So, I'm looking forward to that.
On what it was like being on the cover of WWE 13: "It's awesome. That's one of those things where the goal is to always be in a video game. it was never like, 'OK, well I'm going to be on the cover.' I just figured as long as I'm in a video game, that was good enough. Then, the cover opportunity popped up and I think that's awesome."
On what it felt like being the champion, but not always getting the main event: "Well, that's one of those things that I think we need to change. Right now, in the company, I look at things a little bit differently than everybody. There are two people on the main event roster that have experience wrestling in the main event at WrestleMania. One is Randy and one is John. John just went down with an elbow surgery so he's out. Knock on wood, what happens if I get hurt today in Topeka, Kansas? Are backs are against the walls.
"We have to put somebody else in that spot. We have to take chances at that point. John is great, he's a great champion and a great spokesman for the WWE. But, I don't see him in the same light that a lot of people do. People think he's the end-all, be-all and is the only one that can do that. I don't see it that way and I don't think we can put all our eggs in one basket. They're all going to break and then nobody has any eggs.
"It's cool to me because that's what drives me. I'm so much better when I'm angry. I think that's pretty clear when you watch it on television. My stuff with Foley last week, that was a bad week. I was pretty pissed off the whole day. You've just got to put somebody else in that main event spot, you have to. It's positioning and it's perception. And I work my ass off and I'm the main event on every other show except for pay-per-views. So, yeah, it gets frustrating but that also drives me."
You can check out the entire video below.