Dolph Ziggler Talks Past Gimmicks, His Name, Being Different & More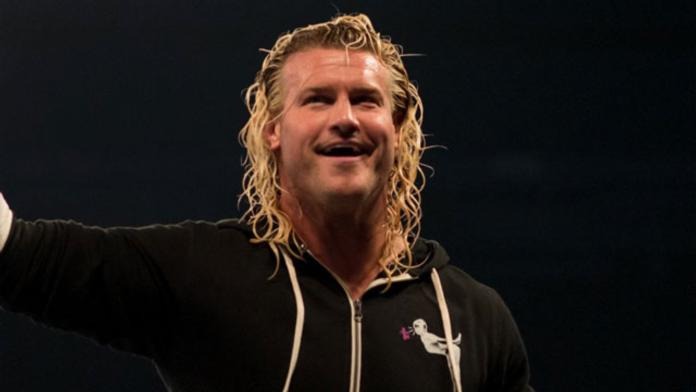 Photo Credit: WWE
Recently, Dolph Ziggler called into Brian Scoscia's The Scoscia Network program and took part in an interesting conversation. The interview covered; law school, his WWE tryout, being different, previous gimmicks and much more. Here are some of the highlights:
On being enrolled in law school before becoming a WWE superstar: "Yeah, I was enrolled in law school. Law/politics is one of my loves. But, since I was five-years-old, I wanted to be a WWE superstar.
"I wear a lot of different hats. I stay up-to-date in politics and I'm interested in all that stuff. But, my love is entertaining.
"... I wish there was some funny story about how everyone told me I couldn't do it, but I think everybody in my family has been behind me since day one. They knew that I had the talent, the discipline and the love for entertainment. It's funny, it wasn't like, 'Ah, we'll see.' It was like, 'Yeah, you'll probably do it.'
On taking a slightly less-traditional route to WWE: "Like I said, I'd been a fan. I wrestled since I was 5-years-old all the way to high school and college. I broke records at Kent State University.
"Eventually, I was lucky enough just based on my discipline and being a great college wrestler — and just being interested, meeting a few people, shake a few hands — I was lucky enough to get a tryout without working the independent scene."
On being sent back down after his caddy gimmick with Chavo Guerrero's "Sherwin White" run: "With this business, you never know what's going to happen. When I went back down, I said, 'OK. Is that it? Do I start packing up, do I leave? I don't know how this works.' They said, 'No, no, no. Keep working and we'll find something for you.'
"So, I knew that that doesn't always happen. Sometimes, you get that one chance and that's it. So, I was there and I'd already been going to two and three practices a day just to try and be better than everyone else there. I wanted no excuses. So, when they came looking for someone that they needed, they would want me to come join their roster because I would be a great asset.
"So, I worked hard. I went to extra practices, I went to extra shows. I did everything I could to be totally prepared for when they came calling if they did. I would be 100% ready to go."
On whether he was nervous or excited about becoming Nicky of The Spirit Squad: "It was a little of both. Once again, I was doing something that I wasn't totally comfortable with. I wasn't a cheerleader. I was an amateur wrestler and an entertainer, I can do all these other sorts of different things. But, that wasn't my specialty, you know, cheerleading. Man, how am I going to make this work.
"But, we worked so hard, all five of us. We got to be in the ring with legends on a nightly basis. We had a blast, we did a lot of fun things. It was a little scary though. We got to be in there with DX, Ric Flair, Roddy Piper and all these guys.
"But, once it came to an end, it ended really quickly, I thought, 'OK, maybe that was it. That's unfortunate that it ended that way but I had some fun. I got a chance to work here, most people don't even get that chance. And if I ever get another chance, I will not only be an asset to this roster, I will be known as the hardest working man in WWE.'"
On coming up with the name "Dolph Ziggler": "It was a little bit of a combination of the boss and myself trying to think of something that stuck, that would stand out and be totally different. And I could make my own waves with it, getting away from The Spirit Squad and getting away from being a caddy. Something totally different and now i can make my own waves in this business."
On the comparison he gets to Mr. Perfect: "Honestly, there are several guys that I watched and studied. Because I knew they were ring generals and I've always been a student of this business. Ric Flair, Shawn Michaels, Mr. Perfect, Billy Gunn — any of those guys who were athletes who always wanted all eyes on them and wanted to steal the show every time they went out there.
"Subconsciously, I think I started moving around like Mr. Perfect at times, but it's also a combination of 20 other superstars that I grew up watching and just knew that they were so fluid and so great in the ring. Subconsciously, you just start to pick up moves and traits.
"I think, more importantly, we have similar hair. Honestly, though, it's a honor to be compared to those guys who were my heros growing up."
On why he went with short, brown hair for a brief period in 2011: "At the time, I was in a little bit of a rut. The whole reason I have long, blond hair is to stand out and be myself, I love being different. If everybody else had long, blond hair, I would have short black hair. But, they don't. So, I like standing out, I like having my matches be different. I like me moving around the ring differently.
"And, for some reason, I was in a rut and I thought, 'Man, I'm not progressing like I want. Why is that?' And I noticed that all these guys that seem to be going in the right direction have these clean cut, everybody-looks-the-same hair cut. Maybe me standing out isn't so great for my career right now.
"So, I gave it a try. It didn't work out. I said, 'Listen, I don't like pretending to be something I'm not. I need to be this show off guy that stands out, who goes out there to steal the show. Let everybody else look cookie-cutter, I'm going to look different.'"
You can check out the full interview below.