Alberto Del Rio And Ricardo Rodriguez Discuss Being Paired, Their Friendship, More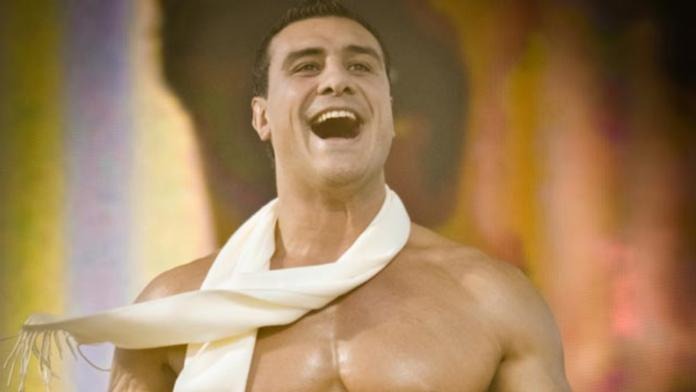 As noted earlier, Alberto Del Rio and Ricardo Rodriguez appeared on the "Rover's Morning Glory" talk show in Cleveland last week. Here are some highlights from the interview:
Alberto discusses not wanting to head to FCW when he was first signed to WWE: "To be honest, I never said that because it's in everybody's contract at least for a month, two months, three months to get used to the WWE style.The way we wrestle in WWE is totally different than anybody else. In my case, I needed to learn how to use the microphone, how to talk in front of the camera with the mic in my hand, working my facial expressions — all those things.
"I spend 6 months over there. To be honest, I never liked it because I'm 34-years-old and I was surrounded by 18-year-old and 19-year-old kids. It was hard for me. But, it helped me a lot because when they brought me up to the main roster, I was ready."
Alberto talking about buying Ricardo a car for Christmas: "It's still in my garage but I bought it for him. (Ricardo mentioned that it was an old, beat up Datsun.) It's still a car, right? It's still going to take you places. [Laughs.] It's a good gesture."
Ricardo discussing whether or not he wants to break out and be his own entity: "We've actually discussed this before. At the time being, what we're doing is working. So, there's no need to push through anything else right now. (Ricardo's asked if he'd get more women if he was the main guy.) I don't know if I should say anything because my girlfriend is listening. [Laughs.]
"...For the two years that we've been together, I've actually gotten my share of the spotlight at times. And it's great. But like I said, at the time being, what we're doing is working. I think the presentation of the a-hole and the comic relief, it kind of works out, it balances out."
Alberto and Ricardo talk about how they were linked together in the beginning:
Alberto: "Well, that's a really interesting story and I want to let Ricardo tell it to you because he was not the one that was to be my ring announcer. It was another guy but something happened that day that the guy decided to say no. And Ricardo knows the guy because I think the guy lives in L.A."
Ricardo: "Yeah."
Alberto: "I always ask Ricardo, 'Who is this guy? Where is he? Why'd he say no?'"
Ricardo: "Well, I had a wrestling try-out with WWE back in 2009 — maybe 2010 — and it was after Summerslam and it was a wrestling try-out. So, after the whole thing happened, I didn't hear anything back, they just said, 'Thank you for coming.' So, this was my first time coming to WWE and this was my first time experiencing catering. I lived on my own and I saw food and I said, 'Oh, my God. Food!'
"So, the guy who got me that booking, his name was Jesse Hernandez, and they went up to him and said, 'Hey, we need a Spanish ring announcer for this thing that we're debuting tomorrow. Do you know anybody?' So they went up to this other kid who was 19, clean cut, good looking kid, bilingual and they asked him if he wanted to go to Bakersfield the next day. For whatever reason, he said he couldn't make it. For whatever reason.
"So, Jesse (gesturing to me) said, 'Well, he speaks Spanish.' It was something out of a movie where it just zooms in and I have cheesecake in my mouth. So, they come up to me and ask, 'Hey, have you ever done ring announcing before?' I was like, 'Yeah, sure.' 'Do you have a tuxedo?' 'Yeah, of course.' 'Do you want to come to to Bakerfield to do this ring announcing thing?' 'Yeah, sure.'
"The funny thing about it is I was only scheduled for Monday, I wasn't scheduled for Smackdown! I ended up going to Smackdown! and the rest is history. I told [Alberto] that one of the biggest pay-on-the-back type things was that we were at WrestleMania — my first WrestleMania in Atlanta. I'm in the arena and I'm just scouting everything and how amazing the Georgia Dome is. I get a text and it was from the guy that said no. He asks me how's it going and in my head, I'm just like, it's pretty good. So, it's an interesting story of how I wasn't the original Ricardo."
Alberto and Ricardo on their friendship outside the ring:
Alberto: "It was supposed to be a one time deal for Ricardo but he did such a great job that the company offered him a contract and we've been together almost three years. Many people think that we're not friends outside the business but we're friends and we're always in touch with each other. It's not just in the ring."
Ricardo: "I think that's what helps with the chemistry when we're doing TV because we know each other. We feed off of each other, we spend so much time together, we spend more time together than we do with our families."
Alberto on whether or not he still goes back to Mexico: "Not really, only for work because now I live in Florida. I'm really happy living there. Plus, the situation in my country is a little difficult right now. ... At this moment, yes [it's as bad as you think it is]. That's the reason I don't go there. I'm not going to say [I'd be kidnapped], but it can happen. That's the reason I don't go there. I have my family with me in Florida, my mom, my dad, all of my siblings. If I go there, it's only for work. I try not to go there."
Alberto on whether or not the problems in Mexico can be fixed: "I'm pretty sure it's fixable but to be honest, I don't know what they're going to do at the moment because it's difficult. The cartels, they have taken the streets, they rule the city and it's going to be very difficult to make them stop. (Alberto was asked if the cartels ever approached his father during his time.) No, because when he was active, it was like 10 years ago and this problem started only like 6-7 years ago.
"It was bad in the past, but not this bad. At this moment, it's just bad. It's horrible. It's sad because Mexico is a beautiful country, we have such beautiful places. We are hard-working people, good people. But, it's not our fault. It's the people who are in charge of us — our president, our government — and they're not doing anything. It's really sad."
Alberto on how married life is on the road: "I've been married for 9 years. Some times, she comes with me. Like I said, the company treats us very well. When they feel like I've been on the road for too long, they bring my family to be with me because they know you have to be happy. Not just physically, but mentally. ... If you know what you have to do, you can make it work. That's what I do. Every time I go home, I take care of my family. It doesn't matter how tired I am, I go home and take care of my wife, my kid. I give them all the time I can give them while I am there.
"Some of them, not all of them. I would love to have all of those cars in my garage, but unfortunately I can't. [Laughs.]"
You can check out the full appearance below: