Jim Ross Gives His Royal Rumble Pick, Discusses CM Punk Vs. The Rock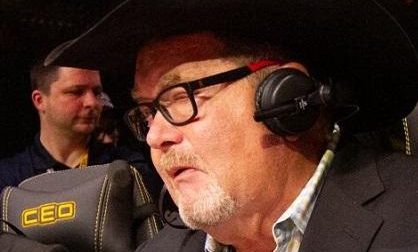 Photo Credit: AEW
Jim Ross posted his latest blog at JRSBBQ.com, and wrote in detail about the CM Punk – Rock match at the The Royal Rumble this Sunday.
Ross said that he expects Punk to push Rock farther than John Cena did last year, and wondered if the Rock would be in top ring condition for the match. He also predicted that a new champion would be crowned.
"At the end of the day, I expect one major error to cost Punk the WWE Title," Ross wrote. "Rock will walk out of Phoenix a battled and bruised man but the new WWE Champion, however, I expect CM Punk to leave Phoenix as the star of the show."
Ross also picked John Cena to win the Royal Rumble match and noted that he would be watching the event at home. You can read much more of Ross' thoughts on the Punk – Rock match, as well as his thoughts on the announcing for the pay-per-view and more by clicking here.
Also, don't forget to order some of JR's BBQ Sauce, which is great for the kitchen and the grill, at WWEShop.com by clicking here.
Source: JR's BBQ
Joe Raider Fan contributed to this article.