Steve Austin Talks WWE Dropping The Ball On His Show, Working With Rock, DDP- Hall, Movies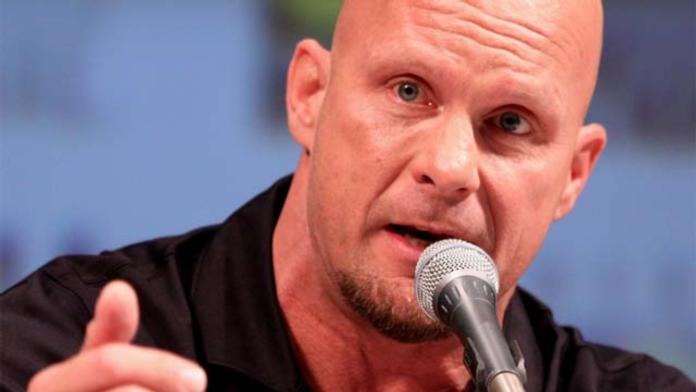 WWE Hall of Famer "Stone Cold" Steve Austin was interviewed on KISW Rock 99.9 FM earlier this week and discussed a variety of topics, including; his new movie The Package, favorite action movies, Tough Enough, working with The Rock and much more. Here are some of the highlights:
On his new movie, The Package: "It's a fun movie. I got a chance to work with Dolph Lundgren and the director Jesse Johnson, I'm going to work with him again in July and we're going to roll the cameras on another one.
"In The Package, I play a guy who collects debts for a living. My boss calls me in to deliver a package and I set off to deliver this package. That's where the twist comes in to the movie because the package I'm delivering is not what I'm delivering. That's where the excitements starts.
"Got a chance to team up with Dolph Lundgren on this movie again. He plays the bad guy and this bad guy can whip a lot of ass."
What role would he take from a past action film: "I don't know, there's been so many good ones in the past. Predator would have to be high on the list or even Terminator. Those would be two straight-up Arnold movies. Sly's been in a bunch of stuff that has been awesome. So, you know, those Rambo/First Blood movies are hard to beat."
On whether or not Tough Enough will get another season: "Man, I'll tell you what: that's been so long ago, I think that window has closed. It's really too bad because it was a helluva show. I loved doing it and everybody that watched it loved it. Whether it was WWE or — well, I guess it was them ultimately that pulled the plug.
"Why they did? I have no idea. But, that's on them, I've moved on down the road. I've got a chance to host a show called Redneck Island on CMT, I love doing that show. This one, it's not me versus the competitors, it's them versus each other. I just kind of facilitate the process as they go along eliminating each other.
"But, I work in the reality space so much that we're working on two other projects for CMT right now. We're going to announce those here pretty quick. I enjoy reality television. WWE dropped the ball with Tough Enough."
On spraying beer in The Rock's face during a Stone Cold Stunner: "Man, I had an absolute blast being in the ring with The Rock. I wasn't trying to spray the beer on him, but at the bottom position of the Stunner, because of the impact, I like to spray the beer in the air for the crowd. I might have been turned too far and got The Rock.
"I wasn't trying to intentionally douse the guy with beer. I mean, that guy, every time I got him with the Stunner, he'd start flopping around like a fish on a peer. He put the showbiz aspect into selling that thing."
On some of his favorite wrestling moments: "Obviously, WrestleMania X7 with The Rock in Houston, new in-door attendance record with a totally bad ass match. It was a fun one. WrestleMania 13 with Bret Hart with the double-turn, the blood and the story line heading into that one. Driving down to the ring in the beer truck, filling up a Corvette with cement.
"There's been so many good times, it's hard to sit here and cherry-pick one. But, talking about The Rock, every time we got in the ring, we lit it up. He was one of those guys that brought out the best in me and, I think, vice versa. It's always a great day at the office when you can work with a cat like him."
On keeping tabs on Jake Roberts and Diamond Dallas Page attempting to turn Roberts' life around: "Yeah, I have (kept tabs on it). Diamond Dallas Page is one of my best friends. I talk with DDP all the time and Jakes in there doing the DDPYoga. He's cleaned up, he's been sober for I don't know how long. His mind is back and Jake is one of the smartest guys to ever get in the business.
"So, I'm a big fan. He's one of my favorite workers. As a person, I don't know Jake as well as some. But, I've got my fingers crossed that continues to go down the path that he's on. I think he's in a real good place right now. I'm proud of him for getting his life back."
You can listen to the full interview here.