WrestleMania 29: Jack Swagger Vs. Alberto Del Rio (World Title Match)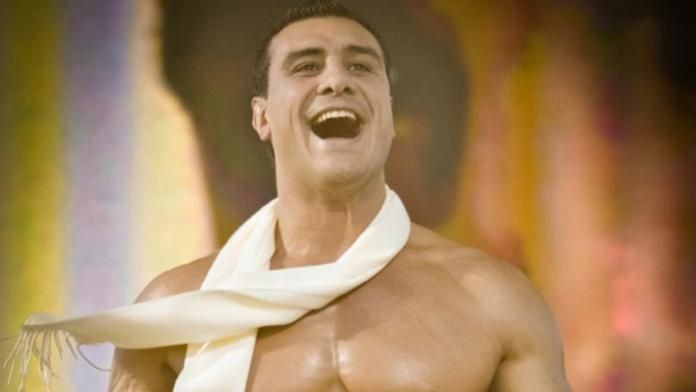 - We get a look back at The Miz winning the Intercontinental Title from Wade Barrett on the pre-show. Cole hypes tonight's post-show and shows us another video for Cena vs. Rock.
- We go back inside MetLife Stadium and see a video for Cena and Rock playing on the big screens. Diddy comes out and starts his musical performance with a version of Victory. It looks like he comes from under the stage. Diddy gives a shout out to NY and NJ. He says this is the home of the wildest, craziest, loudest WWE fans in the whole world. Diddy does a verse from "Mo Money, Mo Problems" next and then "All About the Benjamins." Next he gives shout outs to the victims of Hurricane Sandy before doing "Coming Home," the WrestleMania theme song.
- Cole thanks Diddy for being WWE's Global Ambassador for their anti-bullying campaign.
- We get a video for tonight's World Heavyweight Title match.
World Heavyweight Title Match: Jack Swagger vs. Alberto Del Rio
We're back inside MetLife and Jack Swagger and Zeb Colter are in the ring after driving the Patriot Mobile to the ring, a camouflaged cart. Zeb takes the mic and rips New York City and various nationalities. Zen says real Americans aren't afraid to do something about the problem and tonight, Swagger will reclaim this country by becoming World Heavyweight Champion. Swagger ends it with a, "WE THE PEOPLE!" Alberto Del Rio's music hits next and out comes Ricardo Rodriguez to do his introduction. Out next comes the World Heavyweight Champion Alberto Del Rio and he's wearing a robe.
Lilian Garcia does formal ring introductions and here we go. Swagger takes Del Rio to the corner and hits him with right hands. Del Rio turns it around and kicks Swagger down. Swagger goes to the floor but Del Rio hits a big kick through the ropes. Del Rio beats Swagger up on the floor before bringing him back in the ring. Del Rio goes to the top but Colter distracts him. Swagger knocks Del Rio from the top and sends him into the ring post. Swagger with big knee shots in the corner. Swagger nails a big clothesline for a 2 count. Swagger takes Del Rio to the mat but he fights up and out. Swagger counters and rolls Del Rio up for 2. Swagger with a big boot to the head. Swagger keeps control and works on Del Rio's leg, slamming it into the ring post. Del Rio counters and pulls Swagger's arm into the ring post. Del Rio fights Swagger off and kicks him back into the fan barrier.
Swagger runs into a big boot and Del Rio takes control. Del Rio with the bit tilt-a-whirl backbreaker. Del Rio kicks Zeb in the hand it looks like. Del Rio with a kick to the face and a 2 count on Swagger. Swagger dumps Del Rio on his head and covers for a 2 count. Swagger charges and takes out Del Rio's knee. Swagger applies the Patriot Lock but Del Rio rolls and kicks him back. Del Rio misses an enziguri. Del Rio blocks a Swagger Bomb. Del Rio with 10 shots to the back and backstabber in the corner. 2 count for Del Rio. Swagger gets up and they trade holds. Del Rio with a German suplex. A "we want Ziggler" chant emerges from the crowd. Swagger with a powerbomb for a 2 count. Swagger goes for the Patriot Lock but Del Rio fights it and reaches for the ropes. Swagger pulls him back from the ropes but Del Rio rolls through the hold. Del Rio applies the cross armbreaker. Swagger breaks out and turns it into the Patriot Lock again.
Del Rio gets the ropes but Swagger uses the 5 count before breaking the hold. Swagger misses the gutwrench and Del Rio kicks him in the back of the head. Del Rio goes on and gets a 2 count when Zeb puts Swagger's foot on the bottom rope. Ricardo comes over and Zeb kicks his bad ankle and he goes down. Del Rio corners Zeb, who has a crutch in hand. Swagger comes out and attacks Del Rio from behind. Swagger tosses Del Rio into the fan barrier. Swagger brings it back in the ring but Del Rio goes right to the cross armbreaker. Swagger taps out for the win.
Winner: Alberto Del Rio