TNA Slammiversary: Awesome Kong And Brooke Tessmacher Vs. The Dollhouse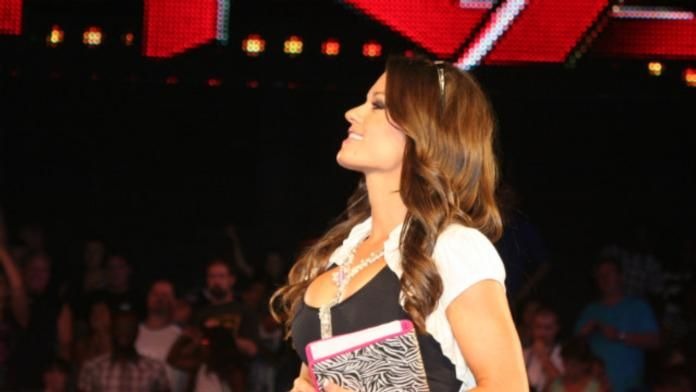 - JB is backstage with Eric Young for a promo on tonight's King of the Mountain match.
- We get a vignette on The Dollhouse.
Handicap Match: Awesome Kong and Brooke Tessmacher vs. The Dollhouse
We go to the ring and out first comes Jade, Marti Bell and TNA Knockouts Champion Taryn Terrell as The Dollhouse. Taryn cuts a promo about how she's the greatest Knockouts Champion ever and how The Dollhouse is the hottest group of women in wrestling. She disses her opponents and says they won't be taking her title on Impact because The Dollhouse has the advantage. Brooke Tessmacher is out next followed by her partner Awesome Kong.
Taryn starts off jumping on Kong's back. Everyone gets involved but Kong dominates. It settles down to Kong and Jade going at it with Kong in control. My feed stalls for a second and comes back to Kong splashing Jade and Marti as Taryn yells from the corner. Brooke comes in with offense but the numbers game turns it around in the corner. Marti slams Brooke's face into the mat a few times. Marti with a 2 count. Jade comes in with a big suplex before applying a bear hug. Brooke breaks it and goes for a tag to Kong but Jade catches her in another bear hug. Brooke finally tags Kong but Marti had the referee distracted and he didn't see the tag. Kong is ordered out. Kong argues with the referee as all three opponents stomp on Brooke.
More back and forth as Kong finally comes in. She fights Jade and Marti off with a double clothesline. Brooke tags back in with a double clothesline off the top. Kong grabs Taryn to pull her into the ring but Marti makes the save, knocking Taryn to the floor. Kong chokeslams Marti. Brooke climbs up with Jade and slams her with the Butterface Maker for the win.
Winners: Brooke Tessmacher and Awesome Kong
- After the match, Taryn throws a fit and yells at Marti and Jade as Kong looks on from the ring with Tessmacher.