Jim Ross Blogs About Brock Lesnar - Undertaker Brawl From Raw, No More Heels In Pro Wrestling, More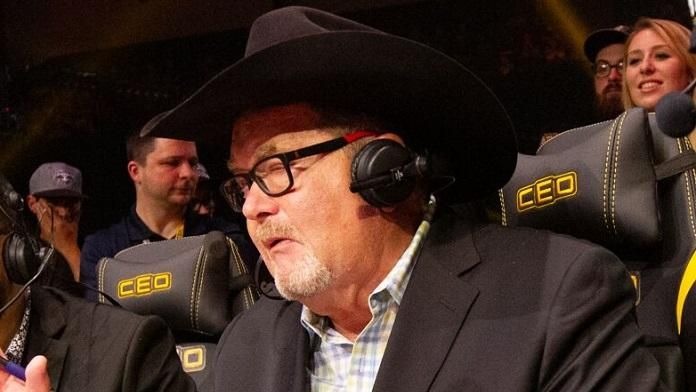 Photo Credit: AEW
WWE Hall of Famer Jim Ross has posted his latest blog, touching on the acclaimed brawl between Brock Lesnar and The Undertaker from Raw. You can check out highlights below, and the full post at this link.
On heels in wrestling:
"Where have all the TV wrestling villains gone? Great heroes can't be created without great villains, men and women who CHEAT TO GAIN AN UNFAIR ADVANTAGE. Alleged villains who working hard for the 'pop' and not for legit angst and heat are doing themselves, their opponents and the business a disservice. Villains should work to be 'hated' and not work to get their beloved, Tee shirt selling 'pops.' A few guys seem to 'get it' but no one has totally mastered the valuable albeit elusive art of being a true villain in today's wrestling ring within the business no matter the promotion. Those that do perfect the skill of consistently being a true, bad guy will have every top fan favorite in the land wanting to work with them."
Undertaker-Lesnar brawl:
"Great buzz created by the old school, pull a part Monday night on RAW between Brock Lesnar and The Undertaker coming off the heels of Taker costing Lesnar the WWE World Title Sunday night at WWE Battleground when the Deadman made a surprising return to the ring.
Nothing on RAW from Kansas City came close to matching he emotion that the Beast Incarnate and the Phenom created with their physicality that was a throw back to another era but it worked like it was new. What's old is new in today's wrestling world by the way and the basic product doesn't ned to be recreated. I wonder how many fans saw their first major, WWE pull a part ever on Monday night?"
Ross also posts a booking scenario that he would do for the Lesnar-Taker feud, which you can check out at this link. JR also has several T-Shirts available now, which you can find at this link.