– Following this week's episode of SmackDown on Syfy, Zeb Colter addressed his and United States Champion Alberto Del Rio's "haters."
REMEMBER THE WORD "TRUTH"? APPARENTLY WHEN ITS SPOKEN TODAY, SOMEONE WILL ALWAYS BE "OFFENDED". GET OVER IT HATERS. @WWE @VivaDelRio

? Zeb Colter (@WWEZeb) November 13, 2015
SORRY UK I USED YOU TO EXPLAIN "HATERS" TO THE @WWE UNIVERSE BUT YOUR MODEL WAS PERFECT FOR ANALOGY. STOP THE HATE. #MexAmerica

? Zeb Colter (@WWEZeb) November 13, 2015
Del Rio responded to their "haters" and tweeted this photo of two young men.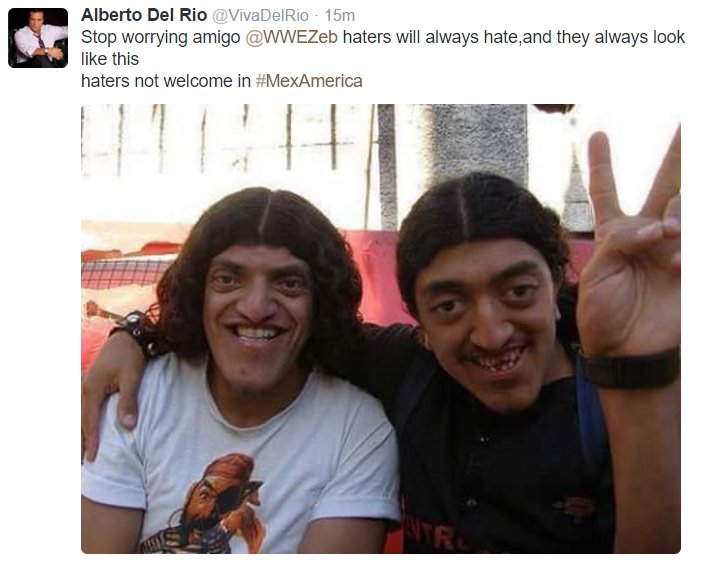 His tweet touched a nerve with some fans, with some calling for his job. The post has since been deleted.
– SmackDown ring announcer Eden has posted a blog on her visit to Leeds, England during WWE's European tour.
– Rapper Mac Miller paid tribute to "Stone Cold" Steve Austin at his concert Friday night in Santa Cruz, California.
After he was done performing, the WWE Hall of Famer's theme song played with Miller drinking beer and giving a Stone Cold Stunner to his hype man. He then said, "And that's the bottom line, 'cause Stone Cold said so!"
@MacMiller pulling a stone cold performance tonight!!! pic.twitter.com/syrr0Mux4Y

? Danny Plascencia (@PlascenciaDanny) November 14, 2015