WWE Monday Night RAW Results - AJ Styles In Action, The Rock Returns, Triple H Celebrates, More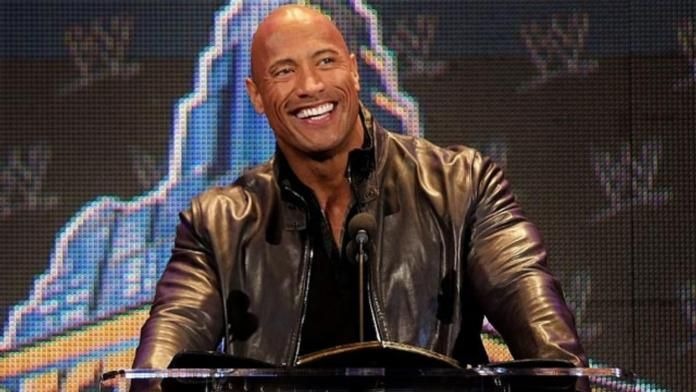 Welcome to our WrestlingINC.com Live WWE RAW Viewing Party. We will be providing live ongoing coverage of tonight's RAW, while you all can chime in with your thoughts throughout the show.
Please help spread word of tonight's coverage. Twitter users, please share this page by clicking the 'Share' button below:
Keep hitting REFRESH on your browser to get the most up-to-date results.
- Tonight's WWE RAW opens up with a look at Triple H winning the WWE World Heavyweight Title at the Royal Rumble.
- We're live from Miami with Michael Cole, JBL and Byron Saxton. We go to the ring and out comes Vince McMahon and Stephanie McMahon. They're all smiles as they head to the ring together. Fans boo and Vince tells them to shut up.
Vince says it's the day after the Rumble and he's feeling damn good. He says they could care less how the fans feel because they don't give a damn. Stephanie agrees. Vince says they broke Roman Reigns in half last night, then pierced his heart, yanked his title away and now he's just like each and every one of the fans. Vince says fans do the same as Reigns when they have adversary in their lives – tuck tail and run. They go on insulting the fans. Vince says they're miserable but no one is as miserable as Reigns. Vince says Reigns is going to stay that way. Stephanie says if you want something done right, you have to do it yourself and that's what they did last night. Stephanie says they pulled one of the biggest coups in WWE history. Stephanie says everyone thought Reigns, maybe Brock Lesnar or AJ Styles would win. She says they had fans eating out of their hands because they knew #30 would be The Game. Fans chant for Styles and it sounds like Vince asks who. Stephanie says his name. Vince says he doesn't care who it is, because at the end of the day they would end up on the bottom of his shoe too. Stephanie starts praising her husband.
Stephanie continues the praise and introduces the new WWE World Heavyweight Champion Triple H. He comes out in a suit and stops on the stage to unbutton his jacket, revealing the title underneath. Triple H ,makes his way to the ring and hits the corner to pose with the title. Vince says to bow down to the king as Triple H takes the mic. He gives props for Roman Reigns and his performance last night, and says he could be that good but today, he is not. He says Reigns lacks one thing – respect. He's arrogant, cocky and doesn't respect anything. He says Reigns is great but needs to learn his place in life. Triple H says he could put up with the rest of the stuff from Reigns but not the disrespect to Vince. Triple H says Vince might as well be God because he created this all. Triple H says this is his religion until death and nobody disrespects his religion. He says people ask why does he need to be champion now and they say his time has passed, he's transitioned successfully from the ring to the board room. He says they are right, he doesn't need to be WWE Champion... he wants to be WWE Champion, because so do people like Roman Reigns and they don't deserve it. Triple H will be champion until he says so, until someone in the back learns respect. He says he will be champion until he says so and there's nothing anyone can do about it, including Reigns. He says he will be champion... fans start chanting for Reigns. Triple H says people like Reigns will confirm or cease to exist. Stephanie asks who will Triple H teach a lesson to at WrestleMania 32. She says tonight's show and they will be evaluating each Superstar. By the end of the night, they will announce the Fastlane main event to determine Triple H's WrestleMania opponent. Believe that, she says. Triple H's music hits as they all hug each other.
- We go to the announcers and they hype the major star to make his return tonight. Also, AJ Styles will make his RAW debut against Chris Jericho. We go to commercial.
Kevin Owens vs. Dolph Ziggler
Back from the break and out comes Dolph Ziggler. He has a special guest at ringside, rapper Flo Rida. Kevin Owens is out next. Ziggler connects with a superkick for a 2 count as soon as the bell hits. Ziggler takes it to the floor and they brawl.
Owens gets the upperhand and brings it back in the ring. Owens unloads in the corner. Ziggler turns it back around and dropkicks Owens, sending him to the floor as we go to commercial.
Back from the break and Owens with a 2 count. During the break he ran Ziggler into the ring post. Owens with a headlock now. Ziggler fights up and out. Owens catches a kick and nails a right hand. Owens runs into the ring post shoulder first. Ziggler with a Fame-asser for a 2 count. Ziggler ends up applying a sleeper hold. More back and forth. Owens misses the cannonball in the corner. Owens with a German suplex. Owens runs into a big superkick for a 2 count.
Ziggler with more offense in the corner while Owens is down. Ziggler climbs up for a superplex but Owens fights him and sends him to the mat. Ziggler runs into a big boot. Owens goes to the top but Ziggler runs up. Owens crotches him and nails a pop-up powerbomb for the win.
Winner: Kevin Owens
- After the match, we get replays and come back to Owens with the WrestleMania 32 banner in the background.
- JoJo approaches Roman Reigns backstage and asks him about Vince's comments earlier. Reigns says they're ridiculous but he's not leaving until he hears this announcement. We go to commercial.
- Back from the break and WWE's Social Outcasts are in the ring. Heath Slater says they all have something to say tonight. He stops and turns his attention to rapper Flo Rida, who is sitting at ringside. Slater gets a big pop for Miami's own Flo Rida. Slater says he shoved Flo Rida around a lot the last time they met up, so sit there and don't make him mad. Adam Rose taunts Flo from the ring. Curtis Axel doesn't understand why Rose keeps calling Slater Red Dragon. Bo Dallas calls Flo into the ring and here he comes.
Slater says he doesn't want to hurt Flo but they will embarrass him in his hometown. Slater challenges Flo Rida to a rap battle. Flo Rida snatches the mic and asks if Slater really wants to battle him. Slater says no, and introduces his OG rapper... Bo Rida. They put a chain, glasses and a Kangol hat on Bo. Bo busts some horrible raps and Flo responds with some of his own. This leads to Flo Rida introducing The Dudley Boyz.
The Dudley Boyz vs. Social Outcasts
Bubba Ray Dudley and D-Von make their way out as we go to commercial.
Back from the break and it's Bo Dallas with Curtis Axel. The Dudleyz are in control but Adam Rose gets on the apron for a distraction, allowing Axel to take control of Bubba and beat him down. Bo tags in and the whole group runs a "Bo Train" around the ring. Flo Rida gets in the way and they run back the other way. Axel goes back in and works over Bubba in the corner. Bo tags in and keeps up the attack.
Bo with a 2 count and a headlock on Bubba. Bubba breaks it with a big suplex. D-Von and Axel tag in at the same time. D-Von with clotheslines and a big shoulder. D-Von with a neckbreaker and a headbutt. D-Von with a big splash in the corner and another shoulder for a 2 count. Bubba comes in for the double team. He knocks Rose off the apron. Slater gets on the other side of the ring but Flo Rida comes up and flips Slater into the ring. Slater gets up and has words with Flo Rida but turns around to a slam from Bubba. Bubba holds Slater while D-Von hits the "what's up?" headbutt. Axel charges D-Von but gets hit with a 3D. D-Von covers for the win.
Winners: The Dudley Boyz
- After the match, Flo Rida comes in and celebrates with The Dudleyz. We see the Social Outcasts recovering at ringside.
- Renee Young is backstage with AJ Styles. She asks who exactly is AJ Styles. AJ says he didn't just make headlines last night, he turned WWE upside down. As far as who he is... Chris Jericho walks up and interrupts. He's been waiting a long time to have Styles in WWE. Jericho says the biggest, hottest free agent is finally where he belongs. Jericho brings up AJ's international success but says he's never been here. Styles has a big chance to make an impression tonight. Jericho says here is AJ's shot. He slaps AJ on the chest, welcomes him to the big leagues, calls him a kid and walks off. Back to commercial.
- Back from the break and Cole talks about Nikki Bella needing potentially career-ending neck surgery.
Chris Jericho vs. AJ Styles
We go to the ring and out comes Chris Jericho to a pop. AJ Styles is out next, also to a pop.
Fans chant for Styles as they lock up and tangle in the corners. They trade holds and AJ nails an arm drag. He taunts Jericho to a pop. They lock up again. Jericho with strikes and an elbow that knocks Styles down. Styles finally nails a big clothesline and Jericho goes down. Styles with an elbow to the neck. Jericho takes him to the corner with shoulder thrusts and chops. More back and forth. Jericho hits a springboard dropkick to send Styles from the apron to the floor. Styles comes back in and gets suplexed for a 2 count.
Styles with shots in the corner. Styles runs into a boot. Jericho goes up top for a dropkick and Styles goes back down. Styles with chops. Jericho goes to the floor after Styles hits a dropkick of his own. Styles gets tripped on the apron and lands hard. We go to commercial.
Back from the break and they both go down after colliding in mid-air. Styles unloads with forearms and kicks. Jericho ends up going for the Walls of Jericho but it's countered. Styles slams Jericho for a 2 count. Jericho with a Northern Lights suplex for a 2 count. Styles with a backslide for a 2 count. More back and forth and pin attempts. Fans chant for Styles. He springboards in from the apron and nails Jericho for a close 2 count.
Jericho finally catches Styles in the Walls of Jericho and locks it in. Styles fights it but Jericho tries to keep him in the center of the ring. Styles finally makes it to the bottom rope and breaks the hold. AJ ducks a clothesline and hits the pele kick. Styles ends up going to the top but lands on his face. Jericho goes for a Lionsault but it's blocked. Styles goes for the Styles Clash but Jericho counters with a 2 count. Styles rolls through and rolls Jericho up for the win.
Winner: AJ Styles
- After the match, Styles takes in his RAW debut as we get replays. His music stops and Jericho is still standing there. Styles extends his hand and Jericho just stares at him. Jericho finally shakes Styles' hand and fans cheer. Styles goes to leave but Jericho doesn't let go of his hand. Jericho pulls Styles to him and gets in his face for a second before leaving.
- We see a vehicle outside waiting with the big mystery star in it. Back to commercial.
- Back from the break and Cole introduces the French announcers at ringside.
Sasha Banks vs. Becky Lynch
We go to the ring and out comes Sasha Banks by herself. Becky Lynch is out next after a look at the Royal Rumble last night.
They have words before going at it. Sasha gets knocked to the apron but turns it around coming back in. Sasha stomps away in the corner. Sasha works Becky over and lands a big slap for a 2 count. Becky fights out of a hold and rolls Sasha up for 2. Becky with strikes and clotheslines now. Becky with a side kick. Becky charges in the corner with a big right hand. Becky with an exploder suplex for a 2 count.
Sasha sends Becky face first into the corner and takes control. Sasha with a 2 count. More back and forth until Sasha hits the Banks Statement. WWE Divas Champion Charlotte hits the ring for the bell.
- After the bell, Charlotte unloads on Becky and beats her around. Sasha comes back up and goes at it with Charlotte. Charlotte counters and leaves Sasha laying. Charlotte raises her title as fans boo and her music hits. Becky and Sasha are left laid out on the mat.
- Goldust is backstage. He starts listening to R-Truth's headphones and Truth walks in. Goldust has been looking for Truth. Goldust needs a new partner and asks Truth to join him. Truth says he's a married man. He says nothing is wrong with that but he doesn't swing that way... whatever floats Goldust's boat and toots his horn. Truth has to go and Goldust tells him he's misunderstood. He proposes a "Golden Truth" tag team and tells Truth to think about it.
- Still to come, Kane vs. Bray Wyatt. Back to commercial.
Kane vs. Bray Wyatt
Back from the break and Bray Wyatt makes his way out. We get a look at The Wyatt Family in the Royal Rumble. Kane makes his way out next as Erick Rowan, Braun Strowman and Luke Harper look on from ringside.
Lots of hard hitting action to start. Wyatt drops Kane with a big shot as fans chant for Brock Lesnar. We go to commercial.
Back from the break and Wyatt is in control until he misses the senton. Kane with a big DDT. Kane keeps control and hits the sidewalk slam for a 2 count. Kane goes for a chokeslam but Wyatt counters and slams Kane for a 2 count. Wyatt runs into a big boot and goes down. Wyatt rolls to the floor for a breather but Kane follows and drops Rowan. Kane brings it back in and knocks Harper off the apron. Kane turns around to a big clothesline from Wyatt. Wyatt hits Sister Abigail for the win.
Winner: Bray Wyatt
- After the match, The Wyatt Family surrounds Kane in the ring. Strowman grabs Kane and chokes him out. Harper and Rowan deliver a double chokeslam. The music hits as The Wyatt Family poses over Kane.
- We see the limousine backstage again. Back to commercial.
- Back from the break and Rich Brennan is outside at the limousine. He knocks on the window and the door opens. The Miz gets out and says finally, he is back on RAW. They start walking but a black truck pulls up and honks the horn. The Rock steps out to a big pop. The Miz asks who the hell he thinks he is for trying to steal the spotlight again. Rock says Miz looks like a flying nun and tosses his keys, telling Miz to park the truck. Rock keeps walking and greets rapper Rick Ross and his crew. Rock greets Big Show next. Rock agrees that Big Show should have won their controversial Royal Rumble match and jokes about how Show could have had the Hollywood success Rock had. Rock keeps walking and stops. Fans start cheering and chanting his name. He sees Lane next. Rock says last time they were together was in Brooklyn when she came to his hotel room, said she didn't want to be with Rusev, brought out the wine and then they did those special exercises. Lana smiles and blushes as Rock talks about their special exercises, including the DJ Mustache Ride. Rusev walks up. Rock heard they broke up but Lana informs him that they're engaged. Rock says Rusev has a hell of a woman here and one that's flexible as hell. Rock says they should have a great marriage and he keeps walking. He greets Pat Patterson and keeps going, talking to the fans.
Rock keeps walking and says he's at the famous "Gorilla position" now. Rock asks Miami if they are ready and they are. Finally... The Rock has come home. Rock makes his way out to a huge pop. Rock goes to take the mic but waits for the crowd. They start chanting "this is awesome" now. Rock asks if everyone is ready for WrestleMania and everyone pops. Rock says he's ready and so is the entire roster. Rock says we're going to break WrestleMania records. Rock says JBL and Cole are ready, so is "that other black dude he doesn't know." Fans chant "welcome back" now. The also chant Randy Savage due to the fans dressed as Legends at ringside. Rock spots something in the crowd and says this is where we go off the script. He goes to ringside where the fans dressed as WWE Legends – The Undertaker, Hulk Hogan, Randy Savage and The Rock. Rock says the weed must be good in Miami tonight. Rock goes back in the ring and jokes with one of the fans about already being on their phone calling people. Rock says WrestleMania is down the road but he wants to talk about tonight. He's interrupted by WWE Tag Team Champions The New Day.
Xavier Woods tells Rock to relax and informs him the "other black dude" is Byron Saxton. Woods says he's the best announcer at the table. Kofi Kingston wants to talk about "the black guys that you do know" – The New Day. He brags about how they have beat up The Lucha Dragons and The Dudley Boyz and last night, The Rock's cousins The Usos. Kofi says Rock calls himself The People's Champion but he doesn't see any gold. The New Day has gold and Woods says Francesca 2 is made out of gold. Big E says Rock looks like a man who doesn't eat his Booty-O cereal, which makes sure you ain't booty. Big E mentions former Miami Heat star LeBron James and fans boo. He says Rock did what LeBron did, take the money and get the hell out. Big E says Rock did it for the paycheck, not the people. Rock goes to respond and fans start chanting his name. Rock says he knows exactly who they are... the WWE Tag Team Champions, obviously extremely entertaining, but there's what is amazing... they're still that entertaining with lama penises on their head. The New Day have a discussion among themselves about being able to say penis on TV or not. Fans chant "lama penis" now. Woods screams that they're unicorn horns. Rock taunts Big E and calls him big mama. He says Big E is so big and strong but so nerdy... like if The Incredible Hulk banged Steve Urkel. Rock invites The New Day to get in the ring so he can shove the trombone up all three of their candy asses. Fans pop and The New Day calls a Champion's Huddle.
Rock says they look like three uni-b—–s in a circle and tells them to hurry up. Woods asks if Miami wants to see it get real and then says sorry, Miami doesn't deserve it. They go to leave and Rock stops them. Rock says he always has a back-up plan and Plan B always works. What is Plan B? Family. The music hits and out come The Usos. They fight down the entrance. Big E enters the ring and takes a Rock Bottom. Jimmy Uso with a big Samoan Drop on Kofi Kingston. Uso rolls Woods in next. He pleads with Rock. Woods takes a double superkick from The Usos. Rock with a spinebuster and The People's Elbow on Woods. Rock takes the mic and thanks Miami. He will see us at WrestleMania. Rock does his trademark "if ya smell...." line and drops the mic before celebrating with The Usos.
- Still to come, Reigns and Ambrose vs. Rusev and Sheamus. Back to commercial.
Alicia Fox and Brie Bella vs. Natalya and Paige
Back from the break and all Divas are out. Natalya and Alicia start things off going at it. Brie tags in and they double team Natalya for a 2 count. Brie keeps Natalya grounded as Paige cheers her on.
Brie with the "yes!" kicks to Natalya now. Brie with a dropkick. Cole yells "Brie mode!" Paige finally gets the tag and nails a big kick on Brie. Paige with a knee in the corner and a 2 count. Paige goes for the PTO but Fox breaks it with a kick to the head. Natalya runs in and takes Alicia down, bringing her to the floor. Paige hits the RamPaige for the win.
Winners: Paige and Natalya
- We get a video on WWE's new partnership with Boys & Girls Clubs of America.
- Still to come, The Authority will announce the Fastlane main event. Back to commercial.
Kalisto vs. The Miz
Back from the break and The Miz is in the ring. He says he's tired of being interrupted when the music hits and out comes new WWE United States Champion Kalisto. Miz attacks him as soon as the bell hits and goes to work. Kalisto ends up turning it around and hitting a big dive to the floor. Kalisto brings it back in for a 2 count.
Miz mocks the "lucha!" chants after taking control. Kalisto comes back and kicks Miz in from the head. Kalisto springboards in with a crossbody for another 2 count. Miz goes to the floor for a breather as we go to commercial.
Back from the break and The Miz has taken control. Miz with a big clothesline and a 2 count. Miz unloads on Kalisto with strikes. Miz takes it to the corner and clotheslines Kalisto. Miz goes to the top with a double ax handle and a 2 count. Miz with a headlock now. Kalisto fights back but Miz hits the backbreaker. Kalisto counters with a backslide. Miz comes right back for another 2 count. Kalisto with a 2 count of his own.
More back and forth. Miz wastes time and yells at the fans. Kalisto fights him off with kicks. Miz runs into a big kick to the head. Kalisto springboards in and makes a comeback. Miz turns it back around and hits a big DDT for a 2 count. Kalisto counters the Skull Crushing Finale with Salida del Sol for the non-title win.
Winner: Kalisto
- Still to come, Reigns and Ambrose vs. Sheamus and Rusev. Back to commercial.
Roman Reigns and Dean Ambrose vs. Sheamus and Rusev
Back from the break and out comes Roman Reigns through the crowd. WWE Intercontinental Champion Dean Ambrose is out next to a pop. Out next comes Sheamus and Rusev with League of Nations partners King Barrett and Alberto Del Rio.
Reigns starts off with Sheamus. Reigns beats Sheamus into the corner and unloads. Sheamus fights back but Reigns floors him with a clothesline. Ambrose tags in and dropkicks Sheamus. Reigns comes back in with a big right hand. Sheamus goes to the floor for a breather. Rusev comes in but Reigns decks him. Ambrose clotheslines Rusev to the floor. Ambrose goes to the top and leaps out onto Rusev and Sheamus. We go to commercial.
Back from the break and Ambrose tags in to unload on Sheamus. Sheamus misses a clothesline and Ambrose keeps up the attack. Ambrose backdrops Sheamus to the floor. Ambrose runs the ropes and nails the dive into the barrier. Ambrose brings it back into the ring and goes to the top. Barrett and Rusev get involved at ringside. Ambrose is knocked off the ropes and it looks like he hurt his knee. Del Rio throws Ambrose into the barrier. Reigns comes over to check on Ambrose. Rusev tags in and goes out after Ambrose. Rusev slams Ambrose into the apron and then the barrier a few times. Rusev brings Ambrose back in for a 2 count.
Rusev with a big throw and a gutwrench suplex for a 2 count on Ambrose. Sheamus tags back in and hits three Irish Curse backbreakers for a 2 count. Sheamus with a headlock now. Ambrose fights out and goes for a tag but Sheamus stops him. Sheamus with a splash in the corner and a tag to Rusev. Rusev drops elbows on Ambrose and covers for another pin attempt. Sheamus comes back in and they keep the beatdown on Ambrose going. Ambrose fights back from the apron but gets knocked to the floor. Sheamus follows and roughs him up against the barrier. Sheamus gets hit with a big clothesline on the floor. Ambrose comes back in and finally tags in Reigns. Rusev also comes in. Reigns unloads and hits a big boot. Reigns sends Rusev to the floor and tosses Rusev over the top. Reigns runs around but misses a Superman punch on Sheamus on the floor. Reigns hits a Samoan Drop on the floor instead. Reigns with a Drive By on Rusev. Reigns rolls Rusev in and clotheslines him in the corner. Reigns drops him with a big right hand. Fans boo as Reigns readies for a Superman punch. Del Rio and Barrett distract Reigns. He turns around to two big kicks from Rusev. Sheamus tags in and nails a Brogue Kick but Ambrose breaks the pin right before the 3 count. Rusev tumbles to the floor and Ambrose elbows him off the apron. Reigns spears Sheamus for the win.
Winners: Roman Reigns and Dean Ambrose
- After the match, Ambrose takes apart the announce table. Reigns sends Rusev into the steel steps. Cole says it's payback time for what happened to Reigns at the Rumble. Ambrose brings Rusev on top of the French announce table. Reigns stands on top of it with Ambrose and they powerbomb Rusev through the other announce table. Fans chant "holy s–t" as Reigns' music hits while he and Ambrose are still standing on top of the announcers table. Stephanie McMahon's music interrupts and out she comes. She says that impressive and she's got to do what's best for business. She announces Ambrose vs. Reigns vs. Brock Lesnar in a Triple Threat for the Fastlane main event. The winner of that will face Triple H for his WWE World Heavyweight Title at WrestleMania 32. RAW goes off the air with Reigns and Ambrose looking surprised under the WrestleMania 32 banner.