TNA Impact Wrestling Results: Ladder Match, Gail's Career On The Line, EC3, More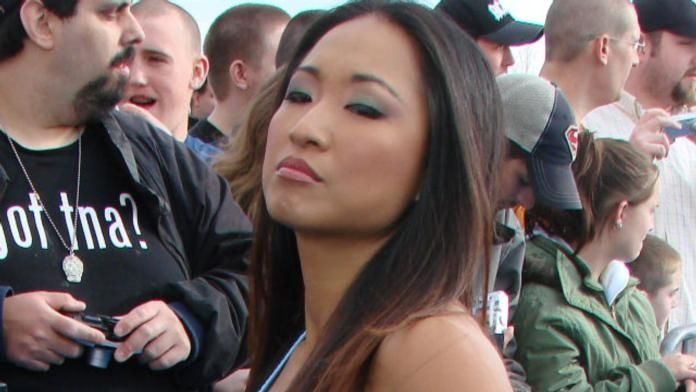 Welcome to our WrestlingINC.com Live Impact Viewing Party. We will be providing live ongoing coverage of tonight's show, while you all can chime in with your thoughts throughout the show.
Matt Hardy is opening this edition of Impact. He says he's most dangerous than he's ever been. He claims he's ready to face EC3 tonight and preparing for Jeff at Full Metal Mayhem at Slammiversary. Tyrus and Spud are now out. Spud says he worries about how deeply obsessed Matt has grown about fighting Jeff all the time. They don't want this match to happen. Matt is annoyed. He says if Spud and Tyrus can defeat Jeff Hardy in a ladder match tonight, the bout at Slammiversary won't happen. But if they lose to Jeff, the duo are out of his stable for good.
Matt Hardy vs. Ethan Carter III
Bennett came out during the match and took out EC3, giving him the DQ win. He told Carter that he doesn't get his match at Slammiversary and his road to redemption is over. (Carter had to win by pinfall or submission.)
Winner: Ethan Carter
Allie and Maria are out. Maria talks about her vision of the KO division. She brags about getting rid of Velvet Sky. Kim is then out to confront her. She's says she's tired of Maria and her throwing her weight around. She threatens Maria. Then Maria points out she can simply fire her. She then makes Gail Kim vs. Sienna and says if Gail loses, she's fired like Velvet. Suddenly, Sienna attacks Gail from behind
Grado and Shera discuss Grado's streetfight with Al Snow tonight. Grado heavily implies he has a lot planned.
A Grado/Snow video package is shown.
A Bro-mans skit airs and they hint they're getting a manager. Kim cuts a promo. She says she will beat Sienna.
Al Snow comes out and taunts the crowd. He tries to hide behind the tron when Grado comes out for the match.
Al Snow vs. Grado
Snow won with the snow plow after interference from Sylvester Lefort and Marcus Louis.
Winner: Al Snow
Matt Hardy and Reby Sky talk. Maxel is there too. Reby expresses concern about Matt's recent weirdness.
Borash attempts to interview Bobby Lashley. Lashley tells him to get lost. He calls out Galloway and says he wants a re-match after the lumberjack match. Galloway comes. He insults him and it looks like a brawl with ensue. Until Dixie shows up.She says she's fed up with this. She makes a title match between them for Slammiversary. Lashley and Galloway brawl. Lashley ends the segment by spearing Galloway.

Eddie Edwards vs DJZ vs. Trevor Lee vs. Andrew Everett
Trevor Lee retained the X division belt after Helms came out and distracted the referee when Edwards managed to grab the belt.

Winner: Trevor Lee

Maria gives Sienna a prep talk backstage. We see EC3 say he has an important phone call to make regarding Mike Bennett.
Gail Kim vs. Sienna
Kim got the win after countering the powerbomb. Maria tried to get involved a few times but Gail scared her off. After it was over, Sienna and Maria attacked Gail. Maria, in particular, got
very violent and was going for head shots.
Winner: Gail Kim

Reby meets with Tyrus and Spud. She tells them to put an end to all this Matt/Jeff stuff and beat Jeff tonight for Matt's own sake.
Raquel is revealed to be Robbie E and Jessie Godderz's new manager.

Jeff Hardy vs. Tyrus and Rockstar Spud
Jeff won an exciting match after giving Spud a Twist of Fate on top of the ladder. Amusingly, Tyrus broke the ladder while he was climbing up at one point. That was funny.

Winner: Jeff Hardy