TNA Impact Recap (6/28): Big Triple Threat World Title Match, X-Division Battle Royal, Matt Hardys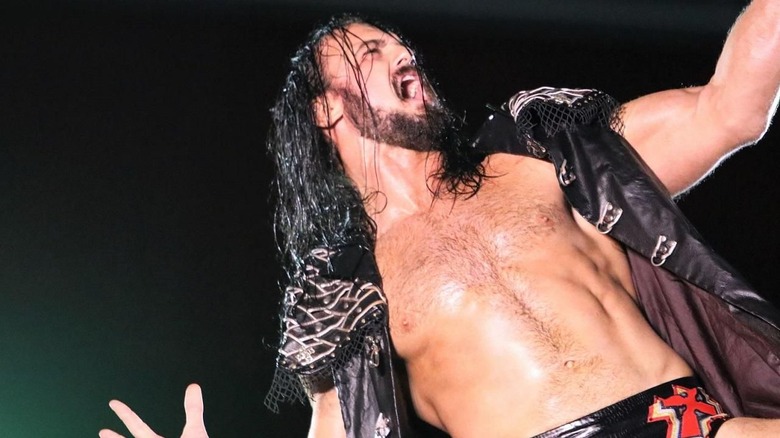 Welcome to our WrestlingINC.com Live TNA Impact Viewing Party. Please enter your ongoing feedback of tonight's show in the 'Comments' section below.
- Mike Bennett is out with Maria and his X-Division title, which he says is his ticket to becoming TNA World Champion. Lashley comes out to assert his dominance. EC3 makes his way to the ring and runs down both men, particularly the manner in which Bennett won the X-Division title. William Corgan makes his way out and isn't happy about EC3 questioning his integrity. EC3 says Bennett should defend his title tonight, and Corgan agrees. Bennett will face the winner of an X-Division battle royal. Lashley and Bennett attack EC3 and Drew Galloway makes the save, but accidentally hit EC3.
- Backstage EC3 isn't happy with Galloway, and the two have to be separated.
- Sienna is out with Allie, who tells Sienna to silence Gail Kim.
Sienna (w/ Allie) vs. Gail Kim
Gail Kim grabs a headlock, then a tilt-a-whirl head scissors that sets up a clothesline. Sienna catches Kim with a Samoan drop, then puts the boots to her. Gail Kim busts out of a straight jacket hold and lands a Blockbuster. Jade attacks Allie, and then Marti Belle attacks Jade. Kim turns her attention to Allie and Sienna takes her out with the Silencer.
Winner: Sienna via pinfall (Silencer)
- "Broken" Matt Hardy is backstage with Reby and Maxel, where he says this is all Jeff Hardy's doing.
- Galloway runs into Mike Bennett, who claims he'll beat any X-Division opponent put in front of him.
- Eli Drake is here for Fact Of Life, and tells a funny story about mashed potatoes. He introduces his guest James Storm, who tries to shake Drake's hand, but Drake refuses. Drake wants to know if Storm is jealous of his success. James Storm gets the crowd to chant "E-Li Dork." They go back and forth with an awesome exchange, where Storm challenges Drake to a drinking contest, but Drake busts out water. Storm says he's going to hit Drake if he hits the button again. Drake throws Storm's beer out of the ring and gets superkicked. This segment was awesome.
- We get a vignette for "The Fixer."
- We see Bram being attacked on Xplosion. Then Rosemary is backstage telling Bram that Decay loves when Bram fights it.
- Matt Hardy makes Reby wheel him around the ring while he insults the crowd. Jeff Hardy comes out and wants to fight, but Matt Hardy needs more time. Matt says that the winner of their match will get the rights to the Hardy name. Jeff starts a "yes" chant and Reby goes off on him. Matt attacks Jeff from behind and lays him out in the ring and says their final match will happen in one week in the ring where it all began, at his home.
Number One Contender Match
X-Division Battle Royal (Andrew Everett, Trevor Lee, Rockstar Spud, DJ Z, Pepper Parks, Eddie Edwards, Mandrews)
This is probably one of the more impressive battle royal matches you'll ever see. Most are brawling, but these guys have several big spots. Braxton Sutter ends up winning by eliminating both members of the Helms Dynasty. Shane Helms attacks Sutter after the match, as do the Dynasty.
Winner: Braxton Sutter
- Mike Bennett wants his match now.
X-Division Championship
Mike Bennett (c) (w/ Maria) vs. Braxton Sutter
Sutter grabs a small package for two, but Bennett hits his finish and wins.
Winner: Mike Bennett via pinfall to retain the TNA X-Division Championship
Bennett pummels Sutter after the match.
- Mahabali Shera and Grado are backstage gooning about, speculating who their teammate will be against the tribunal.
The Tribunal vs. Mahabali Shera, Grado and Tyrus
Tyrus shows up, looking int he best shape he's ever been in and runs The Tribunal off. The match starts, it exists, it happens, and the babyfaces win.
Winners: Mahabali Shera, Grado & Tyrus
TNA World Championship
Lashley (c) vs. EC3 vs. Drew Galloway
Galloway and EC3 take turns stomping Lashley out, but then Galloway lets Lashley stomp EC3 out. Galloway rejects Lashley trying to work with him, and German suplexes Lashley while Lashley fallaway slams EC3. Galloway hits a couple of suplexes on Lashley, then EC3 and Galloway flatten Lashley with a double front suplex before EC3 dumps Lashley out of the ring.
Galloway does a scary looking flip onto Lashley, then EC3 jumps from the top rope to the outside on Lashley as well. Things break down and EC3 vs. Galloway goes down inside the ring, with both guys kicking at each other. EC3's chest is busted open. Lashley shows up and hits a spinebuster on Galloway for two, then sizes EC3 up for a spear, only to eat a knee. EC3 gets the TK3, but is booted by Galloway. Lashley takes both out with the spear and pins EC3.
Winner: Lashley via pinfall (Spear) to retain the TNA World Championship