WWE NXT Recap (6/22): Shinsuke Nakamura, Bayley, Nia Jax All In Action, Tye Dillinger Upset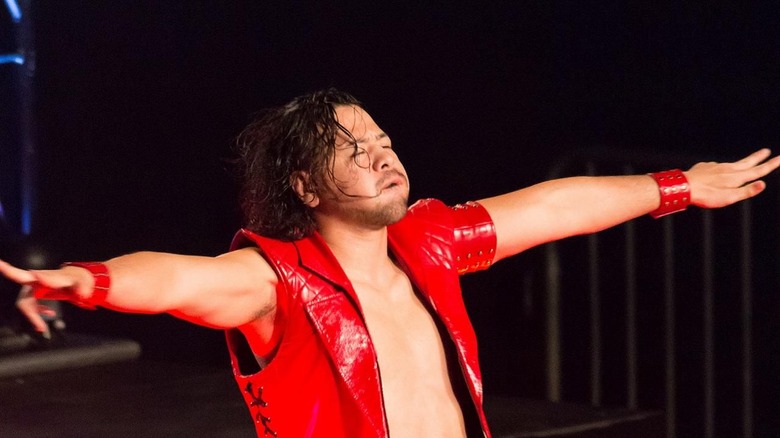 Welcome to our WrestlingINC.com Live NXT Viewing Party. Please enter your ongoing feedback of tonight's show in the 'Comments' section below.
Also, join us at 9 EST for a Wrestling Inc. Podcast talking NXT, TNA, Roman Reigns and this Friday's ROH PPV!
Tye Dillinger vs. Oney Lorcan
Lorcan is the former Chris Girard/Biff Busick. He shoulder blocks Dillinger and mocks the "ten" taunt. Dillinger fights back on the strength of crowd support, but eats a running European uppercut from Lorcan. Lorcan hits several more in the corner, but Dillinger connects with a superkick for two that gets a big time pop. Lorcan finishes Dillinger with a running Blockbuster.
Winner: Oney Lorcan via pinfall (Running Blockbuster)
- Austin Aries is backstage making excuses for his loss to Shinsuke Nakamura. No Way Jose shows up and says Aries needs to stay positive and learn from him.
No Way Jose vs. Crossfit Jobber Josh Woods
Woods' choice of gear is interesting. He walks into a big hiptoss, then Jose lands the full nelson slam for the win.
Winner: No Way Jose via pinfall (full nelson slam)
Aries comes out and cuts a promo saying that losing to Nakamura has weighed on him. He says he can learn something from Jose. Aries says that Jose reminds him that NXT is about fun. Jose tries to get Aries to dance with him. Aries dances like he's 2012 Christopher Daniels. Eventually Aries knocks Jose off the announce table and beats his ass.
- William Regal is backstage where Murphy and Nakamura have a confrontation. Regal makes a match between the two.
Bayley vs. Deonna Purrazzo
Bayley starts the match with a nice couple of arm drags, but Purrazzo kicks out. A jawbreaker over the ropes looks to put Bayley in control, but Deonna comes back with a clothesline and a knee to the head. A boot to the face of Bayley gets a two count. Purazzo slams Bayley's head into the turnbuckle, but she Hulks up and hits the Bayley-to-Belly for the win.
Winner: Bayley via pinfall (Bayley to Belly)
- Carmella is backstage and says she wants to become NXT Women's Champion. Alexa Bliss shows up and says nobody knows Carmella without Enzo and Cass, and she'll become NXT Women's Champion, and she was the star of her group. Carmella says she's not letting Alexa get in her way and makes her R-U-N-N-O-F-T.
- We see highlight packages of Samoa Joe, as well as the Asuka/Nia Jax match.
Nia Jax vs. Liv Morgan
Morgan grabs a quick headlock and is slammed into the mat. Jax follows up with a couple of elbow drops to the back, and stops a Morgan comeback with a headbutt. A modified Cobra Clutch follows, but Liv tries another comeback before getting powerbombed. That's it.
Winner: Nia Jax via pinfall (Powerbomb)
Shinsuke Nakamura vs. Murphy
Nakamura came out to a huge reaction. The two chain wrestle, but Nakamura taunts Murphy. Murphy gets upset and drops Nakamura before going for three straight pins, all unsuccessful. Nakamura has had enough and drills Murphy with a series of huge kicks and a knee in the corner. An inverted Exploder and Kinshasa finish off Murphy.
Winner: Shinsuke Nakamura via pinfall (Kinshasa)
It was announced that Nakamura will face Finn Balor on July 13.