Vader Passes Out After Match In Japan (Photo), Reveals What Happened
Vader briefly collapsed after a match at Korakuen Hall in Japan on Thursday.
Vader was teaming with Keiji Muto & AKIRA in a six-man tag team match against Tatsumi Fujinami, Riki Choshu & Shiro Koshinaka. After the match there was a ceremony honoring Fujinami and Vader fainted in the ring. Vader was able to eventually come to and leave the ring on his own.
Vader took to Twitter and said that he collapsed because he was dropped on his head during the match, and that it didn't have anything to do with his recent heart issues.
last night the first match for Fujinamis 45th anneversary show in Tokyo Sold out Did the opening spot with Fujinami I dropped on my head

— Big Van Vader (@itsvadertime) April 20, 2017
It had absolutely nothing to do with my heart but rather my head&Yes i did collapse in fact I was out cold thank uforld jap Wrest i love it

— Big Van Vader (@itsvadertime) April 20, 2017
I just passed out ..it definetely had everthing to do with being dropped on my head Tokyo feeling better https://t.co/C69wXNSQ8L

— Big Van Vader (@itsvadertime) April 21, 2017
As noted, Vader had tweeted out last November that he had two years to live due to congestive heart failure. He later said that he regretted making the tweets.
"I really kind of regret tweeting it out," Vader told The Two Man Power Trip Of Wrestling last month. "In other words when I got diagnosed and was told, 'Leon, you have a bad heart and you have congestive heart failure and we feel your time is limited and you have maybe a couple of years left... two years or less to live.' I remember getting very angry and said this has gotta be bulls–t because I don't feel bad and I remember getting extremely angry. Since that time and when I got the news I left the hospital and went right to the gym and rode the bike for a half hour. Hard. As hard as I could and when I got off the bike and got on the treadmill and walked for another 15 minutes pretty hard and I was exhausted but my heart felt fine so how can I do that if my heart is going to give out? The doctor in some of the ongoing appointments that I had with him explained to me that when you are tipping the scales at 400 and 420-25 pounds that a man that size and that heavy isn't supposed to be able to push himself in a cardiovascular endeavor no matter what it is much past 2 or 3 minutes."
Below is a photo of Vader passed out after the match: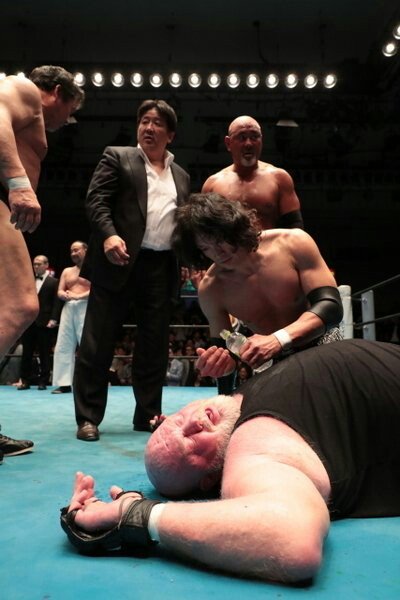 @KOllomani and Mike Levy contributed to this article.