Ken Shamrock Says He's Been Trying To Plant Seed For A Match With Kurt Angle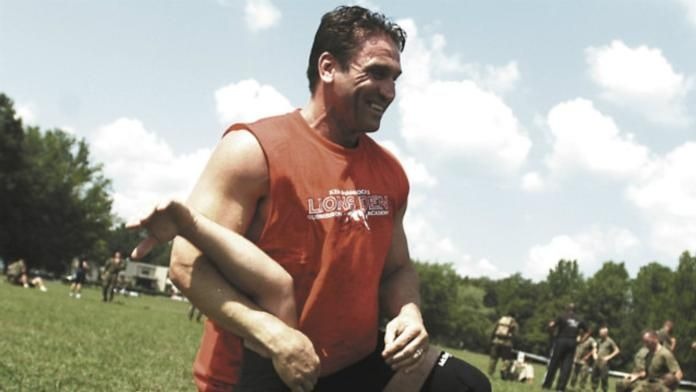 UFC Hall of Famer and former WWE Intercontinental Champion Ken Shamrock was recently interviewed by Andy Malnoske of Wrestling Inc. Shamrock reflected on his UFC and WWE careers in the early 1990's.
Shamrock was the first fighter to ever win the UFC Superfight Championship, which was later renamed the UFC Heavyweight Championship. Shamrock was one of the first fighters to combine both the striking and grappling aspects of Mixed Martial Arts. He described how he was one of the first to utilize ground-and-pound.
"It was interesting because – here's the thing, I was faced with a lot of things to do first. When I was scheduled to fight in Japan and then I would come back to the United States I would have to train, but there was nobody to train here. There was no such thing as a striker going with a grappler, or a striker going to the ground with a grappler, or a grappler standing up and fighting with a boxer. I had to really adapt and adverse to that," Shamrock explained. "From early on in my career I was always challenged to create things. Early in my career, I created 'ground and pound.' When I fought Royce Grace the second time I developed that; stay on guard, follow the hips, press the legs down, press the hips down. When he rested I ground and pounded him. Now, of course guys like Dan Severn kind of took that into another level but I developed that. I didn't try and fly off guard to get caught. Remember how creative I had to be to design different fight techniques because I had to create it."
Shamrock then decided to make the transition into professional wrestling, but he admitted he was tentative at first. He revealed he received some great advice from Bret Hart and he figured out how to implement his MMA expertise into his in-ring performance. He eventually returned to MMA and said he enjoyed the experience of competing in both professions.
"Getting into that situation now where I go from the MMA world, now I am going into pro wrestling, it had never been done before, so here I am going, what do I do? Bret Hart had given me the best advice, he said, 'Be you.' Just be you, and I was like, okay, so I literally became the 'World's Most Dangerous Man.' I got in there, did all of my submissions, everything that somebody would do to me I would counter it with a submission, so it worked out really well," he said. "Thank God it worked out really well, but then I had to go back into MMA again, now all of a sudden I am going from this entertainment stuff and then going back into the MMA world, it was definitely a journey, very enjoyable, I created a lot of things at the time. It wasn't because I wanted to create things, but it was because I was rushed into that situation from all the way into the beginning of my situation, where I had to adapt and create."
Shamrock was also asked about Kurt Angle using the ankle lock submission, which Shamrock used as a finisher during his WWE career. Shamrock revealed that he floated the idea of a rivalry between him and Angle, but it never came to fruition.
"I have tried to toss that little seed out there for a while [a match between him and Angle]. Kurt has always been that guy to have wanted to create the opportunity when he was wrestling, but for whatever reason it never happened," he said. "A guy who actually brought it in versus a guy who brought it in and thought he made it better, so we can find out who the real submission artist is."
You can watch the full interview in the video above.
Peter Bahi contributed to this article.