Kofi Kingston Wins WWE Championship At WrestleMania 35 (Photos, Videos)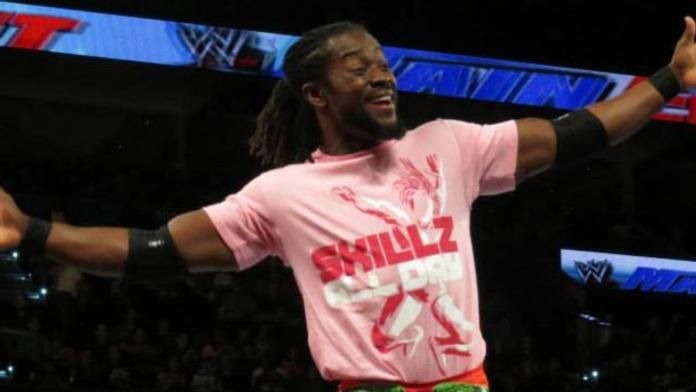 Kofi Kingston defeated Daniel Bryan to become the new WWE Champion at tonight's WrestleMania 35 event.
This is Kofi's first run with the WWE Title. Bryan won the title back on November 13 with a win over AJ Styles during SmackDown in St. Louis.
Below are photos and videos from tonight's win at MetLife Stadium in East Rutherford, NJ:
Clap your hands for your NEW WWE Champion... KOFI KINGSTON!!!

The press booth just exploded with applause, that hasn't happened all night. Keep in mind there's also a bunch of NXT talent and WWE Hall of Famers sitting up here as well.

- @WIncRebel #WrestleMania #KofiMania pic.twitter.com/6eu58mcmj1

— WrestlingINC.com (@WrestlingInc) April 8, 2019
AWWWWWWWWWWWW, #WRESTLEMANIA...

DON'T YOU DARE BE SOUR! ?? FOR YOUR WORLD-FAMOUS 5-TIME CHAMPS, AND FEEL THE POWWWWWWAAAAAAHHHHHHHHH! @WWEBigE @TrueKofi @XavierWoodsPhD pic.twitter.com/fl8JLUbEFW

? WWE (@WWE) April 8, 2019
#TheNewDay ALREADY has presents for @TrueKofi?!#WrestleMania @WWEBigE @XavierWoodsPhD pic.twitter.com/zX7iDQl1JT

? WWE Universe (@WWEUniverse) April 8, 2019
The Kofi era has begun! The crowd is electric. @WrestlingInc #WrestleMania #WWE pic.twitter.com/oRh0Jl5OOi

— Andy Malnoske (@18SportsAndy) April 8, 2019
Way to go, Kofi.#WrestleMania pic.twitter.com/JJsGZ8auGy

— WrestlingINC.com (@WrestlingInc) April 8, 2019
#TheNew @WWEDanielBryan is about ready to CRUSH @TrueKofi's dreams...

The #WWEChampionship match is streaming LIVE on @WWENetwork! #WrestleMania pic.twitter.com/sytFlbvZCs

? WWE Network (@WWENetwork) April 8, 2019
There's no shortage of confidence in the ??'s champion...#WWEChampionship #WrestleMania @WWEDanielBryan @ERICKROWAN pic.twitter.com/nxGYdvbgXc

? WWE WrestleMania (@WrestleMania) April 8, 2019
Always strategizing...#WrestleMania #WWEChampionship @WWEDanielBryan @ERICKROWAN pic.twitter.com/U4ekOuRnSG

? WWE Universe (@WWEUniverse) April 8, 2019
Did @TrueKofi just FLATTEN @WWEDanielBryan...like...a...pancake?

?? #WrestleMania #WWEChampionship pic.twitter.com/FcEDwKK6Gr

? WWE WrestleMania (@WrestleMania) April 8, 2019
The dangerousness of #TheNew @WWEDanielBryan is officially on display.#WWEChampionship #WrestleMania @TrueKofi pic.twitter.com/Icc99xBcAw

? WWE (@WWE) April 8, 2019
The show of support is REAL for @TrueKofi backstage! #WrestleMania #WWEChampionship pic.twitter.com/1HQoT1Bw0N

? WWE WrestleMania (@WrestleMania) April 8, 2019
"WE DON'T LOSE TODAY! WE WILL NOT LOSE TODAY!" – @WWEBigE#WrestleMania #WWEChampionship pic.twitter.com/zf1F9RbqeL

? WWE Universe (@WWEUniverse) April 8, 2019
Pulling out ALL THE STOPS is @TrueKofi! #WrestleMania #WWEChampionship pic.twitter.com/k5b29Wz2u7

? WWE WrestleMania (@WrestleMania) April 8, 2019
BUSINESS JUST PICKED UP.#WrestleMania #WWEChampionship @TrueKofi @WWEDanielBryan pic.twitter.com/GQruE8xbLt

? WWE (@WWE) April 8, 2019
What time is it for @ERICKROWAN? It's the MIDNIGHT HOUR.#WrestleMania #WWEChampionship @WWEBigE @XavierWoodsPhD pic.twitter.com/qswiy9Aemp

? WWE WrestleMania (@WrestleMania) April 8, 2019
Would a B+ player be able to KICK OUT of @WWEDanielBryan's #RunningKnee?! #WrestleMania #WWEChampionship pic.twitter.com/HFVmDcID8u

? WWE Universe (@WWEUniverse) April 8, 2019
HE. HAS. DONE IT!@TrueKofi HAS WON THE #WWEChampionship at #WrestleMania!!! pic.twitter.com/nrn2a8kSLm

? WWE (@WWE) April 8, 2019
?????????????????????? FOR EVERYONE!

What a moment for @TrueKofi and #TheNewDay... #WrestleMania #WWEChampionship pic.twitter.com/Gd2aZUoiIf

? WWE (@WWE) April 8, 2019
IT'S A NEW DAY FOR THE #WWEChampionship!#WrestleMania @TrueKofi @WWEBigE @XavierWoodsPhD pic.twitter.com/A1B5luBjnp

? WWE WrestleMania (@WrestleMania) April 8, 2019
What's it like to have an army of 80,000+ supporters during the biggest match of your career?

Ask @TrueKofi. He knows all about it.#WrestleMania #WWEChampionship pic.twitter.com/IXLSDqEOPj

? WWE (@WWE) April 8, 2019
THIS is what #WrestleMania is ALL ABOUT.#WWEChampionship @TrueKofi @WWEBigE @XavierWoodsPhD pic.twitter.com/AOijtUS0vz

? WWE (@WWE) April 8, 2019