Women's WWE Royal Rumble Order Of Entrants And Eliminations, Bianca Belair Headed To WrestleMania 37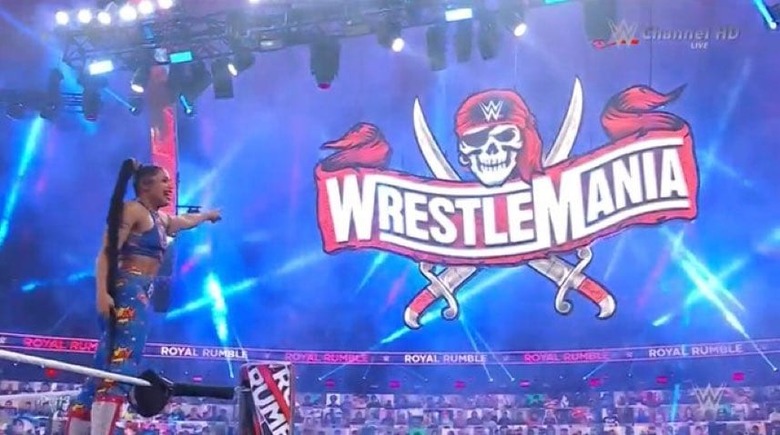 WWE SmackDown Superstar Bianca Belair is headed to WrestleMania 37.
Belair won tonight's 30-Woman Royal Rumble Match at the WWE Royal Rumble pay-per-view from Tropicana Field in St. Petersburg, FL. The match came down to Belair and Rhea Ripley.
The match featured several surprise entrants and WWE NXT Superstars, including Ripley, Shotzi Blackheart, Toni Storm, Jillian Hall, Victoria, Santana Garrett, WWE Hall of Famer Torrie Wilson, Mickie James, Alicia Fox, Dakota Kai, a returning Lana, and Ember Moon.
Below are photos and videos from tonight's Women's Rumble Match, along with the orders of entrants and eliminations:
ENTRANTS
1. Bayley
2. Naomi
3. Bianca Belair
4. Billie Kay
5. Shotzi Blackheart
6. WWE Women's Tag Team Champion Shayna Baszler
7. Toni Storm
8. Jillian Hall
9. Ruby Riott
10. Victoria
11. Peyton Royce
12. Santana Garrett
13. Liv Morgan
14. Rhea Ripley
15. Charlotte Flair
16. Dana Brooke
17. WWE Hall of Famer Torrie Wilson
18. Lacey Evans
19. Mickie James
20. Nikki Cross
21. Alicia Fox
22. Mandy Rose
23. Dakota Kai
24. Carmella
25. Tamina Snuka
26. Lana
27. Alexa Bliss
28. Ember Moon
29. WWE Women's Tag Team Champion Nia Jax
30. Natalya
ELIMINATIONS
1. Shotzi Blackheart (by Shayna Baszler)
2. Jillian Hall (by Billie Kay)
3. Billie Kay (by Liv Morgan and Ruby Riott)
4. Toni Storm (by Rhea Ripley)
5. Victoria (by Shayna Baszler)
6. Santana Garrett (by Rhea Ripley)
7. Ruby Riott (by Bayley)
8. Liv Morgan (by Peyton Royce)
9. Dana Brooke (by Rhea Ripley)
10. Peyton Royce (by Charlotte Flair)
11. Torrie Wilson (by Shayna Baszler)
12. Bayley (by Bianca Belair)
13. Alicia Fox (by Mandy Rose)
14. Mickie James (by Lacey Evans)
15. Dakota Kai (by Rhea Ripley)
16. Mandy Rose (by Rhea Ripley)
17. Nikki Cross (by Carmella)
18. Carmella (by Tamina Snuka)
19. Alexa Bliss (by Rhea Ripley)
20. Lacey Evans by (by Shayna Baszler)
21. Ember Moon (by Nia Jax)
22. Naomi (by Nia Jax and Shayna Baszler)
23. Tamina Snuka (by Nia Jax and Shayna Baszler)
24. Shayna Baszler (by Nia Jax)
25. Nia Jax (by Lana)
26. Lana (by Natalya)
27. Natalya (by Bianca Belair)
28. Charlotte Flair (by Bianca Belair and Rhea Ripley)
29. Rhea Ripley (by Bianca Belair)
Winner: Bianca Belair
If @itsBayleyWWE wins the #RoyalRumble Match, she wants to challenge @MichaelCole!

We would make an exception to the rules for this match. pic.twitter.com/RNGcLbWSfn

— WWE Network (@WWENetwork) February 1, 2021
We missed @NaomiWWE, and her glow, so much. 💚💙💜#RoyalRumble @itsBayleyWWE pic.twitter.com/6unognknss

— WWE Universe (@WWEUniverse) February 1, 2021
3️⃣ @BiancaBelairWWE #RoyalRumble pic.twitter.com/nZ0ZEy6V90

— WWE (@WWE) February 1, 2021
4️⃣ @BillieKayWWE #RoyalRumble pic.twitter.com/WHTl2jumB6

— WWE (@WWE) February 1, 2021
.@BiancaBelairWWE & @NaomiWWE about to show the @WWEUniverse nothing they've ever seen before! ⭐⭐⭐⭐⭐#RoyalRumble pic.twitter.com/K7QDqjK5KG

— WWE Network (@WWENetwork) February 1, 2021
It's okay, @BillieKayWWE, take your time, you punk, rebel soul. #RoyalRumble pic.twitter.com/7kIXR40JoL

— WWE Universe (@WWEUniverse) February 1, 2021
5️⃣ @WWENXT's @ShotziWWE! 🤘#RoyalRumble pic.twitter.com/ybcSP1twid

— WWE (@WWE) February 1, 2021
6️⃣ @QoSBaszler #RoyalRumble pic.twitter.com/PV2Fm3FvDg

— WWE (@WWE) February 1, 2021
Clearly @BillieKayWWE hasn't been catching up on her #WWENXT. Make us proud, @ShotziWWE! #WeAreNXT #RoyalRumble pic.twitter.com/nmeXyu2L14

— WWE NXT (@WWENXT) February 1, 2021
Yeah.... @QoSBaszler already has a tag team partner.

Sorry, @BillieKayWWE. #RoyalRumble pic.twitter.com/qUv5QXkiyB

— WWE Universe (@WWEUniverse) February 1, 2021
8️⃣ @Jillianhall1!!! 🎶🎤🎵#RoyalRumble pic.twitter.com/uFR6odhftJ

— WWE (@WWE) February 1, 2021
9️⃣ @RubyRiottWWE #RoyalRumble pic.twitter.com/d0bJvQQmcT

— WWE (@WWE) February 1, 2021
1️⃣0️⃣ @REALLiSAMARiE ... VICTORIA!!!#RoyalRumble pic.twitter.com/gOZyP4iz4E

— WWE (@WWE) February 1, 2021
🕷🕷🕷@REALLiSAMARiE is HERE!!! 😮👏😮👏#RoyalRumble pic.twitter.com/EFsKasthFu

— WWE (@WWE) February 1, 2021
It's STORM SZN ⛈️ ⛈️ ⛈️#WWENXT #ToniStorm @RubyRiottWWE pic.twitter.com/hQK12zi89a

— WWE NXT (@WWENXT) February 1, 2021
1️⃣1️⃣ @PeytonRoyceWWE #RoyalRumble pic.twitter.com/DTGurbGkuU

— WWE (@WWE) February 1, 2021
SHE'S STILL GOT IT! 👏 , 👏 , 👏 👏 👏

SHE'S STILL GOT IT! 👏 , 👏 , 👏 👏 👏 #RoyalRumble @REALLiSAMARiE @RubyRiottWWE pic.twitter.com/kkmWdDbqby

— WWE (@WWE) February 1, 2021
1️⃣2️⃣ @WWENXT's @SantanaGarrett_ #RoyalRumble pic.twitter.com/Ur1RHmKFXU

— WWE (@WWE) February 1, 2021
Billie & Jilly! ⭐🎤

They love it. We love it. YOU better love it. #RoyalRumble @BillieKayWWE @Jillianhall1 pic.twitter.com/BThTDXrYnl

— WWE (@WWE) February 1, 2021
1️⃣3️⃣ @YaOnlyLivvOnce #RoyalRumble pic.twitter.com/B2ByuZfmCt

— WWE (@WWE) February 1, 2021
1️⃣4️⃣ #TheNightmare @RheaRipley_WWE #RoyalRumble pic.twitter.com/9EOWoXwJ2H

— WWE (@WWE) February 1, 2021
IIconic or Riott? Tough decision for @BillieKayWWE. #RoyalRumble @RubyRiottWWE @PeytonRoyceWWE @REALLiSAMARiE pic.twitter.com/wbSfUDS4yY

— WWE Universe (@WWEUniverse) February 1, 2021
Our #WWENXT heart is conflicted. 😥

Toni Storm is OUT, but @RheaRipley_WWE is IN the #RoyalRumble Match! pic.twitter.com/trfQVouXA7

— WWE NXT (@WWENXT) February 1, 2021
1️⃣5️⃣ #TheQueen @MsCharlotteWWE #RoyalRumble pic.twitter.com/aluFQypqLF

— WWE (@WWE) February 1, 2021
1️⃣6️⃣ @DanaBrookeWWE #RoyalRumble pic.twitter.com/gIOwhsTY2f

— WWE (@WWE) February 1, 2021
.@DanaBrookeWWE isn't afraid to take risks tonight! #RoyalRumble pic.twitter.com/ssbZv2nlD0

— WWE Universe (@WWEUniverse) February 1, 2021
1️⃣7️⃣ WWE Hall of Famer @Torrie11!!!#RoyalRumble pic.twitter.com/D0AUZHqFVc

— WWE (@WWE) February 1, 2021
1️⃣8️⃣ @RicFlairNatrBoy?! ... Oh, @LaceyEvansWWE #RoyalRumble pic.twitter.com/vDUAzMpK0K

— WWE (@WWE) February 1, 2021
.@Torrie11 hasn't missed a step, or a shimmy! #RoyalRumble @PeytonRoyceWWE pic.twitter.com/z0RdphIBg3

— WWE Network (@WWENetwork) February 1, 2021
Byeeee, @itsBayleyWWE! Byeee, @itsBayleyWWE! @BiancaBelairWWE said she would eliminate her, and she did. #RoyalRumble pic.twitter.com/L7BxOf7zIL

— WWE (@WWE) February 1, 2021
Byeeee, @itsBayleyWWE! Byeee, @itsBayleyWWE! @BiancaBelairWWE said she would eliminate her, and she did. #RoyalRumble pic.twitter.com/L7BxOf7zIL

— WWE (@WWE) February 1, 2021
1️⃣9️⃣ @MickieJames #RoyalRumble pic.twitter.com/xwZygucspM

— WWE (@WWE) February 1, 2021
2️⃣0️⃣ @NikkiCrossWWE #RoyalRumble pic.twitter.com/s3xgbQgJU1

— WWE (@WWE) February 1, 2021
Wrong Rumble, @RonKillings! 😂 😂 😂 #RoyalRumble @AliciaFoxy pic.twitter.com/E62cuVVG1b

— WWE (@WWE) February 1, 2021
VINTAGE @MickieJames!

We're 𝒐𝒃𝒔𝒆𝒔𝒔𝒆𝒅. 😉 #RoyalRumble @MsCharlotteWWE pic.twitter.com/8GozeurG5A

— WWE Universe (@WWEUniverse) February 1, 2021
2️⃣1️⃣ @AliciaFoxy!!! #RoyalRumble pic.twitter.com/VrcxD0XFU5

— WWE (@WWE) February 1, 2021
The NEW #247Champion is... @AliciaFoxy!!!! 🏆

We love to see it. #RoyalRumble #AndNew pic.twitter.com/eZKUOp3KTs

— WWE (@WWE) February 1, 2021
2️⃣2️⃣ @WWE_MandyRose #RoyalRumble pic.twitter.com/x2lVvQNNTn

— WWE (@WWE) February 1, 2021
The Captain of #TeamKick is in the building!

You might want to get out of the way, @MickieJames. ❤️ #WeAreNXT #RoyalRumble @DakotaKai_WWE @rhearipley pic.twitter.com/xoz4JUgID1

— WWE NXT (@WWENXT) February 1, 2021
2️⃣3️⃣ @WWENXT's @DakotaKai_WWE #RoyalRumble pic.twitter.com/1cx4CPTNLM

— WWE (@WWE) February 1, 2021
You got this, @RheaRipley_WWE. #WeAreNXT #RoyalRumble @TaminaSnuka pic.twitter.com/MCfFTXvEpC

— WWE NXT (@WWENXT) February 1, 2021
2️⃣4️⃣ @CarmellaWWE #RoyalRumble pic.twitter.com/BqndViiT2J

— WWE (@WWE) February 1, 2021
2️⃣5️⃣ @TaminaSnuka #RoyalRumble pic.twitter.com/nPQ9EG9DR8

— WWE (@WWE) February 1, 2021
2️⃣6️⃣ @LanaWWE IS BACK.#RoyalRumble pic.twitter.com/i4dHtwlQak

— WWE (@WWE) February 1, 2021
With a little help from @BiancaBelairWWE's hair, @NaomiWWE has done it again!! 👀🤯#RoyalRumble pic.twitter.com/mmyLsSm4FD

— WWE (@WWE) February 1, 2021
Hair can really bring people together. 🧡#RoyalRumble @NaomiWWE @BiancaBelairWWE pic.twitter.com/V6p29mKcWr

— WWE (@WWE) February 1, 2021
Yowie Wowie. Someone's having fun. 😳#RoyalRumble @AlexaBliss_WWE pic.twitter.com/D9fFtnlEqk

— WWE (@WWE) February 1, 2021
2️⃣7️⃣ @AlexaBliss_WWE #RoyalRumble pic.twitter.com/ff3CQQggGO

— WWE (@WWE) February 1, 2021
2️⃣8️⃣ @WWEEmberMoon #RoyalRumble pic.twitter.com/UaIFZVur90

— WWE (@WWE) February 1, 2021
47 minutes and 43 seconds.

What a performance by No. 2 entrant @NaomiWWE! #RoyalRumble pic.twitter.com/xk7Cy2HBp6

— WWE Network (@WWENetwork) February 1, 2021
.@MsCharlotteWWE & @TaminaSnuka, THIS is #EmbersLaw. 🔥 #RoyalRumble #WeAreNXT @WWEEmberMoon pic.twitter.com/dN1mdpSDVY

— WWE NXT (@WWENXT) February 1, 2021
2️⃣9️⃣ @NiaJaxWWE #RoyalRumble pic.twitter.com/u95cUF3bmF

— WWE (@WWE) February 1, 2021
3️⃣0️⃣ @NatbyNature #RoyalRumble pic.twitter.com/BP6Z9zQEyE

— WWE (@WWE) February 1, 2021
THE FINAL 4: @NatbyNature. @MsCharlotteWWE. @RheaRipley_WWE. @BiancaBelairWWE.

WHO YOU GOT? #RoyalRumble pic.twitter.com/EYLj1KDw9p

— WWE Network (@WWENetwork) February 1, 2021
.@BiancaBelairWWE & @RheaRipley_WWE remember #WrestleMania season.

We are down to the FINAL 2. #RoyalRumble @MsCharlotteWWE pic.twitter.com/cp6lZyCfF5

— WWE (@WWE) February 1, 2021
THAT'S RIGHT! The EST of WWE is headed to #WrestleMania!

Congratulations to our 2021 Women's #RoyalRumble Match winner, @BiancaBelairWWE! pic.twitter.com/UzdZFrdqmF

— WWE (@WWE) February 1, 2021
The MOST deserved. #RoyalRumble @BiancaBelairWWE pic.twitter.com/UGVee4qLrC

— WWE Universe (@WWEUniverse) February 1, 2021
"I did it!" Yes, you did.

The realEST of emotions from the 2021 #RoyalRumble Match winner, @BiancaBelairWWE pic.twitter.com/2Krh8cKR3c

— WWE Network (@WWENetwork) February 1, 2021
One of the bEST #WrestleMania points by far. See you in April, @BiancaBelairWWE! #RoyalRumble pic.twitter.com/jdV0utpD0q

— WWE WrestleMania (@WrestleMania) February 1, 2021
❤️#WrestleMania #RoyalRumble @BiancaBelairWWE pic.twitter.com/eM8XKoAYcR

— WWE (@WWE) February 1, 2021