AEW Dynamite Results: KENTA and Kenny Omega Vs. Jon Moxley and Lance Archer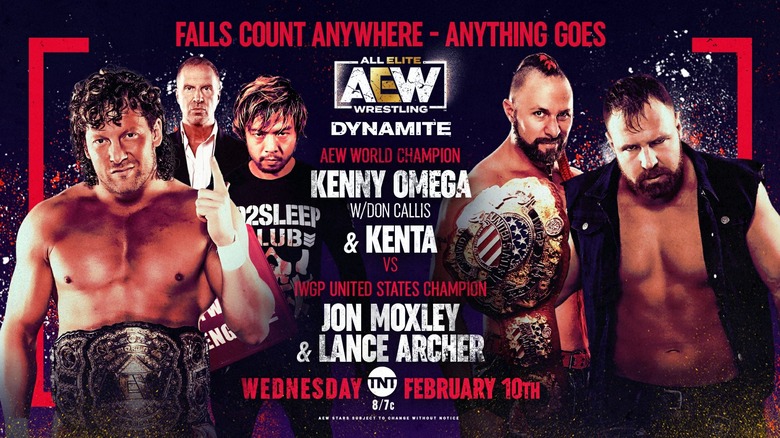 Photo Credit: AEW
Welcome to Wrestling Inc.'s live coverage of AEW Dynamite, beginning at 8 pm ET. Let others know about our coverage by giving this page a quick retweet or share on social media.
Click the refresh button on your browser every few minutes to keep up with the live results. Let us know your thoughts on the show by sharing them below in the comments section.
Darby Allin (c) vs. Joey Janela (AEW TNT Championship)
Back and forth technical wrestling as the match gets going. Allin works Janela's arm, gets backed into a corner and eats a back elbow. Allin with a big springboard arm drag, followed by a dropkick that sends Janela to the apron. Janela then gives Allin a flapjack on the apron, and a suicide dive on the champion. Back in the ring, cover, two. Janela with shots in the corner, then whips Allin chest-first into the turnbuckle, cover, two-count.
HERE WE GO! The TNT Championship is on the line as the champion @DarbyAllin takes on the challenger @JANELABABY!
WATCH #AEWDynamite NOW on @TNTDrama pic.twitter.com/tGJMIaDbcF

— All Elite Wrestling (@AEW) February 11, 2021
Janela heads to the top turnbuckle, double sledge over Allin's head. Janela goes up again, but Allin yanks him down over the top rope. Janela is able to slingshot the middle rope into Allin's face. Allin recovers and continues to work over Janela's arm, Janela to the floor and Allin hits a big suicide dive on his opponent, throws him back in the ring, cover, two. Allin goes for a springboard coffin drop, caught in midair with a release german suplex, thrust kick, cover, two.
The champion @DarbyAllin continues his attack on the left arm of @JANELABABY. Who walks out of @dailysplace with the TNT Championship?
WATCH #AEWDynamite NOW on @TNTDrama pic.twitter.com/noydVj2OXE

— All Elite Wrestling (@AEW) February 11, 2021
Allin twists Janela's arm and swings him down to the mat. Janela with a clothesline, Allin counters with an over-the-top stunner, cover, two. Tricky pin by Allin, another two-count. Janela then lands a piledriver, cover, two. Allin put up on the top rope, Allin fights him off, avalanche code red, cover, two. Allin drops Janela, nails a coffin drop off the top rope, cover, 1-2-3.
Winner: Darby Allin via Pinfall
- Recap of KENTA showing up last week to ambush Jon Moxley. Commentary previews some of tonight's matches and segments.
- Outside the venue, Jon Moxley says KENTA has been calling him out for months, so what happened last week was no surprise. Moxley says the time for cheap talk is over and Moxley thinks KENTA knows that. Moxley promotes they are going to meet each other on February 26 (while also showing the IWGP US Championship). That match is sanctioned, but tonight's will not be. He wishes his opponents good luck taking him off the board, tonight is "just for fun."
After this interaction between @SammyGuevara & @The_MJF, where does the rest of the #InnerCircle stand now? Only time will tell.
WATCH #AEWDynamite NOW on @TNTDrama pic.twitter.com/A9D58W73fA

— All Elite Wrestling (@AEW) February 11, 2021
- Inner Circle locker room, Sammy Guevara asks the group for a minute, so he can talk with MJF. Sammy says he knows what MJF is up to, especially after last week. He knows MJF is trying to take over the Inner Circle. MJF thought Sammy was just jealous of him, since he was the apple of Jericho's eye, but now MJF is the new favorite. MJF realized it's not that, he thinks Sammy actually hates Jericho and doesn't like to play second fiddle to him. MJF continues that he thinks Sammy is upset and he wants to take it over. Sammy repeats what MJF says, and MJF responds that's exactly what he wanted to hear as he takes his phone. Sammy realizes MJF was recording him, takes it, and throws the phone against the wall. He then punches MJF in the midsection and leaves the room.
Cody Rhodes and Lee Johnson with Arn Anderson vs. "Pretty" Peter Avalon and Cezar Bononi
Rhodes and Johnson get the upper hand early on until Bononi gets the blind tag and decks Johnson in the back. This is the first time Johnson and Cody are teaming together as Johnson is looking for his first AEW win. Johnson sent into the turnbuckle, flips up and over Avalon. He lands a dropkick, sending Avalon scurrying to the corner for the tag. Bononi tries for a powerbomb, jawbreaker counter, and he tags in Rhodes. Cody lands a few running punches, eventually bringing the big man down.
.@BigShottyLee has a chance to turn his losing record around tonight on Dynamite!
WATCH #AEWDynamite NOW on @TNTDrama. pic.twitter.com/OdikAk5KLQ

— All Elite Wrestling (@AEW) February 11, 2021
Bononi finally drops Rhodes and stomps away at him. Rhodes getting worked over by Bononi, looks to hurt his shoulder. Avalon gets in there, but Cody gets a window to tag in Johnson. He hits a cutter on Avalon, ducks Bononi and he goes out to the floor. Johnson with a twisting flip down on his opponent. Back to Avalon, Johnson with a flurry of moves, fisherman's neckbreaker, cover, Bononi breaks it up. Cody back in, pops Bononi in the face, but gets thrown out of the ring.  Johnson gets lift and dropped hard to the mat. Rhodes pulls Bononi out to the floor. Avalon looks for double knees to the back of Johnson's head, but Johnson avoids it and rolls up Avalon for the win.
Winner: Lee Johnson via Pinfall
- Post-match, more of The Nightmare Family heads out (Dustin Rhodes and QT Marshall) as the group talk with Tony Schiavone on the stage. Lee is asked about his first win. Johnson says he wishes he had more words for Tony, but after a year of going 0-29 he was shown by his trainers hard work pays off.
NEXT WEEK The @YoungBucks put their #AEW World Tag Team Championships on the line against top contenders @Santana_Proud & @Ortiz_Powerful.
WATCH #AEWDynamite NOW on @TNTDrama pic.twitter.com/CL9baS5n2b

— All Elite Wrestling (@AEW) February 11, 2021
- Earlier today, AEW World Tag Team Champions The Young Bucks talk with Dash about Chris Jericho and MJF winning a title opportunity. The brothers are asked about not lasting too long in last week's tag battle royal. Young Bucks say well, let's ask The Good Brothers about that. The two show up, Matt and Nick say had they won, they were going to pick Doc and Karl! The Good Brothers say it wasn't like they were trying to take them out, ultimately, Inner Circle eliminated them. Matt is fired up and says how about next week the titles will be up for grabs against Santana and Ortiz.
Q: Who has been there for Hangman @theAdamPage during his ups & downs?
A: Dark Order
Q: Who has been there for Hangman #AdamPage when it's convenient?
A: Matt Hardy

WATCH #AEWDynamite NOW on @TNTDrama pic.twitter.com/aphiwFZD1h

— All Elite Wrestling (@AEW) February 11, 2021
- Backstage, Dash talks with Hangman Page about if he's looking to team up with Matt Hardy. Page goes to say "no," but Hardy says they are special together and Page should at least let him take Page out for drinks. Hardy says it will be on him, Page says okay. He goes to get his phone and bumps into Dark Order. There's an awkward conversation between the two with Page saying he's going to the bar with Hardy and he walks through the group to get his phone.
PAC with Rey Fenix vs. Ryan Nemeth
PAC puts his opponent down, then hits a suplex. Nemeth climbs back up and immediately eats a back elbow. PAC up to the top rope, missile dropkick. Nemeth lands a shot on PAC, but then takes a punch of kicks to the face and midsection. Nemeth out to the floor, PAC follows him and throws Nemeth right back in the ring.
RT if you feel bad for @HotYoungBriley 😬 #AEWDynamite pic.twitter.com/LN3BpBoDLb

— AEW on TV (@AEWonTV) February 11, 2021
Nemeth with a kick and lands a big DDT on PAC, but he rolls out to the floor. Nemeth follows, takes a kick and is thrown into the barricade. In the ring, PAC with stomps to the face, Nemeth looks to be out of it. PAC has him face-down on the mat, PAC goes up to the top rope, hits black arrow, goes right into the brutalizer, and Nemeth taps.
Winner: PAC via Submission
- Highlights show of last week's wedding between Kip Sabian and Penelope Ford. Miro calls "Charles" a gutless bastard for shackling him into the corner. Miro says he's going to find Orange Cassidy, and he's going to put Chuck Taylor in the hospital, right next to his buddy Trent. Cut to Cassidy telling Taylor, "I mean, what did they think was going to happen?"
- Backstage, Dasha talks with Chris Jericho (with Jake Hager and Wardlow). Dasha notices the entire group isn't out there. MJF stumbles up (with Santana and Ortiz behind him) with his ribs taped up, saying he thinks Sammy broke his ribs. Jericho can't believe it and says for now, they have a match to worry about.
Chris Jericho and MJF with Inner Circle vs. The Acclaimed
MJF gets shoved and immediately rolls out to the ring because of his hurt ribs. Jericho tags in, takes a bunch of shots from Caster and then sent into the corner. Bowens with a boot to the face, Caster hits a side suplex, Bowens with a slingshot elbow drop, cover, two. MJF tags in, gets slammed to the mat, cover, and is yelling out in pain.
FULL ENTRANCE | The Acclaimed @Bowens_Official & @CasterShow are ready!
WATCH #AEWDynamite NOW on @TNTDrama pic.twitter.com/iLR9SvQ0h4

— All Elite Wrestling (@AEW) February 11, 2021
MJF then gets kicked right in the ribs. He pulls on Caster's hair to get him in the corner, so Jericho can tag it. Referee trying to get MJF out and MJF reaches over for an eye rake on Caster. Jericho and MJF beat up Caster in the corner, and work him over for the next few minutes. MJF with an abdominal stretch, at times with the help of Jericho. Edwards finally sees it and kicks their hands. Caster reverses the hold, then nails a hip toss. Bowens finally gets the tag, shoulder tackle on Jericho, multiple chops to both opponents, then a dropkick to Jericho. MJF tries the cheap shot and gets sent to the mat.
.@Bowens_Official brings the intensity! Can they secure the win?
WATCH #AEWDynamite NOW on @TNTDrama pic.twitter.com/8EgiKVwJ2j

— All Elite Wrestling (@AEW) February 11, 2021
Ortiz up on the apron and gets punched off. Jericho tries for the lionsault, but nails him in the head with the boombox as the ref is dealing with Inner Circle, cover, two! The Acclaimed look for claimed to fame, Bowens crashes out on the floor, Hager shoves Caster off the top rope (ref wasn't looking) and right into the judas effect, cover, and that'll do it.
Winners: Chris Jericho and MJF via Pinfall
.@SammyGuevara has had enough! HE HAS QUIT THE INNER CIRCLE!
WATCH #AEWDynamite NOW on @TNTDrama pic.twitter.com/5JUaCJrbbO

— All Elite Wrestling (@AEW) February 11, 2021
- Post-match, Sammy Guevara's music hits, and he comes out to the ring. Jericho asks him what the problem is with him. Sammy says he told Jericho that if one more thing happened with MJF that he's done with the group. Sammy then tells Jericho he's done. Jericho responds, "What do you mean?" Sammy says he quits the Inner Circle. MJF looks pretty proud with his work as Sammy walks to the back. MJF trying to talk with Jericho, but he needs a minute after what happened.
- Outside the venue, Alex Marvez catches up with Guevara and asks him why he's leaving the group. Sammy says he needs to refocus and some time away from AEW.
30% of Hangman's @theAdamPage earnings? Once it's signed – There's no turning back.
WATCH #AEWDynamite NOW on @TNTDrama pic.twitter.com/Y53pTGY3Qp

— All Elite Wrestling (@AEW) February 11, 2021
- At the bar, Matt Hardy and Hangman Page trade stories. Hardy says he was buzzing off their win last week. Hardy feels like they are magic as a team. They go to drink, but Hardy is just dumping his drink out. Hardy feels like Page could dominate AEW and be richer than their wildest dreams. Hardy then brings out his contract and says Page could be amazing, and Hardy only takes 30%, which is nothing when he makes so much money! Hardy looks to the cameraman and says he wants him here to make it official because Page will probably be mad when he realizes what he did when he's sober. Page and Hardy sign the contract, Hardy says he has to head off!
- In the ring, Tony Schiavone talks with Sting about his upcoming match. Sting goes to talk, but Taz shows up on the big screen with Hobbs next to him. The camera pans to the back and we see Allin zipped up in a body bag. Cage and Starks run to the back of the truck and they end up dragging Allin through the parking lot.
The #AEW World Champion @KennyOmegamanX finds peace...in Golf?!
WATCH #AEWDynamite NOW on @TNTDrama pic.twitter.com/8gGv6gHPOu

— All Elite Wrestling (@AEW) February 11, 2021
- Earlier today, Alex Marvez finds Kenny Omega on the golf course. Omega doesn't want to talk, especially when he's golfing. Omega says to watch this shot out of the sand. He hits the ball out and asks Marvez he'll answer a question. Marvez wonders what Omega is doing here, rather than prepping for a match with a partner that doesn't really like him. Omega says he's not going to lock himself in a room and study tape with Don Callis. He's going to be out with nature to clear his mind. He hasn't lost in awhile, and doesn't plan on losing tonight. Omega says he's going to put on a show tonight. Omega apparently hit the ball into the hole, then puts the ball in Marvez's pocket. Marvez asks for a ride and they pass, leaving him behind.
Thunder Rosa vs. Leyla Hirsch (Women's Title Eliminator Tournament Match)
Rosa starts with some arm drags on her opponent, followed by a body slam and running senton, cover, two. Hirsch up to the top rope and hits a hurricanrana, sending Rosa out to the floor. Hirsch with a suicide dive, then goes for another, but Rosa is in the ring to head her off. Hirsch rolls up for a submission, but Rosa fights that off.
.@LegitLeyla is quick to gain control in the opening moments of this first-round match in the AEW Women's World Championship eliminator tournament.
WATCH #AEWDynamite NOW on @TNTDrama pic.twitter.com/TvgqbCfZEd

— All Elite Wrestling (@AEW) February 11, 2021
Rosa sent to the apron, shoulder to Hirsch's midsection and hits a neckbreaker over the top rope. Rosa sends Hirsch into the corner, shotgun dropkick, cover, two. Hirsch with a german suplex, goes for another one, but is sent into the corner. Rosa runs into a back elbow. Hirsch with a second rope splash, pin, two-count. Hirsch heads back to the top rope, moonsault, Rosa gets her knees up, cover, two. Hirsch is up and lands a big knee to the face, and another one. Hirsch with a top rope moonsault, pool is empty! Rosa with a running kick, cover, two.
Non-stop knee strikes by @LegitLeyla!
WATCH #AEWDynamite NOW on @TNTDrama pic.twitter.com/GzTah4l8Ci

— All Elite Wrestling (@AEW) February 11, 2021
Hirsch tries for the cross armbreaker, Rosa with the pin, two, then a small powerbomb to break the hold. Rosa then hits thunder driver for the 1-2-3.
Winner: Thunder Rosa via pinfall to advance to the second round
- Japan's side of the bracket will be seen on Monday at 7 pm ET on AEW's YouTube channel.
- Earlier today, Tony Schiavone talks with Jungle Boy. Tony says Marko Stunt is okay after being scooped up by FTR. Jungle Boy says two weeks ago he had a match with Dax Harwood and had never had a match like that, he came out a different man after picking up the big win. JB says they never reported FTR and says the next time they meet, JB is going to make Dax his b****.
- Next week on Dynamite:
* FTR with Tully Blanchard vs. Matt and Mike Sydal
* Hangman Page, Matt Hardy, and Private Party vs. The Hybrid2 and Chaos Project
* Sting calls out Team Taz ahead of their Street Fight at Revolution
* NWA Women's World Champion Serena Deeb vs. Riho (Women's Title Elimination Tournament Match)
* The Young Bucks (c) vs. Santana and Ortiz (AEW World Tag Team Championship)
 AEW World Champion Kenny Omega and KENTA vs. Jon Moxley and Lance Archer (No Count-Out/Anything Goes Match)
Omega and KENTA with the quick start to the match, KENTA sends his briefcase into Archer's face. Omega stomps away on Moxley, but KENTA shoves Omega away to stomp on Moxley. Omega and Moxley argue for a moment, allowing Moxley to swing on the both of them for a minute. They trade strikes on Moxley. KENTA ditches Archer, Moxley knees Omega out to the floor. KENTA and Moxley trade back and forth shots in the middle of the ring.
Pure violence is on the menu in your main event of the evening!
WATCH #AEWDynamite NOW on @TNTDrama pic.twitter.com/5yo3XU19yH

— All Elite Wrestling (@AEW) February 11, 2021
KENTA looks for GTS, no, Moxley looks for paradigm shift, and Omega smacks Moxley in the face with a garbage can. Kenny then puts the trash can up on the ring post. Omega hits you can't escape with the help of the trash can! KENTA with a low dropkick as Omega holds the trash can in front of him, cover, two-count. Archer is finally back in the ring with a ladder, running over both opponents. Moxley with a suicide dive on KENTA as Archer beats up Omega.
.@KENTAG2S with the corner attack onto the current #IWGP United States Heavyweight Champion @JonMoxley!
WATCH #AEWDynamite NOW on @TNTDrama pic.twitter.com/eTmVURKd3v

— All Elite Wrestling (@AEW) February 11, 2021
Brawl spills out to the ringside area. KENTA ends up hitting Peter Avalon with GTS. Omega leaps up on the barricade, Archer ends up chokeslamming Omega through Avalon's bed structure, cover, KENTA breaks it up. Moxley grabs KENTA and throws him into the barricade then hits him with a hard kick. Moxley continues to beat up KENTA as they make their way up into the stands. Archer follows them, Omega is trailing behind. Moxley and KENTA are in the kitchen area, battling back and forth.
Wrong place at the wrong time for @PAvalon.
WATCH #AEWDynamite NOW on @TNTDrama pic.twitter.com/yVMUwC151w

— All Elite Wrestling (@AEW) February 11, 2021
Moxley and KENTA end up on a metal table, KENTA hits a DDT on it! Archer and Omega finally arrive as Omega throws Archer into a metal structure, then throws a garbage can at him. Moxley turns his attention to Omega and hits him with a potato. We see clips of earlier action, and then come back to find Moxley and Omega making their way back to the ringside area.
.@KENTAG2S dives off the stage!
WATCH #AEWDynamite NOW on @TNTDrama pic.twitter.com/2M4wMnnNoQ

— All Elite Wrestling (@AEW) February 11, 2021
Moxley scoops up a kendo stick, pops Omega in midsection, then cracks him over the back with it. Moxley goes to leap off the middle rope and eats a v-trigger. KENTA and Archer now battling on the stage. Omega with another v-trigger on Moxley, sending him on the timekeeper's table. Archer and KENTA over near commentary, Archer looks to powerbomb KENTA, but he fights out of it. KENTA dodges Archer and hits a double foot stomp down on Moxley, partly breaking the table.
Omega has a kendo stick, Archer points to him and they meet in the ring. Archer catches the stick, breaks it over his knee, then chokeslams Omega. Archer takes Omega's wrist, walks with the ropes and hits a moonsault on him, cover, two. The Good Brothers show up, Archer keeps them at bay. KENTA with spinning backfists on Archer, no effect, big boot to KENTA. Gunstun on Arcvher by Anderson. Roberts with a short-arm clothesline on Anderson! Gallows pops Roberts in the face. Omega looks for a v-trigger on Roberts, but Moxley hits him with a barbed wire bat.
He nails The Good Brothers, too. KENTA with GTS on Moxley. Archer clotheslines KENTA. He looks for a double clothesline and eats double lowblows. Good Brothers with magic killer on Archer. V-trigger on Archer. Gallows and Anderson help lift Archer up on Omega's shoulders, one winged angel lands, cover, 1-2-3.
Winners: Kenny Omega and KENTA via Pinfall
- Post-match, KENTA beats up Moxley a bit more on the floor. Omega celebrates with his guys in the ring as the show comes to a close.