MLW Fusion Results (3/17): Two Big Title Defenses, Mil Muertes In Action, More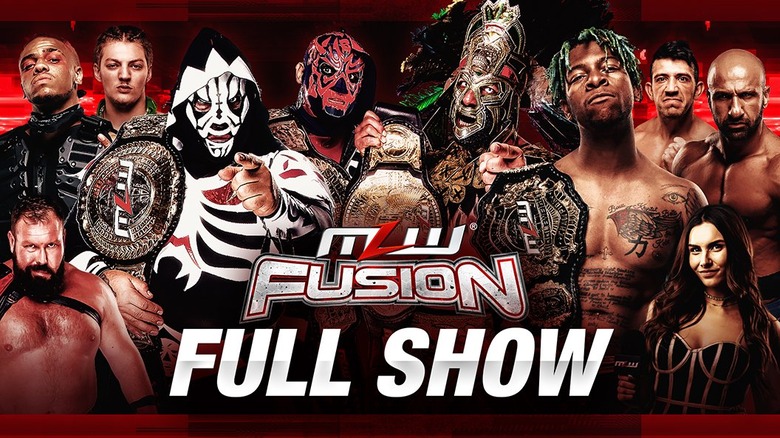 Happy St. Patrick's Day, everyone! Welcome to Wrestling Inc's live coverage of MLW Fusion, which airs every Wednesday on YouTube and fubo Sports Network at 7 PM EST, as well as on beIN SPORTS on Saturdays at 10 pm EST! Be sure to chime in on your thoughts about tonight's show in the comments section below. Additionally, share our live coverage through social media. Make sure to click the REFRESH button to continue to get the most current up to date coverage. Above and below is what's on tonight's agenda for MLW:
Just as the show airs, we see Injustice and CONTRA Unit (Simon Gotch and Daivari) going at it outside. Los Parks come out and join Injustice's side and start whaling on CONTRA. Tonight, Los Parks will defend their MLW World Tag Team Championship against Injustice in the main event. Will CONTRA Unit be added to the title fight?
Commentators Rich Bocchini and Saint Laurent welcome fans to MLW Fusion. Up next, Lio Rush will begin his first Open Challenge match for the MLW Middleweight Championship. It looks like "The Promised Prince" Brian Pillman Jr. will be the first to take on the challenge!
MLW Middleweight Championship: Lio Rush (c) vs. Brian Pillman Jr.
The bell rings. You can see Brian Pillman Jr. strategizing over in the corner. Both men go for a collar and elbow tie-up. Pillman backs Rush up against the ropes and breaks the hold cleanly. They reset. Pillman takes Rush down on one knee with a side headlock. Rush counters with a head scissors. On their feet now, Pillman slaps the champion across the face before crushing him with a shoulder tackle. Pillman continues with a dropkick for two. Rush answers Pillman with a slap of his own. Rush sends Pillman flying with another nicely done head scissors. Rush wipes out Pillman on the outside with a moonsault off the middle rope!
Back in the ring, Rush goes for a quick cover. Pillman kicks out at one. Rush charges down with a stomp on Pillman's midsection, followed by a nasty uppercut to the scull. Rush looks for another cover. Pillman, this time, kicks out at two. Pillman lands a forearm to create some distance. Rush rolls Pillman through with a jackknife pin for another two count. Rush tightly wraps himself around Pillman. Pillman tries to throw a few back elbows, but it's not working in his favor. Rush breaks it up with a series of heavy kicks. Pillman gets more and more fired after taking each kick. Pillman gets up and catches Rush with a massive powerslam!
Pillman stops Rush by clocking him with a palm strike for two. Pillman blocks Rush while on the apron with a punch. Rush knocks Pillman off the apron with a handstand. Rush counters Pillman with another big kick to the back of the skull. Rush heads to the top. Pillman meets him up there with an uppercut that turns into a huge superplex! Pillman looks for his Dire Promise DDT. Rush turns it around with a small package for another two count. Rush catches Pillman with a bottom rope cutter. The champion climbs to the top. The Final Hour lands. Rush goes for the final cover. 1-2-3. Lio Rush prevails against Pillman!
Winner & Still MLW Middleweight Champion: Lio Rush
- Following the brawl that took place earlier, Alicia Atout reports that CONTRA Unit will be added to tonight's Tag Team Championship main event.
Backstage: Alex Hammerstone has some animosity against Mil Muertes after attacking him last week following his National Openweight Championship against LA Park. Hammerstone wants Muetres to return his title. "The Nightmare Pendulum" challenges Muetres to a future match!
In Kauai: The Von Erichs are nowhere near done with Team Filthy. They want them to pick a time and a place for them to fight at.
- Rich Bocchini mentions how MLW is looking into Azteca Underground more and what it's about. One of Azteca Underground partners, Salina de la Renta, comes on and warns Hammerstone and everyone in the MLW lockerroom that "El Jefe" wants the violence. In order to grant his wishes, more people are going to be broken and sacrificed.
Before Mil Muertes and Parrow's colossal matchup, Saint Laurent reveals who made it this week on Pro Wrestling Illustrated's Top 10:
10.  Jordan Oliver
9.  Gino Medina
8.  Myron Reed
7.  Richard Holliday
6.  Mads Krügger
5.  Calvin Tankman
4.  Mil Muertes
3.  Low Ki
2. "Filthy" Tom Lawlor
1.  Alex Hammerstone
Mil Muertes (w/Salina de la Renta) vs. Parrow
These two powerhouses get right in each other's faces right before the bell rings. Parrow lays down a flurry of forearms on Mil Muertes. Muertes flies off the ropes and goes for a low basement dropkick, followed by a bulky DDT to take Parrow off his feet. Muertes then climbs on top of Parrow and rains down punch after punch. Muertes bounces Parrow's face on the apron. Next, he digs his fingers into Parrow's eyes to blind him from attempting any sudden attacks. Muertes rolls Parrow into the ring. Parrow finds his offense again with a big boot and then a powerful senton for just a two count! Muertes knocks the wind out of Parrow's sails with a massive powerslam at two. Muertes continues the onslaught with his Straight To Hell finisher. Muertes has broken Parrow's undefeated streak with the pinfall victory.
Winner: Mil Muertes
Post-Match: Mil Muertes, who stoled Hammerstone's National Openweight Championship last week, holds the title high with Salina de la Renta by his side.
- Alicia Atout reports that Bu Ku Dao was found backstage unconscious. It looks like his match against TJP tonight will be postponed.
- We see a vignette of Calvin Tankman. He will face Jacob Fatu for the MLW World Heavyweight Championship in two weeks at Never Say Never!
- Speaking of Never Say Never, Atout announces two more matches added to the card. It'll be Myron Reed taking on Daivari, and Jordan Oliver squaring off against Simon Gotch.
Backstage: "Filthy" Tom Lawlor accepts the Von Erich's challenge. Next week, we'll see Team Filthy taking on ACH and the Von Erichs in a Chain Ropes Match. Plus, Mil Muertes will face Gringo Loco in singles action!
And now, the main event!
MLW World Tag Team Championships: Los Parks (c) (w/Salina de la Renta) vs. CONTRA Unit vs. Injustice
CONTRA Unit and Injustice get things started before the tag champions even arrive. LA Park walks down and goes to town on everyone with a chair. Simon Gotch picks up a kendo stick and begins to do battle with Myron Reed. Hijo de LA Park gets thrown out of the ring. All hell has broken loose!
In the ring, Daivari and Reed square off. Reed lands a nice dropkick. He goes for a cover. Hijo de LA Park breaks it up with a chair on Reed. LA Park whacks Daivari and Gotch with two kendo stick shots. Jordan Oliver and LA Park Jr. clash in the ring. On the outside, Daivari chops away on Hijo before he starts to choke him out. Hijo saves his father with a kendo stick shot to the back of Gotch's knee.
Gotch and Hijo exchange blows. Hijo gains the upper hand with a brutal headbutt. Next, LA Park comes in with some heavy right-handed punches on Gotch. Gotch and LA Park rock each other with a combination of shots and kicks. LA Park catches Gotch with a splash in the corner. Jordan Oliver sends LA Park out of the ring. Myron Reed gets caught after attempting a dive from over the top rope. Oliver follows behind his partner. His dive causes everyone to drop to the floor.
Gotch catches Oliver with a nasty piledriver. Gotch goes for a cover. Hijo breaks it up by beating Gotch with a pizza tray. Hijo then flies between the ropes with a suicide dive on everyone. LA Park splits Oliver in two with his signature spear for the pinfall victory!
Winners & Still MLW World Tag Team Champions: Los Parks
That concludes this week's episode. Thanks for watching!