WWE 205 Live Results (3/5): Mansoor Vs. Curt Stallion, Jake Atlas & August Grey In Action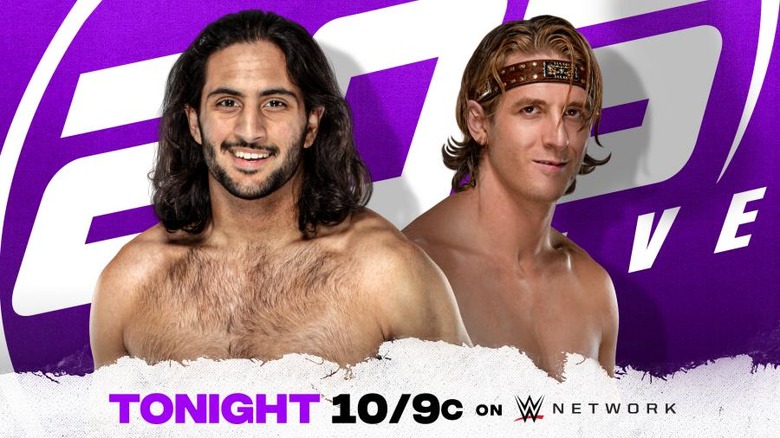 Welcome to Wrestling Inc's live coverage of WWE 205 Live! Tonight's action-packed show will take place right after Friday Night SmackDown at 10 PM EST on the WWE Network. Be sure to chime in on your thoughts about tonight's show in the comments section below. Additionally, share our live coverage through social media. Make sure to click the REFRESH button to continue to get the most current up to date coverage. Below is what's on tonight's agenda:
Vic Joseph and Nigel McGuinness welcome us to another edition of 205 Live. We kick things off with the OG's of 205 Live taking on the newer talent in tag team action!
Jake Atlas & August Grey vs. Tony Nese & Ariya Daivari
August Grey and Ariya Daivari kick things off. Both men go right into a collar and elbow tie-up. Daivari throws himself in between the ropes before making a tag to Tony Nese. Following that, two quick near-fall attempts occur from both men. Grey puts Nese in a wristlock. Nese breaks free and brings Daivari back in. Daivari lands a few quick shots before Nese comes back in. Grey jumps over to his corner for a tag out to Jake Atlas. The tag match spills to the outside. Daivari lands a cheap shot on Atlas while he's on the apron.
Back in the ring, Daivari eats a big boot in the corner. Daivari fights back with a heavy boot to the side of Atlas' face. Atlas returns the favor and tries to make a desperate tag to Grey. Nese is tagged in on the other side and pushes Grey from off the apron. Atlas is stuck in a tight bear hug. Altas breaks free with a back elbow. Atlas rolls through with a sunset flip before clocking Nese. Atlas makes a tag out to Grey. Grey plants a heavy clothesline on Nese once he makes his way into the ring. Grey looks for a cover after a jumping knee. "The Premier Athlete" kicks out at two. Nese hoists Grey up and drops him on his head. He goes for the pin, and Atlas breaks it up.
Atlas takes care of Daivari on the outside. Nese lands on his feet with a moonsault off the top rope. Grey hits his So Much Prettier finisher and gains the pinfall victory!
Winners: August Grey & Jake Atlas
- We take a look at Curt Stallion and Mansoor's confrontation from earlier today. Stallion is looking to put the 40-1 in Mansoor's record. Their main event match is up next!
- After the break, we look back on the blind ambush Breezango found themselves in against Legado Del Fantasma this week on NXT.
Off the BollyCam: The Bollywood Boyz are not happy that Legado Del Fantasma took out their friends Ever-Rise and Breezango on Wednesday.
And now, the main event!
Mansoor vs. Curt Stallion
Both men begin the match with a collar and elbow tie-up. Mansoor pushes Curt Stallion up against the ropes. He makes a clean break. They restart. Stallion applies a firm side headlock on Mansoor. Mansoor pushes Stallion's shoulders up on the mat. The referee makes the count on Stallion; he kicks out at two. The pace starts to quicken. Mansoor uses a drop-down rollup for just another two count. Stallion turns it around with a high-angle German Suplex for another near-fall.
RESPECT and COMPETITION!

@CurtStallion & @KSAMANNY collide in singles action on #205Live. pic.twitter.com/HLFlsHhgMY

— WWE (@WWE) March 6, 2021
Mansoor rocks Stallion with a strong clothesline. He looks for a cover, and Stallion kicks out again. Mansoor continues his offense by holding on to Stallion's arm. Stallion escapes with a perfect double stomp. Stallion plants a hard-hitting back fist and another German Suplex. Stallion corners Mansoor with a basement dropkick. Stallion keeps on top of the undefeated Cruiserweight with a low DDT. Stallion with a cover. Mansoor keeps himself alive at 2.5.
Mansoor counters Stallion with a double underhook. Cover. Stallion kicks out. Mansoor tries to hoist Stallion up. Stallion counters with a heavy headbutt. He goes up and over the top rope on Mansoor. Back in the ring, Stallion flies off the top with a frog splash. Mansoor gets his knees up in time to block the move. Stallion drives another headbutt on Mansoor as he climbs to the top. Stallion and Mansoor come crashing off the top rope with a reverse Spanish Fly! Stallion hooks the leg, thinking he has this match in the bag. Mansoor gets his foot on the bottom rope at 2.9! Mansoor works up enough stamina to finish Stallion off by dodging an attack in the corner and flying over the ropes with a neckbreaker! Mansoor maintains his 41-0 undefeated streak!
Winner: Mansoor 
Post-Match: Both men express their gratitude with a handshake.
That concludes this week's episode. Thanks for watching!