Arn Anderson Recalls Vince McMahon Being Notorious For Passing Gas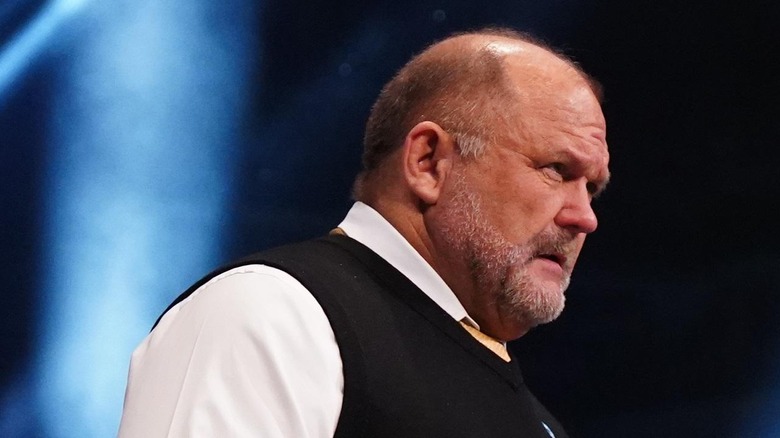 Photo Credit: AEW
On the latest episode of the ARN Podcast, AEW personality Arn Anderson spoke about his time in WWE as an agent that lasted over a decade. Anderson was asked during the show who was notorious in WWE for farting during his time with the company and shared two names, one that may surprise some people.
"Vince [McMahon] used to fart up in gorilla all the time and it would fill the room," Anderson said. "He would sit over there, you'd see him, he's laughing his ass off because everybody was gagging. Gerry Briscoe was big time gagging who had a sense of stomach. All that protein Vince was eating, you could imagine how bad.
"The [Big Show] was the worst. It had sound effects and he would walk in the room and look around and you know he had been holding it and have his bags in his hand and look around the room and it was like two big chicken breasts flapping together. The funk? Oh. People would be running for the door and getting jammed in the door two of them at a time. It was terrible, that's the two that stand out."
Over the years, there have been lots of stories about WWE employees not getting much vacation time. Anderson spoke about receiving vacations while he was an agent for the company, saying the amount of time you spent working for the company dictated how much vacation time you'd receive in a given year.
"They had a great employee package," Anderson said. "After a couple years you got two weeks, after five years it up to as much as a month of vacation time you could use during that year.
"Trust me, that was the only days off you got. You didn't ask for days off aside from that. You had to fit in everything you wanted to do, as far as vacation wise with your family, had to fit in that window. Just don't ask for days off any other time because it was a no-no. I don't think Vince even knew that was a part of the employee package or he would've stamped it out."
If you use any of the quotes in this article, please credit ARN Podcast with a h/t to Wrestling Inc. for the transcription.