Logan Paul Takes A Stunner At WrestleMania 37 Night Two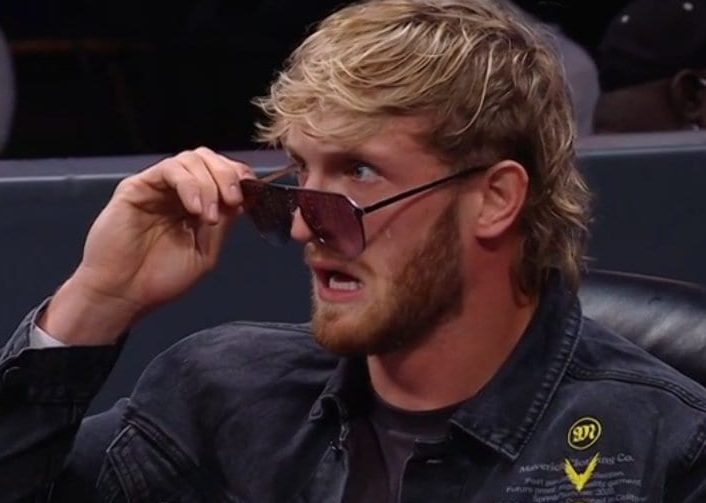 WWE
YouTube star Logan Paul appeared at WrestleMania 37 Night Two and watched from ringside as Kevin Owens defeated Sami Zayn in the third match of the show.
Paul was at WrestleMania as Sami's guest of honor. The match was back & forth for the most part but Zayn did dominate at times. The finish saw Owens block a Helluva Kick and deliver two superkicks of his own, then drop Sami with a Stunner for the pin to win.
After the match, Paul came in the ring to check on Zayn. He then offered a handshake to Owens but Sami yelled at him and left disappointed, ranting at Paul for joining the enemy when he was his guest of honor. Paul then raised Owens' arm in victory as Zayn walked to the back. Owens ended up dropping Paul with a Stunner in the middle of the ring for a big pop from the crowd. Owens celebrated and greeted family at ringside as officials helped Paul from the ring.
WWE Hall of Famer JBL did guest commentary for this match, joining Michael Cole and Corey Graves at ringside.
Stay tuned for more. Below are several shots from tonight's match at Raymond James Stadium in Tampa, Florida:
Please welcome our special guest commentator for @SamiZayn vs. @FightOwensFight, @WWE Hall of Famer @JCLayfield!

Stream Night 2 of #WrestleMania now: https://t.co/Lt2Kpw2zZr pic.twitter.com/WLddom0Rbo

— WWE Network (@WWENetwork) April 12, 2021
.@SamiZayn best dancer in @WWE. We said it and we regret nothing. #WrestleMania @LoganPaul pic.twitter.com/PwxHTexIiA

— WWE WrestleMania (@WrestleMania) April 12, 2021
CLASSIC KO. #WrestleMania @FightOwensFight @SamiZayn pic.twitter.com/S3VJW1v9UF

— WWE (@WWE) April 12, 2021
.@SamiZayn is not in a good way right now, and even @LoganPaul can see it. #WrestleMania @FightOwensFight pic.twitter.com/oVPHRYq1s3

— WWE Universe (@WWEUniverse) April 12, 2021
NECK FIRST ON THE APRON! That former "friendship" is long gone. #WrestleMania @FightOwensFight @SamiZayn pic.twitter.com/qQzR88FGcz

— WWE (@WWE) April 12, 2021
Please. 🙏 #WrestleMania @FightOwensFight @FightOwensFight @LoganPaul pic.twitter.com/kusGqeKRA7

— WWE (@WWE) April 12, 2021
STUNNER! STUNNER! STUNNER! DOWN GOES @LoganPaul!#WrestleMania @FightOwensFight

Stream on @PeacockTV ▶️ https://t.co/MlZAhw4x3O pic.twitter.com/DrKoz8ck9d

— WWE (@WWE) April 12, 2021
STUN THE WORLD.
WIN ON THE GRANDEST STAGE OF THEM ALL.#WrestleMania @FightOwensFight pic.twitter.com/HAjhALUxCK

— WWE (@WWE) April 12, 2021
Welcome to @WWE, @LoganPaul! Thanks for coming. #WrestleMania @FightOwensFight pic.twitter.com/UMSGjLIuWY

— WWE (@WWE) April 12, 2021
Thank you, @FightOwensFight!

(via @WWENZ) pic.twitter.com/Vm18gk4eHT

— WWE on FOX (@WWEonFOX) April 12, 2021