WWE RAW Commentator Adnan Virk Talks Criticism From Fans, Finally Meeting Vince McMahon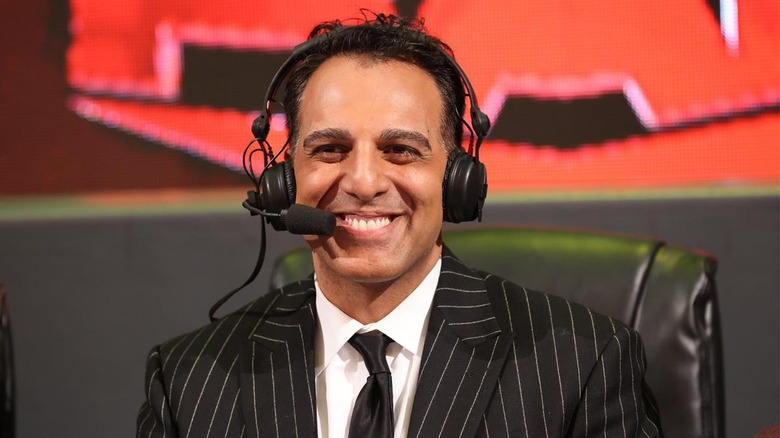 WWE
New Monday Night RAW play-by-play commentator sat down with Jimmy Traina on a recent edition of the Sports Illustrated Media Podcast. Virk had said before that he had not the chance to meet Vince McMahon yet, and he gave an update as to whether he has had a chance to speak with McMahon.
"I met him after the second show, and he was great. He was really supportive," Virk stated. "He gave good feedback. I would say he's giving real-time feedback. I definitely know what he's feeling."
Virk has detailed the process in how he got hired by WWE. On the SI Media Podcast, he revealed a piece of advice Michael Cole gave to him.
"One of the great pieces of advice Michael Cole said to me, 'Listen, whatever you do, please don't check social media.' I nodded," Virk recalled. "He goes, 'I'm serious about this because no one listens, and then they check it.' And either way Jimmy, it's not good. If they say you're great, well, that doesn't matter. If they say you're awful, that also doesn't matter. One man's opinion doesn't matter so don't lose sight of that.
"What was funny is this. I get home, and I took Michael's advice to heart. And I'm talking my wife. She's goes, 'How'd it go?' I thought I did alright. I made some mistakes. There's some stuff I'd like to get back, but Corey and Byron were great. I think I'll get better. I thought this was good, and I'll only get better by watching it. So I re-watched the whole show. I watched it start to finish. I haven't yet for the second one, but I will just. I go, okay, that was better than I thought. It was worse than I thought, and I think whenever you make a mistake — you'd like to make zero mistakes.
"You want to bat 1,000, but if you make a mistake, don't make the same mistake twice, just learn from it. My wife starts saying, 'Oh, this person tweeted this. No, I don't want to know this. Why would you tell me this? I called my parents Jimmy. 'How'd it go?' Same thing, some good, some bad. 'Yeah, your dad was checking Twitter,' and I go, for god's sakes. It's amazing to me that when people are looking for feedback, social media, as you and I both know, it's generally a place where people are spewing vitriol.
Traina noted that pro wrestling fans can be critical towards outsiders. Virk recalled what Detroit Tigers play-by-play commentator said regarding how fans react to new commentators and announcers.
"Certainly, people are going to have that impression," Virk admitted. "'Who's this interloper? Oh, he's coming from the network television world coming into my domain. He doesn't know how we do things here. I think of the great Ernie Harwell line. Of course, the Tigers great play-by-play guy. He said, 'When you start a new job, people are initially resistant, and they're going to crush you no matter what. After you're there for a year, two years, five, whatever it is, it doesn't matter if they like you or they hate you. They just get used to,' and I think ultimately, there will be fans who will say, 'I can't stand him, but I've been listening to him for so long I have no choice.'"
If you use any quotes from this article, please credit Sports Illustrated Media Podcast with a h/t to Wrestling Inc. for the transcription.