AEW Dynamite Results: Two Title Matches, Miro, Christian Cage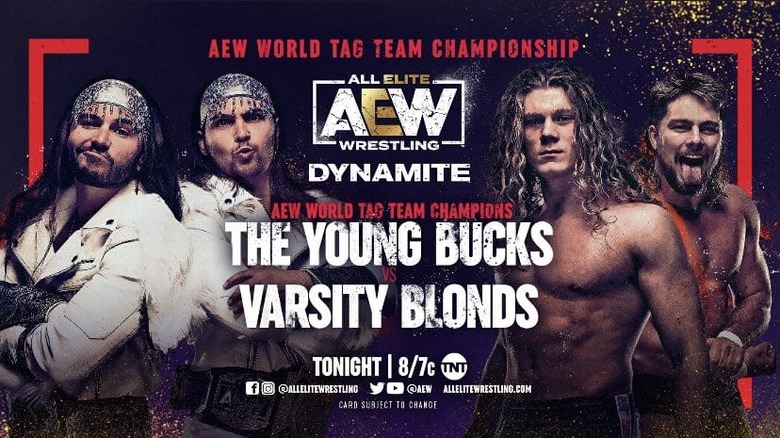 Photo Credit: AEW
Welcome to Wrestling Inc.'s live coverage of AEW Dynamite, beginning at 8 pm ET. Let others know about our coverage by giving this page a quick retweet or share on social media.
Click the refresh button on your browser every few minutes to keep up with the live results. Let us know your thoughts on the show by sharing them below in the comments section.
- Taz joins commentary for the opening match.
Christian Cage vs. Matt Sydal
Christian goes for the early pin, but Sydal kicks out early. Sydal with a side headlock, looks for a couple pin attempts of his own, which Christian kicks out of. The two lock up and go to the corner, they break, Christian with a slap to the face. Sydal hits a hurricanrana, goes for a moonsault press off the middle rope and Christian kicks his feet out from under him. Sydal out to the floor, Christian with a dropkick and gets Sydal back in the ring. Christian with a diving uppercut, cover, two.
.@MattSydal hits the Meteora, but it's not enough to put away #ChristianCage!

Watch #AEWDynamite Now on TNT! pic.twitter.com/9YqvqX5jva

— All Elite Wrestling (@AEW) May 20, 2021
Christian working over his opponent's back. Sydal able to fire back with a couple kicks, heads up to the top rope, but Christian catches him. Christian looks for a superplex, but Sydal knocks him back, lands a meteora, cover, two-count. Christian looked for a spear, Sydal with a reverse into a very close three-count. Christian able to work out of a submission, then drops Sydal with a big strike. Sydal gets up and hits a rising knee strike. Ankle pick, looking for a standing twisting senton, but Christian gets his knees up. He hits kill switch, cover and that finishes the match.
Winner: Christian Cage via Pinfall
Will @theAdamPage suffer the same fate at the hands of the FTW Champion @MrGMSI_BCage May 30 at #AEWDoN?

Watch #AEWDynamite Now on @tntdrama! pic.twitter.com/k9piVTciIt

— All Elite Wrestling (@AEW) May 20, 2021
- Post-match, Christian helps Sydal up and gives him a hug. Sydal gives him a bow. Taz talking some trash from the commentary. Christian invites him into the ring. Ricky Starks heads out to the stage with a mic. Starks says he's his own man, he's going to be out front and center, not on the sideline. Starks says Christian has some business to settle and calls out his guys from the tunnel. Brian Cage, Powerhouse Hobbs, and Hook all jump in from from the crowd and attack Sydal/Christian. Page walks out with a drink, hands it to Starks. Page gets in and swings away on Hobbs and Cage. Brian tosses him out to the apron. Page with the buckshot lariat, no, drill claw, no. Hook jumps in and chop blocks Page from behind. Brian Cage with a powerbomb on Page. Team Taz then celebrates.
Will the @youngbucks get a "reality check" tonight when they put their World Tag Team Titles on the line against the #1 contenders #VarsityBlonds?

Tune into #AEWDynamite Now on TNT! pic.twitter.com/ZfopZqVgTA

— All Elite Wrestling (@AEW) May 20, 2021
- Varsity Blonds (with Julie Hart — no relation to the Hart family) cut a promo before tonight's title match. Pillman Jr. says his dad wasn't the reason he got into wrestling, it was the reason he stayed away! Pillman Jr. says The Young Bucks were good, stand-up guys and were the reason they are here tonight. Garrison recalls running a merch table years ago for Matt and Nick Jackson and now then he gets into AEW. Fast-forward to today, Matt and Nick are not the same guys they used to be, and it's time they get a reality check. Pillman Jr. says they won't stop until they reach their destiny as the AEW World Tag Team Champions.
- Jon Moxley and Eddie Kingston talk about making a dent in the tag division after they've put together a string of wins. Moxley asks Kingston if they are inviting them to a superkick party. Kingston responds that neither of them throw superkicks. Moxley says they are just going to beat the brakes of The Acclaimed.
- The Acclaimed talk about Moxley and Kingston invading their space in the tag division. Bowens says if Moxley/Kingston want a tag title shot, they have to go through the acclaimed, but they are getting their asses dropped.
Jon Moxley and Eddie Kingston vs. The Acclaimed
Fair to say @JonMoxley was NOT a fan of @PlatinumMax's entrance rap.

Tune into #AEWDynamite Now on TNT to see Mox + Kingston take on #TheAcclaimed, with a place in the tag team rankings at stake! pic.twitter.com/LAmlBIkLy4

— All Elite Wrestling (@AEW) May 20, 2021
Moxley and Kingston come out to version of "Wild Thing" from the film, Major League. Caster on the mic, "Eddie why you dressed like it's 04? You look like a box of Newports." He says to Moxley that is wife hit him up "for some Oral Sessions." Bowens replies, "What? She wants us to be on the podcast!" Bowens goes to yell AEW and gets rocked by Moxley. Kingston goes to work on Caster.
Match gets started with Moxley stomp away at Caster in the corner. Kingston tags in, he and Moxley take turns with strikes in the corner. Delayed vertical suplex before tagging his partner back in. Moxley with chops to the chest as he brings Kingston back in. Kingston goes to the second rope, but Caster hits a dragon screw leg whip. The Acclaimed get some momentum as they continue to work over Kingston. Bowens in the ring now with an inverted cloverleaf. Kingston finally finds a window and brings Moxley in. Moxley sends Bowens out to the floor. Tells Caster to punch him, then throws some hard shots, release german suplex, lariat, and hits a piledriver. Bowens back up to the apron and Moxley applies a sleeper until Bowens drops to the floor.
Mox adds a piledriver for good measure! #AEWDynamite #AEWonTNT pic.twitter.com/r0Xi0ILFAB

— TDE Wrestling (@tde_gif) May 20, 2021
Moxley goes up to the top, but Bowens hits him. Caster climbs up and hits a second rope superplex. Bowens up top crossbody/suplex combo, cover, Kingston breaks it up. Kingston out on the floor, throws Caster into the barricade. Moxley looks for paradigm shift, no, but he is able to lock in a sleeper. Kingston tags in, they try to finish things off, but Caster yanks Moxley out to the floor. Kingston is down as the ref checks on him. Caster tosses Bowens a chain. Referee see it and stop. Caster with the boombox, Moxley takes it and smacks Caster with it. Moxley tags in, wheelbarrow into a paradigm shift on Bowens for the win.
Winners: Jon Moxley and Eddie Kingston via Pinfall
- Backstage, Alex Marvez goes to talk with Chris Jericho (who's with Dean Malenko). Marvez wants to know if Inner Circle is going to accept The Pinnacle's challenge. He tells Marvez to bounce before he makes Malenko mad.
A "huge win" by Mox + Kingston on #AEWDynamite as they remain undefeated and 📈 up the #AEW tag team rankings. Could a shot at the #AEW World Tag Team Titles be next?

Tune into Dynamite Now on TNT! pic.twitter.com/11mEfhVON7

— All Elite Wrestling (@AEW) May 20, 2021
- In the ring, Tony Schiavone talks with Ethan Page and Scorpio Sky. He talks about their recent attacks on Sting. Sky says when he was a kid, Sting was the best and everything good about pro wrestling. He wanted to be just like Sting, but over time that feeling changed. Sky says Sting is not the same man he used to be. He warns Sting to step aside, or he will put Sting down. Page tells Tony he can finish this interview and tells him to head out. Page talks about throwing Darby Allin down the steps a couple weeks, then Allin lost the TNT Title the week after. Page says he know how much that title meant to Allin, it means the world to him! Page says he's here to take everything away from Allin. "I will be the nail in your coffin!" The lights go out, snow falls, and Sting walks out to the ring. Allin in from behind with the skateboard and smacks both guys with it. Both teams brawl as Sting takes the skateboard and cracks Sky in the midsection with it. Allin continues to swing away on Page. Sting with the scorpion deathlock on Sky, who then taps out. Allin stays in Page's way, so he can't get back in the ring. Page and Sky look to leave, but Dark Order cuts them off at the tunnels. The two men run off to the side to get away.
"If you decide to do #StadiumStampede, just know, it will be your last match." – @The_MJF #thePinnacle sends a warning to the #InnerCircle on #AEWDynamite. Tune in now on TNT! pic.twitter.com/FOkFqTJBcI

— All Elite Wrestling (@AEW) May 20, 2021
- At a nice restaurant, The Pinnacle enjoy a meal. MJF at the top of the table, mocks Chris Jericho for being so funny with all his jokes and soaking them with some bubbly. MJF says he hopes Jericho laughs himself silly about how great he is, because for the first time in his career he's dealing with a guy who also gets the last laugh. Dax Harwood says they should be chasing the titles, not having to deal with the Inner Circle. He goes to get some more wine, server brings him it. Spears holds his glass up and waits. MJF then gets his filled up. Spears tells the server to come over and slams his head down on the table for having to wait too long. He goes to hit him with a wine bottle, but Tully backs him down. Tully tosses the server some cash and says "that should take care of it." MJF finishes with the signature "When you're in The Pinnacle, you're always on top."
AEW World Women's Champion Hikaru Shida vs. Rebel with Britt Baker (Title Eliminator Match)
Rebel faking an injury right off the bat, but Shida doesn't bite and cracks her. Rebel taunts a bit and lands a shot. She taunts some more, but gets smacked in the face by the champ. Baker and Shida talk some trash as Shida puts on a black glove, a la Baker.
.@shidahikaru tried pulling out the lock jaw 😱 #AEWDynamite pic.twitter.com/r2KbbxDQiX

— AEW on TV (@AEWonTV) May 20, 2021
Shida tries for the lockjaw, but Baker brings the title up to the apron. Referee distract, Rebel hits Shida in the back with her crutch. Rebel with a release suplex, cover, two. Shida hits a kneebreaker, then applies the stretch muffler, and taps out.
Winner: Hikaru Shida via Submission
Will @RealBrittBaker being holding up Gold on May 30? @shidahikaru defends her #AEW Women's Championship against the #1 contender #BrittBaker at #AEWDoN

Watch #AEWDynamite Now on TNT! pic.twitter.com/4arNXYUeok

— All Elite Wrestling (@AEW) May 20, 2021
- Post-match, Baker jumps in the ring and attacks Shida. She brings in the title and curb stomps Shida down on the title. Baker picks up the title and holds it above her head.
Will @orangecassidy forego his #AEW World Title shot at #AEWDoN due to injury, in exchange for a "future" opportunity against Champion @KennyOmegamanX?

Watch #AEWDynamite Now on TNT! pic.twitter.com/cCCHyIzsM7

— All Elite Wrestling (@AEW) May 20, 2021
- Last week, Kenny Omega and Don Callis want to talk with Orange Cassidy in the trainer's room. They ask Best Friends and Kris Statlander to head out. The two talk to Cassidy about him getting knocked out in his match against PAC. Omega says they care about Cassidy and they need him to be the "mascot" of AEW, but not really a main eventer. Omega says he's speaking as an EVP and wants to protect him. Callis says they have a simple legal document that they are injured and can't work at Double or Nothing, but they will still get a future title match! Cassidy takes the paper and slowly rips it in half. Omega: "You didn't even read it." Omega then tries to talk to him performer to performer. Says he could injure, end Cassidy's career, or even end his life! It would be terrible if any of that happened. Callis then gives him another copy and tells him to hold it and think things over. They head off and remind him of his bright future.
It ain't over yet between The Inner Circle & The Pinnacle 😤 Stadium Stampede here we come #AEWDynamite pic.twitter.com/9r8EQlrwZP

— AEW on TV (@AEWonTV) May 20, 2021
- The Inner Circle head out to the ring. Ortiz on the mic, he says "plain and simple, I want to fight!" Guevara agrees, says this battle will never end between the two groups. He calls The Pinnacle a bunch of clowns and everybody already knows his answer for the match. Jake Hager says they don't have a choice because they have said since the beginning, they are the baddest. If they don't accept, they are just like Pinnacle (cowards). Jericho takes over and says ultimately what he heard loud and clear is if they accept the challenge, they have to also accept the possibility of breaking up for good, if they lose. Jericho says he wonders if it's worth it, he wonders if Blood and Guts was worth. They gave up pieces of themselves, and they won't get that back. Jericho says his banged up elbow will heal, but won't heal is MJF throwing him off the top of the cage. Jericho says he felt like it was for hours and his head nearly hit the back of the stage and that could have been the end of Jericho. "Was it worth it?!" Jericho says it is because MJF has given him the fire and inspiration to comeback and beat their asses. The group says yes to the challenge. Jericho notes Santana will be back next week. "Hell is coming for you, Pinnacle!"
- Tony talks with Jade Cargill about if she made any decisions about who she wants to work for. Cargill says she's not working for anyone! Mark Sterling shows up again and says he doesn't want Cargill to work for him, he wants to work for her. Cargill didn't appreciate him showing up during her interview and tells him to bounce. She will think about his offer though as he leaves.
Serena Deeb (c) vs. Red Velvet (NWA Women's World Championship)
Deeb with shots right as the bell rings. Lands a twisting neckbreaker, cover, two. Deeb looks for another big move, but Velvet escapes. Deeb with a kick to the thigh, Velvet with a kick to the face, but runs into a back elbow. Velvet gets Deeb in the corner with a bunch of body shots and then kicks to the midsection. Velvet continues to work over the champ.
Stir it up. @Thee_Red_Velvet takes on NWA Women's World Champion @SerenaDeeb NOW on #AEWDynamite on TNT! pic.twitter.com/WBdEhvoDpe

— All Elite Wrestling (@AEW) May 20, 2021
Velvet gets Deeb in the ropes, running back stab, standing moonsault, cover, two-count. Deeb whipped into the corner, Velvet charges and misses. Deep locks in a choke on the apron, but gets shoved to the floor. Velvet moves to the apron and hits a moonsault to the floor. Velvet with a spinning kick, cover, two-count. Velvet tries for a pump kick, nope, multiple reversals, Velvet sits down on Deeb for a close three count.
That doesn't usually come straight from your mom's kitchen does it 🍰 ? #AEWDynamite pic.twitter.com/QiElhz1Fva

— AEW on TV (@AEWonTV) May 20, 2021
Velvet plants Deeb to the mat and heads up to the top rope. She goes for a moonsault, but Deeb got the knees up. Deeb with a powerbomb, cover, two! Deeb with a serenity lock in the middle of the ring. Velvet claws her way to the bottom rope and nearly gets there. Deeb pulls her back to the middle of the ring. Deeb tries for the figure-four, roll-up, two. Velvet with a kick, hits the ropes, but Deeb with a chop block, jams Velvet's knee into the mat, then the serenity lock. Red Velvet taps out.
Winner: Serena Deeb via Submission
- Backstage, Alex Marvez with PAC who is not happy about missing out on opportunities. PAC says he has his match now and there's nothing The Elite can do about it. He asks Marvez what fool would bet against him?!
Austin Gunn with Cody Rhodes and Arn Anderson vs. Anthony Ogogo with The Factory
.@AnthonyOgogo has the most dangerous hands in AEW! #AEWDynamite #AEWonTNT pic.twitter.com/ZuyzLtR5Mm

— TDE Wrestling (@tde_gif) May 20, 2021
Gunn with a shotgun dropkick right as the bell rings. Gunn with a flurry of strikes until Ogogo blocks him and throws a big shot to the midsection. Gunn crawling over to his guys, gets up, and eats another shot to the gut. Referee checking on him. Ogogo with a cut on his face from Gunn's initial strikes. Gunn looks to be bleeding from his mouth. Referee about to stop the match, but Gunn stops him. Gunn tries for a single leg takedown, no luck there. Ogogo helps him up and does a pop-up punch to the stomach. Referee calls the match.
Winner: Anthony Ogogo via Referee Stoppage
- Post-match, Cody jumps in the ring to check on his guy. Ogogo grabs the American flag that Cody brought in. Ogogo tosses in the air and Cody grabs it. All the refs come out to the ring and get the two guys separated.
What a ride for @frankiekazarian & @facdaniels 🤝 #AEWDynamite pic.twitter.com/2lHi5f152K

— AEW on TV (@AEWonTV) May 20, 2021
- Marvez talks with Christopher Daniels and Frankie Kazarian after they had to disband. Marvez asks Daniels about his tweet saying he might be done in the ring. Daniels doesn't say anything, but just shakes Kazarian's hand and says something to him. Kazarian says he doesn't have enough time to talk about how much Daniels means to him. Kazarian says Daniels may or may not be done, but Kazarian is still moving forward. He lost something last week and he's going to hunt down every member of The Elite for what they did to him.
Someone took a line straight out of @LanceHoyt's book 😲 #AEWDynamite pic.twitter.com/v879iANG4K

— AEW on TV (@AEWonTV) May 20, 2021
- AEW TNT Champion Miro heads out to the stage to talk for the first time since winning the title. He gets in the ring and thanks Jesus Christ for protecting him, and giving him strength/power to defeat everyone. Miro took what Darby Allin said could not be taken. Miro says now everybody knows it doesn't matter if you're the baddest on Earth, or the most popular thing in AEW, if he wants it — it's done. Miro says he forgives Allin, and says all he has to do is go home and make more of his college student videos. "We want Darby!" from the crowd. Miro holds up the title and says "There's your Darby." Next Friday's Dynamite, Miro will defend the title. Lance Archer comes out to the stage and tells Miro to shut the hell up. Archer says he's been the monster here a lot longer than Miro has. Archer says he can't wait for Double or Nothing when he takes the title and makes Miro his "Bulgarian b*****." Miro says the difference between them, is an old man doesn't hold him back. When he wants something he just takes it. He tells Jake to stay away. He says Archer always says "everybody dies" and it's true, but Miro insists Archer dies first.
- Next Friday (special night at 10 pm ET) on Dynamite:
* Miro (c) vs. Dante Martin (AEW TNT Championship)
* Joey Janela vs. Hangman Page
* Anthony Ogogo and Cody Rhodes weigh-in
* Jade Cargill issues an open challenge
* A celebration of the Inner Circle
* Evil Uno and Stu Grayson vs. Scorpio Sky and Ethan Page
* Darby Allin with Sting vs. Cezar Bononi with Ryan Nemeth
* One year anniversary of Hikaru Shida as AEW Women's World Champion
* Orange Cassidy will respond to Kenny Omega's offer to defer his title shot
- At Double or Nothing, Sting and Darby Allin vs. Scorpio Sky. Next Friday's Dynamite will also have special announcement for the Buy In match.
The Young Bucks with Don Callis (c) vs. Varsity Blonds with Julie Hart (AEW World Tag Team Championship)
Varsity Blonds really taking it to both Matt and Nick Jackson in the early part of the match. The challengers mock them with their taunt. Nick gets in the ring, trips over the bottom rope and gets dropped by Pillman. Nick out to the floor as Cutler checks on him. Matt jumps in the ring, but gets his arm worked over by Pillman, big dropkick, cover, two. Nick walks the ropes, double stomp on Pillman, then splashes down on Garrison. The champs do their taunt on the stage to a bunch of boos.
#VarsityBlonds with the early jump on the @youngbucks 💪💪

Their #AEW World Tag Team Championship match is happening NOW on #AEWDynamite on TNT! pic.twitter.com/tIxZkAv2cR

— All Elite Wrestling (@AEW) May 20, 2021
The Young Bucks continue to work over Pillman throughout the break. He finally finds a window to bring Garrison in. He lands a bunch of shots on Matt and Nick, back body drop on Nick, big splashes in the corner, double spear and the champs bail to the floor. Garrison with a huge leap over the top rope down on both guys. Back in the ring, flying clothesline, cover, two.
Don't think that's allowed but doesn't surprise us 🙄 #AEWDynamite pic.twitter.com/SSCYzNNzdx

— AEW on TV (@AEWonTV) May 20, 2021
Garrison and Pillman look for a finisher, but it gets broken up. Nick with a penalty kick on Garrison. Matt with a superplex on Pillman. Crowd really booing The Young Bucks throughout this one. Matt and Nick with kicks to the back of Pillman. He's able to fight back, throws Nick's foot into Matt's face, drops Nick, cover, two-count.
Matt tags in, sharpshooter locked in. Nick with cold spray in the face as Cutler distracts the referee! Garrison runs in and kicks Matt, but he eats a superkick from Nick. Another can of cold spray thrown in, but Julie yells at the referee to get the can. Ref gets rid of it, another can thrown in. Matt sprays Julie in the face! She screams and falls to the ground. Matt drops Pillman and applies the sharpshooter again. Nick gets rid of Garrison, hits a facebuster on Pillman, and Pillman has to tap out to the pain.
Winners: The Young Bucks via Submission
- Post-match, the champions get their titles and celebrate in the ring. Moxley and Kingston get into the ring, Callis and Cutler bail out of the ring. Kingston and Moxley swing away on the champions. Kingston just biting Nick in the face. Moxley putting Matt to sleep, as does Kingston to Nick. Young Bucks are out. The two end up stealing Matt and Nick's expensive Jordan sneakers. Commentary announces it will be Moxley and Kingston vs. The Young Bucks at Double or Nothing.
Not the Diors 😬 #AEWDynamite pic.twitter.com/jy7siwWQJi

— AEW on TV (@AEWonTV) May 20, 2021