AEW Dynamite Fight For The Fallen Results: Chris Jericho Vs. Nick Gage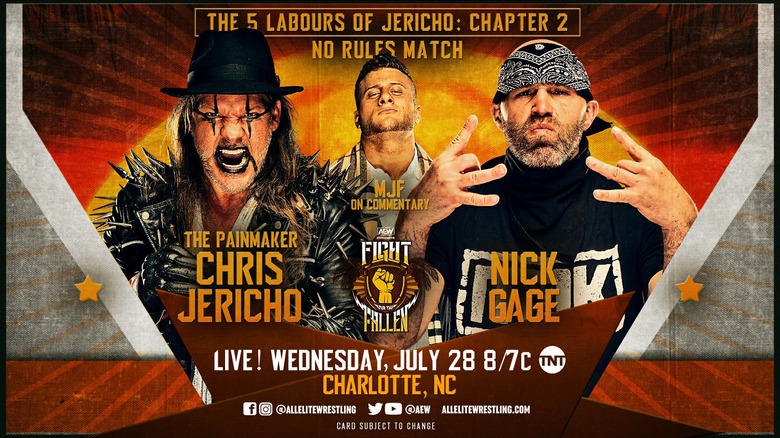 Photo Credit: AEW
Welcome to Wrestling Inc.'s live coverage of AEW Dynamite: Fight for the Fallen, beginning at 8 pm ET from the Bojangles Coliseum in Charlotte, North Carolina. Let others know about our coverage by giving this page a quick retweet or share on social media.
Click the refresh button on your browser every few minutes to keep up with the live results. Let us know your thoughts on the show by sharing them below in the comments section.
- Video package kicks off before the first match that hypes Hangman Page and Dark Order about what a true cowboy is.
The Elite (Kenny Omega, The Young Bucks, and The Good Brothers) with Don Callis and Brandon Cutler vs. Hangman Page and Dark Order (John Silver, Alex Reynolds, Evil Uno, and Stu Grayson) 10-Man Elimination Tag Match
Quite the entrance for Page and Dark Order as they are all dressed with cowboy gear on! If they win, they receive future title shots against Omega and The Young Bucks, if not, they cannot challenge for the titles again. The other team get a basketball-like entrance and are dressed similar to those in Space Jam (looks like AEW is advertising the movie). The group comes down to the song, "Y'all Ready For This?" Don Callis heads to commentary.
Superplex into the pile and all 10 men are down.

Tune in to @tntdrama NOW to watch #AEWDynamite #FightForTheFallen LIVE! pic.twitter.com/jSozZrUUjO

— All Elite Wrestling (@AEW) July 29, 2021
Page and Anderson get started, but a full-out brawl goes down not long into the match. Battle spills out to the floor, Reynolds suplexes Nick down onto the entire group. Anderson and Reynolds in the ring, Anderson with a handful of trunks to eliminate Reynolds. Uno gets in the ring against Anderson. He is surrounded by the other team and they beat him up. Stu/Uno hit fatality, cover, and Anderson is gone. Silver and Matt face off, Silver launches Matt across the ring a couple times and flexes. Grayson and Gallows get in there, Dark Order keeping Gallows down, cover, Omega breaks up the pin.
Everyone teeing off on each other now. Grayson with a top rope twisting senton down on the group, but looks like he ended up pretty much going down to the floor, ouch. He looks to be okay as he battles Gallows out in the crowd. Grayson on the barricade and leaps down on Gallows. Ref ends up counting both Gallows and Grayson out of the match. 3 on 3 now. Back in the ring, Uno vs. Omega. Uno goes up top for a senton on Omega, knees up though. Omega blasts him with a v-trigger and one winged angel. Uno is eliminated. Bucks and Omega vs. Silver and Page. Silver runs in and spears Matt. "Johnny hungy!" chant from the crowd. Nick able to take in and knee Silver then hit a big bulldog on him. Silver getting some momentum on Nick, hits a huge airplane spin. Page gets powerbombed against the apron by The Young Bucks. Back in the ring, Silver is trying battle all three guys, but not having much luck. Omega with a snap dragon suplex.
#TheElite just dunked @SilverNumber1.

Tune in to @tntdrama NOW to watch #AEWDynamite #FightForTheFallen LIVE! pic.twitter.com/jI4KtejS4h

— All Elite Wrestling (@AEW) July 29, 2021
There was a basketball hoop outside for the entrance. Nick tried to jam a basketball through the hoop while doing an assisted piledriver on Silver, but he ended up missing the dunk. Back in the ring, BTE trigger on Silver, cover, 1-2-3. Page is still making his way up after getting powerbombed on the apron. Page gets in the ring and faces off with Omega. Omega spits in Page's face. Page tries to fight them off, superkicks, Omega with a snap dragon suplex. Triple superkick! Cover, 1-2-nope. Page gets hung out to dry on the second rope, Nick with a 450 splash, pin, two-count.  Omega tries for a v-trigger, misses, goes for a suplex, Page lands on his feet and hits a lariat. Young Bucks in and get double clotheslined.
Page heads to the top rope and nails all three with a moonsault. Back in the ring, Page with a big powerbomb on Omega, cover, and Nick breaks it up. Matt tags in, Page ends up on the apron, buckshot lariat, no, but he counters his way out of a few moves. Buckshot lariat hits on both Bucks, he pins Nick. Omega grabs the title, he goes to swing, ref takes it away. Omega gets another, swings, misses, deadeye hits, cover, two. Nick with a distraction, buckshot lariat is avoided, Omega with a title smack to the head, cover, close three! V-trigger to the back and front of the skull, one-winged angel hits, one, two, three. The Dark Order and Hangman Page can't challenge for the titles, as per the stipulation.
Winners: The Elite (Kenny Omega, The Young Bucks, and The Good Brothers) via Pinfall
- Backstage, Alex Marvez was set to interview Death Triangle, but only PAC is there. PAC says Fenix and Penta are here, but a certain someone cancelled their car. In comes Andrade and Chavo walk up. Chavo says Fenix and Penta are arriving, thanks to them ordering Penta/Fenix limo. Andrade tells PAC to order better rides for his guys, or someone will do it for him.
- Taz (up on a podium to the side of the stage) announces the new FTW Champion Ricky Starks for his title celebration. Out comes Starks and Hook. A brass band is playing down by the ring for his celebration. Starks on the mic, he says he's been the glue and the anchor of the group this whole time. He could forgive some of the things Cage did, but when he had his neck injury, Cage didn't even check up on him! Starks says he's becoming the star that Cage has been trying to figure out how to be over the last 17 years. He continues talking trash until Brian Cage comes out and beats up some of the brass band. He slams a bass drum over a guy's head. Cage gets in the ring, but Starks throws some flowers he received in Cage's face and ran up the ramp.
A new challenger has emerged! @njpw1972 ace Hiroshi Tanahashi (@tanahashi1_100) will challenge the winner of tonight's #IWGP US Title match between @LanceHoyt and @Hiku_Leo.@njpwglobal @njpwworld @njpw1972 pic.twitter.com/VPj1YMgffD

— All Elite Wrestling (@AEW) July 29, 2021
- Via video, NJPW star Hiroshi Tanahashi challenges for the IWGP US Championship against whoever wins later tonight between Lance Archer and Hikuleo.
Santana and Ortiz with Konnan vs. FTR with Tully Blanchard
Back and forth action as we get started. Both Harwood and Santana throwing big chops in the middle of the ring. Santana hits three amigos, Ortiz tags in, facebuster/powerbomb combo on Harwood. Ortiz works over Harwood, tags in Santana, slams Harwood to the mat and then catapults him into the corner. Santana with a big flip to the outside on Wheeler.
.@Santana_Proud is feeling it!

Tune in to @tntdrama NOW to watch #AEWDynamite #FightForTheFallen LIVE! pic.twitter.com/w7INfZW6cH

— All Elite Wrestling (@AEW) July 29, 2021
Santana with a diving foot stomp, nobody there, rolls through, but Ortiz gets the blind tag. Ortiz sends Harwood into Wheeler, roll-up, two. Ortiz with a suicide dive out on Wheeler. FTR having a lot of trouble over the last couple months. Ortiz hits a powerbomb, tags in Santana. He hits a big frog splash on Dax, cover, two-count. Santana with a german suplex, Harwood clocks him with a lariat, but walks into a powerbomb. Wheeler with a swinging DDT on Ortiz. Looks for one on Santana, no, eats a big boot. Santana with a powerbomb on Harwood, pin, two-count.
Harwood tries for an inside cradle, two, then just punches Ortiz right in the face. Wheeler tags in, they look for a double team move, but Santana breaks it up for a moment. Harwood with a superplex, Ortiz hooks the legs, but no count as both men's shoulders were down. Harwood ends up hitting a sheer drop brainbuster on Ortiz, cover, 1-2-3.
Winners: FTR via Pinfall
- Post-match, Harwood heads out of the ring to check on Wheeler, who looks to have a nasty cut on his arm.
- Backstage, Britt Baker talks with Tony Schiavone about breaking her wrist against Nyla Rose. Despite that, she still tapped out Rose! Baker says Rebel can't keep her protected all the time when everyone is gunning for her. Baker says they apparently need someone to watch their back, but doesn't mention who it will be.
CHICAGO! A LIVE #AEWRampage is coming to @UnitedCenter on Friday, Aug. 20: The First Dance! Tickets on sale this Monday (8/2) at https://t.co/UN1cNj1kQq.

Tune in to @tntdrama NOW to watch #AEWDynamite #FightForTheFallen LIVE! pic.twitter.com/27mFQsDS9K

— All Elite Wrestling (@AEW) July 29, 2021
- Tony Schiavone on the stage to talk about the upcoming event at the United Center in Chicago "The First Dance" for AEW Rampage on August 20.
Any thoughts on who @DarbyAllin could be talking about 🤭 #AEWDynamite #FightForTheFallen pic.twitter.com/tyYFMOwKre

— AEW on TV (@AEWonTV) July 29, 2021
- Marvez talks with Darby Allin, who says he's been around a lot of guys who say they are the greatest. There's only one place to prove that, AEW. "Even if you think you're the best in the world," subtle nod to Punk?
Lance Archer (c) vs. Hikuleo (IWGP US Championship)
Hikuleo's dad, Haku, heads out to the ring with him. Archer puts down Hikuleo as things get started, but Hikuleo ends up showing off his power and slowing down the champion. Back and forth action spills out to the floor where Hikuleo continues to beat up Archer. Archer works his way back into the match as they make their way into the ring. Archer with some short-arm clotheslines. Archer walks the top rope and hits a moonsault on Hikuleo.
A BIG #BlackOut for a BIG man! @LanceHoyt is STILL the #IWGP US Champion. He turns his attention now to @tanahashi1_100.

Tune in to @tntdrama NOW to watch #AEWDynamite #FightForTheFallen LIVE! pic.twitter.com/NRzTAJ1UcI

— All Elite Wrestling (@AEW) July 29, 2021
Archer has Hikuleo up on the top rope, looks for Black Out, no. He gets back up top and nails a superplex, cover, two. Archer gets back up and in the center of the ring he hits black out, cover, and that will do it.
Winner: Lance Archer via Pinfall
- Archer will now face Hiroshi Tanahashi. Commentary says Archer will travel to NJPW to face Tanahashi.
- Backstage in production, Marvez talks with Cody Rhodes about his match against Malakai Black. Rhodes goes to say something and eats a big boot to the face. The two end up battling out to the stage. Rhodes blasts Black, but then eats a knee to the face. "Welcome to the house of Black." People come out to help Cody. Fuego del Sol gets in Black's face and eats a roundhouse kick to the face.
- Miro says when he won the TNT Title, he had open challenges, but over time his challengers have dried up. He says Lee Johnson is a talented wrestler, but he, nor anyone else is going to take his title. Miro says Lee can face him or run away, but either way he'll face his reckoning next week.
- QT Marshall was going to apologize to Tony Schiavone this week for dumping coffee on him during an interview, but in a note said it will happen next week. Marshall wanted to do with Tony's family in attendance.
Angelico and Private Party with Matt Hardy vs. Christian Cage, Jungle Boy, and Luchasaurus with Jungle Boy
JB going to work on Angelico, big drop puts Angelico down, but he gets dumped out to the floor. JB grabs Kassidy and throws him into the barricade. Hardy decks JB, but Stunt and Christian chase him out to the back. Back in the ring, double stomp by Angelico on JB. Kassidy uses his do-rag to choke JB.
.@MATTHARDYBRAND gets involved, but @Christian4Peeps and @realmarkostunt send Big Money Matt heading for the hills back to Cameron, NC!

Tune in to @tntdrama NOW to watch #AEWDynamite #FightForTheFallen LIVE! pic.twitter.com/Pu66aKDco3

— All Elite Wrestling (@AEW) July 29, 2021
Luchasaurus tags in and goes to work on all three opponents. Lucha ends up getting all three guys in a release german suplex. Christian is back on the apron after chasing away Hardy. Luchasaurus tries for double chokeslam on Private Party, they flip out of it and drop him with stereo kicks. JB in the ring and clotheslines Kassidy. JB flips out to the floor on two guys. Christian tags in, Luchasaurus with a chokeslam on Quen, Christian hits a frog splash on him, cover, 1-2-3. Cage is still undefeated in AEW
Winners: Christian Cage, Jungle Boy, and Luchasaurus via Pinfall
- Post-match, Christian shaking hands with the fans, but The Blade sneaks up and hits him with brass knuckles.
- Nick Gage promo telling Chris Jericho he's going to be feeling pain for the rest of his life after their match. We see some clips of Gage's other brutal matches.
Julia Hart with Varsity Blonds vs. Thuder Rosa
Next Wednesday (8/4), it's #AEWDynamite Homecoming in Jacksonville, FL @dailysplace and LIVE on TNT!

Tune in to @tntdrama NOW to watch #AEWDynamite #FightForTheFallen LIVE! pic.twitter.com/xf66M1SdKM

— All Elite Wrestling (@AEW) July 29, 2021
This is Rosa's first match as an official AEW wrestler. Feeling out process between both wrestlers. Both try for some early pins without much luck. Hart tries hyping up the fans, but Rosa just trips her up for a submission. Hart gets to the rope for the break. Rosa with some chops, looks for a low dropkick, but nobody home. Hart with a handspring clothesline in the corner. Rosa with an ankle pick into an ankle lock. Hart able to get to the ropes again for the break. Rosa with another dropkick in the corner, this time it lands square. Rosa with the thunder driver, cover, and that will do it.
Winner: Thunder Rosa via Pinfall
- Next week at AEW Dynamite: Homecoming at Daily's Place:
* Miro (c) vs. Lee Johnson (AEW TNT Championship)
* Malakai Black vs. Cody Rhodes
* The Bunny vs. Leyla Hirsch (Winner gets shot at the NWA Women's World Championship)
* Christian Cage with Jungle Boy vs. The Blade with Matt Hardy
- Backstage, Jon Moxley says the second he loses his IWGP US Championship, Tanahashi now shows up and makes his challenge. He says Tanahashi has been dodging him for months. Moxley says Tanahashi doesn't get to wrestle him. Moxley says he sent over some papers to Japan and he'll see what comes through the forbidden door.
Chris Jericho vs. Nick Gage (The 5 Labours of Jericho: Chapter 2 – No Rules Match)
The Painmaker has returned. Right now on @tntdrama. #AEWDynamite #FightForTheFallen pic.twitter.com/smFXutq15Z

— AEW on TV (@AEWonTV) July 29, 2021
Jericho brings back "The Painmaker" look for this match. Those who watch NJPW will remember he used this to show his more vicious side in matches. MJF heads out to commentary with some popcorn. No Inner Circle members are allowed to come out to the ring during this match. Gage with the pizza cutter already in-hand and swings it at Jericho's arm.
Cage with a spinebuster on Jericho. The two end up on the floor, Jericho throws Gage into the barricade. Jericho gets up on the second rope, Gage catches him for a superplex. Gage with a falcon arrow, cover, two. Gage looks for a running boot, but he's caught and is put into walls of jericho. He grabs for the rope, but no rope breaks. He's able to roll out to the floor. Gage drops Jericho and looks under the ring for some light tubes. Crowd pops for that.
Just like he promised, @thekingnickgage is CARVING UP @IAmJericho!

Watch the MAIN EVENT of #AEWDynamite #FightForTheFallen NOW on @tntdrama pic.twitter.com/4vTPovLGgv

— All Elite Wrestling (@AEW) July 29, 2021
Jericho pulls out his baseball bat from the other side of the ring. Gage walks right into a couple baseball bat shots. Choke-breaker by Gage, he pulls out the pizza cutter and saws at Jericho's forehead. They went to a commercial break and a Dominos ad played first, lol. Gage brings two chairs into the ring, sets them up, and puts a pane of glass across them. He puts Jericho on them, goes up top, Jericho hits Gage and climbs up. Jericho hits a hurricanrana and sends Gage through the glass! Jericho goes for the cover, two. Gage wags his finger "no, no, no" as he sits up for a moment. Jericho with a chairshot to the back.
#ThePainmaker puts @thekingnickgage through a pane of glass! This is crazy!

Tune in to the MAIN EVENT #AEWDynamite #FightForTheFallen LIVE on @tntdrama! pic.twitter.com/9X1Y1DBf6K

— All Elite Wrestling (@AEW) July 29, 2021
Jericho goes for codebreaker, caught, and he's sent back-first on the glass. Gage with a light tube over Jericho's back. He then cracks Jericho over the head with one! Piledriver on Jericho, cover, 1-2-no. Gage with a shard of glass and stabs it into his forehead. Gage breaks another light tube over his knee and jabs it into Jericho's head. Gage brings out two sets of light tubes, four taped together with each one. Jericho sprays mist into Gage's eyes as he goes for a strike?! Jericho smashes one of the tubs over Gage's head, judas effect, cover, and that will get the win!
Winner: Chris Jericho via Pinfall
- MJF gets on the mic and says they aren't done yet! He tells Jericho to listen to him. MJF says the third stipulation he has to hit a top rope maneuver to win. We see a clip from 2019 about Chris Jericho bringing up Juventud Guerrera in a joke against MJF. MJF announces after 15 years away from TNT, Juventud Guerrera take on Jericho
The opponent for @IAmJericho's Labour No. 3 next week is one of his greatest rivals – legendary luchador Juventud Guerrera (@JUVENTUDGUERRE2) – and Jericho has to win with a move from the top rope!#AEWDynamite #AEW pic.twitter.com/Pkbpyf8piG

— All Elite Wrestling (@AEW) July 29, 2021