WWE NXT Results – Women's Title Main Event, Hit Row – Legado Del Fantasma, More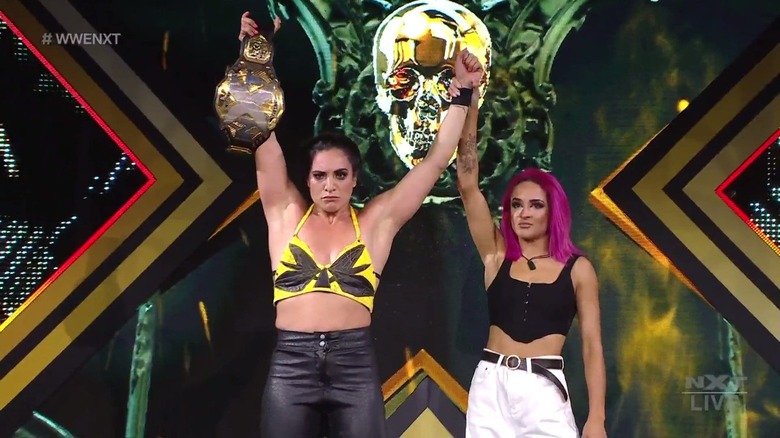 WWE
Welcome to our WrestlingINC.com Live WWE NXT Viewing Party. Tonight's show comes from the Capitol Wrestling Center in Orlando, Florida.
- Tonight's WWE NXT opens up with a video package. We're live from the Capitol Wrestling Center at the WWE Performance Center in Orlando, Florida as Vic Joseph welcomes us. He's joined at ringside by Wade Barrett and WWE Hall of Famer Beth Phoenix.
- We go right to the ring and out comes Samoa Joe. Joe is dressed to fight. He says "tick, tock, guess who's come to smash your clock?" This is a threat to NXT Champion Karrion Kross. NXT General Manager William Regal rushes down and says this is not what he wanted, Joe cannot be calling out Superstars. Joe reminds Regal of their agreement, that he can get physical if provoked. Regal says Joe entered the ring last week as a referee, and Kross laid his hands on a referee. Joe goes on and says Kross is out of control and needs to put down. Joe says Regal has no control of Kross and probably didn't know about his little field trip to RAW. Joe is here to put Kross down.
Fans chant for Joe. Regal says Kross is on his way here and when he gets here, all hell will not break loose. Regal says they will handle this peacefully, do you understand? Fans chant "let them fight!" now. Joe says because of his respect for Regal, he can guarantee this will be the end of this, but he can't guarantee it will end peacefully, and someone's going to sleep tonight. Joe drops the mic and exits the ring as fans chant his name.
- The announcers send us to a video from Xia Li, who speaks in Japanese with a promo on NXT Women's Champion Raquel Gonzalez. She says she has been waiting for this moment as it is the most important moment of her career, and he will leave as champion. Li plans to do to Gonzalez what she did to Mercedes Martinez, making her the first Chinese NXT Women's Champion. This match will be tonight's main event, according to Vic.
The Diamond Mine vs. NXT Cruiserweight Champion Kushida and Bobby Fish
We go back to the ring and out comes The Diamond Mine – Roderick Strong and Tyler Rust with Malcolm Bivens and Hideki Suzuki, now known as Hachiman. NXT Cruiserweight Champion Kushida and Bobby Fish suddenly attack out of nowhere at the entrance. They brawl to the ring and keep control of Strong and Rust. Kushida and Fish clear the ring as the referee tries to restore order. We go to commercial.
Back from the break and Fish is in control of Strong. Kushida tags in and they double team Strong with kicks. Kushida grounds Strong as fans chant his name. Kushida works on the arm before Fish comes back in. Strong gets away and makes a tag. Fish and Rust trade strikes. Fish with knees and a takedown. Fish launches himself back in from the apron with a senton for a 1 count.
Kushida tags back in but Strong turns it around in their corner. Kushida blocks a suplex and unloads with more strikes. Kushida goes for the armbar takedown but Strong turns it into a backbreaker. Strong with an ankle lock. Rust tags in and drops on Kushida as Strong holds him down. Rust with a belly-to-belly suplex on Kushida. Rust keeps control and kicks Kushida in the back as fans chant for Fish to come in. Strong comes back in with chops to Kushida in the corner.
Kushida fights out of the corner but Strong drops him with a DDT for a 2 count. Strong grounds Kushida in the middle of the ring now. Fans rally as Kushida fights off both opponents but they get the upperhand. Kushida with a double springboard elbow on both opponents. Fish tags in and runs wild on Rust with strikes. Fish knocks Strong off the apron and keeps control of Rust, nailing a clothesline for a 2 count. Bivens looks concerned at ringside as Hachiman checks on Strong.
Strong assists Rust from the apron. Rust eventually levels Fish to the floor. Strong tags in and slams Fish on the edge of the apron with a backbreaker as fans boo. Strong stands tall over Fish at ringside as we go back to commercial.
Back from the break and Strong pounds on Fish while he's down. Rust tags back in as fans try to rally for Fish. Rust with a big axe kick for a 2 count while Bivens is all smiles. Rust grounds Fish now. Fish fights back and they trade strikes. Strong tags back in and takes over on Fish, keeping him down. Fish with knees but Strong takes him down. Strong with more big strikes on the mat. Rust ends up coming back in but Fish nails a big spinebuster. Kushida tags in as he and Rust take out their opponents. Kushida runs wild on Strong as fans cheer him on. Kushida with kicks to Strong for a close 2 count. Kushida takes Strong down by his arm. Strong ducks a kick and in comes Rust.
Rust counters Kushida and nails a gutwrench powerbomb in the middle of the ring. More back and forth now. Rust blocks the Hoverboard Lock and applies an ankle lock but Kushida kicks him away. They tangle and Rust drops Kushida on his head but Fish breaks it up at the 2 count. Fish and Strong tumble to the floor now. Kushida with more offense to Rust's arm. Kushida goes on and takes Rust down for the pin to win.
Winners: Kushida and Bobby Fish
- After the match, Kushida and Fish stand tall as we go to replays. The Diamond Mine recovers.
- We see video from earlier today with Million Dollar Champion LA Knight arriving in his white Corvette with butler Cameron Grimes driving. They're arguing about what would've got them here faster – the Corvette or Grimes' Rolls Royce. Knight orders Grimes to get his bags out and Drake Maverick tries to help. This leads to Knight and Grimes having words. Knight issues a challenge to Maverick and it's accepted. Grimes tries to apologize to Maverick but Knight orders him to come on. Grimes apologizes and says he's got this. Back to commercial.
- Takeover 36 is announced for August 22.
- We get a Breakout Tournament video package on Odyssey Jones.
- We see Samoa Joe backstage pacing around, waiting for Karrion Kross to arrive.
Franky Monet vs. Jacy Jayne
We go back to the ring and out comes Franky Monet with Jessi Kamea. Jacy Jayne waits in the ring.
The bell rings and they go at it. Monet takes control as we see Robert Stone annoying Kamea at ringside. Jayne with a close 2 count on Monet. Monet with an enziguri. Jayne with more offense but she misses a corner cannonball. Monet with the big running double knees in the corner.
Monet with kicks in the corner, then a scream to the crowd. Monet mounts Jayne with strikes on the mat. Monet with another big kick. Monet grounds Jayne with a headlock now as Stone and Kamea look on.
Mandy Rose comes out and joins the announcers on commentary now. She actually just sits on top of the announce table, laying back. Monet unloads on Jayne in the corner now. Monet scoops Jayne on her shoulders but Jayne fights off. Jayne with a big hurricanrana takedown, then a big boot.
Beth says Mandy is out here scouting. Jayne with a neckbreaker to Monet for a close 2 count. Monet blocks some offense attempts from Jayne, delivers a few shots and then nails her Road to Valhalla finisher in the middle of the ring for the pin to win.
Winner: Franky Monet
- After the match, Monet stands tall as her music hits. Kamea and Stone enter the ring to hype her up but Monet and Kamea seem annoyed by Stone.
- We see video from earlier today with McKenzie Mitchell interviewing Johnny Gargano and Austin Theory about last week's loss to NXT Champion Karrion Kross. Gargano is taking the loss rough but he's OK. Kyle O'Reilly walks up and mentions how Theory had some words for him on Twitter. Kyle challenges him to a match and it's on for later tonight. Gargano tells Theory he got himself into this one and has to get himself out of it. Gargano says Theory is on his own tonight. He tells Theory to go get him, and gives him a jab of encouragement. Theory is a bit confused. We go to commercial.
- Vic confirms that NXT will air on Syfy for the next two weeks.
- We go to Barrett for a sitdown interview with Bronson Reed now. He talks about how losing the NXT North American Title to Isaiah "Swerve" Scott hurts big time. He's taking it rough and he's not OK with letting everyone down. Reed says he's going to fight harder than ever now and he will be wrestling Adam Cole next week. Barrett asks about this and Reed says why not fight the best. Reed says Cole ran his mouth last week and he shut him down. He says the same thing will happen next week but this time he will finish the job.
Kyle O'Reilly vs. Austin Theory
We go back to the ring and out first comes Kyle O'Reilly. Austin Theory is out next.
The bell rings and they go at it, sizing each other up. They lock up and Theory takes it to the corner. He backs off and they lock up again. Theory with a takedown. They go at it again and O'Reilly with a big kick. Theory fights back and tries to slam Kyle but Kyle starts working on the arm. Theory with a suplex to counter and over-power. Theory works Kyle over and talks some trash.
Kyle fights back with forearms but misses in the corner. Theory takes back over and grounds Kyle with a headlock, talking trash while keeping him on the mat. More back and forth now. Kyle takes control and sends Theory to the floor as we go to a picture-in-picture commercial.
Back from the break and Theory rocks Kyle with a forearm, then delivers a rolling modified neckbreaker for a close 2 count. Theory with more big strikes to Kyle. Kyle tries to fight back but Theory keeps him on his knees with more strikes. Kyle misses a roll-up. Theory flies back in from the apron for a dropkick but Kyle counters in mid-air and takes him down. Theory scrambles to the bottom rope to avoid the submission. Theory with a big stomp from the apron. Theory with a rolling Fisherman's suplex for another close 2 count.
Theory grounds Kyle by the arm now. Kyle fights up and out but Theory rocks him. Kyle with a knee to the gut to take Theory down. Kyle with big knee strikes and kicks now. Kyle sweeps Theory to the mat to finally mount some solid offense again. Kyle with a running forearm in the corner. Kyle snaps the arm and delivers another knee in the corner. Kyle with a big kick and a takedown into an arm bar in the middle of the ring. Theory fights the arm submission off so Kyle goes into the ankle lock. Theory gets the bottom rope to break the hold. Kyle drops a big elbow. Kyle with a kick while Theory is on his knees now.
More back and forth now with strikes and counters. Kyle drops Theory into the corner but misses a running knee. Theory with a big forearm. Theory with the big TKO in the middle of the ring but Kyle kicks out at 2. Theory with a big modified neckbreaker in the middle of the ring but Kyle kicks out just in time. Theory shows frustration now.
Theory grabs half of the steel ring steps but the referee yells at him to put it down, he never used them. Kyle is enraged now. He snaps and unloads at ringside with strikes, apparently triggered by memories of the steel steps and his neck injury at the hands of Adam Cole a while back. They bring it back in the ring and Kyle unloads with more strikes. Kyle with kicks and a big forearm to the jaw to daze Theory to his knees. Kyle with a kick to the jaw to drop Theory.
Kyle goes to the top and nails the flying knee drop to the leg. Kyle with the heel hook in the middle of the ring now. Theory screams out and finally taps out.
Winner: Kyle O'Reilly
- After the bell, Kyle keeps the hold locked in as the referee tries to get him to break it. He finally lets go as the music hits and he stands tall. We go to replays. Kyle celebrates to end the segment.
- McKenzie Mitchell is backstage with Dakota Kai and Raquel Gonzalez now, asking about the earlier words from Xia Li. Gonzalez isn't sweating Li. Kai says Li came in after last week's win over Ember Moon and stole the spotlight, so now Gonzalez will make her pay for it. Gonzalez goes on about how she's not worried for anyone in Tian Sha. She says after she puts Li down tonight, there will be no one left. Gonzalez walks off and Kai follows.
- Still to come, a Mariachi Madness Musical with Legado del Fantasma. Back to commercial.
- Back from the break and we see a few Mariachi band members in the ring. This is a Mariachi Madness Musical. Legado del Fantasma is out – Santos Escobar, Raul Mendoza and Joaquin Wilde. He was going to give us a sample of his musical heritage but he's changed his mind. Escobar dismisses the mariachi band members and says he will not lower himself to this to entertain us. He's not going to do the Hit Row thing. He goes on and talks about how he will take the NXT North American Title from Isaiah "Swerve" Scott. The music interrupts and out comes Hit Row – Scott, "B-Fab" Briana Brandy, "Top Dolla" AJ Francis, and Ashante "Thee" Adonis. They speak from the stage and B-Fab starts insulting them first.
Francis raps insults at them next, then Scott. Escobar curses some in Spanish and says he's going to take the title back to Mexico. Adonis says bingo, we've got action. Hit Row drops their mics and heads to the ring as Legado del Fantasma gets ready to fight. Escobar sends Wilde and Mendoza to fight but Dolla and Adonis take them down. Scott and Escobar have words in the middle of the ring and they prepare to fight. Scott swings first and they go at it. Escobar drops Scott and picks up one of the mariachi guitars. He goes to swing it but B-Fab grabs it from the apron and snatches it from him. Escobar turns back around and Scott drops him.
Scott grabs the guitar from B-Fab and taunts Escobar now. He swings the guitar but Escobar ducks and retreats to the floor. Hit Row alerts Scott to Wilde trying to attack from behind. Dolla drops Wilde with a belt shot and then taunts Escobar with the belt. Escobar warns Swerve not to hit Wilde with the guitar, but he smashes it over his back anyway. Hit Row poses in the ring and taunts Escobar as their music hits.
- The Way is backstage now. Johnny Gargano tries to calm them but Candice LeRae points to how things have been horrible for them lately, including their title losses, and they all agree. Candice asks Austin Theory why he keeps picking fights with people he can't beat. Indi Hartwell tells Candice to stop being so hard on them. She clearly wants to kiss Dexter Lumis. Gargano, Hartwell and LeRae argue while Theory shakes his head, grabs his gear and walks off, disappointed while the others fail to notice him leaving. Theory believes The Way is falling apart. We go to commercial.
- Back from the break and Samoa Joe is still waiting for Karrion Kross. William Regal approaches and needs him to relax, but assures him Kross will be here. Joe is furious and talks about respect between the two. Joe says he will be the first person to greet Kross when he arrives. Regal asks him to keep it peaceful.
NXT Breakout Tournament First Round Match: Andre Chase vs. Odyssey Jones
We go back to the ring for the next first round match in the 2021 NXT Breakout Tournament. Andre Chase is out first, the former Harlem Bravado. Out next comes Odyssey Jones, formerly known as NFL player Omari Palmer. Jones gets a pop on his way to the ring.
They lock up and Jones sends Chase to the corner with a light shove. They go at it again and Jones shows some power. Chase with kicks to bring Jones to his knees. Chase with a running boot to the face. Jones comes right back and drops him with one shot. Jones catches Chase for a powerbomb but Chase slides out. Jones clotheslines Chase over the top rope to the floor. Chase fights back and gets the upperhand on the floor. Chase with a forearm. Jones drops him at the announce table.
Chase comes back, uses his speed and sends Jones face-first into the ring post. Chase brings it back in for a close 2 count. Chase dodges a move and sends Jones face-first into the turnbuckles. Chase keeps control and goes to the top for a moonsault. Jones kicks out at 2. Chase grounds Jones with an arm submission as fans rally now.
Jones levels Chase with a body block. Jones with more offense using his big frame. Jones with a back splash in the corner, then a running splash. Jones catches Chase with a big one-arm powerslam for the pin to win and advance.
Winner: Odyssey Jones
- After the match, Jones stands tall as his music hits.
- McKenzie is backstage with NXT Tag Team Champions MSK, asking what's next. They will continue to ride this wave of momentum and look forward to the next challengers. McKenzie says they never told us what MSK stands for. They tell her to picture this... in Dayton, Ohio, 2015... we cut to a video of Imperium's Marcel Barthel and Fabian Aichner. Barthel talks about how his father told him when he was young that he had to respect the business. The mat is sacred to them. They go on knocking the rest of the tag team division. They are here to preserve the purity of the sport, by any means necessary. We cut back to MSK and they say that is what MSK stands for. McKenzie says it all makes sense. She high-fives them to end the segment and we go back to commercial.
- Back from the break and Pete Dunne and Oney Lorcan are backstage. They talk about Timothy Thatcher and Tommaso Ciampa stepping to them last week. Dunne says he's been calling everyone out, daring whoever thinks they are a badder or better technician to step up, and last week Thatcher and Ciampa finally did. Dunne challenges them to a match next week. Lorcan says he's down for a scrap next week as well, so that they can see how tough Thatcher and Ciampa think they are.
Million Dollar Champion LA Knight vs. Drake Maverick
We go back to the ring and out comes Million Dollar Champion LA Knight with his butler, Cameron Grimes. Drake Maverick waits in the ring.
The bell rings and Knight is dealing with Grimes, with his back turned, telling him to keep the Million Dollar Title belt in the air for this non-title bout. Drake attacks from behind and takes control.
Knight easily turns it around and nails a back suplex. Knight is distracted with Grimes again as he goes to ringside and makes him hold the Million Dollar Title in the air. The referee counts. Knight comes back in and gets Drake on his shoulders but Drake turns that into a hurricanrana. Drake with a crossbody from the top for a 2 count.
Drake tries to mount offense but Knight drops him and keeps control, then wastes time showing off. Knight also wastes more time on having Grimes hold the title belt in the air. Drake takes advantage and attacks from behind again, rolling Knight up for the pin to win.
Winner: Drake Maverick
- After the match, Grimes is thrilled with Drake's win. Drake celebrates as the music hits. Grimes tries to alert Drake as Knight attacks him for payback. Knight unloads on Drake and says this is all Grimes' fault. Grimes comes in and puts hands on Knight, telling him to stop because the match is over. Grimes yells in Knight's face. Knight says this is not over, it's Grimes' turn now. Knight wants Grimes to take Drake out now but he's not interested. He goes to leave but Knight brings him back in. Knight reminds Grimes how he said he's a man of his word. Knight holds Drake up so Grimes can punch him in the mouth. Fans chant "no!" and Grimes hesitates but finally drops Drake. Fans boo. Grimes isn't happy with himself. Knight orders Grimes to follow him as they head to the back.
- We see Dakota Kai and Raquel Gonzalez backstage getting ready for the main event. The announcers show us a video package with events that led to this match. Back to commercial.
- Back from the break and a black car arrives in the back parking lot. Samoa Joe storms the driver's door but it's just a random staffer. Joe grabs the guy thinking it's Karrion Kross. Joe asks where Kross is. The driver says Kross is already out front, apparently Kross had the guy drop him off there. Joe storms off.
- The announcers go over next week's show, which will air on Syfy, as will the following week. Josh Briggs vs. Carmelo Hayes is the Breakout Tournament match for next week.
NXT Women's Title Match: Xia Li vs. Raquel Gonzalez
We go back to the ring for tonight's main event as Xia Li makes her way out. Li is alone, no sign of her Tian Sha partners Boa or Mei Ying. Out next comes NXT Women's Champion Raquel Gonzalez with Dakota Kai. Gonzalez and Li meet in the middle of the ring as Kai watches from the apron. We get formal ring introductions from Alicia Taylor.
The bell rings and they go at it. Gonzalez takes Li to the corner and they break. They lock up and Gonzalez overpowers, then sends Li to the mat with a shoulder. Gonzalez yells at Li about respecting her. Li kips up and rocks Gonzalez, then jumps on her back with a Sleeper. Gonzalez pulls her grasp away and slams her to the mat. Li tries for a takedown but Gonzalez over-powers again and sends her to the corner. Gonzalez runs into a boot.
More back and forth from the corner now. Gonzalez levels Li and then sends her to the floor, yelling at her some more. Gonzalez lifts Li and torpedoes her into the ring post. Gonzalez brings it back in but Li rolls right to the floor to stall. Gonzalez runs with a big boot but Li moves and Gonzalez kicks the ring post.
Gonzalez is stuck now as Li unloads on her leg, slamming it into the ring post over and over. Li tackles Gonzalez into the steel ring steps. Li returns to the ring and stands tall as Gonzalez tries to recover at ringside, limping and struggling. We go to a picture-in-picture commercial.
Li takes Gonzalez back down by her leg and stays on her. Li unloads with strikes in the corner now, kicking Gonzalez in the gut as the referee warns her. Li grabs the leg and delivers more strikes to it. Gonzalez rolls around in pain but Li stays on her. Li with a knee to the back against the ropes now as the referee warns her. Gonzalez blocks a takedown and takes Li down by her leg. Li counters on the mat and applies a heel hook now. Gonzalez yells out in pain and tries to counter the hold but Li keeps it locked in.
Back from the break and Li mounts Gonzalez in the corner with elbow strikes. Li hangs the hurt leg up on the middle rope and dropkicks it a few times. Li with more offense to the hurt leg as Gonzalez rolls around on the mat in pain. Li with another close 2 count. Li with a single-leg Crab now in the middle of the ring as Gonzalez screams out.
Gonzalez powers out and catches Li in a big fall-away slam. Gonzalez with more offense and a dropkick for a close 2 count. More back and forth now. Li blocks the one-arm powerbomb and delivers more knee strikes. They tangle on the mat as Li goes for a jackknife pin attempt but it's not enough. Li delivers a spinning roundhouse kick while Gonzalez is down on the mat. Gonzalez kicks out just in time.
Kai watches from ringside and she's worried now. Li delivers strikes while Gonzalez is on her knees. Gonzalez powers up and drives Li to the mat. Gonzalez with a big corkscrew Vader Bomb from the corner for a close 2 count. Gonzalez yells at Li to get back up now as the referee checks on her. A ringside doctor is also checking on Li, and another comes over now. Kai and Gonzalez discuss what's happening in their corner across the ring. Gonzalez is still yelling at Li to get up. We get a replay of the modified Vader Bomb from earlier.
Li is released by WWE medical and here we go. Gonzalez immediately grabs her and drives her into the mat with the chokeslam for the pin to win and retain.
Winner: Raquel Gonzalez
- After the match, Gonzalez stands tall and yells out as the music hits. We go to replays and the announcers keep blaming Li's injury on the modified Vader Bomb. Gonzalez and Kai stand tall on the stage together now.
- Samoa Joe comes marching down the ramp, right past Raquel Gonzalez and Dakota Kai. He calls NXT Champion Karrion Kross out and goes on about how there will be a reckoning tonight, and he will stomp Kross all over the building. Kross appears on the big screen and says this isn't the same place Joe walked away from. Kross declares that he is the new beginning, the weight of the future, and this means he can go wherever he wants, he can do whatever he wants, and hurt anybody he wants, for example... we see that NXT General Manager William Regal is down at Kross' feet.
Joe runs out of the ring and rushes to the back. Kross asks Joe if he still feels like he's in control. Kross walks away, saying something to Regal about who's watching who, while Regal is laid out on the pavement from an attack that apparently happened before Kross appeared on the big screen. Kross gets into his car and drives away as Joe runs up, yelling at him. Joe is too late as Kross speeds off. There was a perfectly-timed lightning strike as Kross make his exit. NXT goes off the air with Joe seething as Regal is still down on the concrete.