WWE NXT UK Results (7/22): Tag Title Main Event, Major Match Update On WALTER/Dragunov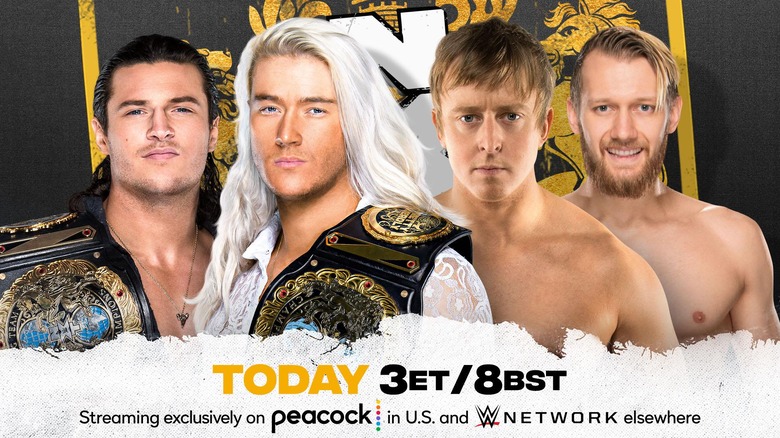 Welcome to Wrestling Inc's live coverage of WWE NXT UK, which airs every Thursday at 3 PM EST on Peacock (in the United States) and WWE Network (everywhere else). Be sure to chime in on your thoughts about today's show in the comments section below. Additionally, share our live coverage through social media. Make sure to click the REFRESH button to continue to get the most current up-to-date coverage. Above and below is what's on today's agenda:
TODAY on #NXTUK!

Tag Team Champions #PrettyDeadly defend the gold against #Subculture! pic.twitter.com/VgbwDTHEey

— NXT UK (@NXTUK) July 22, 2021
Andy Shepherd and Niguel McGuinness welcome fans to WWE NXT UK! We kick things off with a major announcement from the Assistant to the General Manager Sid Scala.
Sid Scala's Announcement:
After some consideration, William Regal, Triple H and Shawn Michaels have discussed a solution with the General Manager of NXT UK, Johnny Saint. WALTER will be cleared in time to defend his NXT UK Championship in a rematch against Ilja Dragunov at NXT TakeOver 36 on Sunday, August 22!
BREAKING NEWS: The @NXTUK Championship Match between @WalterAUT & @UNBESIEGBAR_ZAR will take place at #NXTTakeOver 36 on August 22.#NXTUK pic.twitter.com/ZD7xsy1n0B

— WWE (@WWE) July 22, 2021
- Symbiosis (Eddie Dennis, Primate & T-Bone) calls out Mustache Mountain (Tyler Bate and Trent Seven). They want a rematch with them soon.
Nina Samuels vs. Laura Di Matteo
Both women go straight for a collar and elbow tie-up. Nina Samuels reverses the hold into a simple wristlock. Laura Di Matteo ducks under and sends Samuels down on the mat. Matteo returns the favor on Samuels from earlier with a wristlock. Matteo puts Samuels in a pin cover. Samuels kicks out at two.
Hey hey hey, @NinaSamuels123!#NXTUK pic.twitter.com/yRt0iBELDg

— NXT UK (@NXTUK) July 22, 2021
Samuels ties Matteo's leg up and turns it into a surfboard submission. The referee calls Samuels out for grabbing hold of Matteo's hair during the lockup. Samuels stretches Matteo's head back and connects a knee to the back of her spine. Matteo gets back up to a vertical base, but Samuels is still holding on. Samuels scoops Matteo up and slams her right back down on the mat.
Matteo climbs back to the driver's seat with a rollup on Samuels. Samuels pops free. Matteo throws down a series of elbows on the back of Samuels' neck. Samuels traps Matteo in the corner. Matteo kicks her off and sends Samuels for a ride with a perfect hurricanrana! Matteo then rocks Samuels with an enziguri. Samuels finds her footing again with a tilt-a-whirl backbreaker. Next, Samuels catches Matteo with a mid-air kick to the face for the pinfall victory.
Don't infuriate the star of the #NinaSamuelsShow!#NXTUK pic.twitter.com/1QSlZszMGt

— NXT UK (@NXTUK) July 22, 2021
Winner: Nina Samuels
- Teoman and Rohan Raja want to make it clear that their partnership focuses on two core values: respect and family.
- Blair Davenport interrupts Xia Brookside's interview. Davenport says the only reason people know her is because of her father, Robbie Brookside. Davenport believes her credibility in the ring has brought more popularity to her name than Xia's.
"The only reason people know who you are is because of Daddy's last name, isn't it @XiaBrooksideWWE?"

REAL CLASSY, @BDavenportWWE......#NXTUK pic.twitter.com/14hJ41l7hc

— NXT UK (@NXTUK) July 22, 2021
"Supernova Sessions" w/Noam Dar:
Noam Dar welcomes us to his well-established show, "Supernova Sessions." In this episode, his guests are Jinny and Joseph Conners.
During their interview, Jinny and Joseph Conners talk about their high life lifestyle. They refuse to mingle with those beneath them. Jinny turns her attention to call out Aoife Valkyrie. She promises that she will be the one to destroy Valkyrie when they get in the ring.
Jinny and Conners leave. Conners will be in action after the break.
"You would never step toe-to-toe with the Queen of #NXTUK. Why? Because you know that I will be the one who breaks you! It will be ME who truly DESTROYS you!"@JinnyCouture sends a scathing message to @Real_Valkyrie. pic.twitter.com/vo2YTM5TUs

— NXT UK (@NXTUK) July 22, 2021
- Rampage Brown is getting ready for his highly anticipated clashing between Joe Coffey and himself.
Joseph Conners (w/Jinny) vs. Tristan Archer
Tristan Archer works on Joesph Conners' arm with some nice counters. Conners locks Archer up with a simple wristlock that sends Archer down on the mat. Archer catches Conners after coming off a leapfrog. Conners escapes. Conners catches Archer with a painful backbreaker before snapping the wXw star with a low swinging neckbreaker. Conners hits a big clothesline and hooks the leg for the first pin of the match. Archer kicks out.
WIDE AWAKE!#NXTUK pic.twitter.com/21tJkLnv09

— NXT UK (@NXTUK) July 22, 2021
Conners plants a springboard knee drop. Archer eats a big boot. Conners puts Archer in a crucifix pin. Archer gets his shoulders up at two. Archer picks up some steam with a series or strikes to the midsection. Archer slams Conners' face into the top turnbuckle. Archer was close to causing a major upset with an assisted DDT. Archer goes for a cover. Conners kicks out. Archer isn't done there; he sends Conners down again with a major sit-out powerbomb. Another cover, another kick out. Conners sends Archer away with a DDT, followed by a straitjacket powerslam for the win.
Winner: Joseph Conners
Post-Match: Aoife Valkyrie comes lurking out and hands Jinny a feather, indicating that she is ready to throw down with The Fashionista.
OH IT'S ON NOW! MESSAGE SENT!@Real_Valkyrie @JinnyCouture#NXTUK pic.twitter.com/sKEV8YIbi8

— NXT UK (@NXTUK) July 22, 2021
Backstage: Jordan Devlin leaves Sid Scala's office. He's been informed that A-Kid wants a 30-Minute Ironman Match soon. Devlin calls him an idiot and promises to get the job done once A-Kid is cleared.
.@JordanDevlin1 has a warning for @AKidWrestler about the proposed Ironman Match!#NXTUK pic.twitter.com/z7nhhcuFDJ

— NXT UK (@NXTUK) July 22, 2021
Backstage: Dave Mastiff and Jack Starz have a chat. Starz wants Mastiff to know that he looks at him as an inspirational influence on his career.
Backstage: Mustache Mountain heard Symbiosis' message from earlier. They are ready to end this rivalry once and for all, next week!
NEXT WEEK on #NXTUK#MoustacheMountain vs. Symbiosis pic.twitter.com/hnbuDlQxgA

— NXT UK (@NXTUK) July 22, 2021
And now, the main event!
NXT UK Tag Team Championship: Pretty Deadly (c) vs. SUBCULTURE (Mark Andrews & Flash Morgan Webster) (w/Dani Luna)
HERE WE GO!#NXTUK Tag Team Championship Main Event time! pic.twitter.com/YddFE5wdy4

— NXT UK (@NXTUK) July 22, 2021
Sam Stoker (of Pretty Deadly) and Flash Morgan Webster kick things off. Both men get into a collar and elbow tie-up. Webster plants Stoker on the mat with a spinning armdrag. Stoker returns the favor with an inverted atomic drop. Webster reverses out of the fireman's position and turns it into a flying crossbody. Webster goes for a cover. Stoker kicks out. Stoker makes a hot tag to Lewis Howley. Webster does the same thing to Mark Andrews.
Howley comes in with some great in-ring psychology. Andrews breaks out of his control with a hurricanrana. All four men now make their way into the ring. SUBCULTURE sends Pretty Deadly out of the ring. Howley blows Dani Luna a kiss and eats a big slam from Andrews. Andrews rolls Howley back into the ring and hooks the leg for a pin. Howley stays alive at two.
Easy there, tiger!#NXTUK pic.twitter.com/8GWhkqAheO

— NXT UK (@NXTUK) July 22, 2021
Stoker makes his way back in as the legal man. He stomps away on Andrews. Howley clocks Andrews right on the chin in the center of the ring. Stoker lands another big shot before tagging Howley back in. Howley continues to cut the ring off from Andrews. Howley throws Andrews towards another corner and looks for a pin. Andrews kicks out. Andrews falls to the outside. Stoker connects a couple of blows before they settle it in the ring. Andrews creates some space from Stoker for a moment. Stoker makes a quick tag to Howley. Howley continues to soften Andrews up for Stoker before making another hot tag. The tag champions execute a double leg drop, but it still isn't enough for them to pick up the win just yet.
Howley puts Andrews in a tight side headlock. Andrews digs deep and escapes with a forearm smash. Andrews rolls through and makes a tag to Flash Morgan Webster. Webster hits a flying clothesline on Stoker and a dropkick to Howley on the outside. Webster dumps Stoker on the mat. Cover. Stoker stays alive. Webster lands on his feet twice after a few missed aerial spots. SUBCULTURE go up and over with stereo Tope Con Giros!
SUBCULTURE IN STEREO!#NXTUK pic.twitter.com/kZiQjDRqio

— NXT UK (@NXTUK) July 22, 2021
Back in the ring, Howley walks right into a brutal headbutt from Webster. Stoker makes his way in for Howley. Andrews is tagged in too. Andrews was a split second away from winning it all with a UK destroyer! Howley makes a quick tag to Stoker. Stoker sends Webster inside out. Howley and Stoker come into the ring together. Webster crawls away and makes a tag to Andrews. Andrews has Stoker in a waistlock. Stoker makes a tag to Howley once he hits the rope. Andrews connects a Stundog Millionaire on Stoker. SUBCULTURE joins forces with a knee striker, poison rana combination. Will that be enough? No! Howley comes in and makes the save!
UK DESTROYER from SUBCULTURE!#NXTUK pic.twitter.com/BXfcfHMF7j

— NXT UK (@NXTUK) July 22, 2021
Howley slides Stoker out of the way. Andrews misses Fall to Pieces (shoot star press) from off the top rope. Stoker and Howley finish the job by tossing Webster over on the barricade and connect a neckbreaker on Andrews in the ring. Pretty Deadly live to fight another day as the NXT UK Tag Team Champions!
Winners & Still NXT UK Tag Team Champions: Pretty Deadly
PRETTY DEADLY ON TOP!#AndStill #NXTUK Tag Team Champions...#PrettyDeadly!!!

@SamStokerPD
@LewisHowleyPD pic.twitter.com/3mNPcgFYip

— WWE (@WWE) July 22, 2021
That concludes this week's episode. Thanks for watching!