Big Title Change At WWE NXT Takeover 36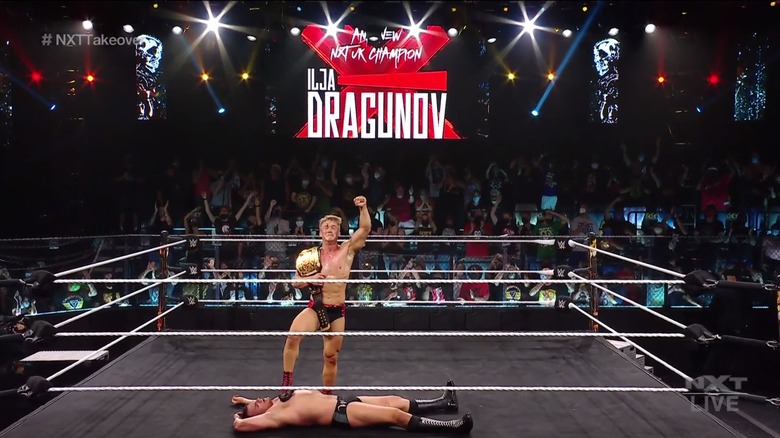 WWE
Ilja Dragunov is your new WWE NXT UK Champion.
Tonight's NXT Takeover 36 event saw Dragunov defeat WALTER to win the title, in a rematch from their big match held on the October 29, 2020 NXT UK TV episode. The brutal back & forth bout saw Dragunov win by submission.
This is Dragunov's first reign with the title. WALTER won the title from Pete Dunne back on April 5, 2019 at "Takeover: New York" and held the strap for 869 days.
Stay tuned for more. Below are a few shots of tonight's title change from the Capitol Wrestling Center at the WWE Performance Center in Orlando:
The most highly-anticipated encounter in #NXTUK history starts RIGHT NOW!

See why these two have the @WWEUniverse and countless @WWE Superstars and Hall of Famers on the edge of their seat right now at #NXTTakeOver 36.@WalterAUT @UNBESIEGBAR_ZAR pic.twitter.com/LGZRMLHy2t

— WWE (@WWE) August 23, 2021
ABSOLUTELY BRILLIANT!@UNBESIEGBAR_ZAR has been studying and training countless hours for this #NXTUKTitle encounter at #NXTTakeOver 36! pic.twitter.com/VU0p87VYhq

— WWE NXT (@WWENXT) August 23, 2021
The PURE POWER from @WalterAUT on display!#NXTUKTitle#NXTTakeOver pic.twitter.com/aV5ChZlvIL

— WWE (@WWE) August 23, 2021
The legendary chop from @WalterAUT is a sight to behold.#NXTUKTitle#NXTTakeOver pic.twitter.com/Mtx9fNtbzB

— WWE (@WWE) August 23, 2021
😲😲😲😲😲😲@WalterAUT @UNBESIEGBAR_ZAR #NXTUKTitle#NXTTakeOver pic.twitter.com/ovEWWxkgtZ

— WWE (@WWE) August 23, 2021
.@WalterAUT has awoken the MONSTER in @UNBESIEGBAR_ZAR!#NXTUKTitle#NXTTakeOver pic.twitter.com/HB71CYPA94

— WWE (@WWE) August 23, 2021
FIGHT FOR-EVER! 👏👏 👏👏👏@UNBESIEGBAR_ZAR @WalterAUT #NXTUKTitle#NXTTakeOver pic.twitter.com/DRRrERECJv

— WWE (@WWE) August 23, 2021
The LEGEND that is @WalterAUT!#NXTUKTitle#NXTTakeOver pic.twitter.com/pBMGZsIfuT

— WWE (@WWE) August 23, 2021
.@UNBESIEGBAR_ZAR is pulling out ALL THE STOPS to try and conquer @WalterAUT for the #NXTUKTitle! #NXTTakeOver pic.twitter.com/nA9MI6z0U2

— WWE (@WWE) August 23, 2021
PLEASE FIGHT FOREVER!@WalterAUT@UNBESIEGBAR_ZAR #NXTUKTitle#NXTTakeOver pic.twitter.com/q4K0PyGO3u

— WWE NXT (@WWENXT) August 23, 2021
Behold the attraction that is @WalterAUT!#NXTUKTitle#NXTTakeOver pic.twitter.com/08VZkmEMJ2

— WWE NXT (@WWENXT) August 23, 2021
😲😲😲😲😲😲😲😲😲😲😲
😲😲😲😲😲😲😲😲😲😲😲
😲😲😲😲😲😲😲😲😲😲😲@UNBESIEGBAR_ZAR #NXTUKTitle#NXTTakeOver pic.twitter.com/JPc11hq192

— WWE (@WWE) August 23, 2021
DRAGUNOV WINS!
DRAGUNOV WINS!
DRAGUNOV WINS!

The historic reign of @WalterAUT is over and we have a NEW #NXTUK Champion in @UNBESIEGBAR_ZAR!#NXTUKTitle#NXTTakeOver pic.twitter.com/EORAcDruKM

— WWE (@WWE) August 23, 2021
AIRBOURNE @WalterAUT!#NXTUKTitle#NXTTakeOver pic.twitter.com/VYF2sjOOm9

— WWE NXT (@WWENXT) August 23, 2021
⭐️⭐️⭐️⭐️⭐️⭐️⭐️⭐️⭐️⭐️⭐️⭐️⭐️⭐️⭐️⭐️@UNBESIEGBAR_ZAR dethrones @WalterAUT in an all-time classic to become the NEW #NXTUK Champion!#NXTTakeOver pic.twitter.com/8KJh8iqiu4

— WWE (@WWE) August 23, 2021