Impact Wrestling Results (8/12): New Challenger Emerges For Kenny Omega/Christian Cage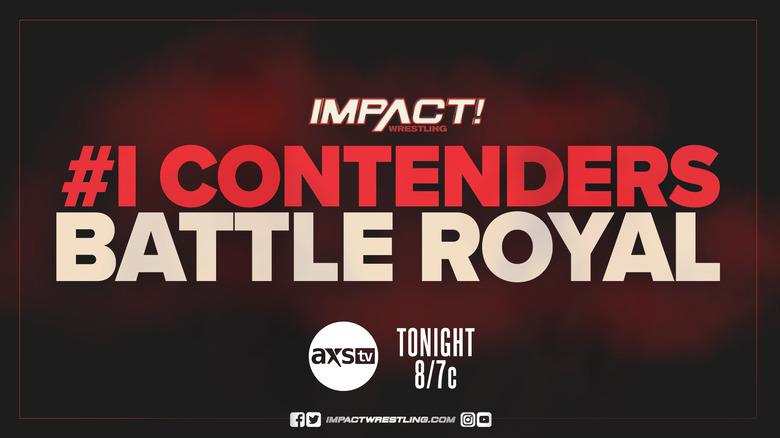 Welcome to Wrestling Inc's live coverage of Impact Wrestling, which airs every Thursday on AXS TV at 8 pm EST and on Impact's YouTube membership page [which will put the live episode up at 8:30 PM ET]! Be sure to chime in on your thoughts about tonight's show in the comments section below. Additionally, share our live coverage through social media. Make sure to click the REFRESH button to continue to get the most current up-to-date coverage. Above and below is what's on tonight's agenda for Impact:
TONIGHT at 8/7c on @AXSTV🇺🇸 and @fightnet🇨🇦/8:30pm ET on IMPACT Insider💻!

Number One Contenders Battle Royal @THEdavidfinlay and Juice Robinson vs. @DashingChrisBey and @JayWhiteNZ

Daivari vs. @Walking_Weapon@TenilleDashwood vs. @RealTaylorWilde pic.twitter.com/VmrAz67iHC

— IMPACT (@IMPACTWRESTLING) August 12, 2021
#IMPACTin60 looks at the best of @Walking_Weapon TONIGHT at 10/9c immediately following IMPACT on @AXSTV! pic.twitter.com/oHJAqQmvY1

— IMPACT (@IMPACTWRESTLING) August 12, 2021
** Before tonight's show, Sam Adonis defeated Joessa on Before The Impact! **
.@RealSamAdonis is victorious over @ForeverJoeasa in our #BTIonAXSTV exclusive match! pic.twitter.com/lwYZ23LGWt

— IMPACT (@IMPACTWRESTLING) August 12, 2021
D'Lo Brown and Matt Striker welcome fans to Impact Wrestling! We kick things off with some Knockouts action!
 Tenille Dashwood (w/Kaleb) vs. Taylor Wilde
The majority of the fans are behind Taylor Wilde as they chant, "Let's Get Wilde." Wilde has a huge smile on her face following their chants. Back to the action, both women lock up. Wilde sends Dashwood for a ride with a perfect arm drag to the corner. They reset.
Another lockup follows. Dashwood takes Wilde down with a tight side headlock. Wilde turns it around with an arm lock, followed by a side headlock. Dashwood throws Wilde towards the ropes. Wilde knocks Dashwood right over with a shoulder block. Following that, Wilde plants a nice head scissors takedown. Dashwood retreats out of the ring. Dashwood rolls back in by the 9th count. Kaleb hands Dashwood a fanny pack. The referee catches it and throws it out of the ring. Wilde connects a body press on Dashwood and looks for a cover. Dashwood kicks out.
.@RealTaylorWilde snaps off a beautiful head scissors. #IMPACTonAXSTV pic.twitter.com/ccOKscHG5B

— IMPACT (@IMPACTWRESTLING) August 13, 2021
After some cat and mouse mind games outside of the ring, Dashwood catches Wilde with a brutal swinging neckbreaker. Dashwood looks for a cover. Wilde pops free at two. Dashwood tosses Wilde face-first into the top turnbuckle. Kaleb taunts Wilde while she's wrapped up in the ropes. Wilde tries to build momentum, but both women look like they ran into each other headfirst. Wilde plummets to the mat. Dashwood takes advantage of this and goes for a pin. Wilde kicks out. Wilde and Dashwood trade shots. Dashwood throws Wilde into the corner with a perfect suplex. She follows it up with a low corner crossbody for another near-fall.
Dashwood uses another side headlock. Wilde breaks free with shotgun elbow smashes. Wilde plants Dashwood with a tilt-a-whirl backbreaker! In the corner, Wilde hits a double foot stomp. She goes for a cover. Kaleb breaks it up. The referee gets sprayed with hair spray. While the referee is distracted, Knockouts legend Madison Rayne returns! She tosses Wilde shoulder-first towards the ring post. Dashwood launches off the ropes with her Spotlight Kick and goes for the final pin in the match. Dashwood picks up the win.
.@MadisonRayne is BACK!

"The Queen Bee" helped @TenilleDashwood defeat @RealTaylorWilde. #IMPACTonAXSTV pic.twitter.com/cqheqcaaCO

— IMPACT (@IMPACTWRESTLING) August 13, 2021
Winner: Tenille Dashwood
Post-Match: Tenille Dashwood and Madison Rayne hug it out. It looks like they're picking up where they last left off.
- We see a preview of some of the stars who will be competing in the #1 Contenders Battle Royal tonight. So far, Johnny Swinger, Ace Austin, Chris Sabin, Petey Williams, Trey Miguel, Brian Myers, No Way, Sami Callihan, Rich Swann, Eddie Edwards, Willie Mack and Moose have been announced. Who will come out victorious and face Kenny Omega or Christian Cage for the Impact World Championship next Friday at Emergence?
- D'Lo Brown and Matt Striker run through the card for Emergence (so far) and what matches are still to come for tonight's show.
Up next, Daivari will face X-Division Champion Josh Alexander. If Daivari beats Alexander tonight, he will receive a future X-Division Title shot.
Championship Contender's Match: X-Division Champion Josh Alexander vs. Daivari
Both men lock up. Josh Alexander backs Daivari into the corner. In the center of the ring, both men exchange wrist lock control. Alexander changes the pace by trying to put Daivari in an ankle lock. Daivari finds the bottom rope for a break. Daivari eats a massive boot. While the referee checks in with Daivari after that brutal hit, Jake Something – Alexander's opponent next Friday – steps out and stares the champion down before the commercial break.
.@Walking_Weapon FLOORS Daivari with a boot. #IMPACTonAXSTV pic.twitter.com/PPlRjwoXQ4

— IMPACT (@IMPACTWRESTLING) August 13, 2021
Coming back from the break, Alexander remains in control. He plants a body slam on Daivari and looks for a cover. Daivari kicks out at two. Daivari slams Alexander on the outside with a dropkick through the ropes! On the outside, Daivari slams Alexander with an apron back hit. Back in the ring, Daivari looks for a pin on the champ. Alexander pops out. Daivari keeps the onslaught with a powerful back elbow for just another near-fall.
Alexander has Daivari in the Divine Intervention position. Daivari shuts it down. Alexander transitions it into an ankle lock. Daivari escapes and stacks Alexander up. His feet are on the ropes, and the referee catches it. Alexander fights back with a spike DDT! Alexander tosses Daivari with three perfect German Suplexes. Alexander sends Daivari away with his C4 Spiker for the pinfall victory.
Winner: Josh Alexander
Post-Match: Jake Something slides into the ring and grabs Alexander's X-Division Championship. Alexander turns around and catches Something with the belt. Both men have a staredown before Something throws the title back at Alexander and leaves the ring.
A sign of things to come at #Emergence? #IMPACTonAXSTV @JakeSomething_ pic.twitter.com/xxiYcmaoR5

— IMPACT (@IMPACTWRESTLING) August 13, 2021
- Several Impact and AEW stars weigh in on who will win the Impact World Championship on the premiere episode of AEW Rampage tomorrow night.
.@tonyschiavone24, @JRsBBQ, @TheSamiCallihan, @The_Ace_Austin, @DeonnaPurrazzo and more preview TOMORROW's HUGE IMPACT World Championship match between @KennyOmegamanX and @Christian4Peeps! #IMPACTonAXSTV @AEW pic.twitter.com/E6KZwWTijB

— IMPACT (@IMPACTWRESTLING) August 13, 2021
- An ad is shown for NJPW Resurgence.
- Speaking of competitors set to compete this Saturday at NJPW Resurgence, the Impact World Tag Team Champions The Good Brothers (Doc Gallows and Karl Anderson) call out their opponents, Violent By Design and Rich Swann & Willie Mack, before their clashing at Emergence. During their bashing, VBD arrives. Doc Gallows challenges Joe Doering to a match next Thursday.
Up next, we hear from Kiera Hogan, following Tasha Steelz's shocking betrayal.
Kiera Hogan Calls Out Tasha Steelz:
Hogan is furious over Steelz's power move last week. She calls Steelz's new friend Savannah Evans a "goofy ass." She calls both of them out. Instead of them appearing in the ring, we get "The Undead Bride" Su Yung and Kimber Lee!
Lee approaches the ring and tries to grab Hogan. Hogan fights Lee off. Su Yung is standing on the ramp and puts on her bloody glove. From behind, Lee follows Yung's command and also puts on her bloody glove. Lee drags Hogan by her hair, and away they go. Perhaps to the Undead Realm?
That's not @RealTSteelz... #IMPACTonAXSTV @HoganKnowsBest3 @realsuyung @Kimber_Lee90 pic.twitter.com/kkK47CRAw4

— IMPACT (@IMPACTWRESTLING) August 13, 2021
.@realsuyung and @Kimber_Lee90 have TAKEN @HoganKnowsBest3. #IMPACTonAXSTV pic.twitter.com/FtJrIBWPdk

— IMPACT (@IMPACTWRESTLING) August 13, 2021
**Since this is Kiera Hogan's last appearance on Impact, we wish her the very best in her future endeavors. **
Backstage: The Impact World Champion Kenny Omega and Don Callis have something to say ahead of Omega's marquee matchup with Christian Cage. Callis is not keen on Impact management, demanding Omega to defend his title on AEW. Callis thinks Omega's career in Impact and AEW should be separate. Omega then takes over. Omega wants it to be known that after their match tomorrow night, he does not want to hear "a little peep" from Cage if he were to lose.
.@KennyOmegamanX and @TheDonCallis believe there is a campaign of SABOTAGE against them ahead of TOMORROW's #AEWRampage IMPACT World Championship match. #IMPACTonAXSTV @AEW pic.twitter.com/HvXTkYr9io

— IMPACT (@IMPACTWRESTLING) August 13, 2021
Before their clashing at NJPW Resurgence, Jay White and David Finlay will do battle in tag team action!
Jay White & Chris Bey vs. FinJuice (Juice Robinson & David Finlay)
Jay White and David Finlay slug it out first. Both men begin with a big collar and elbow tie-up, just a little preview for what's to come on Saturday. Finlay goes up and over with a well-scouted dropkick that sends White out of the ring. On the outside, White tosses Finlay around before throwing him back into the ring. White rains down a series of stomps before bringing his newest ally in the Bullet Club into the ring.
Chris Bey keeps Finlay down on the mat. Finlay finds a way to escape and makes a tag to Juice Robinson. Robinson rolls in with a nice senton on top of Bey. Bey picks up the speed with a big elbow drop from off the second rope. Robinson falls to the outside and right into White's arms. White slams Robinson with an apron back hit. White becomes the legal man and keeps Robinson grounded on the mat. Several kids in the audience are rooting for Robinson. White keeps the wear and tear on Robinson before bringing Bey in. Bey lands a few quick shots and makes another hot tag to White.
We're getting a preview of @JayWhiteNZ vs. @THEdavidfinlay ahead of @njpwglobal #njresurgence THIS SATURDAY! #IMPACTonAXSTV pic.twitter.com/70f9BGFxsT

— IMPACT (@IMPACTWRESTLING) August 13, 2021
White catapults Robinson towards the opposite side of the ring! White believes his work is down for the moment, so Bey is back in for him. Bey applies an abdominal stretch. Finlay fires Robinson up. Robinson recovers and looks for another senton. Bey rolls out of the way. Robinson prevails with a vertical suplex in the center of the ring! Robinson rolls over and makes a tag to Finlay. Bey tags White in. Both men know each other's counters so well. Finlay clocks White with a diving European uppercut. White wants out. He makes a tag to Bey. Finlay runs over for a tag to Robinson.
Robinson sets Bey up for the Juice Jabs! White runs in and tries to break it up. Finlay tosses White to the outside. FinJuice join forces with a Doomsday Device. Cover. White runs in and lands a chair shot on Robinson. The referee calls for this match to end in a DQ.
Winner By Disqualification: FinJuice
Post-Match: Jay White throws a chair right towards David Finlay's face, knocking him out. White hoists Finlay up and hits a Blade Runner right on top of a steel chair. White asks for his NEVER Openweight Championship. Someone hands it to him. He plants himself on top of Finlay and holds the title high.
A BRUTAL message sent by @JayWhiteNZ with @njpwglobal's #njresurgence just two days away. #IMPACTonAXSTV @THEdavidfinlay pic.twitter.com/wP4QATqvgm

— IMPACT (@IMPACTWRESTLING) August 13, 2021
Backstage: Tasha Steelz and her new friend Savannah Evans are standing by. Steelz explains to  Gia Miller why she ended her partnership with Kiera Hogan. Steelz believes she was the one who brought all the success to Fire 'N Flava. She was getting tired of picking up Hogan's slack. Fallah Bahh interrupts and asks Steelz if he could help her. He's got some major heat with Rosemary and Havok. Steelz says she'll help only because they're holding her titles.
.@RealTSteelz explains what went down with Fire N' Flava last week. #IMPACTonAXSTV @FALLAH1 @SavannahEvansNV pic.twitter.com/vsTZaQqSpV

— IMPACT (@IMPACTWRESTLING) August 13, 2021
Backstage: Melina returns to the Impact Zone. As their match draws near, Melina is looking forward to this major title opportunity against Deonna Purrazzo for the Knockouts Championship at NWA Empowerrr on Saturday, August 28. But before these two clash, it's announced that Melina will make her in-ring debut for Impact next week! Her future opponent, Purrazzo, interrupts her interview and warns her challenger she is preparing for their big title bout.
.@RealMelina will make her IMPACT in-ring debut NEXT WEEK! #IMPACTonAXSTV @DeonnaPurrazzo @aleshazapp pic.twitter.com/Ekeukyadb8

— IMPACT (@IMPACTWRESTLING) August 13, 2021
Over on AEW: TNA alumni Christian Cage promises he will take both the Impact and AEW World Championships from Kenny Omega. Next week, Cage promises he'll make his long-awaited return to the Impact Zone with the World Title strapped around his waist.
.@Christian4Peeps's roots in IMPACT run deep and he plans to dethrone Kenny Omega TOMORROW on #AEWRampage! #IMPACTonAXSTV @AEW @alexmarvez pic.twitter.com/NWUYhbumsS

— IMPACT (@IMPACTWRESTLING) August 13, 2021
Matt Cardona vs. John Skyler
Matt Cardona flies in with a nice dropkick on John Skyler. Skyler gets up and runs the ropes. Cardona sends him flat down with a shoulder block. On the ropes again, Skyler gets dropped with a flapjack. Skyler eats two massive boots on the outside. Skyler rolls back in the ring and back out of it. Skyler connects a big spear through the ropes. Skyler looks for a cover. Cardona kicks out. Skyler lands a running European uppercut in the corner.
In the center of the ring, Skyler eats a big back elbow followed by a clothesline in the corner. Rohit Raju and Shera make their way out to watch this match closely, well, not quite. Shera and Raju jump up on the apron and try and distract the GCW World Champion. Cardona shoos them off but gets stacked up by Skyler. 1-2-3. Skyler, the newcomer, picks up a major win over Cardona!
..@TheJohnSkyler picks up a HUGE upset victory over @TheMattCardona, after a distraction from @HakimZane. #IMPACTonAXSTV pic.twitter.com/Mlbnv2NlJE

— IMPACT (@IMPACTWRESTLING) August 13, 2021
Winner: John Skyler
Next Week:
* Melina will make her Impact Wrestling debut
* Doc Gallows and Joe Doering will clash in a one-on-one matchup before they meet at Emergence
* The winner of the Impact World Championship from Friday's AEW Rampage will be in the Impact Zone
And now, the main event! Who will be the first to challenge either Kenny Omega or Christian Cage?
# 1 Contenders Battle Royal
* This will be an over-the-top-rope Battle Royal. **
Eddie Edward is the first entrant announced before the commercial break. Following the commercial break, 18 men are in the ring. Moose and Sami Callihan are the last two to make their entrances before the Battle Royal goes down!
W. Morrissey is in the lead with three eliminations. He throws Suicide, Johnny Swinger and Hernandez out of the ring. Now, all the men in the battle toss Morrissey out of the ring.
A big man either dominates a battle royal...or becomes a target for everybody else. #IMPACTonAXSTV @TheCaZXL pic.twitter.com/cPQwqWyI4B

— IMPACT (@IMPACTWRESTLING) August 13, 2021
Suicide, Johnny Swinger, Hernandez and W. Morrissey are eliminated just before the second commercial break.
Back from the final break, Brian Myers tries to toss the former World Champion Rich Swann over the top rope. Petey Williams runs over and tries to take Myers off his feet with a leg takedown. Williams sifts his focus on Deaner. Sam Beale steps in and tries to take out Williams. With an interference by Steve Maclin, Williams is eliminated from the match.
Deaner holds on tight after getting thrown to the outside. Swann and Deaner are teetering on the apron. Swann connects a nice superkick to Deaner. Deaner falls off the apron. Deaner's ally, Rhino, Gore's Swann off the apron. Rhino falls to the outside right after. Willie Mack also tumbles out.
An eliminated @CodyDeaner helps @Rhyno313 take out @GottaGetSwann! #IMPACTonAXSTV pic.twitter.com/pRDgfM6HmK

— IMPACT (@IMPACTWRESTLING) August 13, 2021
Petey Williams, Deaner, Rich Swann, Rhino and Willie Mack are eliminated.
No Way decks Ace Austin with a punch as Austin soars down. Madman Fulton takes ahold of No Way – on Austin's behalf – and throws him out of the ring. Fallah Bahh catches up to Fulton and tosses him out of the ring. Bahh then comes crashing out of the ring seconds after eliminating Fulton.
No Way, Fallah Bahh and Madman Fulton are eliminated.
Brian Myers uses Sam Beale to tackle Trey Miguel out of the ring. Miguel flies out. Eddie Edwards connects the backpack stunner on Myers. Edwards hoists Myers up on his shoulders, but Beale makes the save. Beale then gets hit with a massive knife-edge chop. Edwards perches himself up on the top rope. Moose shoves him off. Edwards is eliminated. Following that, Myers throws Beale over the top rope! He just took out his only security in this match.
Trey Miguel, Eddie Edwards and Sam Beale are eliminated. 
Brain Myers turns around and meets Sami Callihan face-to-face. Callihan catches Myers in his Cactus Special '97 piledriver. Then, Ace Austin and Callihan find themselves on the apron. Callihan lands a nice bicycle kick on Austin, who's sitting up on Fulton's shoulders. Callihan knocks Austin off with a massive clothesline. Austin is out. As he turns around, Callihan eats a big boot from Moose and gets eliminated.
Ace Austin and Sami Callihan are eliminated.
Moose and Chris Sabin rehash their bitter rivalry. Sabin puts Moose in a sleeper hold. Myers tiptoes over and sends them both out. Brian Myers is now the new #1 Contender to the Impact World Championship.
.@Myers_Wrestling is NUMBER ONE CONTENDER! #IMPACTonAXSTV pic.twitter.com/V9xYQ0VmTj

— IMPACT (@IMPACTWRESTLING) August 13, 2021
Winner: Brian Myers
Brian Myers will meet either Kenny Omega or Christian Cage for the Impact World Championship at Emergence next Friday!
That concludes this week's episode. Thanks for watching!