Impact Wrestling Viewership Takes A Tumble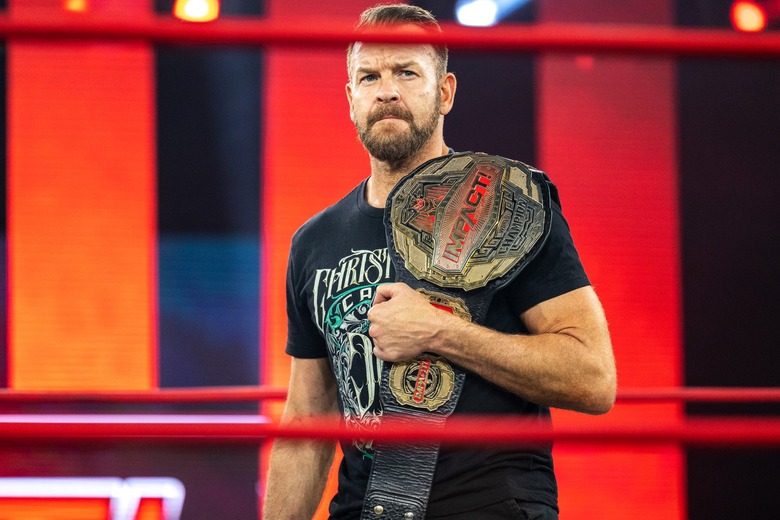 Photo Credit: Impact Wrestling
Thursday's Impact drew 98,000 viewers on AXS TV, according to Brandon Thurston of Wrestlenomics. This is the lowest viewership since July 1.
This is also down 22.2% from last week's 126,000 viewers.
Thursday's episode drew a 0.03 rating in the 18-49 key demographic, which represents 34,000 viewers. This is down from the previous week's 0.04 rating. The show did not rank in Showbuzz Daily's Top 150 programs in 18 to 49.
Thursday's Impact featured Impact World Champion Christian Cage making an appearance, The Good Brothers vs. Rich Swann and Willie Mack, Sami Callihan vs. Chris Sabin, David Finlay vs. Chris Bey, and more.
Below is our updated 2021 Impact Wrestling Viewership Tracker:
January 5 Episode: 148,000 viewers with a 0.04 rating in the 18-49 demographic
January 12 Episode: 161,000 viewers with a 0.05 rating in the 18-49 demographic
January 19 Episode: 147,000 viewers with a 0.03 rating in the 18-49 demographic (post-Hard To Kill episode)
January 26 Episode: 186,000 viewers with a 0.05 rating in the 18-49 demographic
February 2 Episode: 173,000 viewers with a 0.05 rating in the 18-49 demographic
February 9 Episode: 153,000 viewers with a 0.04 rating in the 18-49 demographic
February 16 Episode: 197,000 viewers with a 0.06 rating in the 18-49 demographic (post-No Surrender episode)
February 23 Episode: 170,000 viewers with a 0.04 rating in the 18-49 demographic
March 2 Episode: 134,000 viewers with a 0.03 rating in the 18-49 demographic
March 9 Episode: 144,000 viewers with a 0.04 rating in the 18-49 demographic
March 16 Episode: 146,000 viewers with a 0.04 rating in the 18-49 demographic (post-Sacrifice episode)
March 23 Episode: 116,000 viewers with a 0.04 rating in the 18-49 demographic
March 30 Episode: 148,512 viewers with a 0.04 rating in the 18-49 demographic (final Tuesday night episode)
April 8 Episode: 168,000 viewers with a 0.06 rating in the 18-49 demographic (first Thursday night episode)
April 15 Episode: 132,000 viewers with a 0.04 rating in the 18-49 demographic (post-Hardcore Justice episode)
April 22 Episode: 145,000 viewers with a 0.05 rating in the 18-49 demographic
April 29 Episode: 120,000 viewers with a 0.05 rating in the 18-49 demographic (post-Rebellion episode)
May 6 Episode: 123,000 viewers with a 0.04 rating in the 18-49 demographic
May 13 Episode: 112,000 viewers with a 0.03 rating in the 18-49 demographic
May 20 Episode: 109,000 viewers with a 0.04 rating in the 18-49 demographic (post-Under Siege episode)
May 27 Episode: 140,000 viewers with a 0.06 rating in the 18-49 demographic
June 3 Episode: 143,000 viewers with a 0.04 rating in the 18-49 demographic
June 10 Episode: 124,000 viewers with a 0.05 rating in the 18-49 demographic
June 17 Episode: 111,000 viewers with a 0.03 rating in the 18-49 demographic (post-Against All Odds episode)
June 24 Episode: 111,000 viewers with a 0.03 rating in the 18-49 demographic
July 1 Episode: 69,000 viewers with a 0.02 rating in the 18-49 demographic
July 8 Episode: 120,000 viewers with a 0.04 rating in the 18-49 demographic
July 15 Episode: 109,000 viewers with a 0.02 rating in the 18-49 demographic
July 22 Episode: 104,000 viewers with a 0.04 rating in the 18-49 demographic (post-Slammiversary episode)
July 29 Episode: 113,000 viewers with a 0.02 rating in the 18-49 demographic
August 5 Episode: 103,000 viewers with a 0.04 rating in the 18-49 demographic (post-Homecoming episode)
August 12 Episode: 122,000 viewers with a 0.04 rating in the 18-49 demographic
August 19 Episode: 126,000 viewers with a 0.04 rating in the 18-49 demographic
August 26 Episode: 98,000 viewers with a 0.03 rating in the 18-49 demographic
2020 Total: 8.010 million viewers over 52 episodes
2020 Average: 154,038 viewers per episode