WWE Extreme Rules Results: Roman Reigns Vs. "The Demon" Finn Balor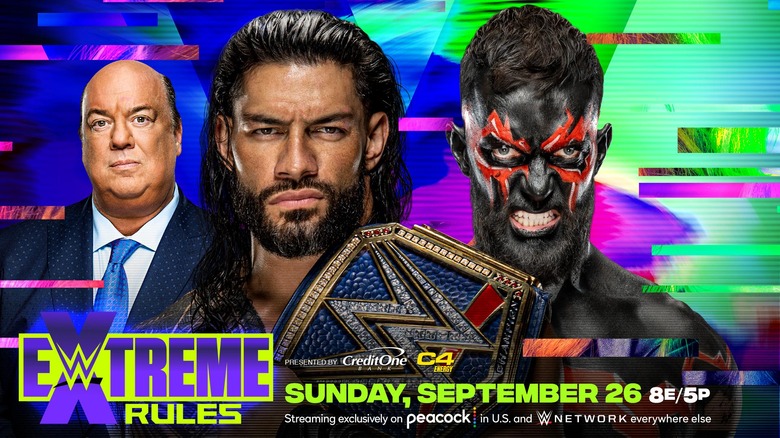 WWE
Welcome to Wrestling Inc.'s live coverage of WWE Extreme Rules from Nationwide Arena in Columbus, Ohio. The main cards starts at 8 pm ET with the Kickoff beginning at 7 pm ET.
Let others know about our coverage by giving this page a quick retweet or share on social media. Click the refresh button on your browser every few minutes to keep up with the live results. Let us know your thoughts on the show by sharing them below in the comments section.
Tonight's PPV is available on Peacock and WWE Network (outside of the U.S.).
- Tonight's Kickoff panel features: Kayla Braxton, JBL, Peter Rosenberg, Booker T, and Kevin Patrick. They run down the card for tonight's PPV. Liv Morgan vs. Carmella is confirmed to be the Kickoff match.
- Video package is shown for WWE SmackDown Women's Champion Becky Lynch and Bianca Belair.
Addressing the ongoing situation with @NaomiWWE, @SonyaDevilleWWE simply states...

She will not be disrespected. #ExtremeRules pic.twitter.com/Nikl1o4YZB

— WWE Universe (@WWEUniverse) September 26, 2021
- Sonya Deville joins the panel. Braxton asks Deville about what her issue is with Naomi. Deville says everyone acts like she has a personal issue with her, and it's not that, Naomi has been unprofessional with her and she's not going to be disrespected like that. She says it doesn't matter who they are or what brand they're on, Deville says WWE officials won't be disrespected. Deville is asked about Becky Lynch vs. Bianca Belair, and Belair losing so quickly in their first match. Deville said Becky is working and being a mom at the same time, and Belair can't use the "I wasn't ready" excuse. Booker agrees that wrestlers always need to be prepared. Braxton wonders if Lynch is just an elite star and Belair isn't on her level. Booker says Lynch had months to prepare and picked her spot. JBL says Belair went for a handshake and it ended up costing her the title.
- Two weeks ago on RAW, recap of Big E cashing-in to beat Lashley for the WWE Championship. Last week, Big E cut a promo and gave thanks after winning the title. We then see Lashley getting involved in the six-man match between The New Day and The Bloodline. Bloodline won that match. Later in the night, Roman Reigns won a triple threat against Big E and Lashley.
CHAOS has already erupted backstage at #ExtremeRules! 😮@WWEBigE @TrueKofi @AustinCreedWins @fightbobby @AJStylesOrg @TheGiantOmos pic.twitter.com/FhyHUDgCQF

— WWE (@WWE) September 26, 2021
- Backstage, Sarah Schreiber goes to talk with The New Day, but AJ Styles and Omos interrupt. The New Day head in and talk some trash to AJ, but Lashley shows up and starts a big brawl. A bunch of people get involved to help separate the two sides. We'll see if that ends up in a six-man tag match later tonight.
- Recap of Jeff Hardy earning his spot in tonight's WWE US Championship Match with Damian Priest and Sheamus. Panel discusses the dynamics of a triple threat match and how Priest could lose his title without even getting pinned.
- The New Day vs. AJ Styles, Omos, and Bobby Lashley has been added to the main card.
- Booker T says for Big E to be the best champion, he can't keep helping out his friends. He needs to remain focused on his run if he wants to remain champ. JBL says he's ditched friends for a bar tab.
- Panel talks about tonight's WWE SmackDown Tag Title Match. Backstage, The Street Profits head into the building, both in a very serious mood. Montez Ford says he has no intention of leaving without the tag titles. He tells Dawkins if he has any other intentions to let him know, Dawkins says he's focused and ready. He didn't appreciate The Bloodline jumping his partner 3 on 1, and that's not happening tonight.
ARRIVING. IN. STYLE. 👑#ExtremeRules @MsCharlotteWWE pic.twitter.com/3VoTXITL0K

— WWE Universe (@WWEUniverse) September 26, 2021
- Video package shown for WWE RAW Women's Champion Charlotte vs. Alexa Bliss. Charlotte arrives to the building in a limo.
- Sonya Deville returns to the panel to talk Charlotte vs. Bliss. Deville says Charlotte is fed up with the games and dolls, it's not in her realm. Deville finds Bliss very resourceful and it could be a tough match-up for the champion. Rosenberg says people shouldn't forget about Bliss' actual skill set and that she is a former multi-time champion.
- Pat McAfee and Michael Cole at commentary. If you're hearing both the English and Spanish commentary at the same time, you're not alone...
Liv Morgan vs. Carmella
Before the match starts, Carmella gets on the mic to gloat about her looks. She says her face is her greatest asset and opens so many doors for her. She knows Liv can't relate, but her face is what separates her from "nasty people like you." That's why Liv attacked her face and she should be ashamed of herself. "Listen honey, I'm hot...and you're not." Morgan attacks Carmella before the bell rings. She backs away and now the match is official as the two scramble a bit. Carmella with a kick, but gets thrown into the corner. Morgan with a splash and tries to send her into the corner, Carmella blocks it, but then gets dropkicked.
WATCH HER.@YaOnlyLivvOnce will NOT be disrespected! #ExtremeRules @CarmellaWWE

🦚 https://t.co/5FC5w1zamA
🌎 https://t.co/aEwGYUp0uE pic.twitter.com/2yLDLdrUgl

— WWE (@WWE) September 26, 2021
Carmella out to the floor, Morgan tries for a kick, nope, Carmella trips her up on the apron. Back in the ring, Carmella with a seated senton on Morgan, cover, two. She follows up with a suplex, cover, two, reverse chin lock. Carmella continues to work over Morgan. Liv showing some fight with punches, lou thesz press, running knee in the corner, big stomp to the mat, cover, two-count. Both trade roll-ups, no luck. Carmella plants Morgan to the mat, cover, two. Thrust kick to the face, cover, two. She's freaking out and thinks it was a slow count. Crowd booing Carmella. Morgan drops Carmella with double knees to the face, cover, two.
LIVing for THIS.@YaOnlyLivvOnce picks up the HUGE win over @CarmellaWWE LIVE on #ExtremeRules Kickoff! pic.twitter.com/dGyFOXEkmC

— WWE (@WWE) September 26, 2021
Morgan runs into a kick, Carmella with a triangle lock in the ropes, she ducks a punch and beats up Morgan on the apron. She yanks Morgan out to the floor as the crowd chant "Let's go Morgan!" Carmella tries for a kick, blocked, and she's sent face-first into the announce table. Carmella tossed back in the ring, Morgan hits her finisher off the ropes, cover, and that will do it.
Winner: Liv Morgan via Pinfall
- Video package for WWE Universal Champion Roman Reigns vs. Finn Balor. Backstage, Sarah talks with Paul Heyman and wonders if Reigns is now taking Balor more seriously after Friday's SmackDown. Heyman says that was the stupidest question he's ever been asked. Heyman then says sarcastically, they have actually overlooked the demon! He's been champion for over a year and has just been eating burgers all weekend! More seriously, he says Reigns will be your winner and head to Crown Jewel to face Brock Lesnar as the champion! "That's not a prediction, that's a spoiler," Heyman says as he heads out. The panel hypes tonight's big title match as the Kickoff comes to a close.
The New Day (Big E, Kofi Kingston, and Xavier Woods) vs. Bobby Lashley, AJ Styles, and Omos
For those on Peacock, you are probably hearing English and French commentary. Great stuff! Woods and Styles get things started. Woods sends Styles into the corner, chop, runs him into the opposite corner. Styles looks for the calf crusher right off the bat, Woods quickly gets to the ropes. Kingston then tags in as the crowd chants "Kofi!" Kingston with a flurry of kicks, missing trouble in paradise, both flip out of back body drops, Styles with a chop block to Kingston.
You wanted the champ? YOU GOT 'EM.#ExtremeRules @WWEBigE @AJStylesOrg pic.twitter.com/jks11GcN4K

— WWE (@WWE) September 27, 2021
Styles says he'll take all of their legs out! Big E tags in, Styles keeps running his mouth and takes a big lariat. The champ tosses Styles into his own corner and wants Lashley. The two throw shots, big with a kick, shot to the back, and runs him over with a clothesline. Lashley getting beat up by New Day, so he heads out to the floor. Kingston tries for a splash and gets caught. Woods then nails a dropkick off the apron to put Lashley down to the ground. Back in the ring, Lashley recovers and launches Kingston across the ring. He beats Kofi up in the wrong part of town, shoulder thrust in the corner.
Omos tags in and wails away on Kofi. He tries to fight back, but can't get any momentum against the big man. Huge european uppercut sends Kofi to the mat. Delayed flapjack on Kofi, foot on his throat pin attempt, two. Styles get into the match and continues the assault on Kingston. Styles goes for an attack on New Day, but the ref was in the way. Styles barks at the referee and when he turns around Kingston puts him down. Lashley tags in, charges, low bridge by Kingston. Lashley quickly pulls Big E down, throws him into the barricade, then the stairs. Woods is also taken out. Back in the ring, Lashley plants Kofi, cover, two.
XAVIER'S ON A ROLL.#ExtremeRules @AustinCreedWins pic.twitter.com/3W7Tr70wka

— WWE Universe (@WWEUniverse) September 27, 2021
Kingston flipped out Lashley's arms, but he's got nobody to tag at the moment. Lashley swings away on Kingston. Woods finally gets a tag, lands multiple strikes, punches to the head in the corner, shotgun dropkick, looks for a DDT and is shoved away. Lashley chargers the corner, eats a kick to the head, swinging DDT, cover, two-count. Lashley then catches Woods, big slam, cover, two. Woods on the top rope, stopped by Lashley, Woods eats some punches, but is able to shove off Lashley. Woods with a big missile dropkick. Big E finally makes his way back up on the apron and wants a tag. Big E in, Styles in and he takes an overhead suplex, then another one. Big E swings on Omos to get him off the apron. Big E with a belly-to-belly suplex, running splash, and Big E hypes up the crowd.
He looks for big ending, Styles throws a combo of strikes, pele kick, charges and gets slammed hard to the mat, cover, two. Styles put up on the top rope, the champ looks for a superplex, no, Styles slipped up and pulls Big E down. Styles ends up on the apron, Big E looks for his signature spear, leg lariat counter by Styles, cover, two, another pele kick to the champion. Kofi with the blind tag and blasts Styles in the face with a kick. Big E holds Styles up, Kofi with a double stomp off the top rope, cover, Lashley breaks it up and drags Styles to his corner.
Lashley tags in flips and drops Kofi, cover, two. Lashley out to the floor, ends up favoring his left knee (same injury from a few weeks back). Styles sent out to the floor next to him. Big E launches Kofi out on them, but Omos gets in the way and chops him down. Styles takes down Woods. Back in the ring, Lashley drops Big E. Styles tags himself in, Lashley didn't like that. Styles with the phenomenal forearm, nope, rolls through. Lashley tags himself back in. Lashley mistakenly spears Styles as Big E moves. Big E with the big ending on Lashley for the win.
Winners: The New Day via Pinfall
- Backstage, Becky Lynch gets ready for her match against Bianca Belair.
- Pat McAfee greeted the audience with some Spanish and then French, lol, nice jab at Peacock for the earlier audio issues.
The Usos (c) vs. The Street Profits (WWE SmackDown Tag Team Championship)
Dawkins and Jimmy get things started as Dawkins blasts him with a shoulder tackle.Back and forth action until Jey and Ford tag in. Ford gets in some shots until Jimmy hits him with a kick from behind. Ford's ribs are taped up after that attack by The Bloodline on Friday's SmackDown. Ford out to the floor, Jimmy jams him into the edge of the ring, rolls him in, cover, two. Jey tags back in, double suplex on Ford.
The Usos continue to focus Ford's banged up ribs. Off comes the tap around the ribs. Ford is so close to tagging out, but he just can't quite get there. Ford flips out of a back suplex, Jey charges the corner, nobody home and he hits the ring post. Dawkins finally gets the tag and throws multiple clotheslines, flying elbow, flapjack, twisting splashes in the corners. He sends Jey out to the floor, Jimmy tries to head to the top rope and is met by Dawkins. Dawkins with a superplex, twisting neckbreaker, cover, two-count.
2️⃣ words for ya: BLOCK. BUSTER.#ExtremeRules @MontezFordWWE @AngeloDawkins pic.twitter.com/gF04ieRqwQ

— WWE (@WWE) September 27, 2021
Dawkins puts Jimmy on his shoulders, Ford with a blockbuster, slow to cover, two. Dawkins gets dropped by The Usos. He crawls over to his corner, but nobody is there. Jey with a running hip attack in the corner. Ford jumps up and makes the blind tag. Ford with a boot to the face, Dawkins with a spinebuster, Ford hits a big frog splash, cover, two. Ford with more kicks, Dawkins tags back in, lifts Jey up on his shoulders. Ford slowly going to the top, Dawkins shoved into the ropes and crotches Ford. Big kick to Dawkins. Jimmy with an uso splash, pin attempt, two-count.
MONTEZ OUTTA NOWHERE!!!#ExtremeRules @MontezFordWWE pic.twitter.com/AWXACVn1Md

— WWE (@WWE) September 27, 2021
Usos both sent out to the floor, but they grab Dawkins and throw him into the barricade. Ford with a huge flip over the corner of the ring and takes out both guys. He throws one in the ring, frog splash, slow to cover, and it's broken up at the last second. "This is awesome!" from the crowd. Dawkins takes a superkick and goes out to the floor. Ford with a roll-up, two, and eats a superkick to the ribs. Usos with double superkick to the head, double uso splash on Ford, cover, 1-2-3.
Winners: The Usos via Pinfall
- Backstage, Bobby Lashley calls Big E "chicken s***" for how he cashed-in and won the title off him. Lashley dares him to fight one-on-one on tomorrow's RAW. "I want my title back!" Lashley yells.
Charlotte (c) vs. Alexa Bliss (WWE RAW Women's Championship)
The two are in no hurry to engage. Crowd with a hometown "Let's go Bliss!" chant. Charlotte says nope to that, and shoves Bliss down. She tries to taunt, but Bliss does some of her own. Bliss with a hurricanrana, dropkick, looks for a DDT and Charlotte shoves her off. Charlotte with a big boot, misses, kicked out to the floor. Bliss with a cannonball senton down on her opponent. Charlotte runs back into the ring, misses a clothesline, Bliss leaps into the ropes and watches Charlotte. She jumps, but gets caught, backbreaker, slam to the mat, and then sent face-first to the mat a couple times.
Charlotte with a couple chops, tilt-a-whirl backbreaker, pin attempt, two-count. Charlotte then stretches out Bliss, yanking her arms behind her back. Bliss twists her away and hits a jawbreaker. Charlotte with a kick to the midsection, double underhook and stretches Bliss again, upside down this time. She flips up to Charlotte's shoulder and sends her into the bottom turnbuckle.
Absolute viciousness on display from the 1️⃣2️⃣-TIME #WomensChampion.#ExtremeRules #WomensTitle @MsCharlotteWWE pic.twitter.com/Ha7lmZXz6R

— WWE Universe (@WWEUniverse) September 27, 2021
Charlotte drops Bliss, tries to go to the top turnbuckle, Bliss trips her down, then kicks her to the floor. Bliss tries for a hurricanrana, nope, Charlotte swings her into the barricade. Back in the ring, Charlotte tries a moonsault, lands on her feet, standing moonsault catches Bliss, cover, two. Multiple pins from both wrestlers, no luck. Charlotte lift and powerbombs Bliss, cover, two. Charlotte with a moonsault, feet to the face, Bliss with code red, cover, two. Bliss frustrated she didn't get the three.
NOBODY HOME for #TwistedBliss!#ExtremeRules #WomensTitle @AlexaBliss_WWE @MsCharlotteWWE pic.twitter.com/gmcm8DdweA

— WWE Universe (@WWEUniverse) September 27, 2021
She heads to the top rope, twisted bliss, nobody home! Charlotte looks for figure-eight, Bliss with the roll-up for two. DDT to Charlotte, cover, Charlotte gets a foot on the rope. Charlotte grabs Lilly, Bliss wants it back, Charlotte throws it to her, big boot. She throws Bliss into the ring post, natural selection on Bliss, cover, 1-2-3.
Winner: Charlotte via Pinfall
Winning wasn't enough for @MsCharlotteWWE...

SHE WANTS TO END LILLY. #ExtremeRules pic.twitter.com/bpaNH0igMu

— WWE (@WWE) September 27, 2021
- Post-match, Charlotte grabs the doll and rips it into pieces. "Stupid doll!" She picks up a piece of the doll and holds it up with her title. Bliss jumps on Charlotte, swings and kicks away. She jumps down on Charlotte and keeps swinging away. Charlotte finally gets a hold of her and sends her over the announce table. Back at ringside, we see Bliss rise up on the table and freak out over her destroyed doll. She gets into the ring to find her doll trashed. She sits with and tries to put it together. The crowd chants "Thank You, Lilly" Bliss scream and freaks out. Looks like she's foaming at the mouth a bit? Bliss goes to the stage and sits again, screaming out. I think she has a tablet in her mouth, but it's not really fizzing as intended. She makes her way to the back.
- Paul Heyman talking to someone on the phone about the upcoming Draft being historic. Kayla Braxton is right nearby trying to listen in. Paul Heyman says he'll call them back and mocks Braxton a bit. He says "Do you think it's Brock Lesnar?" and teases it may or may not be. The Usos are celebrating and walk by. Heyman says he has to head out.
Damian Priest (c) vs. Sheamus vs. Jeff Hardy (WWE US Championship)
Sheamus blasts Hardy with a knee out of the ring just as the bell rings. Priest and Sheamus battle their way out to the floor as Priest swings away at his opponent. Sheamus able to battle back and put Priest down for a moment on the outside. Sheamus gets back in the ring and hits an irish curse backbreaker on Hardy. He does some taunting. He kicks Priest out to the floor again.
🤫💨🍃#ExtremeRules @JEFFHARDYBRAND pic.twitter.com/Ng7VmY9gu1

— WWE Universe (@WWEUniverse) September 27, 2021
Sheamus with shots to Priest's chest, Priest ends up countering and doing it back to Sheamus. He then yanks Priest over the top rope. Hardy with a second rope dropkick on Sheamus. Hardy with an inverted atomic drop, leg drop, basement dropkick, running splash but Sheamus gets the knees up, cover, two. He goes for another pin, Priest breaks that up. He goes after Hardy and eats an elbow, as does Sheamus. Hardy up top and clocks them with whisper in the wind, cover on Sheamus, two-count.
Sheamus Hardy.#ExtremeRules @WWESheamus pic.twitter.com/Jd4Er480MH

— WWE (@WWE) September 27, 2021
Sheamus with an alabama slam on Hardy. Sheamus loses his mask while performing the move. He then locks in the texas cloverleaf. Hardy ends up getting to the ropes and the ref says no rope break. Priest blasts Sheamus to get him away from Hardy and hits a kick to the face. Priest leaps in, caught, white noise, cover, and Hardy stops that. Hardy with a twist of fate and Sheams out to the floor. Priest with a bell ringer on Hardy. Hardy reverses, they both fall, Hardy tries for a dragon sleeper, but Priest gets out of it. Hardy then hits a rough looking twist of fate and heads to the top rope. Sheamus then shoves Hardy off and he crashes down on the ropes. Sheamus goes up top and does his best Jeff Hardy impression, knee drop, cover, two.
.@WWESheamus... FROM THE TOP ROPE?!?! 😳🧐#ExtremeRules #USTitle @ArcherOfInfamy @JEFFHARDYBRAND pic.twitter.com/faSTTMxQfA

— WWE (@WWE) September 27, 2021
Sheamus with more taunting, brogue kick misses. Priest charges, eats a big kick. Sheamus flips up to the top rope, but Priest grabs him by the throat and slams him down to the mat, cover, Hardy with a swanton bomb on Priest's back! Back and forth shots by Priest and Hardy. Hardy tries for twist of fate, no, kick to the face by Priest. Priest springboards into a big kick by Sheamus. Hardy shoves SHeamus out of the ring, cover on Priest, two! Hardy with a roll-up on Sheamus, two, brogue kick takes out Hardy. Priest with the roll-up on Sheamus, 1-2-3.
Winner: Damian Priest via Pinfall
- Post-match, Hardy and Priest shake hands and do each other's taunts. Lonely Sheamus looks lonely on the stage.
- Backstage, Big E says Lashley has lost his mind. He doesn't hide behind anyone! He accepts Lashley's challenge for a title match on Monday's RAW. Michael Cole later announced it will be the opener for the show.
Becky Lynch (c) vs. Bianca Belair (WWE SmackDown Women's Championship)
"EST" chant to start the match off. Lynch offers a handshake, Belair throws a shot, misses, back elbow out of Lynch's slam. She looks for KOD, but Lynch bails out to the floor. Crowd is fairly split, leaning a bit towards Belair. Bianca runs over Lynch, leap frog, but Lynch catches her and tries for an armbar. Belair fights out of it, but then eats a kick to the midsection. Lynch sent into the corner, and again, Lynch slammed to the mat, Belair with the running splash.
Lynch recovers and throws some shots in the corner. Belair sent into the turnbuckle, Belair with a tap to the backside as she taunts Lynch. She charges in, gets dropkicked, and rolls out to the floor. Lynch hears Cole's commentary and doesn't like it. She gives him a piece of her mind. Cole says she should worry less about him and more about the challenger. Back in the ring, Lynch ends up yanking Belair's hair over the top rope. Lynch yells "I'm the best!" as she keeps Belair down.
Did somebody say STRONGEST?#ExtremeRules #WomensTitle @BiancaBelairWWE pic.twitter.com/T9f4hZuWHA

— WWE Universe (@WWEUniverse) September 27, 2021
Belair able to lift Lynch up, Becky slips out and just yanks Belair down to the mat by her hair. Lynch is in a real foul mode tonight, barking at the crowd, "shut your face!" She then chokes Belair against the ropes. Couple reversals, Lynch with kicks in the corner, bex-ploder, cover, two. Crowd really into this one. Becky with a sleeper, Belair slams her into the corner and then hits a suplex to break the hold. Belair catches fire with a flurry of strikes, suplex, rolls through, delayed vertical suplex, kip-up, and she fires up the crowd. Belair with punches in the corner. Lynch slips underneath and tries to pull Belair back by her hair. Belair fights that off and pulls Lynch in by her own hair, spinebuster, cover, two.
Lynch hops to the second rope, leaps and ends up getting caught by Belair. Fallaway slam, cover, Lynch gets her foot on the rope. Lynch tries to go up top, Belair follows, big elbow, Belair with a military press, Lynch slips out, into the dis-arm-her. Belair gets a foot on the rope for the break. Lynch again pulls at Belair's hair, the two go out to the floor. Lynch ends up sending Belair into the steps. Belair tossed back in the ring, Lynch with a leg drop down on Belair, cover, two. Another second rope leg drop to the back of Belair's neck, pin, two-count.
.@BiancaBelairWWE looks to OVERPOWER @BeckyLynchWWE in pursuit of the #SmackDown #WomensTitle at #ExtremeRules! pic.twitter.com/ft3C5yuWpF

— WWE (@WWE) September 27, 2021
Belair out of the man-handle slam, looks for a vertical suplex, but Lynch gets out of it and tries for the dis-arm-her. Belair with the roll-up, two, and they go right back into the same submission. Belair lifts and slams Lynch down to the mat, cover, very close three! Both throwing some haymakers in the middle of the ring. Belair with the roll-up, two. Lynch tries one, as well, two. Belair with a roll-up, but Lynch reverses into her submission. Belair ends up just standing and putting Becky in KOD. Just as she goes to hit it, out runs Sasha Banks with the run in and attacks Belair!
Winner: Bianca Belair via DQ
- Post-match, Banks beats up Belair, kick to the face in the corner. Lynch thinks Banks helped her out. She goes for a handshake and gets dropped. Belair back in and takes a big slap to the face and a backstabber. Banks drops Lynch with a knee to the face and another backstabber. She stands tall in the ring. Banks heads to the stage and looks at the two still in the ring. Banks says she'll see them this Friday on SmackDown.
A demon walks among us.#ExtremeRules @FinnBalor pic.twitter.com/Wij3NfjUJS

— WWE (@WWE) September 27, 2021
Roman Reigns (c) vs. "The Demon" Finn Balor (WWE Universal Championship)
Reigns throws Balor down, but it doesn't seem to bother him much. Balor lands a few strikes that seems to surprise Reigns. Balor gets blasted in the face, drops down and comes right back up. Back and forth shots. Reigns looks for a power slam, Balor rakes the eyes and jaw, more kicks to the hamstrings. Reigns tries for an early pin, two. Reigns decides it's time for some weapons and brings out a kendo stick from under the ring. He turns around and Balor isn't in the ring. Balor pops up from the other side of the ring with four kendo sticks wrapped together!
THE DEMON BROUGHT HIS OWN KENDO STICKS?!#ExtremeRules #UniversalChampionship @FinnBalor pic.twitter.com/VDIB8mqiFu

— WWE Universe (@WWEUniverse) September 27, 2021
They get in the ring and Balor cracks Reigns in the midsection and clocks him a few more times with them. The battle and Balor gets Reigns trapped between the ring skirt and the ring, he stomps away and then just boots Reigns in the face. Crowd has been calling for a table all night, Balor finally brings one out and they pop big. Reigns then hits him with a big punch and they boo. "Ohio is filled with a bunch of dumbasses! No tables!" Reigns says. More boos. Reigns grabs a chair, both in the ring, and he swings away on Balor.
"NO TABLES! NOT TODAY!" – @WWERomanReigns#ExtremeRules #UniversalChampionship @HeymanHustle pic.twitter.com/uhBWmspb4L

— WWE Universe (@WWEUniverse) September 27, 2021
Balor trips up Reigns, the chair lands on his chest and Balor with a standing double stomp. "Tables!" yells the crowd. Both out on the floor, Reigns thrown into the steps. Balor brings the table back out. Commentary has just stuck with calling him "The Demon." Balor slides the table in the ring, but Reigns hits a drive-by, sending Balor into the ring post. They go out into the crowd (Reigns eventually puts a mask on) and Balor continues to get beat up. Reigns throws him over the Kickoff panel table. He then throws Balor on the table and follows him. Balor fights back, kicks to the head send Reigns off the table. Balor then leaps off and hits a crossbody, sending the champ through another nearby table.
You want tables? The #HeadOfTheTable says fine.#ExtremeRules @WWERomanReigns @HeymanHustle pic.twitter.com/waj1aH4oSH

— WWE (@WWE) September 27, 2021
Title can only be won in the ring, so he gets Reigns moving back toward there. Balor sets the table up in the middle of the ring, Reigns gets up and throws Balor straight through it, cover, two. "This is awesome!" chant from the crowd. Reigns barks at the crowd and looks for the superman punch. Balor sidesteps it, throws a few shots, pele kick, but then eats a superman punch, cover, 1-2-no. Heyman hyping up Reigns, "All day! Every single day! I'm the head of the table!" Reigns yells. He looks for a spear, Balor kicks him in the face. Slingblade by Balor, charges in and takes a spear, cover, 1-2-no! Lowblow kick-out by Balor, lol. Balor up to the top, coup de grace hits, cover, and The Usos pull him off. Usos attack him on the floor, double superkick and they bring out another table.
The distraction of The @WWEUsos leads to ... BAM!#ExtremeRules @WWERomanReigns @FinnBalor @HeymanHustle pic.twitter.com/nCEorg7ycK

— WWE (@WWE) September 27, 2021
Table set up on the floor. They look to put him through it, but he fights back. Sends one into the barricade and slingblade on the other. Balor powerbombs Jey through the announce table. Balor turns around and Reigns sends him crashing through the barricade near the timekeeper's table. That whole thing came down in awesome fashion. Suddenly, we hear a hearbeat. Red lights are flashing as Balor flops around. He finally gets up and screams as we hear a part of his music. The red lights stay on as he blasts Reigns with a chair.
THE DEMON HAS RISEN.#ExtremeRules @FinnBalor pic.twitter.com/CzEWHwBYVN

— WWE (@WWE) September 27, 2021
He then hits a running dropkick that sends Reigns through that table on the floor. Balor's music is just playing on. Smoke coming up from around the ring. Balor climbs up to the top rope and the top rope just collapses out of nowhere?! The red lights go off. Balor holding his knee and trying to get up. Reigns with a spear, cover, 1-2-3.
Winner: Roman Reigns via Pinfall
- Post-match, Reigns and Heyman seem a bit confused with what happened with the ropes, but celebrates nonetheless. Reigns makes his way to the back saying he's still the head of the table.
An absolutely W I L D ending ... and a lucky break (literally) for @WWERomanReigns? #ExtremeRules @HeymanHustle @WWEUsos pic.twitter.com/Xwl44085os

— WWE Universe (@WWEUniverse) September 27, 2021