WWE NXT UK Results (9/23): A-Kid, Nathan Frazer & Rampage Brown Vie For Top Title Spot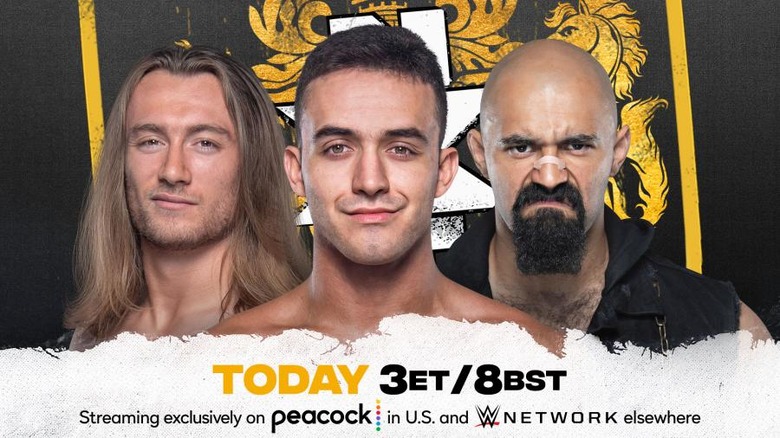 Welcome to Wrestling Inc's live coverage of WWE NXT UK, which airs every Thursday at 3 PM EST on Peacock (in the United States) and WWE Network (everywhere else). Be sure to chime in on your thoughts about today's show in the comments section below. Additionally, share our live coverage through social media. Make sure to click the REFRESH button to continue to get the most current up-to-date coverage. Above and below is what's on today's agenda:
TODAY on #NXTUK!

👊 @WWEFrazer vs. @AKidWrestler vs. @RampageBrown
👊 @WolfgangYoung vs. @TeomanWWE
... and MORE!@peacockTV | @WWENetwork https://t.co/O4rnNH6ve7

— NXT UK (@NXTUK) September 23, 2021
Andy Shepherd and Niguel McGuinness welcome fans to WWE NXT UK! We kick things off with the conclusion of the semifinals for the NXT UK Heritage Cup No. 1 Contender's Tournament!
Wolfgang (w/Mark and Joe Coffey) vs. Teoman (w/Rohan Raja)
Round 1:
Teoman looks for a knee strike on Wolfgang just after the bell sounds. Wolfgang stalks Teoman across the ring and lands a few forearm blows. Teoman focuses on some chops before driving Wolfgang down on the mat with a wristlock. Rohan Raja distracts Wolfgang as he climbs to the top rope. Wolfgang drops down, and Teoman trips him up with a chop block. Wolfgang recovers quickly and hits a powerslam on Teoman to pick up the first fall.
Wolfgang: 1     Teoman: 0
Round 2:
Teoman gets rung with multiple European uppercuts as this round gets going. Teoman sends Wolfgang out of the ring and slams Wolfgang's left arm onto the apron. They make their way back into the ring. Wolfgang plants a big clothesline that sends Teoman over the top rope. With 60 seconds left, Teoman assaults Wolfgang by wrapping his head in the ring skirt and smacking him around. Teoman jumps off the top rope with a dropkick for a two-count. Teoman looks for a crossface. Wolfgang counters with a thunderous punch that concludes this round. Neither man picks up a fall.
Very, very clever. #NXTUK @TeomanWWE @WolfgangYoung pic.twitter.com/U88qCy0S3j

— NXT UK (@NXTUK) September 23, 2021
Wolfgang: 1     Teoman: 0 
Round 3: 
Both men kick things off with knife-edge chops. Teoman focuses on Wolfgang's left arm injury. Teoman picks up the momentum with a low sliding forearm that allows him to gain his first fall in this bout.
Wolfgang: 1     Teoman: 1
Round 4:
Wolfgang clubs Teoman with another clothesline. Teoman fires back with a dropkick to Wolfgang's injured arm. Teoman stacks Wolfgang up for a near-fall. Wolfgang floors Teoman once again with an uppercut. Mark and Joe Coffey take care of Rohan Raja on the outside. Wolfgang splits Teoman in half with a damaging spear. Wolfgang goes for the cover. 1-2-3, Wolfgang is moving on to the finals of this tournament!
Wolfgang: 2     Teoman: 1
Winner: Wolfgang
Wolfgang will meet Noam Dar in the finals of this tournament!
.@NoamDar, @WolfgangYoung will see YOU in the #NXTUK #HeritageCup No. 1 Contenders Tournament FINALS!@m_coffey90 @Joe_Coffey pic.twitter.com/pZLrYsSh8t

— WWE (@WWE) September 23, 2021
Backstage: We see Rampage Brown warming up before his triple threat match later today.
- Blair Davenport warns Sid Scala once again, if he doesn't reinstate her, she will continue causing mayhem on NXT UK.
Reinstate me. #NXTUK https://t.co/RimwbZI3VR

— Blair Davenport (@BDavenportWWE) September 23, 2021
- SUBCULTURE runs into Sam Gradwell before spray painting one of the walls backstage.
- Gallus is celebrating in Jordan Devlin's private room. Devlin tries to get through the door, but Gallus just shoves him out. Devlin warns them he's going to make a stink about it to Sid Scala.
- Nathan Frazer is seen reflecting before his main event match later on.
Isla Dawn vs. Jinny (w/Joseph Conners)
Isla Dawn holds the driver's seat at the beginning of this contest. Jinny recovers and slams Dawn's head into the top turnbuckle. Dawn runs the ropes and eats a big elbow from Jinny. Jinny looks for a cover. Dawn kicks out at two. Dawn hammer throws Jinny back into the corner. Jinny sends Dawn face-first into the mat after a trip. She gets another near-fall count. Dawn hits a running knee strike on Jinny while caught up in the ropes.
.@JinnyCouture was ruthless! @IslaDawn #NXTUK pic.twitter.com/wIVNXE7D8Z

— WWE (@WWE) September 23, 2021
Jinny fights Dawn off her on the apron. Dawn plants Jinny face-first on the apron. Joseph Conners and Dawn have a staredown. Dawn takes his hands and gives out a demonic laugh. Jinny stops Dawn in her tracks with her middle rope X- Factor for the pinfall victory.
Winner: Jinny
At the UK Performance Center: Xia Brookside challenges Dani Luna to a match.
.@DaniLuna_pro has 𝙨𝙩𝙧𝙚𝙣𝙜𝙩𝙝, but does she have the 𝙨𝙥𝙚𝙚𝙙 to go one-on-one with @XiaBrooksideWWE? #NXTUK pic.twitter.com/7VI3GkNhoZ

— NXT UK (@NXTUK) September 23, 2021
- A-Kid is getting ready for the main event match, which is up next!
- Another vignette for Charlie Dempsey is shown. He will make his debut next week.
At the UK Performance Center: Trent Seven, Ashton Smith and Oliver Carter are having a heated chat about a tag team match for next week!
Next week:
* "The Irish Ace" Jordan Devlin will face "The Iron King" Joe Coffey
NEXT WEEK: @Jordan_Devlin1 goes to battle against The #IronKing @Joe_Coffey on #NXTUK! pic.twitter.com/PJv9yIfEoO

— WWE Network (@WWENetwork) September 23, 2021
And now, the main event. Who will move forward and become Ilja Dragunov's first opponent for the NXT UK Championship?
A-Kid vs. Nathan Frazer vs. Rampage Brown
A-Kid and Nathan Frazer join a temporary alliance to send Rampage Brown out of the match early. Their plan backfires as Brown takes both men out of the ring. A-Kid puts Brown in an armbar. Frazer breaks it up. Frazer and A-Kid hit in-stereo dropkicks on Brown. Brown spills to the outside. A-Kid runs the ropes and eats a dropkick from Frazer. A-Kid is out. Brown is back in.
Brown tosses Frazer halfway across the ring! A-Kid storms back into the ring, only to get thrown into the corner by Brown. A-Kid recovers to hit some knee strikes on Brown before Frazer joins in with him. Brown manhandles Frazer out of his way. He picks A-Kid up and hurls him into Frazer. Brown hooks the leg on Frazer. Frazer pops out at two. Frazer wiggles free from Brown's offense on the top rope. A-Kid comes in and saves the day. A-Kid puts Brown in a triangle choke. Brown hoists him up and dumps him on top of Frazer!
Brilliant. #NXTUK @RampageBrown @WWEFrazer @AKidWrestler pic.twitter.com/I3GWUapuX0

— WWE Universe (@WWEUniverse) September 23, 2021
Brown looks for a Doctor Bomb on Frazer. Frazer slips out the backdoor with a neckbreaker. A-Kid grabs Frazer, who is up on the second rope. A-Kid latches on and looks for a superplex. Frazer lands on his feet! Frazer takes to the skies on both sides of the ring. Frazer plants A-Kid and Brown with double neckbreakers for a near-fall! Brown recharges and drives A-Kid and Frazer to the mat. A-Kid was seconds away from taking this whole thing. Frazer broke up his chances by popping free at 2.9!
2-for-1 special! #NXTUK @RampageBrown @WWEFrazer @AKidWrestler pic.twitter.com/ZoQSPJXYnq

— NXT UK (@NXTUK) September 23, 2021
A-Kid hits a suplex on Frazer. Then, he floats over with an armbar. Brown runs in and breaks it up. A-Kid hooks in an octopus stretch then turns it into another triangle choke. Brown rises to his feet and sends A-Kid crashing to the mat with a powerbomb! Frazer scoops Brown up and slams him down! Frazer also takes A-Kid off the top rope. A-Kid locks in a sleeper on Brown. A-Kid climbs over with a guillotine choke. Frazer charges over and breaks it up. He looks for a pinfall on Brown following a superkick to the gut. Brown kicks out.
Bronw sends Frazer away with a Doctor Bomb. A-Kid makes the save on the pin. A-Kid comes back in this by locking Brown up again. Brown spills to the outside with a superkick. A-Kid turns his attention back on Frazer and finishes him off with a jumping kick. A-Kid is now the new number one contender to the NXT UK Championship!
Winner: A-Kid
Ilja! #NoPasaras! https://t.co/0aQaXA5NcZ

— A-Kid •El Niño Anónimo• (@AKidWrestler) September 23, 2021
That concludes this week's episode. Thanks for watching!