WWE NXT UK Results (9/30): Joe Coffey Vs. Jordan Devlin, Charlie Dempsey Debuts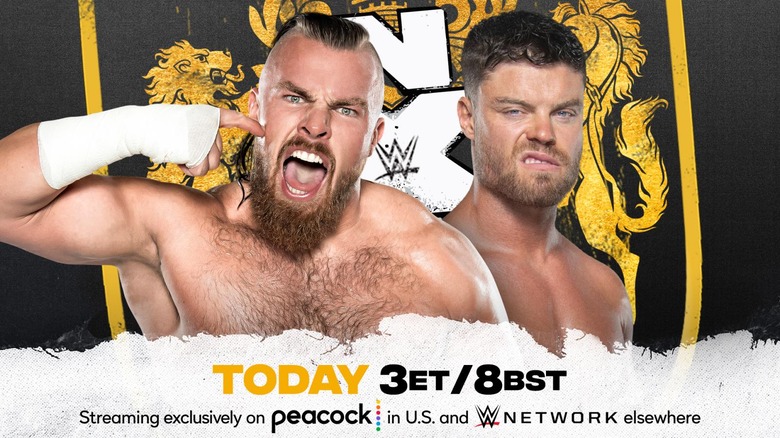 Welcome to Wrestling Inc's live coverage of WWE NXT UK, which airs every Thursday at 3 PM EST on Peacock (in the United States) and WWE Network (everywhere else). Be sure to chime in on your thoughts about today's show in the comments section below. Additionally, share our live coverage through social media. Make sure to click the REFRESH button to continue to get the most current up-to-date coverage. Above and below is what's on today's agenda:
.@Jordan_Devlin1 brawls with @Joe_Coffey, and #MoustacheMountain @trentseven & Tyler Bate battle @olivercarterGH & @AshtonSmith_WWE this THURSDAY at 3 pm ET/8 pm BST. pic.twitter.com/b6rXyt5icv

— NXT UK (@NXTUK) September 29, 2021
Andy Shepherd and Niguel McGuinness welcome fans to WWE NXT UK! We kick things off with some tag team action!
Moustache Mountain (Trent Seven & Heritage Cup Champion Tyler Bate) vs. Ashton Smith & Oliver Carter
Tyler Bate and Oliver Carter get things started. Bate grabs hold of Carter's arm for a wrist lock. Carter breaks it up and administers the same to Bate. Bate flips Carter to the other side of the ring. Trent Seven is tagged in by Bate. Bate helps Seven connect a jumping senton for two. Carter grounds Seven as he tags Ashton Smith in. Smith continues wearing Seven down and turns to Carter for another tag-in. Seven makes a quick comeback and props Carter up against the ropes. Smith grabs a tag from Carter. Smith hits a damaging clothesline, but Seven picks up the lead with a flying crossbody for another near-fall.
👨🏻🏔!!!#NXTUK #TylerBate @trentseven pic.twitter.com/k0DTXdCRGv

— NXT UK (@NXTUK) September 30, 2021
The Heritage Cup Champion is back in. Smith runs back into the ring and drives a chokeslam down on Bate. Bate hoists Carter on his shoulders and takes him on a ride with an airplane spin! Seven briefly steps in, then tags in Bate, who flies in with a top rope senton for two. Seven decks Smith and sends him off the apron. Turning his attention back on Carter, Seven catches him with an Emerald Flowsion for two! Bate takes over for Carter. Carter rocks Bate with some gratifying offense. Bate evades a Doomsday Device and stacks Smith up for a pinfall. Smith wiggles free at two. Just when things seem calm, Symbiosis arrives near the ring. To protect Moustache Mountain, Dave Mastiff and Jack Starz run out to save the day.
Things are getting heated on #NXTUK! @Tyson_T_Bone #TylerBate @olivercarterGH @AshtonSmith_WWE pic.twitter.com/qPuBgz8xlp

— WWE (@WWE) September 30, 2021
Meanwhile, back in the ring, Carter knocks Bate out with a superkick. But it still isn't enough for them to win this yet. Seven rocks Carter with a dragon suplex on the outside! Bate grabs Smith and dumps him with a rope-assisted deadlift German Suplex. Seven comes in as the legal man one more time. Bate hits his rebound lariat, and Seven finishes Smith off with a dragon suplex to capture the pinfall victory!
Winners: Moustache Mountain 
- Jinny and Emilia McKenzie get into a squabble after Jinny's interview.
"What I see here is actually VERY pathetic." – @JinnyCouture #NXTUK @MMckenzieWWE @satomurameiko pic.twitter.com/1QXXWZhHo8

— NXT UK (@NXTUK) September 30, 2021
- Nina Samuels interviews Dave Mastiff and Jack Starz, but she drives the session to be about herself. Mastiff and Starz decide to leave.
Dani Luna vs. Xia Brookside
Dani Luna takes over the driver's seat with a facebuster on Xia Brookside. Once Xia gets back up, they both tangle for control. Dani grabs Xia and looks for a fallaway slam. Xia escapes and looks for a tilt-a-whirl head scissors, but Dani follows it up by smashing Xia's face back on the mat. Dani connects a vertical suplex for two. Dani's power continues to outweigh Xia's offense. Dani traps Xia with a facelcok. Xia throws several gut punches to break it up. Once she escapes, she hits a hurricanrana that creates some space between the two. Xia tried to finish Dani off with a neckbreaker, but it wasn't enough to seal this victory yet. Dani catches Xia with a fallaway slam, then drives her to the mat with a powerbomb. It's nighty-night for Xia and a well-earned victory for Dani!
.@DaniLuna_pro is on another level! 😳 #NXTUK @XiaBrooksideWWE pic.twitter.com/PBxjMh3r6F

— WWE (@WWE) September 30, 2021
Winner: Dani Luna
Post-Match: Dani Luna's handshake to Xia Brookside gets rejected.
- We take a look at Blair Davenport's unruly reign since joining the brand. She is still looking to get reinstated. And clearly, Stevie Turner would like her to return soon, too. Turner marches into Sid Scala's office, demanding payback from Davenport.
.@StevieTurnerWWE wants her payback! #NXTUK @BDavenportWWE pic.twitter.com/QMwvLLBFCO

— WWE (@WWE) September 30, 2021
Backstage: Sam Gradwell and Mark Andrews' bitterness towards one another continues.
Up next, Charlie Dempsey will make his NXT UK debut!
Charlie Dempsey vs. Josh Morrell
Both men test their strength with a lock-up. Charlie Dempsey flips Josh Morrell over and grinds him down on the mat. Morrell gets up and holds Dempsey in a head scissors takedown. Dempsey counters with a textbook side headlock. Dempsey holds Morrell up high and drops him down on the mat, then starts working on Morrell's fingers. Dempsey sends Morrell flying with a massive hip toss for a two. Morrell goes flying again. Both men decide to up the ante by trading seesaw rollups.
LOOK. AT. THAT!#NXTUK #CharlieDempsey pic.twitter.com/ELZ5iH05tZ

— NXT UK (@NXTUK) September 30, 2021
Dempsey holds Morrell in the Fujiwara armbar position. Morrell can't get to the ropes. He rolls through and into a heel hook. Dempsey evades a maneuver from Morrell. Morrell slams himself into the turnbuckles. Coming out of it, he eats a nasty European uppercut from Dempsey. Dempsey rolls Morrell up for another pinfall attempt. Morrell continues to stay alive in his match after being on the gruesome end of a deadlift German bridging suplex.
#CharlieDempsey exerts some incredible strength! #NXTUK pic.twitter.com/nCxACFLfb3

— WWE (@WWE) September 30, 2021
In the closing moments of this match, Dempsey holds Morrell in a double wristlock, then turns it into another Fujiwara armbar. Still, not enough, Dempsey folds Morrell up. Morrell's foot is touching the back of his spine. After enduring this very uncomfortable position, Morrell taps, giving Dempsey his first victory.
Winner: Charlie Dempsey
-  Ilja Dragunov and A-Kid come face-to-face before their epic NXT UK Championship title match. Dragunov asks A-Kid not to be naive and believes he'll be the one to end The Mad Russian's reign. A-Kid's reply is simple. There are three ways he'll go about this bout: tapping him, pinning him or snapping him the way WALTER did for months. Dragunov tells A-Kid he is just a kid, and now is not his time. We'll just see about that when both these men face-off in two weeks!
"Right now, I'm the Czar, and you are just A. Kid." #NXTUK #NXTUKTitle @UNBESIEGBAR_ZAR @AKidWrestler pic.twitter.com/R3iyRlbZzf

— NXT UK (@NXTUK) September 30, 2021
- Next week, Wolfgang will meet Noam Dar in the finals of the Heritage Cup No. 1 Contender's Tournament. We hear from both gents before their high-stakes matchup.
Next week:
* Emilia McKenzie vs. Jinny
* Mark Andrews vs. Sam Gradwell
* Conclusion of the NXT UK Heritage Cup No. 1 Contender's Tournament
And now, the main event!
Joe Coffey (w/Gallus) vs. Jordan Devlin
Both men kick things off with a lockup. Jordan Devlin backs Joe Coffey into the ropes. They restart. Devlin holds Coffey in a tight wristlock. Coffey drops to the mat and reverses the hold. A test of strength follows. Coffey holds Devlin down. Devlin escapes and hops up on Coffey, looking for a codebreaker. Coffey breaks his chances. Devlin floats over with a side headlock. Devlin, with cockiness in his eyes, walks across the back of Coffey, only to turn around and eat a knuckle sandwich from The Iron King.
That'll get your attention. 👀👊#NXTUK @Jordan_Devlin1 pic.twitter.com/R2FZkP9KZQ

— NXT UK (@NXTUK) September 30, 2021
On the outside, Devlin eats another punch. Back in the ring now, Coffey dumps Devlin on the mat with a sidewalk slam. Coffey looks for a cover. Devlin kicks out. Coffey finds himself on the ropes. Devlin creeps up behind and snaps Coffey head-first on the mat with a lung blower. Devlin flies off the ropes with a leg drop for two. Devlin lays in some wicked kicks, and forearm smashes in the corner. Devlin sends Coffey to the ropes. Coffey comes off and crashes to the mat with a hip toss. Devlin holds Coffey down with an abdominal stretch. Coffey makes it up to a vertical position and tosses Devlin to the other side of the ring.
HOW?!?!#NXTUK @Jordan_Devlin1 @Joe_Coffey pic.twitter.com/ka9wiESYiy

— NXT UK (@NXTUK) September 30, 2021
Devlin recovers quickly and mocks Gallus by crossing his arms in front of his chest. That doesn't sit well with Coffey as and hurls Devlin with a belly-to-belly suplex and springboard crossbody. Coffey heads for a cover. Devlin refuses to quit and wiggles out at two. Their brawl temporarily turns into a slugfest. Devlin turns Coffey's All The Best for the Bells into a standing Spanish Fly! Mark Coffey climbs up on the apron with all of Devlin's gear on. Devlin is distracted. Wolfgang holds Joe Coffey's hand so he can avoid Devlin's Side. Coffey pounces Devlin into the corner with his Glasgow Send-Off, then decapitates The Irish Ace with his All The Best for the Bells discus lariat for the main event win.
Winner: Joe Coffey
That concludes this week's episode. Thanks for watching!