WWE SmackDown Results – Finn Balor Vs. Roman Reigns, Bianca Belair Challenges Becky Lynch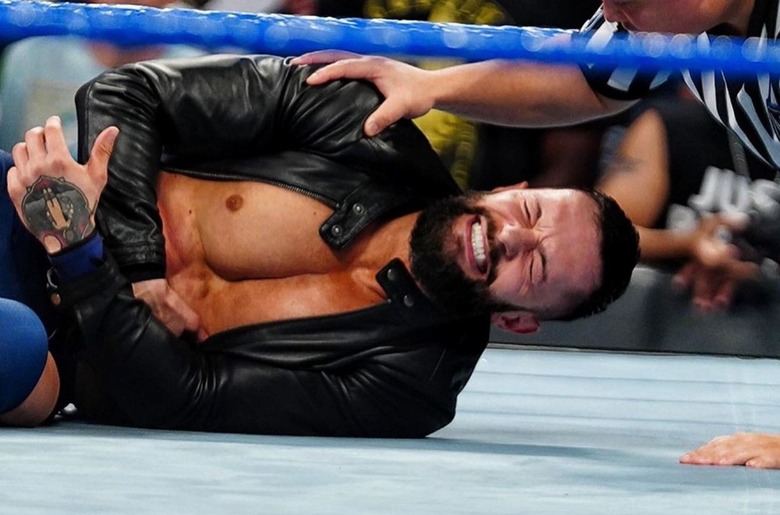 WWE
Welcome to our WrestlingINC.com Live WWE SmackDown Viewing Party. Tonight's show comes from the Vystar Veterans Memorial Arena in Jacksonville, FL.
- Tonight's WWE SmackDown on FOX opens up with a video package to hype tonight's main event. We're live from the Vystar Veterans Memorial Arena in Jacksonville, Florida as fireworks go off inside the arena. Michael Cole welcomes us. He's joined at ringside by Corey Graves, who is replacing Pat McAfee, who is out recovering from COVID-19. Cole says McAfee will be back next week for Super SmackDown from Madison Square Garden.
Championship Contender's Match: SmackDown Tag Team Champions The Usos vs. The Street Profits
We go right to the ring for a non-title Championship Contender's Match as SmackDown Tag Team Champions The Usos come to the ring – Jimmy Uso and Jey Uso. We see WWE Universal Champion Roman Reigns and Paul Heyman watching from the locker room suite backstage. Jey takes the mic and announces that The Bloodline is here. Jimmy wonders why The Street Profits would want to put their nose in their business. Maybe they want to make a name? They go on about how The Profits disrespected The Head of The Table and The Bloodline. They say if The Profits want to prove themselves, do it against The Usos because we are the ones. They drop the mics and out next comes The Street Profits, Angelo Dawkins and Montez Ford, as Greg Hamilton does the introductions.
The Profits cut promos on the way to the ring and taunt the champs. They want the smoke. The bell rings and Dawkins starts off with Jimmy. They lock up and Jimmy drops Dawkins with a shoulder. The Usos play to the crowd for some boos. Uso turns around to a big dropkick. Dawkins with a leaping corkscrew elbow in the corner. Ford comes in and dropkicks Jimmy, then dropkicks Jey as he runs in. Ford shows off for a pop.
Ford looks to kick from the apron but The Usos avoid it and brag about being smart. Ford leaps from the apron with a crossbody as The Usos turn around but they catch him in mid-air, then launch him into the barrier. We go to commercial with Ford down at ringside as The Usos talk trash.
Back from the break and Jey stops Ford from tagging. Ford counters and nails an enziguri. Dawkins rallies on the apron for a tag. Jimmy tags in and knocks Dawkins off the apron, then launches Ford into the corner. Jimmy charges but runs into the ring post as Ford moves out of the way. Dawkins and Jey tag in at the same time. Dawkins unloads but Jey levels him with a 2 count. Jey stomps away and hits the Hip Attack in the corner.
Jimmy tags in and they double team Dawkins, taking him to the top. They climb up for a double suplex but Dawkins fights them off as they waste too much time. Dawkins knocks Jey down first, then Jimmy. Dawkins and Jimmy tangle now but Jimmy nails an enziguri. Dawkins comes back with The Anointment pop-up powerbomb. Ford is legal as he follows up with the big top rope splash but Jey breaks the pin up just in time. Jey sends Ford into the ring post, and again in the opposite corner. The referee calls the match as Jey is not legal and he keeps the chaos going.
Winners by DQ: The Street Profits
- After the bell, The Usos double team Dawkins at ringside and send him into the steel ring steps as fans boo them. Ford runs the ropes and leaps over the top, taking The Usos down at the announce table for a big pop. Cole says Ford may have injured himself on the dive. The Profits stand on top of the announce table now, playing to the crowd and yelling out for a pop. We go backstage to Reigns and Heyman. Reigns tells Heyman to bring him his cousins. We go back to ringside and see The Profits making their exits as The Usos recover.
- Kayla Braxton stops Paul Heyman backstage and asks about everything going on tonight, including Finn Balor vs. Roman Reigns. Heyman tells her to enjoy the moment... we suddenly hear Brock Lesnar's theme music hit. It's just a ringtone on Heyman's phone, apparently Lesnar is calling him and he's embarrassed, or caught off-guard. Heyman ignores the call but Lesnar calls back. Heyman takes the call and stutters around some, noting that he doesn't have a lot of privacy right now. Heyman then says he will deliver the message, whatever that message is. He goes to speak again but it looks like Lesnar hung up on him. Braxton tells Heyman she is definitely enjoying the moment. Heyman turns around and bumps into what looks like a janitor. It's Big E. He pulls out his Money In the Bank briefcase and laughs, taunting Heyman.
- We go back to the ring and out comes SmackDown Women's Champion Becky Lynch to a pop. They air a video package showing what happened last week in the women's division segment, and how Bianca Belair won a Fatal 4 Way Elimination Match over Carmella, Zelina Vega and Liv Morgan to become the new #1 contender. Becky stands tall in the ring now as we go back to commercial.
Back from the break and fans are chanting for Becky. She recalls returning to SmackDown as champ last week. Fans chant "you deserve it" and Becky says that's what she's talking about. She mentions how she didn't get to talk about how good Belair is last week. Becky goes on praising Belair and says we can imagine how excited she was to face Belair at SummerSlam. Becky says somehow out of all this she is being portrayed as the bad guy. Becky says her return saved SummerSlam. When Sasha Banks went down, The Powers That Be called The Man. She goes on about how Belair doesn't get to cry that Becky beat her too fast because she wasn't ready and Becky was. Becky says just because she hasn't played the game in a while doesn't mean she forgot how. Becky says Belair can call her The EST of WWE and claim to be but they both know she's a lie. Becky brags about how easily she ended Belair's title reign. The music interrupts and out comes Belair, swinging her hair and skipping to the ring.
Fans chant "EST!" as Belair takes the mic in the middle of the ring, facing off with Becky. Belair says the title was more to her than just a title, it was a part of her for months and etched her name in the history books. She accomplished so much and came so far but just lost it in 26 seconds. She's not afraid to admit she's embarrassed and she's still hurt but she stands in that because it's her truth. She says she will never make excuses for herself. Becky talks like she knows Belair but no, Belair says she doesn't know her. Belair goes on and talks about how she will prove she's the best when she takes the title back. Becky wouldn't give her a rematch so she went and earned it because that's what she does.
Belair brings up how WWE Universal Champion Roman Reigns is defending his title tonight. She challenges Becky to the rematch on tonight's show. Fans chant "yes!" now. Becky doesn't give a damn what Reigns does. She says no, drops the mic, and walks out of the ring as fans boo. Belair stares her down from the ring. Becky turns around on the ramp and raises the title in the air.
- Dolph Ziggler and Robert Roode are backstage walking. Ziggler stops at Toni Storm and tells Roode he will catch up with him. Ziggler offers Storm a ringside seat to watch his match tonight, or in his corner. She thanks him and says he's a really nice guy, but she's already rooting for Rick Boogs. Ziggler says we're all kind of rooting for Boogs because he's a nice guy. Ziggler walks off.
Rick Boogs vs. Dolph Ziggler
We go back to the ring and Rick Boogs is out with his guitar. He hypes up the crowd and begins playing the guitar as WWE Intercontinental Champion King Shinsuke Nakamura comes out. They jam on the stage as we go to commercial.
Back from the break and Dolph Ziggler is wrapping up his entrance with Robert Roode. The bell rings and they go at it. Boogs overpowers early on and presses Ziggler high above him, then drops him on the mat as Nakamura cheers him on. Boogs keeps control but Ziggler counters a pumphandle slam with a thumb to the eye. Ziggler drives Boogs into the mat for a close 2 count.
Boogs catches a superkick and this time hits the big pumphandle slam in the middle of the ring for the pin to get the quick win.
Winner: Rick Boogs
- After the match, fans pop as Boogs stands tall in the middle of the ring. Nakamura rushes the ring to celebrate with him as Boogs takes his guitar. Ziggler and Roode seethe.
- Adam Pearce and Sonya Deville approach Becky Lynch backstage and announce that she will defend against Bianca Belair at Extreme Rules. The contract signing will take place next Friday from Madison Square Garden.
Seth Rollins vs. Cesaro
We go back to the ring and out comes Cesaro. The announcers talk about Pediatric Cancer Awareness Month and supporting Connor's Cure. Back to commercial.
Back from the break and Kayla is backstage with Seth Rollins, asking why he requested this WrestleMania 37 rematch tonight. He says tonight is the perfect time for a new beginning. Rollins talks about WWE Hall of Famer Edge and how he keeps watching their SummerSlam match. Rollins figured out what he needed to do to win that match, and he will use this information tonight to defeat his rival Cesaro. Rollins makes his entrance tot he ring now as Cesaro looks on.
The bell rings and they go at it. Cesaro catches Rollins with a big tilt-a-whirl backbreaker to start. Rollins goes to the floor for a breather but Cesaro follows and nails a running uppercut against the barrier. Cesaro slams Rollins face-first into the barrier, then brings him in at the 7 count. Rollins breaks a headlock and then dropkicks Cesaro. Rollins looks to keep the momentum going but Cesaro dropkicks him.
Cesaro goes for the Cesaro Swing but Rollins avoids it by getting the ropes. Rollins misses an enziguri and gets sent into the ropes. Rollins plants Cesaro face-first into the mat for a close 2 count with Edge's Impaler DDT. Rollins sits up on his knees and laughs as we go back to commercial.
Back from the break and Rollins looks to mount offense but Cesaro nails a big uppercut. Cesaro goes up for a superplex but Rollins slides down and launches Cesaro across the ring with a big Buckle Bomb. Cesaro kicks out at 2. Rollins continues smiling. Cesaro blocks a neckbreaker and delivers another uppercut. Rollins uses Edge's Edge-O-Matic but Cesaro kicks out. They go on and Cesaro blocks a Stomp, then powerbombs Rollins for a close 2 count. Cesaro unloads with strikes now as fans cheer him on. Cesaro with a running uppercut in the corner, then a clothesline for a close 2 count.
Cesaro plays to the crowd for a big pop now as they rally for him. He calls for the Swing but Rollins counters and rolls him for a 2 count. Cesaro runs into a boot int he corner. Cesaro blocks a Slingblade and goes for the Swing now, hitting it in the middle of the ring as fans count along with him. Cesaro applies the Sharpshooter but Rollins breaks it by getting the bottom rope. Rollins goes into the ropes and kicks Cesaro with a cheap shot but Cesaro sends him over the top rope. Cesaro runs around the ring with another uppercut into the barrier but Rollins gets up a steel chair and Cesaro collides with it. The referee calls for the disqualification.
Winner by DQ: Cesaro
- After the bell, Rollins takes the chair and attacks Cesaro at ringside as fans boo. Rollins brings Cesaro back into the ring and now he has a second chair while seething. Rollins breaks the steel rod off the chair and uses it to apply the Crossface as Edge did, which Edge called The Glasgow Grin. Fans boo Rollins and he finally breaks the hold. Rollins yells at the crowd to shut up as the boos continue. Referees rush down to check on Cesaro but Rollins delivers a Stomp to put him down face-first into the mat. Rollins brings another chair in and looks to deliver a Con-Chair-To to Cesaro. The music interrupts and out comes Edge to a big pop. Rollins retreats to the floor and looks on, laughing and taunting Edge. Edge checks on Cesaro as his music starts back up.
- We see Roman Reigns and The Usos backstage talking now. Reigns tells them to stick to the script and the game plan. The Usos leave and Heyman tells Reigns, his Tribal Chief, that they have a problem. Reigns says he has no problems, he's about to smash Finn Balor. Heyman says they have a problem with... Brock Lesnar. Reigns laughs and says Heyman has a problem with Lesnar. Reigns says he's going to smash Lesnar also when the time is right. Heyman says Lesnar will be at Super SmackDown from Madison Square Garden next week, and he knows this because Lesnar called Heyman on his phone tonight for the first time in a year. Reigns asks if Lesnar is watching the show tonight. Heyman says FOX must be really big in Saskatchewan. Reigns asks Heyman how he knows Lesnar is in Saskatchewan. Heyman says he doesn't, maybe Lesnar is in Minnesota. Reigns asks Heyman how he knows Brock isn't here tonight.
- We see a white Rolls Royce arriving in the back. Happy Baron Corbin hops out and he's in a good mood, thinking Megan Morant is the valet. Corbin heads into the arena.
- We go back to the ring and out comes Kevin Owens for another must see episode of The KO Show. His guest will be Happy Baron Corbin. Back to commercial.
Back from the break and Kayla stops Edge in the back. He hopes Seth Rollins would've moved on after their SummerSlam match but he didn't. Edge says he knows the game Rollins is playing and it has to stop. Edge goes on and challenges Rollins to a match at Super SmackDown next week. Edge says he burned Rollins down once and this time it will be worse and Rollins won't be the same after. Edge says he told Rollins this wouldn't end well. We go back to the ring and Owens is out for The KO Show. Owens introduces his guest and out comes Corbin with his new Las Vegas-themed entrance.
Corbin thanks Owens and says he wouldn't be where he is is it weren't for Owens. He brags about his outfit and watch, and how he's come back up in the past few weeks. Owens says Corbin isn't going to put any of this on him. Corbin asks Owens if he wants his $100 back, but he left his wallet in the Rolls Royce. Corbin mentions he has a special guest. Corbin hypes Logan Paul up and out he comes to big heat from the crowd.
Owens said he didn't invite Paul here because he wouldn't do that to the WWE Universe. Owens brings up how Paul and Corbin had issues during SummerSlam weekend but they say they're now friends. They hung out in Vegas and Corbin made a lot of money on Jake Paul's boxing win over Tyrone Woodley. Owens rips into Paul, calling him one of the biggest useless pieces of trash to ever step into a WWE ring. Paul was about to offer Owens $100 and says by the way he looks, he could use it more than Paul. Owens doesn't need Paul's money, all he needs from Paul is for him to turn and leave the ring, never show his face in WWE again. Fans pop. Paul shoves Owens. Owens drops the mic and shoves him harder. Corbin ends up dropping Owens with a cheap shot, then delivering a chokeslam in the middle of the ring. Paul is thrilled but fans boo them. Paul taunts Owens and picks the money up. Corbin and Paul show each other some love and exit the ring together, looking back at Owens and laughing at him.
- Still to come, Sami Zayn vs. Dominik Mysterio. Back to commercial.
- Back from the break and we see Carmella backstage filming some kind of vignette. A voice-over introduces her as the most beautiful woman in all of WWE. We see Liv Morgan off to the side watching Carmella and she's not impressed.
Sami Zayn vs. Dominik Mysterio
We go back to the ring and out comes Dominik Mysterio with Rey Mysterio. Dominik heads to the ring while Rey stays at the entrance way. Sami Zayn is already in the ring waiting.
The bell rings and they go at it back & forth. Sami gets sent to the floor early on. Dominik looks to go for 619 but Sami backs up the ramp and looks to be walking out on the match. Rey slowly walks down the ramp, backing Sami towards the ring. Dominik leaps over the top rope and takes Sami out on the floor.
Rey tells Dominik to get back in the ring and capitalize. Dominik turns to Rey and tells him he's got this. Dominik returns to the ring but Sami levels him with a Helluva Kick for the pin to get the quick win.
Winner: Sami Zayn
- After the match, Sami stands tall and celebrates on his way to the back as the music hits. Rey enters the ring to check on Dominik.
- Sonya Deville is backstage on the phone telling someone about Super SmackDown. Naomi interrupts and reminds Deville how last week she told her she could have her blue brand return match this week. Deville is busy and tells Naomi to remind her again next week. Deville walks off and Naomi isn't happy.
- Still to come, Balor vs. Reigns. Back to commercial.
- Back from the break and Kayla is with Finn Balor in the back for his final thoughts on tonight's title shot. Balor says he will answer the question of what would've happened if he never got injured in 2016. Balor walks off.
WWE Universal Title Match: Finn Balor vs. Roman Reigns
We go back to the ring for tonight's main event as Finn Balor makes his way out. SmackDown Tag Team Champions The Usos suddenly attack Balor at ringside and destroy him, using the barrier and the steel ring steps. They bring Balor into the ring and go to the top for the Uso Splash but The Street Profits run down to make the save.
The Profits chase The Usos off through the crowd while Balor is still down in the ring. The music hits and out comes WWE Universal Champion Roman Reigns with Paul Heyman. Reigns stops on the entrance and raises the strap in the air as the pyro goes off. Balor tries to recover while on the mat in the ring as we go back to commercial.
Back from the break and Reigns stands tall in the middle of the ring with the title in the air as more pyro goes off. We see trainers and officials tending to Balor in the ring. Balor tells the referee he's good to go, and here we go. We get formal ring introductions from Greg Hamilton with loud boos for Heyman. Balor faces off with Reigns, clutching his ribs. The bell rings and they size each other up. Reigns backs Balor into the corner but backs off. Reigns then launches Balor across the ring with ease. Reigns stomps away while Balor is down in the corner now.
Reigns takes Balor to another corner with big right hands. Reigns takes Balor from corner to corner working him over as Heyman watches from ringside. Reigns with big clotheslines in the corner as fans count along and the referee warns him. Reigns charges as does Balor. Balor dropkicks Reigns' knee out. Balor with kicks to the knee now, focusing on Reigns' leg. Reigns drops Balor with a headbutt. Balor comes back with a Slingblade.
Balor charges in again but Reigns rocks him with a big uppercut. Reigns chokeslams Balor in the middle of the ring, spiking him into the mat. Balor kicks out at 2. We go back to commercial.
Back from the break and Reigns is calling for the Superman Punch. Balor ducks it and looks to rally but Reigns knocks him into the corner. Reigns runs into boots in the corner. Balor keeps fighting. Balor ducks a big right hand but Reigns comes back with another right. Balor with an overhead kick and they both go down in the middle of the ring now.
They get up and trade big right hands in the middle of the ring. Balor unloads but Reigns delivers one stiff shot to the gut to take contorl. Balor blocks a powerbomb and nails a double stomp in the middle of the ring. Balor gets fired up now. Balor with shoulder thrusts in the corner. Balor with more kicks and punches. Reigns grabs him and sends him through the ropes to the floor. Balor ends up trapping Reigns in the apron cover and unloading with offense as fans cheer him on. The referee warns him.
Reigns gets out of the apron trap but Balor runs the ropes and leaps out, taking Reigns down on the floor with a big dive. Balor brings it back in and goes to the top but Reigns avoids the Coup de Grace. Reigns comes right back with the Superman Punch but Balor kicks out at 2. Reigns shows just a little frustration. Reigns shakes his head and gets back to his feet first. Heyman looks on as fans boo Reigns. Reigns goes for a Spear but Balor kicks him. Balor rolls Reigns up for a very close 2 count. Balor goes on and delivers some of his signature offense but Reigns kicks out once again. Balor is riled up now as fans cheer him on. Balor points his guns at Reigns and dropkicks him into the turnbuckles. Balor goes back to the top and nails the Coup de Grace this time. Reigns kicks out just in time.
We see how Reigns hit a low blow on the kick out. Graves and Cole wonder if it was intentional. Reigns mounts Balor and unloads with right hands. Reigns applies the Guillotine in the middle of the ring now. Balor fades as Reigns tightens the hold. Balor goes out and the referee calls the match as Reigns retains.
Winner: Roman Reigns
- After the match, Reigns stands tall in the middle of the ring as his music hits. We go to replays. Reigns exits the ring while Heyman marches behind him, raising the Universal Title in the air. Reigns' music is briefly interrupted by a red light and a heart beat that plays over the arena. It catches him off guard but quickly ends. Could this be a tease for The Demon or someone else? Reigns and Heyman keep walking as SmackDown goes off the air.