AEW Dark: Elevation Results: Dustin Rhodes, Wardlow And Ryo Mizunami In Action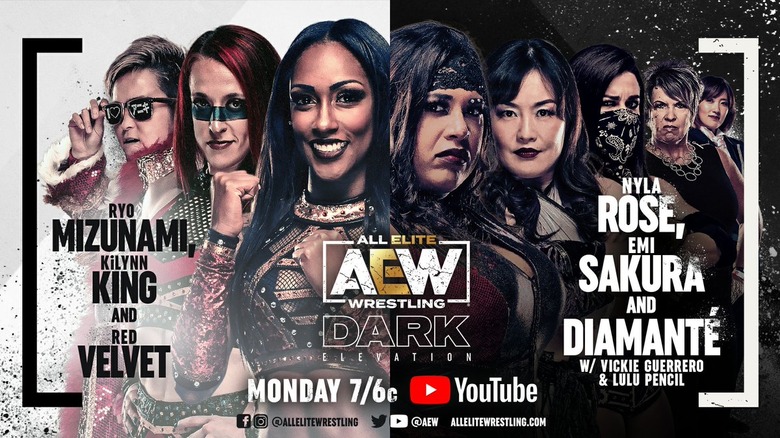 AEW
Welcome to Wrestling Inc's live coverage of AEW Dark: Elevation, which airs every Monday at 7 PM EST on AEW's YouTube Channel. Be sure to give your thoughts about tonight's show in the comments section below. Additionally, share our live coverage through social media. Make sure to click the REFRESH button to continue to get the most current up to date coverage.
- Tony Schiavone welcomes us to Dark: Elevation from the James L. Knight Center in Miami, FL along with Paul Wight and Mark Henry.
Dustin Rhodes vs. Gustavo
What a great match to start off #AEWDarkElevation NOW! #TheNatural @dustinrhodestx enters the ring against @Papi_Gustavo9.

Tune in NOW: https://t.co/jH7cou8JyT pic.twitter.com/zkv6lyhfwK

— All Elite Wrestling (@AEW) October 18, 2021
Dustin puts his hand out for a handshake, but Gustavo rejects it. Pace starts to quicken as Dustin gets off a deep arm drag. Gustavo creates some distance and hits a series of strikes in the corner. Dustin stops his tracks on the back drop attempt, drops down and slaps Gustavo in the face. He then hits a powerslam. Dustin hits the Backland Driver for the win.
Winner: Dustin Rhodes
Wardlow vs. Will Austin
Austin gets backed to the corner. Wardlow backs off but stares down Austin. Austin rolls out of the way. Wardlow pushes Austin off on the lock up and flexes. Wardlow then shakes off a waistlock and hits a massive lariat. Wardlow setting up for a powerbomb, and he hits it. The crowd calling for another. Wardlow flips Austin through but rejects the crowd and hits The Casualty of War for the KO win.
Winner: Wardlow
Santana & Ortiz vs. Jaka & Sean Maluta
Ortiz quickly took down Jaka. Santana tags in and quickens the pace. He hits a back suplex and then chops Jaka. Ortiz tags in, and Santana and Ortiz look for their double hip toss. Jaka escapes but takes an enzuigiri, lariat and then a senton combo from Santana and Ortiz. Santana and Ortiz trade chops. Maluta gets off a kick after Jaka whips Santana to the ropes. Maluta tags in. Santana avoids a Maluta charge and chops Jaka. Maluta hit with a double facebuster.
Maluta side steps Ortiz, but Ortiz hits a back elbow. Jaka runs in for a drive by save. Maluta hits a Samoan Drop for a one count. Jaka tags in and hits a leg lariat, and Maluta hits a Yakuza Kick for a one count. Ortiz and Jaka trade strikes. Ortiz ducks a roundhouse kick and hits a lariat. Santana tags in and drops Jaka and Maluta with lariats. Santana hits Maluta with a round kick and then gets an assisted neckbreaker. Maluta hit with a dropkick. Jaka hits an uppercut. Ortiz tags in, Santana hits a rolling cutter, Ortiz hits a lung blower, Santana hits a round kick, and they hit OIC for the win.
Fans chant "one more time!" as Mr. Mayhem @realWardlow takes the win from @kingofflight13!

Tune in NOW to #AEWDarkElevation: https://t.co/jH7cotR8aj pic.twitter.com/3QntH5LggB

— All Elite Wrestling (@AEW) October 18, 2021
Winners: Santana & Ortiz
Diamante & Emi Sakura & Nyla Rose (w/ Vickie Guerrero & Lulu Pencil) vs. KiLynn King & Red Velvet & Ryo Mizunami
Mizunami and Diamante start off this trios match. Diamante rakes the eyes and tries a chop, but Mizunami absorbs it and chops Diamante down. She then hits a machine gun chops in the corner. She charges up and hits one more big one. Hammer throw and then a lariat in the corner. Mizunami hits a leg drop for a one count. Diamante sent into the corner as King tags in and hits a double knee strike for a two count. Diamante with a knee lift as she hits a DDT and tags in Sakura.
Sakura pulling King's hair and whips her. King then whips Sakura face first in the corner. Red Velvet tags in and sends King to Sakura and hits an elevated double knee strike. She then rakes her boot Sakura's face. Red Velvet keeping up the pressure on Sakura. Sakura with a foot to the mid-section. Sakura then with the double underhooks into a backbreaker. Sakura then applies a Romero Special. Sakura getting the crowd going as she hits a cross-body splash in the corner.
Rose tags in and clubs Red Velvet. Rose picks up Red Velvet from her neck. Red Velvet looking to tag out, but Rose holding her down. Hammer throw to the corner, splash and then a lariat. Rose mocks a tag out as she knocks King and Mizunami from the apron. Red Velvet gets off a dropkick, but Diamante cuts her off. Diamante going up top, but Red Velvet meets her and hits a Spanish Fly!
Mizunami and Rose tag in. Mizunami hits a spear and knocks Diamante down with a shoulder block. Sakura with a flurry of slaps, but Mizunami hits a double spear on Diamante and Sakura. Mizunami hits a huge slam on Rose, cover, but Diamante and Sakura break it up. King clears house. She blind tags in and tries a Kingdom Fall. Rose escapes, gets an assist from Diamante and hits the Beast Bomb for the win.
Smart trios team work by @NylaRoseBeast, @DiamanteLAX & @EmiSakura_gtmv to get the win.

Make every Monday an #AEWDarkElevation Monday at 7/6c on https://t.co/lBSV4sbfpB pic.twitter.com/HKhG67fKls

— All Elite Wrestling (@AEW) October 18, 2021
Winners: Diamante & Emi Sakura & Nyla Rose