AEW Dark Results: Jamie Hayter, Thunder Rosa And Daniel Garcia In Action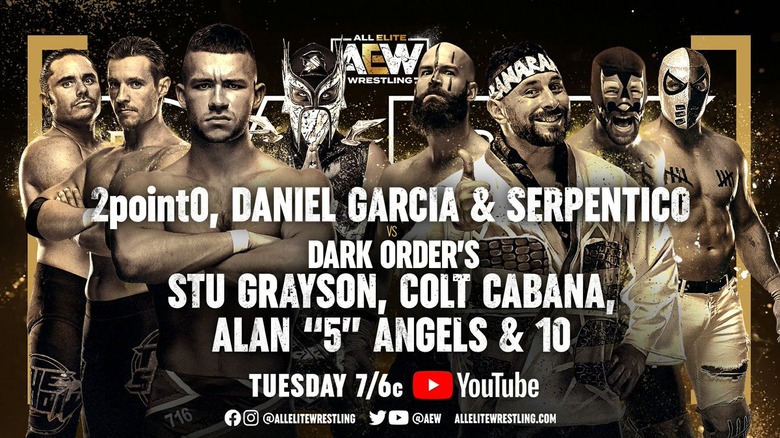 AEW
Welcome to Wrestling Inc's recap of AEW Dark, which airs every Tuesday at 7 PM EST on AEW's YouTube Channel. Be sure to give your thoughts about tonight's show in the comments section below. Additionally, share our live coverage through social media. Make sure to click the REFRESH button to continue to get the most current up to date coverage.
- Excalibur and Taz welcome us from the James L. Knight Center in Miami. FL.
Jamie Hayter (w/ Rebel & Dr. Britt Baker DMD) vs. Tiffany Nieves
Hayter backing Nieves back into the corner. Nieves turns things around and fires in elbows, but Hayter grabs her hair and sweeps her feet. Hayter follows up with a suplex. Hayter now with wrist control as she stomps Nieves and hits a short-arm lariat for the win.
Winner: Jamie Hayter
Alex Chamberlain, Dean Alexander & Diamond Sheik vs. Gunn Club (Austin Gunn, Billy Gunn & Colten Gunn)
Colten and Alexander start off this trios match. Alexander with a standing switch as he pushes Colten towards his corner. Austin blind tags in and trips up Alexander. Colten hits an elbow drop, and Austin hits one of his own. Colten tags in and hits an elbow drop. Austin misses an elbow drop. Alexander gets wrist control, and Chamberlain tags in. Austin backs Chamberlain into the corner.
He elevates over the top and hits a back drop suplex. Billy tags in. Chamberlain with a kick to Billy and sends away Austin. Billy responds with a body slam 1-2-and Sheik breaks it up. Chamberlain rolls up Billy for two. Billy hits a huge clothesline after the kick out. Billy hits a flurry of stomps in the corner and sends Alexander and Sheik off the apron. Billy yells at referee Aubrey Edwards, and the fans boo. Colten tags in, kick to the mid-section and then a Colt 45 for the win.
Winners: Gunn Club (Austin Gunn, Billy Gunn & Colten Gunn)
Diamante, Emi Sakura & Nyla Rose (w/ Lulu Pencil & Vickie Guerrero) vs. Kris Statlander, Red Velvet & Thunder Rosa
Red Velvet and Diamante starting off this trios match as Diamante kicks Red Velvet's ankle, but Red Velvet responds with a leg lariat. Diamante sent to the corner as Statlander tags in and hits a series of arm drags. Rose tags in but takes a sliding dropkick for a one count. Rose hits a back drop suplex in response. Rose backs Statlander to her corner as Diamante tags in and hits an assisted splash for a two count. Diamante hits a series of forearms and tries a crossbody, but Statlander catches her and hits a bodyslam.
Rosa tags in and hits a series of dropkick. Crowd showing their support for Rosa as Diamante escapes and tags in Sakura, but Rose tagged herself in. Rosa hits a back elbow and sets Rose in the corner. She charges at Rose in the corner and the elevates for a double knee strike. She hits a running dropkick. Rose backs Rosa in the corner, and Sakura tags in. Sakura hits some chops and tries for a Queen's Gambit, but Rosa escapes and hits chops and then a high strike. Red Velvet tags in and hits chop, but Sakura catches her in a Queen's Gambit, cover, but Statlander breaks it up. Diamante hits a Code Red on her. Rosa comes in. Rose hits a chokeslam. Red Velvet hits Sakura with The Final Slice for the win.
Winners: Kris Statlander, Red Velvet & Thunder Rosa
- We cut to Excalibur and Taz who hype up Rampage and Dynamite, but they are interrupted by Jade Cargill. Smart Mark Sterling is with her as they made their way towards the ring with a mic in hand. Sterling introduces "the future TBS Champion Jade Cargill." Cargill takes in the boos. Sterling says they are thrilled that the tournament bracket will be released on Rampage.
He notes TBS used to have the slogan "home of funny". He says it's funny that Cargill has to wrestle anyone at all and should have the belt right now. He says it doesn't really matter, Red Velvet, Skye Blue, Thunder Rosa. Cargill says since Rosa is a dog, "I plan on walking her." Sterling says the only punchline will be the welts on her opponent's faces. "When it's all over, we'll be watching that b*tch. Boom."
- Eddie Kingston on commentary.
Lance Archer (w/ Jake "The Snake" Roberts) vs. OT Fernandez

Archer emerges from the tunnel dragging Fernandez with him. He chokeslams him in the ring, enters and poses in front of the crowd. The match officially starts. Fernandez ducks a lariat and tries a series of strikes, but Archer pounces him. Archer hits a GTR and then a Hellacoaster. Archer sets up Fernandez in the corner and hits a huge body shot. Archer then chops Fernandez in the corner as Taz and Kingston continue to argue on commentary. Archer hits another chop and then an elbow as Fernandez tries a high crossbody. Archer sets up Fernandez for the Blackout for the win.
Winner: Lance Archer
- QT Marshall joins commentary.
Frankie Kazarian vs. Aaron Solo (w/ The Factory)
Kazarian with a drop toehold and a side headlock to start off. Kazarian follows up with an arm drag takedown as Solo tries to escape. Solo with a wristlock, but Kazarian reverses it. Kazarian catches Solo with a cradle pin, but Solo kicks out, and Kazarian applies a side headlock. Solo backing Kazarian into the ropes but takes a shoulder tackle. Kazarian lateral press pin for two. Kazarian hits a chop. Solo stops his tracks on the ropes. Kazarian hits leg drop while Solo is on the middle ropes.
Nick Comoroto gets in Kazarian's face. The ref's vision is turned, and Comoroto trips him up on the apron, and Solo pressures him right away. Solo hits a series of chops in the corner. He then hammer throws Kazarian into the corner. Another hammer throw, but Kazarian rolls over Solo and rolls him up for two. Kazarian fires in chops. Solo sends Kazarian down and hits a stomp for two. Solo hits an uppercut and then another. Kazarian reverses a third uppercut into a backslide pin for two.
Kazarian hits a series of chops. He goes over the top, elbow strike, leg lariat and then an axehandle. Kazarian hits kick, knee lift, but Solo comes in with a corkscrew kick. Kazarian escapes the double underhooks and hits a springboard leg drop, cover 1-2-no! Comoroto up on the apron. Solo tries a roll up, but Kazarian reverses it. Solo kicks out but knocks Comoroto down. Kazarian taps out Solo with a chicken wing choke.
Winner: Frankie Kazarian
2point0 (Jeff Parker & Matt Lee), Daniel Garcia & Serpentico vs. Dark Order (Alan "5" Angels, Colt Cabana, Stu Grayson & 10)
Serpentico distracts Cabana, and 2point0 blinde side him. Cabana responds with a springboard moonsault on both of them. He then hits a cross chop on Garcia. Angels and Garcia going at it as the pace quickens. Angels hits a leg lariat. Serpentico charges in and takes a facebuster and suplexes Garcia onto Serpentico. Garcia keeps Angels grounded and takes in Parker. Parker cuts off the crossbody and stomps him down. He hits a snap suplex for two as Lee tags in.
Lee talking trash she he chops Angels and hammer throws him chest first into the corner. Garcia tags in and keeps up the pressure on Angels. Serpentico tags himself in and hurts himself going after Angels. 2point0 and Garcia keeping up their strategy of keeping Angels in their corner. 2point0 try to whip each other, but Angels fights them off. Serpentico tags himself in and tries to go at 10 but fails. Angels hits a Spanish Fly. Garcia and 10 tag in, and 10 clears house.
10 hits a pump kick on Garcia. Lee gets flattened. Garcia counters a spinebuster, but Grayson tags in and uses 10 to hit a crossbody and then a senton on Parker on the outside. Garcia drops the kitchen sink, but Grayson hits a powerslam in response, cover, but Lee comes in for the save. 2point0 try a whip, but Grayson counters. 2ponto counter into an assisted spear.
2point0 tagging in and out, but Serpentico wants in. Grayson takes advantage of the distraction. Angels hits a moonsault on 2ppont0 on the outside! 10 hits a spinebuster. 10 applies a full nelson. Garcia breaks it up. Cabana sends Garcia outside. Cabana hit a Boom Boom Drop combo, but 10 gets in the way, so Garcia gets dropped. Cabana sends Serpentico into 10 as he taps out Serpentico with the full nelson.
Winners: Dark Order (Alan "5" Angels, Colt Cabana, Stu Grayson & 10)