Impact Wrestling Results: BFG Go-home Show, Mickie James In Action, Zayne Vs. Miguel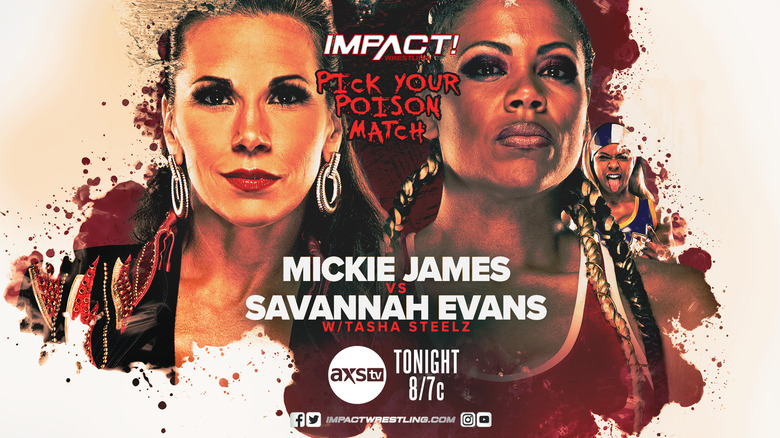 Welcome to Wrestling Inc's live coverage of Impact Wrestling, which airs every Thursday on AXS TV at 8 pm EST and on Impact's YouTube membership page [which will put the live episode up at 8:30 PM ET]! Be sure to chime in on your thoughts about tonight's show in the comments section below. Additionally, share our live coverage through social media. Make sure to click the REFRESH button to continue to get the most current up-to-date coverage. Above and below is what's on tonight's agenda for Impact:
Tonight's the final stop before Bound For Glory, which is live this Saturday. The Countdown to Glory pre-show begins at 9:30 pm ET, and the pay-per-view will follow at 10.
TONIGHT at 8/7c on @AXSTV🇺🇸 and @fightnet🇨🇦/8:30pm ET on IMPACT Insider💻!@MickieJames vs. @SavannahEvansNV @THEdavidfinlay and Juice Robinson vs. @DashingChrisBey and @Hiku_Leo @AlexZayneSauce vs. @TheTreyMiguel

Three Way Tag pic.twitter.com/G4ym4FHb0m

— IMPACT (@IMPACTWRESTLING) October 21, 2021
#IMPACTin60 looks at the best of @Christian4Peeps TONIGHT at 10/9c immediately following IMPACT on @AXSTV! pic.twitter.com/MmqZPnXHXU

— IMPACT (@IMPACTWRESTLING) October 21, 2021
** Before tonight's show, W. Morrissey defeated Jake Something on Before The Impact. **
.@TheCaZXL is victorious in the #BTIonAXSTV exclusive match. @JakeSomething_ pic.twitter.com/ZvZYKFQFos

— IMPACT (@IMPACTWRESTLING) October 21, 2021
D'Lo Brown and Josh Mathews welcome fans to Impact Wrestling! We kick things off with a No. 1 Contenders match to determine who will step foot in the ring and challenge The Good Brothers for their Impact World Tag Team Championship this Saturday at Bound For Glory!
FinJuice (Juice Robinson & David Finlay) vs. Bullet Club (Chris Bey & Hikuleo)
David Finlay and Chris Bey square off. Well, Bey decides to duck out and make the tag to Hikuleo instead. We're off to the races. Hikuleo drives Finlay down with a powerful shoulder tackle. Here comes Bey for Hikuleo. Juice Robinson also makes the tag in. Robinson fires up a jumping senton for two. He drags Bey to the corner and bashes his head into the turnbuckle ten times! Bey creates some space to tag out Hikuleo. Robinson plants a toehold, which gives him a chance to grab a tag to Finlay. Finlay and Robinson hit a double bulldog on Hikuleo. Finlay with a cover. Hikuleo powers out.
FinJuice take down @Hiku_Leo! #IMPACTonAXSTV @THEdavidfinlay pic.twitter.com/dJXB5EItun

— IMPACT (@IMPACTWRESTLING) October 22, 2021
Finlay works himself into a sidewalk slam but kicks out of the pin attempt after. Bey tags himself in. Bey plants an enziguri for two. Bey lays into Finlay with a firm chin lock. Robinson fires up Finlay to break out of the lock. Finlay sidewalk slams Bey and makes the desperate tag to Robinson. Robinson tosses Bey with an incredible backdrop! Robinson rocks Bey in the corner with several top rope punches and a bite as well. His onslaught continues with a cannonball. Finlay tags himself in. FinJuice joins forces with a shining wizard/leg sweep combination. The referee inadvertently gets caught in a combination.
.@THEdavidfinlay catches @DashingChrisBey IN MID-AIR with a neckbreaker. #IMPACTonAXSTV pic.twitter.com/VaZbyPgpJP

— IMPACT (@IMPACTWRESTLING) October 22, 2021
Robinson makes the save with his combination jabs on Hikuleo. Hikuleo turns Robinson inside out. Then, Robinson and Bey stack each other's opponents up. We have a double pinfall count. The referees are arguing over who got the win. We'll find out who won this entire thing and is heading to BFG later.
Winners: TBD
A HUGELY controversial ending with a double pinfall – who are the number one contenders?! #IMPACTonAXSTV @DashingChrisBey @Hiku_Leo @THEdavidfinlay pic.twitter.com/yrFnezx9TR

— IMPACT (@IMPACTWRESTLING) October 22, 2021
Backstage: Bullet Club and FinJuice are arguing. The referees say Bey was not the legal man when he rolled up Finlay; therefore, he did not win this. Juice did. Executive Vice President Scott D'Amore steps in and says he wants to think this over and will make his official decision later tonight.
.@ScottDAmore will make a decision about the #BoundForGlory Tag Team Title match after the controversial conclusion of our opening match. #IMPACTonAXSTV @DashingChrisBey @Hiku_Leo @THEdavidfinlay pic.twitter.com/BWVgttRPu1

— IMPACT (@IMPACTWRESTLING) October 22, 2021
- Josh Mathews and D'Lo Brown run through the exciting card set for Bound For Glory this Saturday! During the Countdown To Glory show, Gail Kim will induct Awesome Kong into the Impact Hall of Fame!
BREAKING: @gailkimITSME will induct @MeanQueenK into the IMPACT Hall of Fame THIS SATURDAY at 9:30pm ET during #CountdownToGlory! #IMPACTonAXSTV pic.twitter.com/U7tg4Hghvd

— IMPACT (@IMPACTWRESTLING) October 22, 2021
- Up next, we see a taped video package highlighting Josh Alexander's career throughout the years. Alexander will have the weight of the world on his shoulders this Saturday when he challenges Christian Cage for the Impact World Championship.
Pro wrestling saved @Walking_Weapon, now he has the biggest match of his career and the opportunity to become IMPACT World Champion THIS SATURDAY at #BoundForGlory. #IMPACTonAXSTV pic.twitter.com/70iQ1wNFQK

— IMPACT (@IMPACTWRESTLING) October 22, 2021
Before they lock horns individually for the inaugural Digital Media Championship this Saturday, all six entrants will tag up in a three-way battle next!
Jordynne Grace & Fallah Bahh vs. Tenille Dashwood & John Skyler vs. Chelsea Green & Crazzy Steve
Jordynne Grace runs roughshod on Chelsea Green just as the match gets started. Grace corners Green and makes a tag out to Fallah Bahh. Green hits a nice slap on Bahh. She escapes out of the fireman's carry to land a dropkick before bringing Crazzy Steve in. Steve takes a bite out of Bahh's forehead! John Skyler tags himself in to replace Bahh. Skyler connects a lepsweep and floats over for a cover. Steve powers at two.
.@ImChelseaGreen avoids disaster and connects with a dropkick. #IMPACTonAXSTV pic.twitter.com/vdQmxLSacK

— IMPACT (@IMPACTWRESTLING) October 22, 2021
Tenille Dashwood is tagged in by Skyler. Dashwood drives her foot into Steve. Kaleb snaps a nice shot of her. Steve takes his frustrations out on Skyler and Dashwood by biting them both. Jordynne charges in with a spinebuster on Dashwood! Jordynne connects a nice and heavy forearm on Skyler in the corner.
.@JordynneGrace with a devastating combo in the corner to @TheJohnSkyler. #IMPACTonAXSTV pic.twitter.com/s9JfztUePR

— IMPACT (@IMPACTWRESTLING) October 22, 2021
Jordynne fires up a back fist on Dashwood, who tries to run in and break the cover on Skyler. Bahh crashes into everyone in the corner. Steve leaps off the ropes with DDT on Bahh. He looks for a cover. Kaleb drags Steve out of the ring to let Dashwood pick up the pin. Before she does, she launches a Spotlight Kick to cement her victory before Saturday.
.@TenilleDashwood and @TheJohnSkyler have the momentum heading into #BoundForGlory. #IMPACTonAXSTV pic.twitter.com/5EskA4QIjv

— IMPACT (@IMPACTWRESTLING) October 22, 2021
Winners: Tenille Dashwood & John Skyler 
- We hear from Rhino. Will he accept Heath's offer to be his tag team partner at BFG?
Rhino Makes His Decision:
Last week, Heath proposed during his contract signing with Scott D'Amore that he wants a tag team match at BFG. He wants Rhino to join his team against Violent By Design.
Tonight, Heath and Rhino are going to settle this. Both men are standing in the ring. Heath reminds Rhino of the friendship and partnership they've once shared and how it's fallen apart because of VBD. Heath was starting to persuade him; that's when VBD makes their likely arrival.
.@HEATHXXII's kids want their Uncle Rhino back. #IMPACTonAXSTV @Rhyno313 pic.twitter.com/Tx3lE1IW3a

— IMPACT (@IMPACTWRESTLING) October 22, 2021
Eric Young reminds Rhino he made a promise to him the moment he joined VBD. Heath says oh, no, he doesn't. Rhino is caught in the middle, literally.
Deaner leads an attack on Heath. Rhino throws Deaner off of Heath. Heath heads to the corner. Young thinks Rhino should charge in on Heath with a Gore. Instead, Rhino exits it out of the ring and heads into the crowd. VBD leads a 3-on-1 beatdown on Heath.
It looks like Heath will be walking into BFG alone.
Will @Rhyno313 side with his old partner @HEATHXXII or Violent By Design? #IMPACTonAXSTV @TheEricYoung @bigjoedoering @CodyDeaner pic.twitter.com/KZdbnc5jMc

— IMPACT (@IMPACTWRESTLING) October 22, 2021
- "The King of Pro Wrestling" Minoru Suzuki is making his way to the Impact Zone soon!
Can the Knockouts Champion Deonna Purrazzo's handpicked opponent overpower Mickie James before their BFG title match?
Pick Your Poison: Mickie James vs. Savannah Evans (w/Tasha Steelz)
The fans unanimously start chanting, "Welcome back" to Mickie James. Savannah Evans doesn't care what they think. She shoves James into the corner. James hopes onto Evans' back and tries to lock in a sleeper. Evans backs her into the corner to break it up. James executes a bicycle kick. Tasha Steelz grabs James as she comes off the rope. James turns around and gets clocked by Evans.
.@RealTSteelz allows @SavannahEvansNV to connect with a boot. #IMPACTonAXSTV pic.twitter.com/BAtmS4ac9F

— IMPACT (@IMPACTWRESTLING) October 22, 2021
Evans continues to overpower James. Evans holds James in a firm bear hug. James escapes by biting near Evans' ear. She would make Mike Tyson proud! James soars with a massive top rope Thesz Press! She was so close to winning this whole thing right then and there. The Knockouts Champion Deonna Purrazzo heads out to watch this fight up close. Evans launches a full nelson slam. Cover. James leaps out at two. James saves herself and capitalizes in this match by hitting a perfect DDT. James picks up a "W" ahead of BFG!
HUGE top rope Thesz Press by @MickieJames! #IMPACTonAXSTV pic.twitter.com/ZfSiyvcGVy

— IMPACT (@IMPACTWRESTLING) October 22, 2021
Winner: Mickie James 
Post-Match: Deonna Purrazzo distracts Mickie James while Matthew Rehwoldt ambushes her. Since Purrazzo can't touch James until their match, she stuck to her word on the clause by having Rehwoldt do the dirty work for her. Purrazzo stands over James, implying she'll remain the Knockouts Champion after Saturday.
.@DeonnaPurrazzo used @DramaKingMatt to get around the no contact clause and leave @MickieJames laying. #IMPACTonAXSTV pic.twitter.com/rlk5p7hdb8

— IMPACT (@IMPACTWRESTLING) October 22, 2021
Backstage: Scott D'Amore approaches Purrazzo, reminding her that seconds ago, she broke her clause promise. He could strip her from the title right now, but he'd rather watch her lose it on Saturday. Matthew Rehwoldt will be banned from ringside. Should he get involved in any way, Purrazzo will automatically lose the title.
- Brian Myers is so disappointed in his Learning Tree and all their countless losses lately. He decides to cut Manny Lemons and Sam Beale from his training team.
.@sambeale23 and @mannylemons have been CUT from The Learning Tree. #IMPACTonAXSTV @ZickyDice @isThatVsK @Myers_Wrestling pic.twitter.com/CKY8Bqzj0k

— IMPACT (@IMPACTWRESTLING) October 22, 2021
- Scott D'Amore is joined by Decay (Havok & Rosemary) and The IInspiration's representative Barrister R.D. They officially sign on the dotted line before Saturday. It's official: Decay vs. The IInspiration for the Knockouts Tag Team Championship!
.@CassieLee and @JessicaMcKay sent their representative Barrister R.D. Evans to sign the contract for their #BoundForGlory match against @WeAreRosemary and @FearHavok. #IMPACTonAXSTV pic.twitter.com/VmCx4qaLN5

— IMPACT (@IMPACTWRESTLING) October 22, 2021
Up next, two of Impact's top high flyers will face off!
Trey Miguel vs. Alex Zayne
Both men tie-up. Trey Miguel sets Alex Zayne down on the mat with a tight wrist lock takeover. Zayne reverses. Miguel rolls Zayne to the other side to break it up. Zayne drops Miguel on the mat. Both make their way back to a vertical base. Miguel displays some great mat wrestling and looks for back-to-back cover attempts on Zayne. Zayne spills to the outside but rolls back in quickly to break up Miguel's next plan. Miguel lands an Asai Moonsault as we head to commercial.
.@TheTreyMiguel connects with a moonsault. #IMPACTonAXSTV pic.twitter.com/UH0UBsYKoz

— IMPACT (@IMPACTWRESTLING) October 22, 2021
Welcome back, Miguel sounds off with a double stomp just as we return. Cover. Zayne pops free at two. Miguel locks in a Koji Clutch of sorts before reverting to a vice grip. Zayne escapes and sends Miguel off the top rope with a beautiful top rope dragon rana! Both men make their way into the high-risk district. Miguel slips out to hit a 619! He hops back up on the ropes to deliver a Meteora. That's going to do it for this excellent match!
.@AlexZayneSauce with an INSANE hurricanrana in the corner. #IMPACTonAXSTV pic.twitter.com/ISQywboV0H

— IMPACT (@IMPACTWRESTLING) October 22, 2021
Winner: Trey Miguel 
.@TheTreyMiguel picks up a momentum building victory over @AlexZayneSauce ahead of #BoundForGlory. #IMPACTonAXSTV pic.twitter.com/nP5vwuKyRu

— IMPACT (@IMPACTWRESTLING) October 22, 2021
Post-Match: Steve Maclin slips into the ring and tries to take out Trey Miguel ahead of their X-Division Match on Saturday. Look who stops by as well, El Phantasmo! ELP tunes up the band and executes a Sudden Death superkick. His last laugh comes after landing a swift punch straight towards Miguel's family jewels. Is ELP foreshadowing something big? Could ELP become the next X-Division Champion?
.@elpwrestling stands tall over @SteveMaclin and @TheTreyMiguel with just two days to go before #BoundForGlory! #IMPACTonAXSTV pic.twitter.com/IIiTfvJ3jV

— IMPACT (@IMPACTWRESTLING) October 22, 2021
Just In: FinJuice, Bullet Club and the Impact World Tag Team Champions The Good Brothers will meet in a three-way match for the titles this Saturday!
Josh Alexander and Christian Cage Fire Their Last Warning Shots:
The former X-Division Champion Josh Alexander stands in the ring. With risk comes high reward. And for Alexander, he wants to hold the pinnacle title. He dedicates this upcoming match to his children. Although he had a convincing speech, the Impact World Champion Christian Cage has something to say.
Cage reiterates what he said to Alexander last week in their summit; he thinks Alexander won't be able to handle the pressure that's before him. Alexander strongly disagrees. The Walking Weapon looks to slam the forbidden door in Cage's face and bring home the title to where it rightfully belongs.
.@Christian4Peeps thrives on pressure, but will @Walking_Weapon crack under it at #BoundForGlory? #IMPACTonAXSTV pic.twitter.com/BILa8IDThG

— IMPACT (@IMPACTWRESTLING) October 22, 2021
"As long as you're cashing a check from a billionaire that owns a different company you will never be the face of IMPACT Wrestling." #IMPACTonAXSTV @Walking_Weapon pic.twitter.com/vyqeJ10yVq

— IMPACT (@IMPACTWRESTLING) October 22, 2021
Cage snaps back, which leads to Alexander laying the first punch. Security and several guys from the back come in to separate the two of them.
Who will walk out of BFG the Impact World Champion: The Walking Weapon or Captain Charisma?
Just TWO DAYS until @Christian4Peeps and @Walking_Weapon are turned loose for the World Championship at #BoundForGlory and we CAN'T WAIT! #IMPACTonAXSTV pic.twitter.com/S6WSLjAbL9

— IMPACT (@IMPACTWRESTLING) October 22, 2021
This concludes the BFG go-home show. Thanks for watching, and enjoy this Saturday's stellar event!