Impact Wrestling Results: BFG Fallout, Minoru Suzuki Appears, X-division Title Defense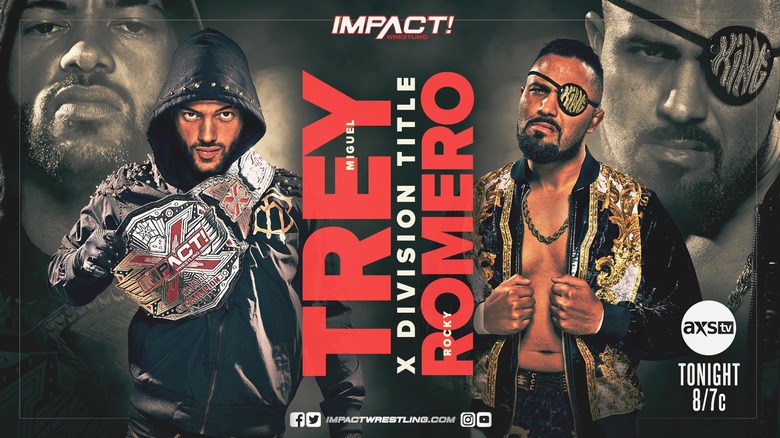 Welcome to Wrestling Inc's live coverage of Impact Wrestling, which airs every Thursday on AXS TV at 8 pm EST and on Impact's YouTube membership page [which will put the live episode up at 8:30 PM ET]! Be sure to chime in on your thoughts about tonight's show in the comments section below. Additionally, share our live coverage through social media. Make sure to click the REFRESH button to continue to get the most current up-to-date coverage. Above and below is what's on tonight's agenda for Impact:
Tonight's the fallout episode from Bound For Glory. The full results are available here.
What are you most looking forward to on TOMORROW's IMPACT? pic.twitter.com/hnL0BTKmvL

— IMPACT (@IMPACTWRESTLING) October 28, 2021
#IMPACTin60 features the Best of Daffney TONIGHT at 10/9c immediately following IMPACT on @AXSTV! pic.twitter.com/ojVIrlUlwM

— IMPACT (@IMPACTWRESTLING) October 28, 2021
** Before tonight's show, VSK  defeated Sam Beale on Before The Impact. After the match, Brian Myers and the Learning Tree lead a beatdown on Beale. Rich Swann and Willie Mack come out and make the save.**
.@isThatVsK is victorious over @sambeale23 on #BTIonAXSTV but @GottaGetSwann and @Willie_Mack aren't about to let @Myers_Wrestling attack Beale. pic.twitter.com/eX19J47DYV

— IMPACT (@IMPACTWRESTLING) October 28, 2021
After bringing the Impact World Championship home, Josh Alexander never imagined in mere seconds that Moose would steal the title from under his nose after cashing in his Call Your Shot clause. Now, it's Moose's world, and we're just living in it. We kick things off with the champion himself!
Moose's In-Ring Promo:
As commentator Matt Striker said, Moose is there to command respect and attention. Just as Moose is about to speak, Eddie Edwards sprints down the ramp with a kendo stick in hand. Both men pummel each other until security comes out to stop it. The fans beg to have let them continue fighting, but Impact Management will not let that happen. So, Moose heads back to the ring and gives his speech.
.@TheEddieEdwards doesn't even let @TheMooseNation get a word out before taking the fight to him. #IMPACTonAXSTV pic.twitter.com/8mdyJzNjMn

— IMPACT (@IMPACTWRESTLING) October 29, 2021
Moose begins by mentioning what a moment it was for him to snatch the title from Alexander right in front of his family. He says he has no sympathy for his actions. Then, he fires up a massive diss towards Kenny Omega, Roman Reigns, Sasha Banks, Becky Lynch, The New Day and others who are currently champions or at the top of their respective promotions. Moose turns around and faces the ramp, calling out the men and women in the back. Josh Alexander sneaks in and sends Moose flat on his back with a suplex. Moose retreats out of the ring. And guess who comes out next? "Murder Grandpa" Minoru Suzuki!
"It doesn't matter how elite you are, it doesn't matter what tribe you're chief to, it doesn't matter if you're the boss, the man...hell you can add a new day to the week – I'm still the greatest champion in all of professional wrestling." #IMPACTonAXSTV @TheMooseNation pic.twitter.com/YCeeFj6K00

— IMPACT (@IMPACTWRESTLING) October 29, 2021
Moose is standing in the crowd with a concerning look on his face. In the ring, Alexander and Suzuki stand face-to-face. The fans ring out with a "This is awesome" chant. These men start to exchange stiff blows. Security runs out again to split them up. Alexander and Suzuki's adrenaline rushes are through the roof!
.@suzuki_D_minoru has ARRIVED in IMPACT and he's coming straight for @Walking_Weapon! #IMPACTonAXSTV pic.twitter.com/p2G69aagTN

— IMPACT (@IMPACTWRESTLING) October 29, 2021
- D'Lo Brown and Matt Striker welcome fans to Impact Wrestling! They review everything that just transpired as well as all the exciting moments from Bound For Glory.
- Gia Miller finds Moose, who's just heading to the back after that wild intro. Despite knowing he has many targets on his back now, he promises he'll take them all down one by one. Matt Cardona steps up to him. They start to brawl.
We head back to the ring to see Spidey Trey defend his new piece of gold against an NJPW legend!
X-Division Championship: Trey Miguel (c) vs. Rocky Romero
**We wish "The King of Sneaky Style" Rocky Romero a Happy Birthday! **
Both men keep things grounded in the beginning with back and forth lockups. Trey Miguel leapfrogs over and hits a perfect dropkick. The fans are certainly pulling for him. Miguel uses the bottom rope to help assist him with a stretch hold. Romero sends Miguel off the rope but eats a basement dropkick. Miguel lands a beautiful Asai moonsault just before the commercial break.
.@TheTreyMiguel connects with a springboard moonsault. #IMPACTonAXSTV pic.twitter.com/8YuTewdmKN

— IMPACT (@IMPACTWRESTLING) October 29, 2021
We're back from the break. During the break, Romero pulled Miguel's arm when he was coming off the top with an arm drag. Romero plants a nice open hand chop straight across Miguel's chest. Romero tosses the champion out of the ring with a dropkick. Romero is on fire at this point and was seconds away from taking home a new piece of gold!
A very different kind of step up hurricanrana by @azucarRoc. #IMPACTonAXSTV pic.twitter.com/z0vEbuEH2J

— IMPACT (@IMPACTWRESTLING) October 29, 2021
Romero continues to light up Miguel's arm and chest area with a lightning round of shoot kicks. Romero floats over to hyperextend Miguel's arm. Miguel stacks him up and sends him crashing with a huge powerbomb! Miguel heads to the top and flies down with a Meteora. Romero catches him midair and hooks a single Boston crab. Romero fires up two intense clotheslines. Miguel recovers to land another top rope maneuver to retain his X-Division Championship. What a match!
.@azucarRoc reverses the Meteora into a half-crab! #IMPACTonAXSTV pic.twitter.com/OPEifXbEnU

— IMPACT (@IMPACTWRESTLING) October 29, 2021
Winner & Still Champion: Trey Miguel
Post-Match: Steve Maclin heads out to put the champion away after losing to him on Saturday.
.@SteveMaclin sends a message to @TheTreyMiguel. #IMPACTonAXSTV pic.twitter.com/NEit9w2MqX

— IMPACT (@IMPACTWRESTLING) October 29, 2021
Backstage: Jordynne Grace and Rachael Ellering talk to Gia Miller about Grace's new Digital Media Championship. Tasha Steelz interrupts. She's there to play mind games with Ellering before they go head-to-head tonight.
.@RealTSteelz's mind games have no impact on @JordynneGrace and @RachaelEllering anymore. #IMPACTonAXSTV pic.twitter.com/np2YArUFaD

— IMPACT (@IMPACTWRESTLING) October 29, 2021
- Steve Maclin wants an X-Division Title match. He states it's owed to him. The Executive Vice President Scott D'Amore will offer it to him next week. D'Amore turns around to Matt Cardona and Eddie Edwards, who want a piece of Moose. D'Amore rules for a six-man match for next week. It'll be Cardona, Edwards and Josh Alexander teaming up against Moose and two fighters of his choosing.
.@SteveMaclin wants @TheTreyMiguel @TheEddieEdwards and @TheMattCardona want @TheMooseNation

And @Walking_Weapon is furious at @babyhebner for starting the match at #BoundForGlory with his family in the ring. #IMPACTonAXSTV pic.twitter.com/9MaUHodPGJ

— IMPACT (@IMPACTWRESTLING) October 29, 2021
Tasha Steelz (w/Savannah Evans) vs. Rachael Ellering (w/Digital Media Champion Jordynne Grace)
Rachael Ellering kicks this thing into full gear. Ellering hits a senton for two. Tasha Steelz was looking for a codebreaker, but Ellering catches her and flings her into the corner. Steelz steps out of the ring for a moment. Back in, Steelz whips together a flurry of offense that includes a chop and a series of stomps. She hooks the leg on Ellering, who kicks out at two. Ellering fires up a powerslam for another near fall count. Ellering slides Steelz up after a hiccup and successfully pins Steelz's shoulders to the mat to earn her singles win.
.@RealTSteelz connects with a tornado DDT. #IMPACTonAXSTV pic.twitter.com/BnbbYVdPj1

— IMPACT (@IMPACTWRESTLING) October 29, 2021
.@RachaelEllering plants @RealTSteelz. #IMPACTonAXSTV pic.twitter.com/ZmY97T37RC

— IMPACT (@IMPACTWRESTLING) October 29, 2021
Winner: Rachael Ellering
- While he claims he isn't here on Impact to make friends, W. Morrissey admits he's formed a dominant alliance with Moose. With that said, Moose steps in and invites Morrissey to join him in the six-man tag match. Should Morrissey agree, Moose is going to give him the first title shot. He accepts.
- Gia Miller is invited to speak with The IInspiration following their debut and Knockouts Tag Team victory on Saturday. Cassie Lee and Jessie McKay are having a great time toying with Miller. Miller's questions were never answered, by the way. But it's great to see them here on Impact!
"We are worldwide STARS, Australian LEGENDS and inspiration LEADERS." @CassieLee and @JessicaMcKay plan to take the Knockouts Tag Team division to another level. #IMPACTonAXSTV pic.twitter.com/Rng2ZDMbso

— IMPACT (@IMPACTWRESTLING) October 29, 2021
 Joe Doering (w/Violent By Design) vs. Heath (w/Rhino)
The band is back together between Heath and Rhino. But tonight, the focus is on Heath conquering Rhino's former ally, Joe Doering.
A strong lockup kicks this thing off. Joe Doering is on top of Heath in the beginning. He looks for the first pin, and Heath kicks out immediately at two. Doering tugs and twists on Heath, keeping him down on the mat. Heath builds up enough steam to throw Doering off his vertical base. Deaner trips up Heath. Rhino goes crazy on Deaner with a flurry of punches. Because of how chaotic this bout is, the referee decides to throw this thing out.
.@bigjoedoering uses the momentum of his power slam to add impact to his elbow. #IMPACTonAXSTV pic.twitter.com/zew7lIZPQf

— IMPACT (@IMPACTWRESTLING) October 29, 2021
Winner: No Contest
Post-Match: Eric Young unleashes hell, indicating he's cleared for in-ring competition!
.@TheEricYoung is BACK TO 100% and more DANGEROUS than ever. #IMPACTonAXSTV pic.twitter.com/rK2iPkBk4D

— IMPACT (@IMPACTWRESTLING) October 29, 2021
Backstage: The Impact Tag Team Champions, The Good Brothers, are gloating over how they retained their titles at Bound For Glory. FinJuice wants another shot at those belts. Doc Gallows and Karl Anderson tell them with a snickering grin that they're going to have to earn it.
.@MachineGunKA and @The_BigLG have never beaten FinJuice, and @THEdavidfinlay and Juice Robinson want another shot. #IMPACTonAXSTV pic.twitter.com/N39TYSBIPk

— IMPACT (@IMPACTWRESTLING) October 29, 2021
- An advertisement for Hard To Kill is shown. This event will kick off the new year.
Backstage: Johnny Swinger calls out The Demon. Swinger says "Gene Simmons" stoled his redemption shot at the Call Your Shot Gauntlet, especially after losing his casino.
Demons are welcome in IMPACT. #IMPACTonAXSTV @swinger_johnny @steveofcrazzy @Taurusoriginal pic.twitter.com/czkCbBbczq

— IMPACT (@IMPACTWRESTLING) October 29, 2021
Mickie James Addresses The Impact Zone:
The new Knockouts Champion has arrived! We're told by D'Lo Brown and Matt Striker that the former champion, Deonna Purrazzo, has gone since losing her title to Mickie James last Saturday.
She is welcomed by "You Deserve It" chants. She thanks the crowd. James takes a moment to applaud Purrazzo for what she calls "one of the best matches of her life." She keeps things short by issuing the Knockouts in the back to step up to her if they want a shot at the title. The former five-time Knockouts Champion, Madison Rayne, injects herself into this equation.
Rayne throws James under the bus for calling herself the cornerstone of this division, despite leaving the company to go to other ones. Rayne states she's been here this whole time and thinks she deserves the first shot at the belt. We're going old school, folks. Next week, it's official: Mickie James vs. Madison Rayne for the Knockouts Championship!
.@MadisonRayne and @MickieJames are ready to renew their long-time rivalry. #IMPACTonAXSTV @kalebKonley pic.twitter.com/dBbyTSGalJ

— IMPACT (@IMPACTWRESTLING) October 29, 2021
Backstage: Gia Miller asks Moose and W. Morrissey if they've found their third partner yet. They tell her they're working on it, and they find Minoru Suzuki. With a menacing grin on his face, Suzuki accepts Moose and Morrissey's invitation to join their team.
.@suzuki_D_minoru will join @TheMooseNation and @TheCaZXL against @TheEddieEdwards, @Walking_Weapon and @TheMattCardona NEXT WEEK on IMPACT. #IMPACTonAXSTV pic.twitter.com/3HlwtJuKdt

— IMPACT (@IMPACTWRESTLING) October 29, 2021
Next Week:
* Minoru Suzuki, Moose & W. Morrissey vs. Josh Alexander, Matt Cardona & Eddie Edwards
* Knockouts Championship: Mickie James (c) vs. Madison Rayne
* No. 1 Contenders Match for the X-Division Championship: Steve Maclin vs. Rohit Raju vs. Laredo Kid vs. Black Taurus
* And on Tuesday, Chelsea Green will face John Skyler in a No. 1 Contenders Match for the Digital Media Championship
This match will air on Impact Plus and Impact's YouTube Channel
And now, the main event!
Ace Austin (w/Madman Fulton) vs. Chris Sabin
Chris Sabin keeps Ace Austin on his toes in the beginning. Austin wildly misses an enziguri allowing Sabin to come in with a sunset flip and a dragon screw leg whip. Sabin locks in an inverted surfboard. Lucky for Austin, he's nearby the ropes. Austin creates some distance after snapping Sabin's face right on top of the ropes. Austin looks for a cover. Sabin leaps out at two. Their match will continue after the quick break.
.@SuperChrisSabin has @The_Ace_Austin scouted. #IMPACTonAXSTV pic.twitter.com/YzGJvD5nA7

— IMPACT (@IMPACTWRESTLING) October 29, 2021
Coming back from the last commercial break, Austin is right on top of Sabin. Austin gets a little head of himself when he heads to the top. Just as he comes down, Sabin rolls away, sending Austin bottom first on the mat. Sabin rocks Austin with multiple jabs, but they aren't enough for him to land the main event victory. Austin weaves out of a Cradle Shock and switches it into a toehold. As they head up to a vertical base, Austin eats a jumping kick that almost sends him out of this thing. Sabin executes a stunning tornado DDT for another near-fall attempt!
Both men make their long climb to the top. Madman Fulton involves himself, but Sabin stops him in his tracks. Sabin hits a perfect punt kick before they head back into the ring. Fulton jerks Sabin around, causing him to topple, which helps Austin hit The Fold to win this entire thing.
.@FultonWorld helps @The_Ace_Austin STEAL a victory over @SuperChrisSabin. #IMPACTonAXSTV pic.twitter.com/l4vMfB3VeH

— IMPACT (@IMPACTWRESTLING) October 29, 2021
Winner: Ace Austin
That concludes this week's episode. Have a spooktacular Halloween, everyone!