Jon Moxley Vs. Jimmy Jacobs Announced For Indie Event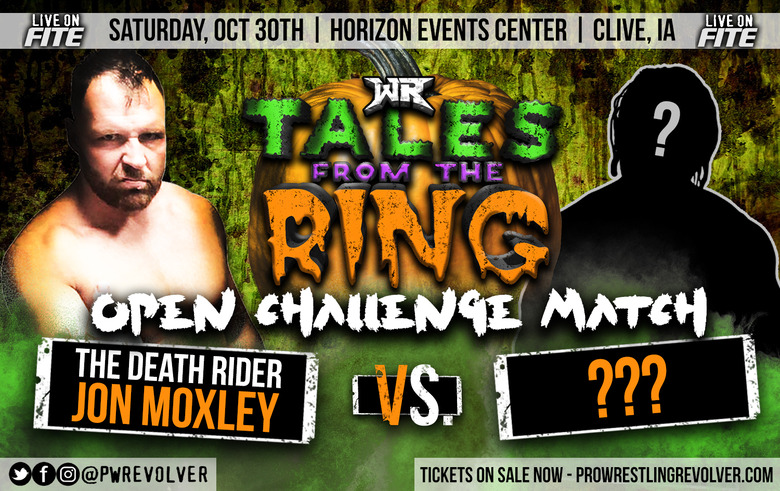 Wrestling Revolver announced that Jon Moxley will be facing Jimmy Jacobs at Tales from the Ring 4.  
Moxley and Jacobs feuded while on the independent circuit. One of the places was at Dragon Gates USA, where Jacobs defeated Moxley in an I Quit Match at the Code Of The Warrior pay-per-view. Moxley would get a win over him at DGUSA Untouchable 2010.
Wrestling Revolver shared the below video of Jimmy Jacobs sending Moxley a message. Below is the full message:
Let it go. It's been over a decade. It's been over ten years since Jacobs and Moxley had one of the wildest feuds in independent wrestling. Street fights. Dog collar match. I quit match. But after that, we took our separate paths. I created magic behind the scenes and you became the Lunatic Fringe. Despite that, despite the success, the millions, the wife, the kid, you still want to get down and dirty. You still want to step into the arena of violence where we play for keeps. For some reason. What's wrong with you?

See, me, I have a nice, cushy job. I never need to wrestle again. Do I want to step into that same arena where you know you're going to bleed and make somebody else bleed? Where the smell of blood is so thick you can taste it. Do I want that? You're damn right I do! Mox, you got an open challenge on October 30th, Wrestling Revolver, well, I'm interested. Moxley, I've heard you bi–hing so much about how you didn't like the creative in WWE, and for some reason, I take offence to that.

Well, I'm going to give you some creative you can dig when I dig this 8-inch nail inside your skull. I'm going to get real creative when I use your body as a canvas and your blood as the paint. Jacobs. Moxley. One more time! I want to taste your blood, Jon. In case you've forgotten, I'm a Princess, I always get what I fu-king want.
Tales from the Ring 4 will be on Saturday, October 30 at the Horizon Events Center in Clive, Iowa.
Below is the card announced so far for Tales from the Ring 4:
MAIN EVENT – IOWA STREET FIGHT – 10 YEARS IN THE MAKING
"The Death Rider" Jon Moxley Vs. "Zombie Princess" Jimmy Jacobs
REVOLVER CHAMPIONSHIP – LADDER MATCH
Rich Swann Vs. Trey Miguel Vs. JT Dunn w/ Phil Stamper Vs. Manscout Jake Manning
REVOLVER WORLD TAG TEAM CHAMPIONSHIP MATCH"
"American Wolves" Davey Richards & Eddie Edwards Vs. Tyler Matrix & Logan James
4 CORNERS OF PAIN MATCH
Alex Colon Vs. Jake Crist
FIRST TIME EVER
Ace Austin Vs. Alex Zayne​
FIRST TIME EVER
"Drama King" Matt Rehwoldt Vs. "The Alternative" Anthony Greene
FIRST TIME EVER
Jessicka Havok Vs. Billie Starkz
SINGLES MATCHAUSEN
"Monster Hunter" Matthew Palmer Vs. Danhausen
SUDDEN DEATH SCRAMBLE MATCH
Madman Fulton Vs. Warhorse Vs. Ninja Mack Vs. Everett Connors Vs. TBA Vs. TBA Vs. TBA Vs. TBA
The event will be available to watch live on FITE.
🚨Watch NOW & RT🚨

📺EXCLUSIVE VIDEO📺

10 YEARS IN THE MAKING.

One of the WILDEST FEUDS in Independent Wrestling history renewed.@JonMoxley's OPEN CHALLENGE ACCEPTED!

10/30/21#TalesFromTheRing@HorizonEventsC1
LIVE on @FiteTV pic.twitter.com/MkARObGkRP 

— The Wrestling REVOLVER (@PWRevolver) October 3, 2021