MLW Fightland Results: Alex Hammerstone & Jacob Fatu Collide In A Title Vs. Title Match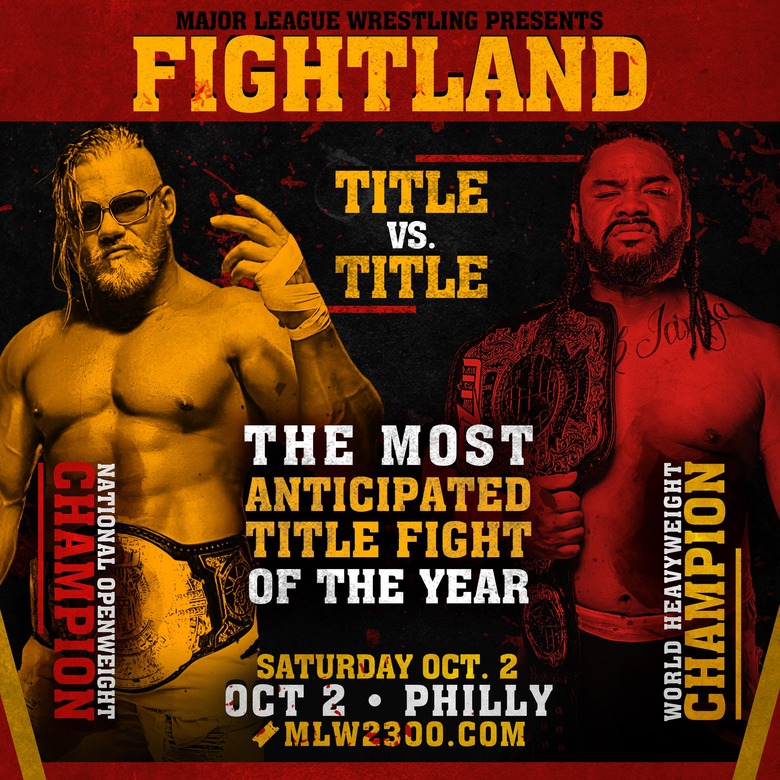 Welcome to Wrestling Inc's special live coverage of MLW Fightland, which airs tonight on Vice TV at 10 pm EST! Be sure to chime in on your thoughts about tonight's show in the comments section below. Additionally, share our live coverage through social media. Make sure to click the REFRESH button to continue to get the most current up-to-date coverage. Above and below is what's on tonight's agenda for MLW:
FIGHTLAND on Vice TV preview https://t.co/OWmrDDX9ZC

— Major League Wrestling (@MLW) October 7, 2021
Commentators Rich Bocchiniand Saint Laurent welcome fans to this special edition episode of MLW Fightland! We head straight to the ring, where all four men are ready for their shot at the MLW World Middleweight Championship!
MLW World Middleweight Championship: Myron Reed (c) vs. Tajiri vs. Arez vs. Aramis
All four men are standing in the ring, taking in this moment with the fans and with each other. Aramis walks over to Tajiri and sticks his hand out. Both men shake. The Champion Myron Reed also shakes Tajiri's hand. Arez pretends to stick his hand out before pulling Tajiri in with a full nelson. Arez stacks Tajiri in an over-the-shoulder belly-to-back position. Tajiri wiggles out at two. Myron Reed slides Arez into a second pin, and he kicks out. Reed arm drags Aramis on top of Arez, who wheelbarrows onto him and throws Arez over to Reed and stacks him up. Tajiri saves him but puts him in a roll-up. What a great exchange!
Arez sends Tajiri out of the ring while Aramis focuses his attention on Reed. Arez and Aramis are left in the ring, and they begin to exchange some fantastic Lucha Libre counters. Arez pins Aramis to the mat. The referee begins the count. Aramis kicks out. Aramis locks in a straitjacket hold. Arez fights free with a hurricanrana. Arez pops Aramis up on his shoulders. Aramis escapes out, and Reed catches him with a split leg drop on the apron. Reed rocks Arez with a Uranage then comes right back with a slingshot guillotine leg drop.
Tajiri slides back in knocks down all three challengers. Aramis and Tajiri have a quick exhange. Aramis throws Tajiri out of the ring with a nice armdrag. He flies after Arez with a middle rope suicide dive. Reed, Arez and Aramis land back-to-back planchas to the outside! Their match will continue right after the break!
FLAME ON!!! 🔥🔥🔥@TheBadReed #MLW 👊 @VICETV pic.twitter.com/HJ7reLWa27

— Major League Wrestling (@MLW) October 8, 2021
Back from the break, Reed flies over the top rope with an ace crusher on Aramis. He sends Aramis back into the ring to hit his No Cap Splash. Reed hooks Aramis' leg. 1-2, Tajiri runs in with a heavy kick to the back of Reed's head. Tajiri catches Reed with a brainbuster. He goes for a pin. Arez runs in and breaks it up. Tajiri receives a double stomp to the chest. Aramis lands a perfect suplex on Arez for two. Tajiri traps Aramis on the ropes with a tarantula while Arez plants a flurry of nasty kicks on Aramis.
Reed and Arez are up on the ropes. Tajiri rocks Reed with leg strikes. Luckily, Reed's vest protects him. Arez decks Aramis with an enziguri but runs right into a forearm after coming off the ropes. Reed catches a kick from Arez. Arez and Aramis topple to the outside. Aramis runs towards Arez with a Spanish Fly before rolling him back in! Aramis takes out Arez's legs. Arez gets right back up and hits a superkick. Aramis returns the favor with a roundhouse kick. Arez grabs Arez's leg and hoists him up for a powerbomb of sorts. Arez hooks the leg. Aramis pops out.
What a maneuver from @ArezStrange #MLW 👊 @VICETV pic.twitter.com/b4WRLfsd2u

— Major League Wrestling (@MLW) October 8, 2021
Arez tries his luck by climbing up the top rope. As he flies down, Reed catches him mid-air with a cutter! Arez's leg is hooked. Tajiri stomps on Reed for the stop. Reed accidentally gets sent to the referee. While the ref is trying to collect himself, Tajiri spits green mist straight towards Reed's face. Tajiri presses a buzzsaw kick into the champion. Cover. 1-2-3, Tajiri's debut match ends in success as he's now MLW's new Middleweight Champion!
There's the Green Mist followed up with the Buzzsaw kick from @TajiriBuzzsaw!#MLW 👊 @VICETV pic.twitter.com/aDaiTYmfvX

— Major League Wrestling (@MLW) October 8, 2021
Winner: Tajiri 
- Mads Krügger sends a warning to Alex Hammerstone. Krügger promises CONTRA's flag will be draped over Hammerstone's body after Jacob Fatu is done with him later tonight. In the back, CONTRA Unit is taking down every official in their path just so they can get their hands on Hammerstone and rough him up a bit before his Title vs. Title bout!
Rich Bocchiniand Saint Laurent run through MLW's upcoming fight schedule:
* Next Wednesday (10/13), on the series finale of Fusion: Alpha, "Filthy" Tom Lawlor will battle Davey Richards in the opening round of the 2021 Opera Cup Tournament. King Muertes is also scheduled for action.
* Then, on Saturday, November 6, MLW will return to the 2300 arena in Philadelphia for their next set of tapings. It's reported that the former IWGP World Heavyweight Champion Will Ospreay will make his MLW debut at those tapings!
* Lastly, on Thursday, November 25, MLW Fusion will return on Thanksgiving Day.
Here's what's to come in the world of MLW.#MLW 👊 @VICETV pic.twitter.com/znlVoGyCaF

— Major League Wrestling (@MLW) October 8, 2021
**Half-Time Show **
While everyone gears up for the main event, Alicia Atout sits down with Dave Meltzer (Wrestling Observer), our very own Raj Giri, Andreas Hale (Sporting News) and Emilio Sparks to discuss everything new and breaking going on in the world of professional wrestling. This half-time report is called "MLW Embedded."
The first topic on the table is the thought that WWE is looking to sell its business after letting go a majority of its employees over the last two years. 
- Everyone's opinions on the panel vary. Dave Meltzer says it would make sense since Vince McMahon is getting older, but he thinks the company is discovering how to expand their brand to mainstream services like Peacock.
- Raj Giri says their tone has changed now compared to their historic rivalry with WCW when they stated they refused to sell to anyone. He says the topic was broached while mapping things out with Fox as far back as 2017.
- Andreas Hale sees it as WWE is cutting the fat and keeping the lean, while Emilio Sparks compares McMahon to Andy from Toy Story, where he's learning which of his old toys to keep and what new ones to bring in.
- Raj adds more to the scoop by saying that WWE has spoken to some potential buyers like CAA (Nick Khan was the head of TV during his time there), Fox and NBCUniversal. All three, he's heard, have a general interest in WWE.
- Sparks says the fan side of him would not like to see WWE get sold. But the business side of him thinks it might happen down the line in 10 years or so.
Next topic, AEW's rise and who they think will be the next free agent to join the company.
- Hale says, Kevin Owens. Sparks lets out a thunderous laugh. Giri mentions a little later in the discussion that Owens' contract with WWE ends at the end of January 2022. Come February 1, he will become a free agent.
- Raj believes Bray Wyatt would make for another great candidate. Raj adds Sami Zayn's contract will also be up early next year.
Alicia Atout surprises the panel by announcing that Will Ospreay will be making his MLW debut! 
- Meltzer is stoked about this announcement. He calls the Aerial Assassin a top-tier performer.
- Raj states Ospreay is one of his top-three favorites, and to see him live on MLW would be a big deal.
- Hale can't wait to see Ospreay throw down with guys like Myron Reed and the MLW World Heavyweight Champion Jacob Fatu.
- Sparks says the possibilities are endless. He also thinks Ospreay vs. Reed would be a Match of the Year candidate.
This wraps up MLW's half-time show! We'll keep you informed about Will Ospreay's future MLW debut!
🚨BREAKING🚨@AliciaAtout reveals on #MLWEmbedded that @WillOspreay is coming to MLW this fall.#MLW 👊 @VICETV pic.twitter.com/pyYSFawQaI

— Major League Wrestling (@MLW) October 8, 2021
** Half-Time Break Concludes **
Mads Krügger is still on the warpath to find Alex Hammerstone. One of Cesar Duran's assistants locks him in with some of the guys in back. Duran refuses to let CONTRA Unit ruin this highly anticipated match.
And now, the moment we've been patiently waiting for! Which man will carry the legacy of the MLW World Heavyweight and National Openweight Championship?
Title vs. Title/No Disqualification: Jacob Fatu (w/Josef Samael) (MLW World Heavyweight Championship) vs. Alex Hammerstone (Openweight National Championship)
It's Main Event time. The most anticipated title fight of the year two years in the making. The National Openweight champion @alexhammerstone takes on the World Heavyweight champion Jacob Fatu (@SAMOANWEREWOLF). One man will leave tonight with two titles.#MLW 👊 @VICETV pic.twitter.com/lgPYvNDPqT

— Major League Wrestling (@MLW) October 8, 2021
Alex Hammerstone lifts the Heavyweight Champion up and throws him into the corner. Hammerstone is taking it to Fatu with forearm and chop combinations. Hammerstone directs Fatu to another corner and rains down vicious shots. Fatu picks up some steam with a few major chops and a headbutt. Fatu slams Hammerstone face-first into the top turnbuckle before crashing into him with a splash. Hammerstone recovers to hit a belly-to-belly suplex. The ring shakes vigorously as if an earthquake came through.
Fatu works Hammerstone again in the corner. Fatu hammer launches the National Openweight champ straight into another corner. Fatu dumps Hammerstone to the outside with a swinging Uranage. On the outside, Fatu drives Hammerstone's face into the guard rail. Fatu hits a moonsault from off the guardrail! Hammerstone drags Fatu by his hair up onto the apron. Hammerstone decks Fatu with a back elbow. Fatu spikes the Phoenix Powerhouse with a stump piledriver just before we go to commercial.
Jacob Fatu (@SAMOANWEREWOLF) hits a Moonsault off the guardrail!#MLW 👊 @VICETV pic.twitter.com/CDyBPYoQVp

— Major League Wrestling (@MLW) October 8, 2021
We're back, and Fatu has a menacing look in his eye. It's not looking so good for your boy Hammerstone, who's lying on the mat. Fatu hurls Hammerstone straight into a steel chair that's set up between the ropes. Fatu, with a new chair in hand, is heading to the top rope. He crawls up. Hammerstone is in the corner across from him. Fatu springs off the ropes and cripples him with a Rob Van Dam-inspired Van-Terminator! Holy Schnikes! The fans praise Fatu for it, but Fatu only grabs a two count from this! Fatu continues to wear Hammerstone down. Hammerstone rises to his feet and launches Fatu with a side suplex.
Jacob Fatu (@SAMOANWEREWOLF) goes coast to coast!#MLW 👊 @VICETV pic.twitter.com/pj9nUfTH02

— Major League Wrestling (@MLW) October 8, 2021
Fatu gets rocked with an enziguri then an exploder straight into the corner. Hammerstone feeds off his fans' support by slamming a single-leg dropkick for just a 2.5 count. Hammerstone catches Fatu with a bicycle kick. Fatu is wobbly but hasn't fallen down just yet. Now, he does with a German suplex. Hammerstone sets Fatu up for a sit-out powerbomb and hits it perfectly. Will this be enough for him to capture both titles? Not yet. We'll be back in a jiffy!
Valkyrie Missile by @alexhammerstone #MLW 👊 @VICETV pic.twitter.com/e2b8C8Tcsr

— Major League Wrestling (@MLW) October 8, 2021
After taking our final break, Fatu devastates Hammerstone with a pop-up Samoan Drop. Fatu scales the ropes and lands a high-angle senton! Hammerstone rolls out of the ring before Fatu can apply a cover. Fatu dives out of the ring. Hammerstone's head smacks right into the guard rail. Hammerstone tosses Fatu out of the ring and slingshots himself out to the floor with a Pescado. Fatu violently crashes into the turnbuckles after Hammerstone soars off the top with a well-executed missile dropkick!
Both men step to each other and trade wicked shots. Fatu hammers away with headbutts. Hammerstone puts Fatu down with several clubbing blows. Josef Samael latches on to Hammerstone and sends him out of the ring. Samael drives a spike straight into Hammerstone's throat! Fatu pulls out a table and sets it up in the ring. Fatu throws Hammerstone on top of the table. Fatu retrieves a CONTRA Unit flag and drapes it over Hammerstone before heading to the ropes. Fatu comes flying off with his top rope moonsault and splits Hammerstone and the table right in two! Fatu hooks the leg. This has to be it. No! Hammerstone kicks out at two!
Jacob Fatu (@SAMOANWEREWOLF) hits the "Killing Moon" through a table!#MLW 👊 @VICETV pic.twitter.com/j5KxwOyNad

— Major League Wrestling (@MLW) October 8, 2021
Hammerstone recovers fast enough to pull off a thunderous clothesline. Fatu kips up quickly only to get power slammed. Hammerstone drives Fatu into the canvas with a TKO (big neckbreaker). Is this it? It is! Alex Hammerstone is the new MLW World Heavyweight Champion while retaining his National Openweight title!!
.@alexhammerstone hits a TKO to put down Fatu!#MLW 👊 @VICETV pic.twitter.com/AtoElj3Dso

— Major League Wrestling (@MLW) October 8, 2021
Winner: Alex Hammerstone
Post-Match: Alex Hammerstone is in shock. The referee hands the powerhouse his two titles. Confetti flies down on the new face of MLW!
AND NEEEWWW!!!@alexhammerstone #MLW 👊 @VICETV pic.twitter.com/HUfi76SyVk

— Major League Wrestling (@MLW) October 8, 2021
This concludes tonight's special broadcast. Thanks for watching!